Posted in: Ideas for your websiteLast update: 02/06/22
The wine industry might be 8000 years old, but it's never too old to innovate. Now many wine producers are diversifying, with tasting sessions, gastronomy, and luxury tourism. In this article, we'll examine how to promote wine and wine tourism, and appeal to a sophisticated audience – without breaking the bank.

The wine industry is increasingly competitive, especially for small and independent producers. So many vineyards have turned to diversification as a way to add value and distinction to their label. And among all the options on offer, wine tourism marketing has proved to be one of the most effective. Tourists love wine routes and trails, combining visits to vineyards with luxury hotels, spas, and golf courses. The idea of wine tasting, wine festivals and gastrotourism appeals to a broad customer base, from environmentally conscious gourmets to professionals in search of elegance.
But the question remains: how can you make tourists choose your vineyard? How can you make your label stand out? When it comes to marketing wine and wine tourism, it's essential to combine value for money with sophisticated, targeted campaigns. You're looking for a high return on investment that doesn't compromise on brand image. In the 5 sections below, we'll use 7 real-life examples of brands that got attention online for all the right reasons.
1. Showcase wine with an exclusive giveaway
Of course, the eventual goal of wine tourism – with events such as wine tasting, festivals, and trails – is to showcase your products. You want the world to know how good the wine is! So an excellent place to start is with a product giveaway.
That doesn't mean giving something for nothing. When you run a simple prize draw, you can ask for potential customers' contact details, personal tastes, and more. Build a custom registration form to collect exactly the information you need – nothing more, nothing less.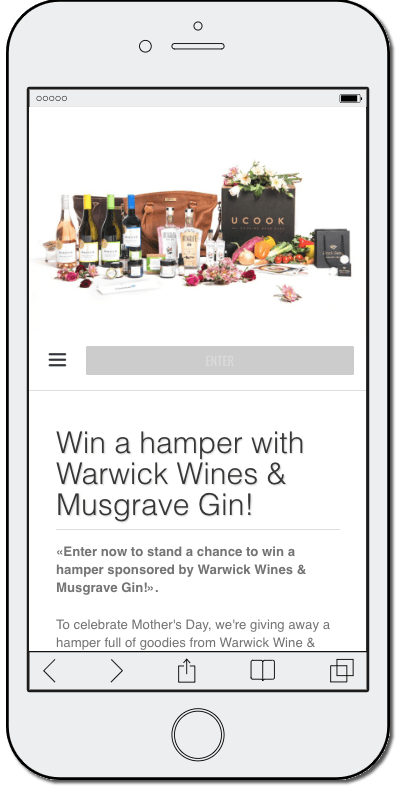 Here's an example from a South African producer. Warwick Wine Estate offers a range of experiences for their visitors, including luxury accommodation, picnic events, safaris and a club for wine lovers. They decided to highlight their range of wine, liquor and local gourmet foods with a generous hamper for Mother's Day. For a chance to win, users just had to share their email address and city.
You might be tempted to ask for more detailed information, but remember that you must keep the prize in proportion. So if you want to ask a long list of questions, or lots of personal details, you will need to offer a substantial reward to incentivize people.
You can extend the reach of your wine tourism marketing even further, by making it easy for people to share your contest online. When Warwick Wine Estate created their giveaway, they added share buttons so that their audience could share the promotion on Facebook, Twitter, and Pinterest.
2. Reward customers with a luxury enotourism experience
Just as you showcase your products with a giveaway, you can also run a prize draw for a brand experience. Offer a wine tasting, weekend away, or exclusive event to people who sign up and share their contact details with you.
We loved this example from Discover Morro Bay, a tourism promotion board on the coast of California. Instead of delivering products to the lucky prize winners, they decided to invite people to discover Morro Bay wine country for themselves – with a $1000 holiday.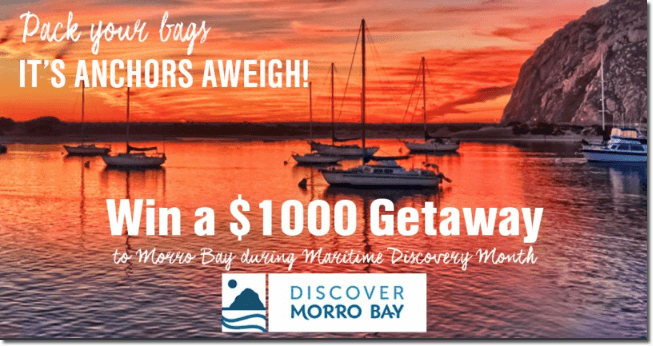 3. Get your customers' perspective with a photo contest
Here's another giveaway of a wine tour experience – but this time, with a twist. Instead of just asking for contact details, Platypus Wine Tours created a wine-themed Photo Contest.
All the photo entries were shared in a public gallery, where people could share and vote for their favorites. The most popular photo won the prize.
Next up, is another photo contest from the Paso Robles Inn, a popular hotel in California wine country. They focused the contest even more on their brand, by asking people to take photos with their trademark statue of Clarabelle the Cow. This was a great way to share images of their brand and location online.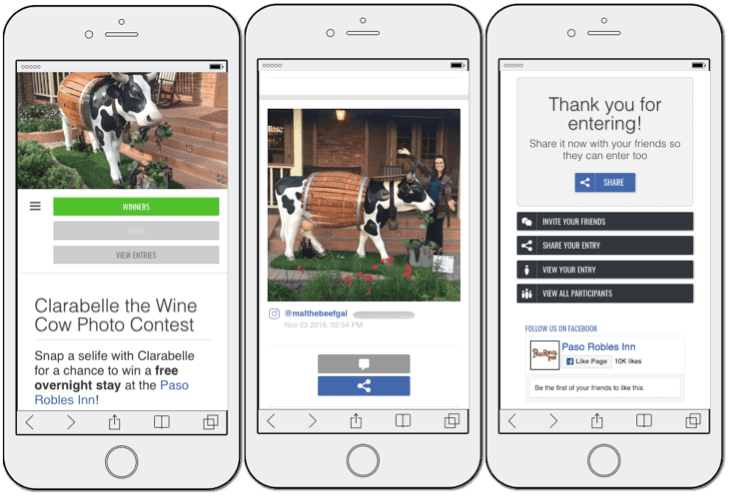 Photo contests aren't just fun for your followers – they are also a powerful tool for wine tourism marketing. When you collect this kind of user-generated content, you can reuse those images in your own social media and advertising strategies. Just don't forget to ask for image permissions!
You can also organize photo contests via Instagram, and collect contact details and image rights. It's the network of choice for Millennials, an audience with high potential for wine marketing.
4. Test consumers' knowledge with a wine quiz or trivia
According to wine tourism research, most of your visitors are classified as "wine-interested". That means they enjoy wine, and they know a little bit about it, but they are not quite experts. So you have a golden opportunity to appeal to people's love of competition and educate them about your brand at the same time.
How? With a quick quiz or multiple-choice trivia.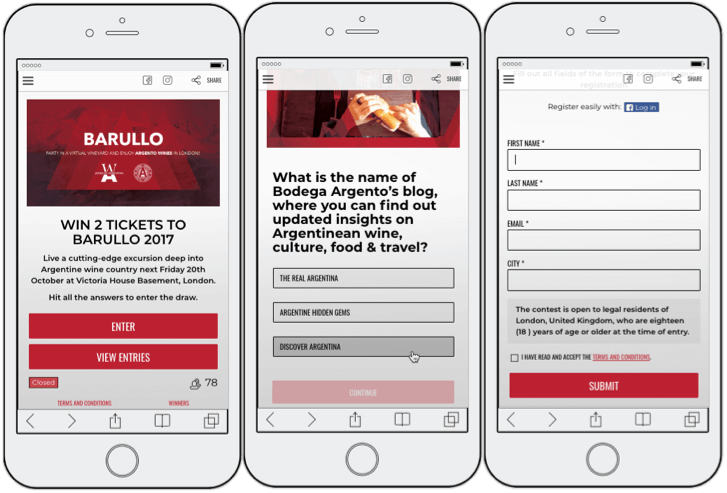 We liked this example from Barullo, a wine festival that celebrates producers in Argentina. They offered 2 festival tickets in a prize draw for everyone who took their quiz. Here's the clever part: they wrote a mix of questions, asking people about Argentine wine and the brand's website, too. It was a clever strategy to drive web traffic and get new blog readers.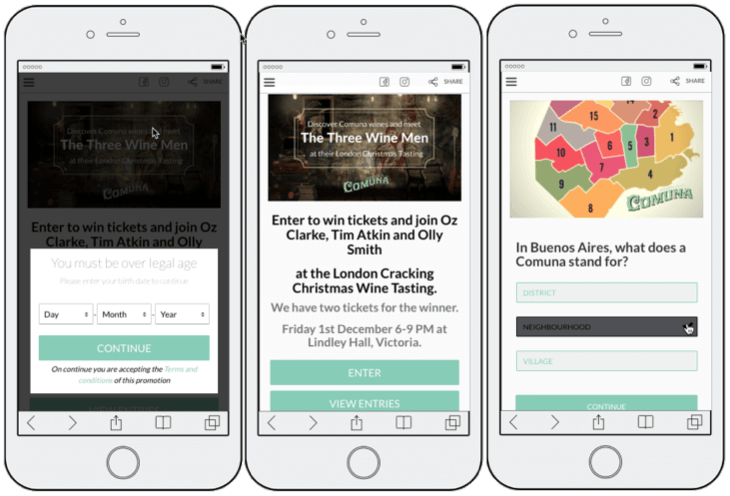 Next, here's a Christmas example. People could win tickets to a festive wine tasting with experts in London when they answered a few quick questions about Argentine life, culture, and wine production.
Check out the screenshot above. This brand included age restrictions in their quiz. You can control who accesses your promotions by age or country, when you create contests with Easypromos.
5. Collect testimonials, reviews, and feedback
So far, we've discussed how to collect contact details and photos from your customers and share information with them through quizzes and games. Let's finish with one more option: collecting testimonials, reviews, and feedback.
Start by designing a Writing Contest, with a suitably attractive prize to motivate people. Here's an example from Bodegas Valdemar, a vineyard working in collaboration with the Basque Culinary Center. They asked a simple question: Why do you love wine?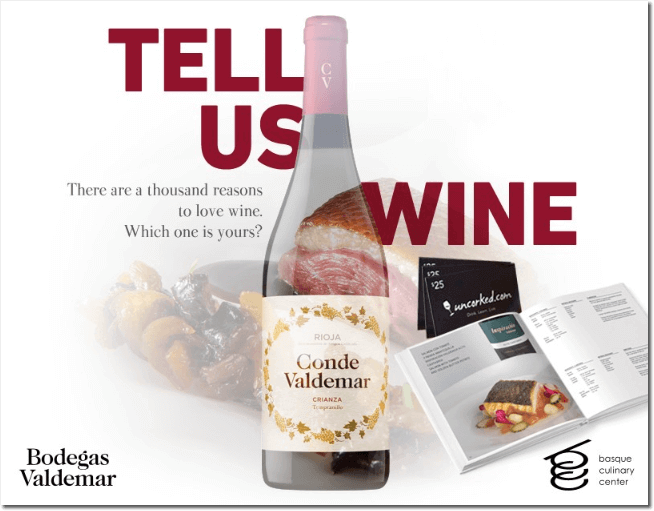 It's a question that's guaranteed to elicit stories, anecdotes, and emotional response from your followers. At the same time, the contest collected valuable market research. Reading through the gallery of responses, Bodegas Valdemar could learn more about what draws customers to their vineyard – and how to attract even more visitors.
If you offer dining experiences to your customers, or you're planning to collaborate with a gastronomic brand, then read up on these fresh ideas for restaurant promotions.
You can contact our team to discuss your own ideas for wine tourism marketing. We can't wait to see what you come up with! Register for free now to start planning and designing your promotions.
Publication date: 2019-01-08