Posted in: Digital marketing,Ideas for your websiteLast update: 05/08/22
Are you planning to launch a giveaway and share it on your social media networks? You want it to be appealing, attention-grabbing, and quickly connecting your brand with the public? Then you're in the right place! Today, we want to share online tools and tips, that will help you disseminate your promotion with a video! It will help you generate greater engagement, and consequently, reach a higher number of participants.

Announcing a giveaway or raffle with a video is always a good idea. But before you do it, you should think about some very important aspects…
Which social platform is the best to announce a giveaway with a video?
Over the last few years, videos have become one of the key trends in digital marketing. And surely they will continue to be popular in the upcoming years. But which social network is right for your giveaway announcement? How to create videos announcing social media giveaways?
Did you know that there are different formats and characteristics for each social media network? Therefore, you must decide which platform you will use to disseminate your giveaway. To make this a bit easier for you, here we present some facts about your different possibilities…
Facebook
Facebook continues to be the most popular social media network in the world, with an estimate of 2.7 billion monthly active users. According to recent statistics, users share videos 89.5 times more than any other content on Facebook. This can only mean that videos are the most shared type of content on this social media channel. Also, keep in mind that videos automatically play on the feed.
If you decide to share your giveaway with a Facebook video, make sure it complies with the following characteristics:
Video resolution: 1080x1080px
Aspect ratio: 1:1
Length: maximum of 240 minutes (15 seconds recommended)
Maximum file size: 4GB
Video file format: MP4 or MOV
YouTube
YouTube is the most important video platform out there. With more than 2 billion monthly active users, mostly millennials and Gen Z, 3-minute videos tend to be most popular.

Important points to consider when creating a video for YouTube:
Minimum resolution in high definition: 1080px (HD) – 1920x1080px for 16:9 aspect ratio
YouTube recommends at least 720px (HD) – 1280x720px for aspect ratio of 16:9, and 640x480px for aspect ratio of 4:3
Minimum length: 33 seconds
Maximum length: none
Video file format: MPG (MPEG-2)
Audio file format: MP3 (MP3/WAV container), AAC (MOV container)
Instagram
Instagram is another social media network with a great number of monthly active users: 1 billion, of which the majority are once again millennials and Gen Z. This social media network gives the option to choose three different ways to upload your video; share it as a story or new post, or add it to the IGTV (Instagram TV).
Thinking to share your giveaway with an Instagram video? Here are some points to bear in mind:

Square video resolution: 600x600px
Vertical video resolution: 600x750px
Horizontal video resolution: 600x315px
Maximum length: 60 seconds
Maximum file size: 4GB
Insta stories: 750x1334px or 1127x2008px. Maximum 14 seconds
IGTV: Vertical video with aspect ratio of 9:16, or horizontal video with aspect ratio of 16:9.
Twitter
Twitter users focus on real-time news. 330 million monthly active users make it a great platform to announce your giveaway with a video. You can share YouTube links or upload videos no longer than 2 minutes 20 seconds.
Minimum resolution: 32×32
Maximum resolution: 1920x1200px or 1200x1900px
Aspect ration: from 1:2.29 to 2.39:1
File format: MP4 and MOV
Important points to mention in the video announcing your social media giveaway
Remember, the main goal of your video is to encourage people to participate in your giveaway. Therefore, there is no need to mention all the details or talk about legal content like Terms & Conditions. Explain who organizes the sweepstakes and how your followers can participate. Don't forget to show the prize! A good incentive will motivate more people!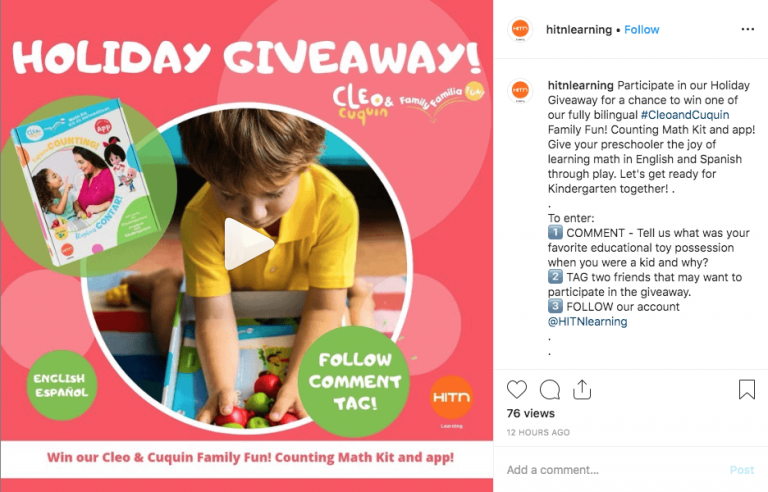 Prepare the audiovisual content for your big announcement
We recommend that firstly you should focus on all audiovisual material needed to create and edit your promotional video. Here are some ideas to get you started:
Record a video showing the prizes with your mobile phone. Once it's ready, add text and background music.
Prepare a video with a presenter explaining the most important aspects of the giveaway. Make sure the background is neat and attractive. And don't forget that the majority of videos on Facebook and Instagram play without sound! Therefore, it is not a bad idea to add subtitles!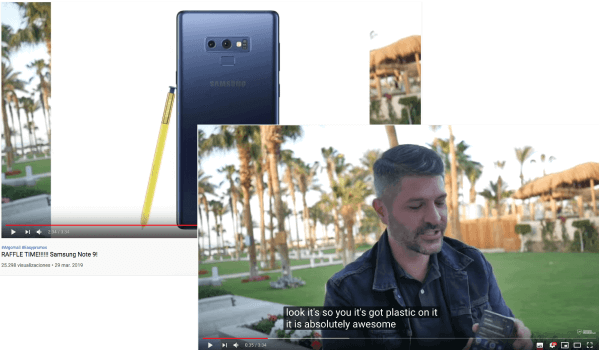 Put a video together from a variety of different images. Show the prize and the logo of the organizer. Make it look like an animated gif.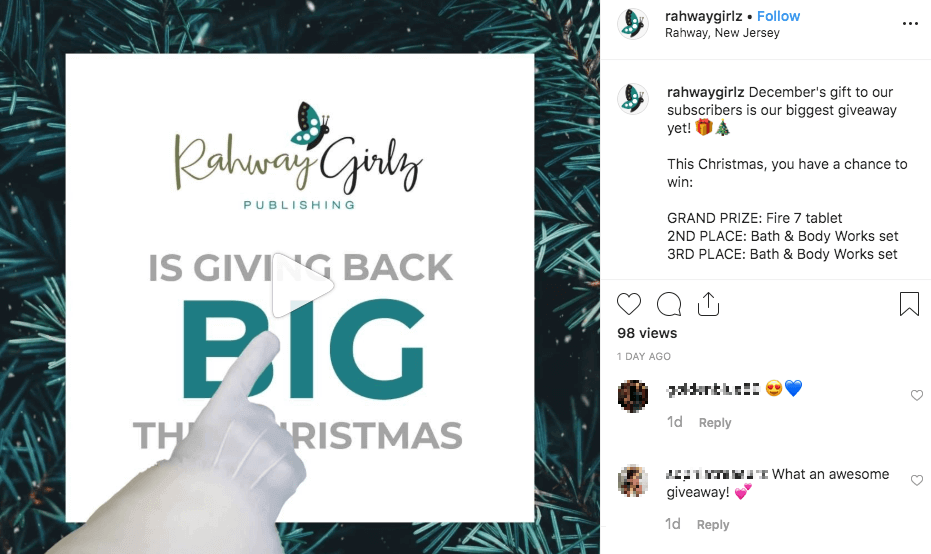 You can also use a video with a colorful background and a variety of different texts and colors. It all depends on the type of giveaway that you're organizing.
You don't need much material. Short videos are more effective than long ones.
Create a simple video to announce your giveaway
Once you've gathered your material and chosen the social network to disseminate your promotion, it's time to work on your videos. But don't worry if you don't have professional software or experience in editing videos. We're about to show you some great online tools that will allow you to create your video in an easy and simple way! And the most important part is, that most of them don't require any editing skills!
Renderforest
Renderforest is an online video, animation, logo, and website maker, and it allows its users to create a variety of different videos, animations, and visualizations. It also offers an online mockup editor. The platform enables you to easily create high-quality videos with the help of more than 800 customizable video templates. The entire editing process happens online, while progress saves on the cloud. Apart from the ability to upload videos and images, the app allows you to edit colors and texts, to make the video more personalized.


Renderforest is free to use, however, there will be a visible watermark on the video. If you want to create a video without the watermark, then you can opt for a paid subscription.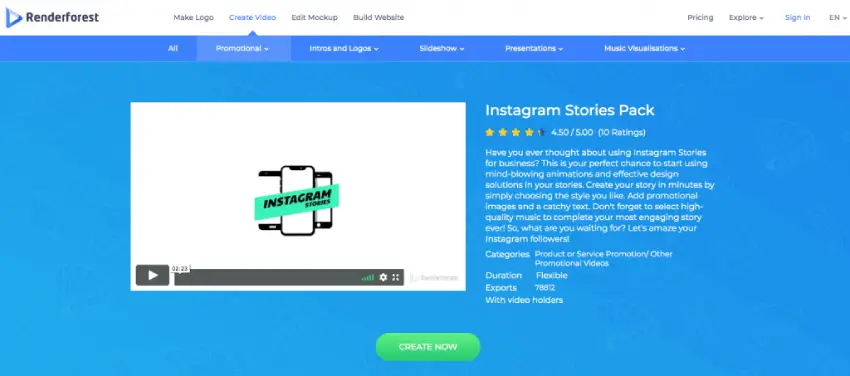 Promo
Promo is an online video editor that allows you to create professional videos in an easy and effortless way, as the platform provides a wide range of pre-designed video templates. Promo is intuitive and easy to use; you can quickly add or remove music, or edit texts and clips.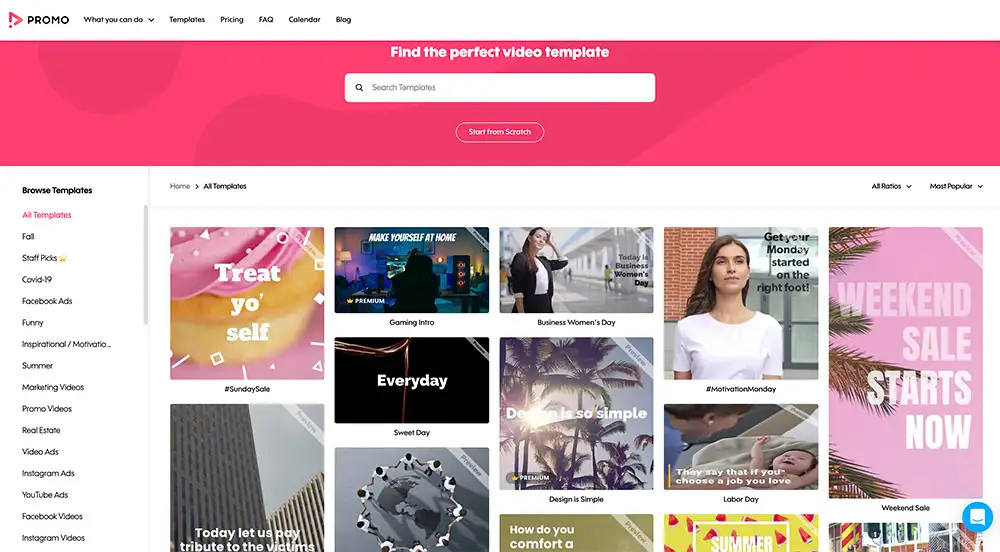 Additionally, this video editor allows you to create videos for ad campaigns on Facebook, Instagram, YouTube, and LinkedIn. Although some templates are Premium, you can first try the app for free.
InVideo
InVideo is a powerful video-editing tool that offers more than 5000 video templates and a variety of professional editing options like transitions, filters, and other must-haves. The InVideo platform allows you to create a wide range of different videos, for example, videos promoting offers and coupons, business presentations, webinars, and more. InVideo is especially useful for creating vertical videos for Instagram, Including Reels, which can be created within five minutes. Additionally, InVideo has live chat support with real agents ready to take you through the editing process in case of doubts.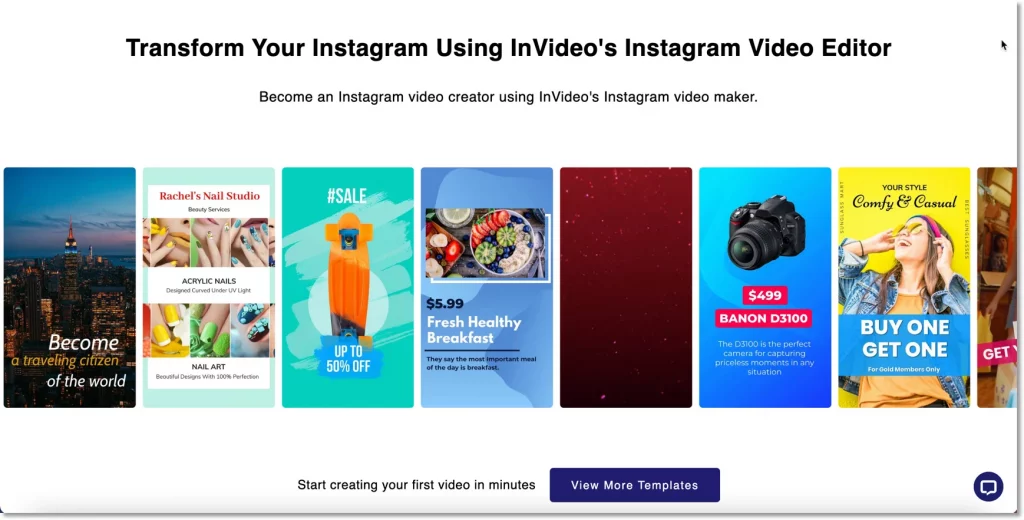 The video-editing platform offers a free version that is perfect for small businesses. However, if you wish to remove the watermark or access more advanced editing options and features, you will have to subscribe to the premium version of InVideo.
Magisto
Magisto is a video editor integrated with iStock, available for both computers and mobile devices (iOS and Android). Once you register with Magistro you get to select what type of video you want to create (Facebook, Facebook Ads, Instagram, etc.). You can also choose a ready to use template, or start from scratch. Just in a few minutes, you will be able to download a well-edited and high-quality video to announce your giveaway. The platform is available only in English and some of the features are not available in the free plan.
Filmora9
Filmora9 is a great video editor available to download for Mac and Windows computers. This powerful editor allows you to work with a variety of different options. Start with basics like trimming clips or adjusting colors, or work with 4K videos and add transitions between clips. The interface has different tracks, allowing the user to work on different aspects at the same time. You can adapt the format to match the one of your chosen social media network and upload the video directly to YouTube or Vimeo.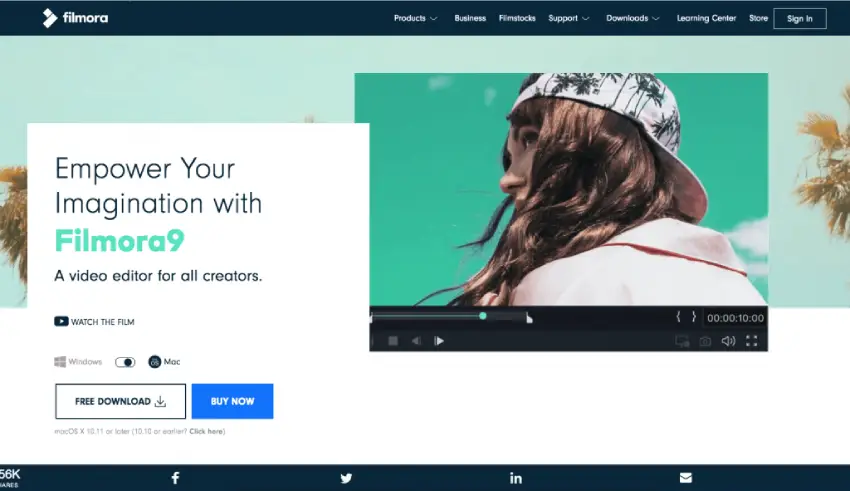 Powtoon
PowToon, just like Renderforest, is an online platform that allows you to create animated videos and presentations. You can, for example, introduce some text into the platform, and it will transform it into a person speaking, displaying dialogue boxes. PowToon is free to use, but only with very basic options. However, you can always upgrade to a more professional. payable version.
Animaker
Animaker is a great tool for those who don't have experience in video editing. The platform allows you to create scenes, add characters and elements that will then be transformed into an animated video. Animaker is available as a free or paid subscription, depending on your needs.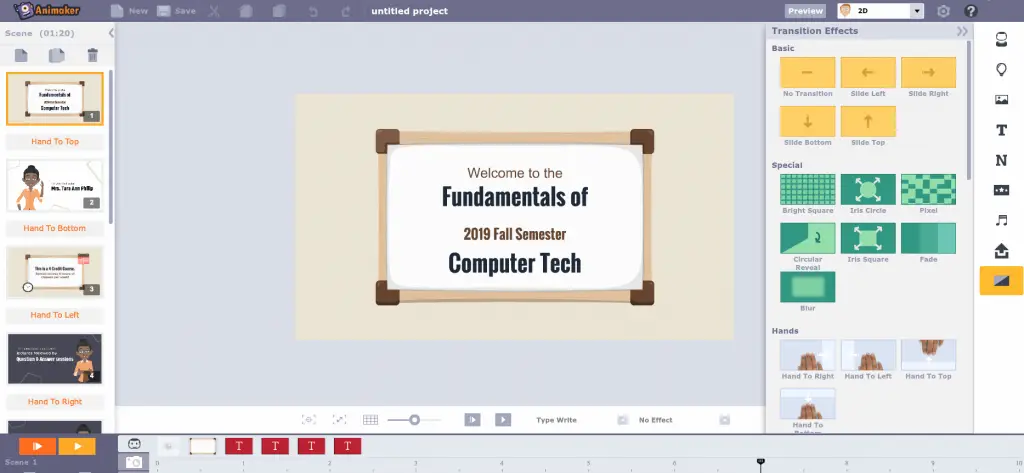 If you're looking for a more professional and complex tool, you can use "Adobe After Effects" or "Adobe Premiere Pro". However, they are much more advanced and we recommend that you use them only if you have previous experience.

As you can see, video marketing is a format that attracts a lot of attention and tends to be very successful. Facebook and Instagram algorithms support video publishing. Why? Even if a user spends only a few seconds watching a video, they remain on the social media platform. Quality content consumes a lot of time and effort, but there are quite a few perks of this investment. The most important would be building brand recognition, which leads to more participants in your giveaways.
Tips to create effective videos announcing social media giveaways
Brevity – the shorter the video, the better!
Clear message – explain clearly the requirements and details.
Less is more – don't use too much text. Write just the most essential points (unless you decide to use subtitles).
Powerful introduction – users tend to watch only a few seconds of videos. They then scroll down, simply because the content was not relevant. So come up with a strong intro to keep the viewers interested, for instance, show them the prize! The first 30 seconds are the most vital!
Keep the visual style of your brand – main consistency and use the usual range of colors and fonts. This way the public will quickly associate the promotion with your brand or campaign.
In doubt? Or maybe you want to find out more about videos announcing social media giveaways? Don't hesitate to contact our Support Team!
Publication date: 2019-12-05