Posted in: Digital marketing,Ideas for your websiteLast update: 04/08/22
B2B marketing is the practice of selling products or services to other businesses rather than directly to individual customers. Unlike the B2C that had already immersed itself in the online world years ago, 57.1% of B2B companies still don't sell online. However, the ongoing COVID-19 pandemic has reduced interpersonal contact and forced many brands to change their marketing approach, and therefore move online. Marketing and sales professionals are now adapting to more modern tools and become acquainted with digital channels and online promotions. If that's your case, today we want to help you understand how to promote B2B companies and organizations with online promotions and contests. Read on!

Characteristics and features of B2B marketing
According to a report shared by ComunicaWeb, the main objective of B2B companies is increasing sales (91,2%). Other top priorities for B2B businesses are lead generation (62,4%), strong brand (56,8%), and customer loyalty (54,4%).
The marketing objectives of B2B companies are no different from the goals of the companies dealing directly with the final consumer, however, the way of achieving them is not the same. The reason is that B2B marketing targets a distant audience. This is because:
While discussing potential customers' needs you must identify decision-makers.
Getting the message across is more difficult as first, you have to get in touch with the right person.
The audience is a very segmented niche.
The above three points make the online marketing strategy for B2B based on the following four steps:
Building a strong brand presence online.
Converting users interacting with your content into leads.
Qualifying leads to identify those that can be passed on to the sales team.
Maintaining customer relationships to convert clients into brand ambassadors.
Do you know what the most popular marketing strategies online are? Paid searches (SEO and PPC), content marketing, web design, email marketing, and social media.

In this article, we talk about how B2B companies can get their message across with the help of social media and content marketing. Read on to discover insights about how contests, games, quizzes, and other digital promotions can boost your B2B marketing strategy.
Turn to content marketing to attract and retain B2B customers
According to the data shared by Web FX, content creation is the third most used tactic for online B2B marketing. Content marketing comes in different forms and shapes, starting with social media posts, through blog posts and articles, and ending with webinars, podcasts, and case studies. It is easy to disseminate on a variety of different social media platforms, and therefore, it can easily attract the attention of potential customers. Content marketing is on the rise, as it costs 62% less than traditional marketing and generates about three times as many leads.
Content creation is the third most used tactic for online B2B marketing. #ContentMarketing
Click To Tweet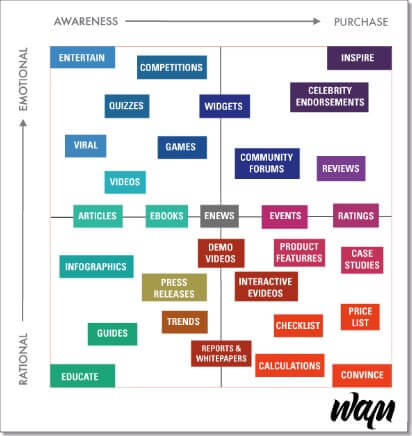 We will now take a look at some examples of how to use content to convert users into leads, and how to qualify them using the same tools. Below we also explain how to reward customer loyalty and turn them into active brand ambassadors that willingly promote your brand among their colleagues.
Launch questionnaires to obtain industry insights and useful information about potential and existing B2B customers
The corporate website is the place where potential customers can find the most information about the products and services provided by the company. B2B communications should drive traffic to the most important sections of the website so that the user can be informed and engaged by the brand, as well as possibly converted into a new lead.
Questionnaires are very popular with B2B companies, as brands are always on a lookout for the latest industry insights and information about their existing and potential customers. Apart from collecting the so-desired information, online surveys, and quizzes convert website visitors into qualified leads. What's better than a new lead with all the information that you need?
So if you're looking to convert online users interested in your product into leads, then here's what you need to do. Launch a questionnaire such as a Knowledge Quiz or Product Recommender and prepare a few questions that will help you qualify the leads. Activate the promotion and share it with your social media users, promote it through paid advertising, and create a pop-up on your website. This will help you not only collect new contact information but also some extra information about the new prospects.
But online questionnaires are not just about acquiring new customers. Let's take as an example a Survey that we launched a few months ago. We wanted to know how our existing clients responded to the COVID-19 crisis that at that moment was at its peak. We created an online survey that we emailed to our client database and encouraged them to anonymously tell us about their struggles and situation.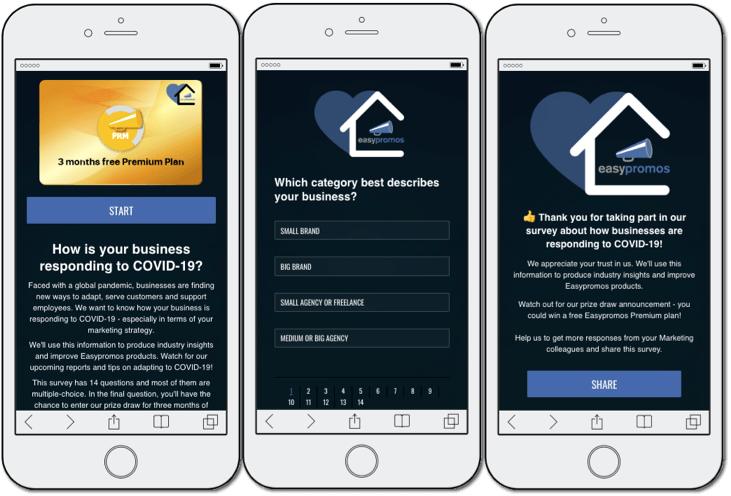 However, we knew that many companies wouldn't be keen on sharing sensible and not always positive information about their business. They needed a good enough reason to participate in our questionnaire. We raffled a free 3-month Easypromos Premium plan subscription and used the anonymous data to create an ebook about digital marketing during economic downturns.
Encourage online users to share their contact details by offering something in return. Raffle a trendy product, offer discounts, or important industry insights to encourage people to leave their contact information.
Customer satisfaction surveys – attract participants with appealing prizes
Surveys can be used for more than just industry insights and extra information about participants.
Customer satisfaction surveys are extremely popular when it comes to B2B businesses. Companies look to obtain customer feedback but more often than not, the surveys don't achieve the intended results. This happens because participants get nothing for providing information that is important to the organizing brand. This can be completely different if you incentivize participation in the way Netsense did. Netsense launched a survey in which they asked participants to share their views about digital trends in 2020. All participants entered a prize draw for a free speaker and an audit.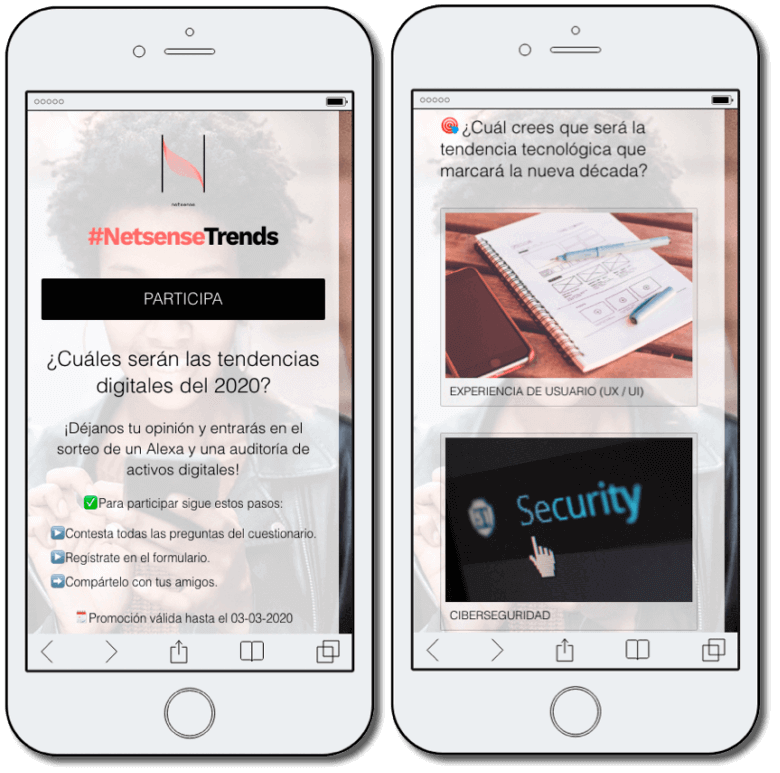 Online contests to reward customer loyalty and attract new clients
Every year the retail equipment and furniture company Retif organizes Christmas contests. Christmas is the time of the year where many potential customers of Retif look to decorate their stores with personalized items. Retif always publishes the contest on their website in an attempt to capture the visitors' data. Banners and pop-ups convert many potential B2B customers.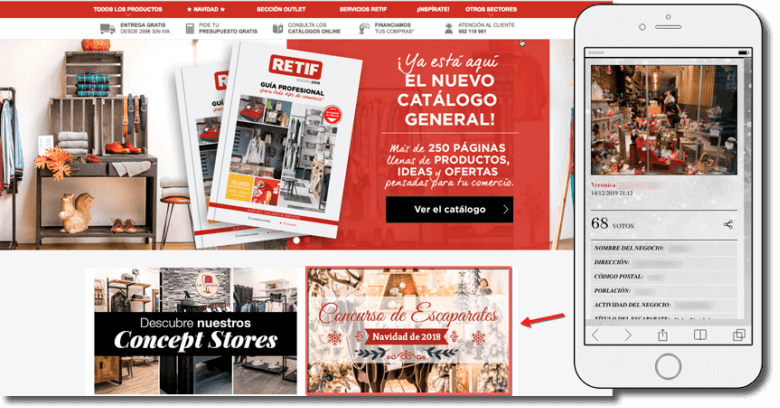 Apart from acquiring new clients, online contests also do a fantastic job when it comes to rewarding current customers and converting them into loyal brand ambassadors. B2B products and services tend to be more expensive than goods aimed at end consumers. The decision-process in B2B purchases is also more complex and time-consuming than in B2C purchases. Therefore, there's never enough happy and satisfied clients spreading the good word about your brand. Word of mouth is an extraordinary benefit that not all brands are lucky to have. Get your customers to promote your brand and you will automatically gain new potential customers, as your target audience is more likely to believe their fellow professionals rather than what your brand says.
Weber Saint-Gobain manufactures industrial mortar, and they organized a voting contest, in which they presented more than 100 projects made with Weber Saint-Gobain's products. The brand invited their audience to vote for three projects that they liked the most. This way Weber Saint-Gobain showed their community how their products can be applied to a variety of different projects.
Your target audience is more likely to believe their fellow professionals rather than what your brand says. #WordOfMouth
Click To Tweet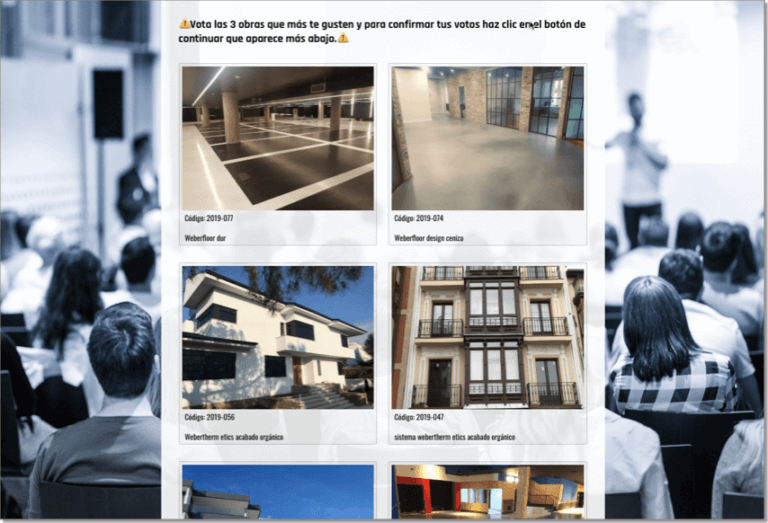 Did you know that each participating picture or video can have its own unique link? Simply organize a voting contest with the Easypromos Pick your Favorite app and ask the participants to share their entries with their friends in order to obtain the minimum number of votes to enter into a final prize draw. It's a perfect way to reinforce your social media presence.
Looking to reinforce brand awareness and increase client engagement? Organizing online contests is also a great way to achieve these goals! The next example shows how a pet-friendly travel guide organized awards for businesses related to pets. The voting contest improved brand recall and also promoted the businesses nominated for the awards.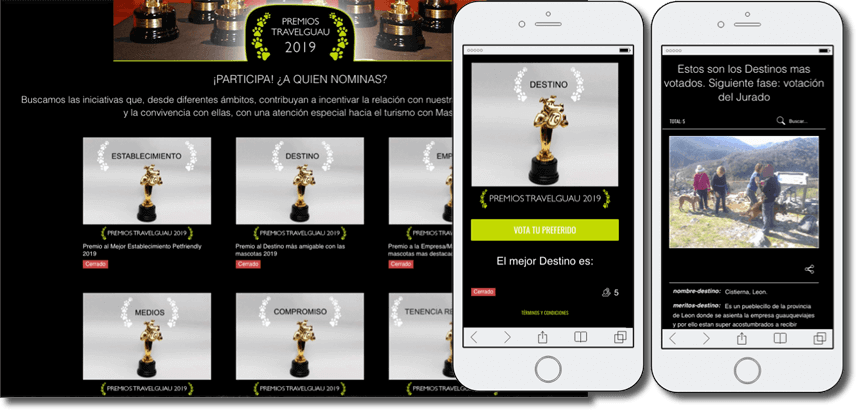 Entertain and engage your audience with fun games
Content marketing is the best and easiest way to reach your target audience. By sharing engaging content on your social media pages and website you can not only attract potential customers but also increase brand and product awareness. But if you want to launch a campaign that is more advanced and interactive you should turn to branded mini-games.
More and more brands are starting to discover the power of gamification, and surprisingly more B2B brands are embracing the idea. Let's take as an example this Memory game that can be created by any B2B company. Imagine that a chocolate producer launched new products right in time for Easter, and is now looking to promote them among their existing customers (bakeries and restaurants). A good way to attract the target audience's attention would be to set up an online Memory game and showcase the newly launched items. It's important to share the promotion on social media, embed it on the website, and share it with newsletter subscribers.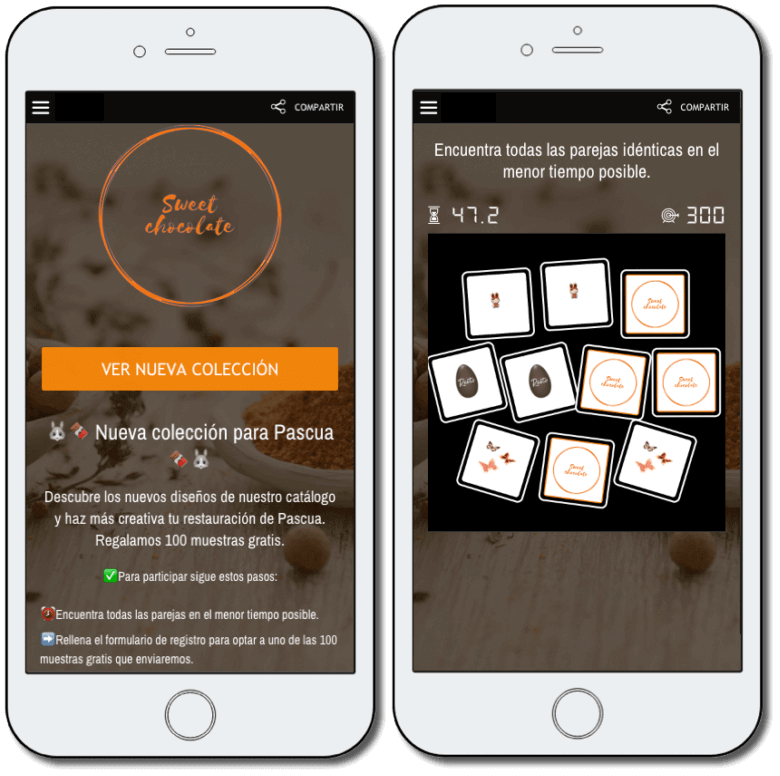 Online promotions and raffles are still not as popular with B2B companies as they are with B2C. However, it is important to remember that behind the B2B companies, there are real people who are the decision-makers. Therefore, if you're looking to land a new client, make sure you show off your creativity. With well designed promotions you can acquire, retain and reinforce the loyalty of the decision-makers.
Optimize your offline marketing and make it profitable
Customer acquisition and relationship building in the business-to-business environment have been developed mainly through face-to-face channels. Events and conferences are the most popular communication channels for attracting new customers and spreading brand awareness. It is believed that around 70% of B2B brands participate in third-party events. 
Therefore, events give you a perfect opportunity to convert face-to-face event participants into leads. Here are just a few of our favorite ideas:
Organize a Live Giveaway for the visitors of your exhibition stand. All they need is to scan a QR code with their mobile phone. They leave their contact details and you can choose if the participants answer any previously selected questions. Once they register they automatically enter a prize draw that takes place in real-time.
Invite the event attendees to play a branded game. Encourage them to participate by offering small prizes.
Launch a prize wheel, display it on tablets at your stand and ask the event attendees to try their luck by spinning the prize roulette. Here's a picture showing how Axioma&Co entertained their audience and collected new contact details during an event.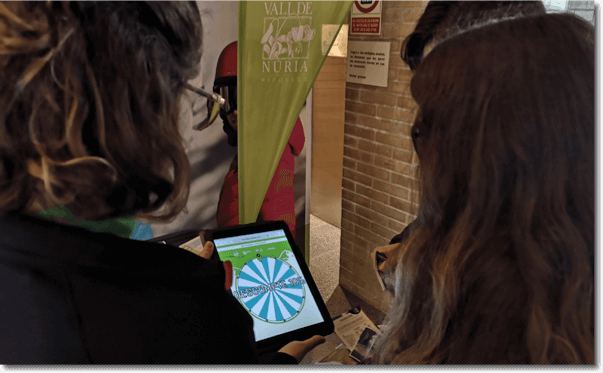 However, in the current situation where social distancing prevails and the public is recommended to limit interpersonal and face-to-face interactions, B2B companies are looking for other ways to organize events, seminars, and workshops. That's the reason why webinars, online conferences, and virtual events have been gaining popularity. We have recently seen that many brands are promoting their sponsors through online contests and giveaways. They raffle their sponsors' products and services in an attempt to improve their brand awareness.
Let's finish this blog post with another example from Easypromos; back in April, we participated in an online webinar organized by Mowomo. The CEO of Easypromos – Carles Bonfill – raffled an Easypromos Premium plan among all the webinar participants who entered a branded game shared by Carles through the YouTube Live chat. The giveaway was finalized at the end of the webinar, in real-time.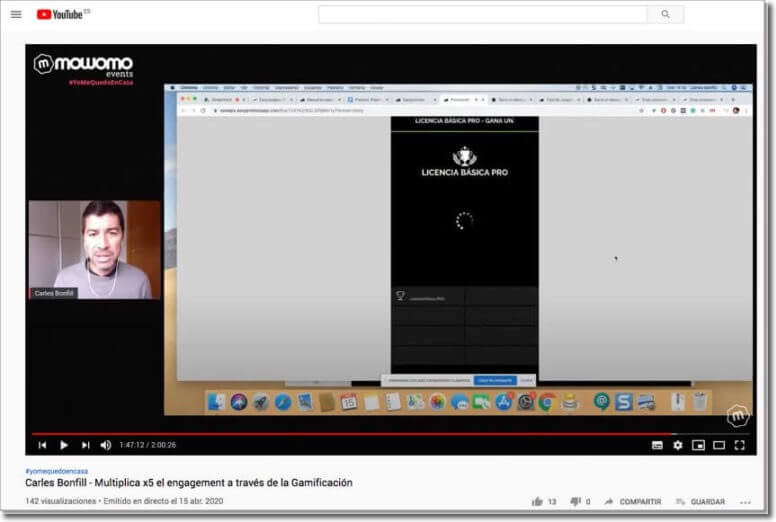 Do you think you can now incorporate online promotions into your B2B marketing strategy? If you have any doubts or questions, contact us via chat and we'll help! 
Publication date: 2020-08-10