Posted in: Digital marketingLast update: 18/05/22
It's no secret that online contests are an important part of lead generation. But are you making the most of online promotions – or are you leaving valuable sales leads on the table? The trick is to get those leads linked up to your CRM so you can keep the buyer's journey moving. Here's how to integrate your promotions with HubSpot, easily and efficiently.

Online contests and promotions have become a popular and powerful way to generate leads. They get potential customers' attention – and their contact details – in exchange for a prize or reward.
Sounds good, right? But if you work with a CRM, such as HubSpot, then you already know that it can be difficult to move contact data around. In this post, we'll talk about how to set up automatic integrations, so you can avoid boring data entry and focus on actually reaching your customers. Here's how it all works…
Why integrate online promotions with HubSpot?
For most online promotions, lead generation is the main goal. But that's still not the whole
story. You're going to need a comprehensive marketing stack to handle the results of your promotion, follow up leads and keep track of your content.
This is where integration with HubSpot comes in. You can…
Automate repetitive tasks, such as processing data or uploading it to your CRM. You'll save time and avoid copying errors.
Segment leads so that you can identify different groups and offer them targeted content and offers.
Identify leads by the vendor or store they visited, so you can personalize the messages you send them.
Get real-time updates and analysis to inform your marketing strategy.
Measure ROI simply and transparently, so you can keep delivering value for money.
How to create and integrate online contests with HubSpot
So now you've read about all those benefits, here's how to actually get them, in three steps:
Step 1: Design your contest with Easypromos
Before you can collect your data, you'll need to set up the contest itself. And you've got heaps of options: Easypromos has over 30 different apps for online promotions, contests, and giveaways. Just remember that if you're going for lead generation, social media contests won't be much help. Try focusing on games, quizzes, or photo contests instead.
For each promotion you create, you should have clear goals and a well-defined audience. This makes it much easier to design your contest and ask the right questions on the promotion sign-up form.
Step 2: Connect your contest to HubSpot
In the past, you could connect Easypromos to HubSpot via a Zapier integration. It took a few extra steps, but it worked.
Now we've upgraded – and HubSpot is just one of a long list of direct integrations with Easypromos.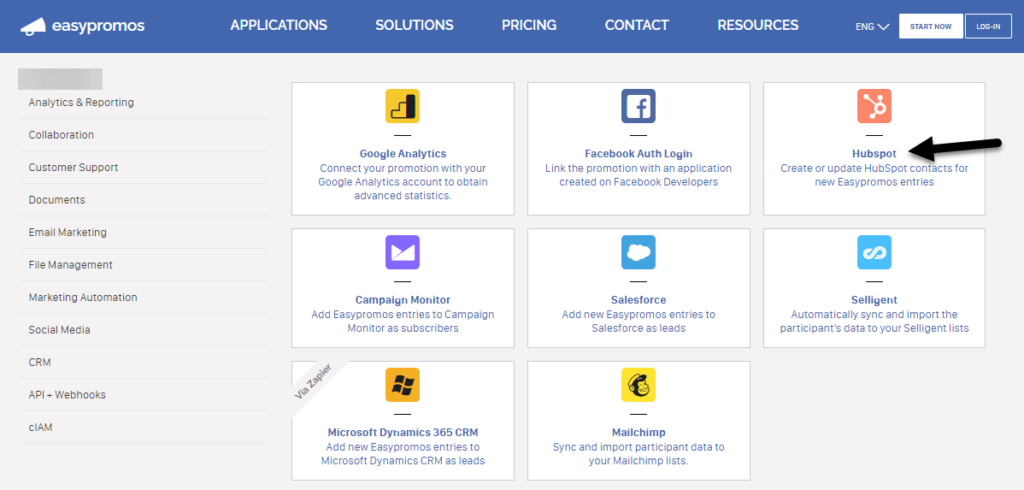 Setting up your direct integration with HubSpot couldn't be simpler. Once your promotion is ready to go, all you have to do is click "Integrations" in the main menu of your promotion on Easypromos, and follow the steps. You should set up the integration as soon as you activate the promotion, and before you share it online, so that you don't miss any leads.
Step 3: Share the contest online
When you create a promotion with Easypromos, you'll get a link to share on your website, social media and other digital channels. Sharing the contest with a wide audience is essential if you want to reach new audiences and pick up new leads.
To give the promotion an extra boost, you can also use HubSpot CTAs (calls to action). For example, you could create a website pop-up to advertize the contest, as well as a banner on your blog. Both would have a CTA button, leading directly to the promotion. What's more, HubSpot will give you statistics about how many people interact with each CTA and which one is most effective.
You can customize the text and style of each CTA. You can even create smart CTAs, where HubSpot will automatically edit the CTA to appeal to different viewers based on their device, location, language, or referral source. Let's take a look…
How to customize CTAs in HubSpot
HubSpot will start by asking you for a country, device type, referral source and language for each CTA. It will also ask you to define your target audience based on Lifecycle Stage or Contact List Membership.
The first option is best for reaching new leads. Here's how to do it:
Click Create a CTA and then choose Create a Smart CTA.
When you're offered different types of smart content, choose Lifecycle Stage.
Choose the stage of the marketing funnel you want to focus on. Make sure that the action you want from viewers matches their stage of the marketing funnel.
If you create a CTA based on a list of existing contacts, the process is a little bit different:
Click Create a CTA and then choose Create a Smart CTA.
When you're offered different types of smart content, choose Contact List Membership.
HubSpot will create a CTA to match each segment of your contact list.
And that's all it takes. As you can see, integrating Easypromos contests with HubSpot is easy. But if you need any extra help, you can always chat with our support team here.
Publication date: 2020-10-14