Give away tickets to boost your event
Whenever you plan a promotion, you should start by asking yourself the same question. What is the goal? Today, we're talking events: so you're probably hoping to fill a venue, raise brand awareness, and create plenty of chatter on social media too. That's why our recommended strategy is to give away tickets online.
(Not all of them, obviously! There's a bit more strategy to it than that.)
Firstly, and most obviously, the contest acts as publicity for the event. But at the same time, it also increases engagement through social media. Even if someone doesn't win the contest, they'll still have heard all about your plans. So a ticket giveaway promotes you one-off event, while building your online audience for future campaigns.
Looking for lightning-fast solutions? Run a last-minute ticket giveaway on Facebook or Instagram with our free instant templates.
6 ways to give away tickets online
Recruit subscribers with a registration form
Let's start with something classic and popular. It's easy to give away tickets with a registration form. Offer the tickets in a prize draw, where users have to fill out a form with their contact details in order to take part.
Here's a fun example from a popular local bar in England. They offered a VIP party package for a long weekend in summer. But they kept things simple: users only had to fill in their name, email, and phone number. They also had the option to connect their Facebook account.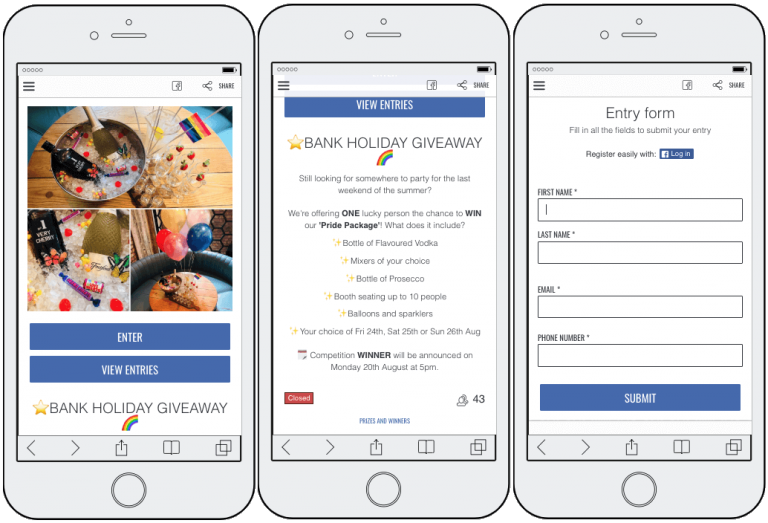 We love promotions like this, where the basic promotion layout is brightened up with colorful photos and cute emoji. Make sure that your design grabs people's attention, as well as the prize.
Share exclusive events for loyal customers
Here's a slight twist on the classic registration form. If your brand runs a loyalty scheme, or you'd like to start one, then you can use a giveaway to increase the number of members. It's a great strategy to grow your email list, too.
In this example, an airline decided to offer free tickets for a holiday in Madrid. As part of the registration form, users had to become members of the airline's rewards scheme.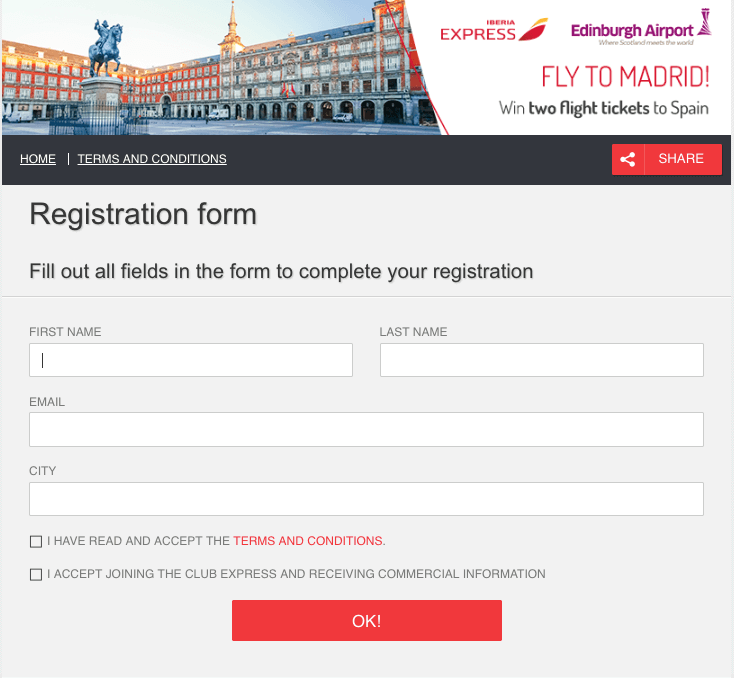 Remember, participants have to explicitly accept your terms and conditions, privacy policy, and commercial emails. When you create promotions with the Easypromos platform, you'll have access to ready-made legal documents and hosting.
Challenge your fans to a quiz
If you'd like to make your giveaway more competitive, then you can create a quiz to challenge your followers. Ask some quick questions about your brand, products, or event theme. You can decide whether users need a certain score to enter the prize draw.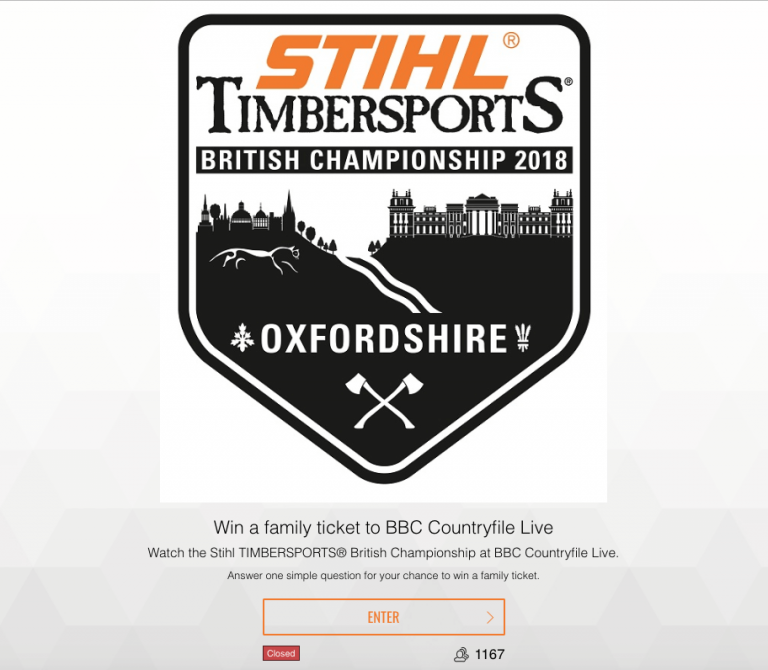 Here's an example of a co-branded promotion. This sports organization offered tickets to a live TV show. For a chance to win, participants had to correctly answer one question about the history of Timbersports.
Another option is a survey to collect your fans' opinions and ideas. Keep questions short! Use the survey to give away tickets, or collect reviews during and after your event.
Run a video competition with prize tickets
We often see brands running exclusive events and conferences for creators, business people, or as part of education and training programmes. And video contests are an extremely popular way to give away tickets in high demand.
This telecommunications brand offered tickets to an enterprise event in Hong Kong, with flights from the Americas and accommodation included. To take part, users had to share a video explaining why they wanted to attend. They could share video as a file upload, from Vimeo, or from YouTube.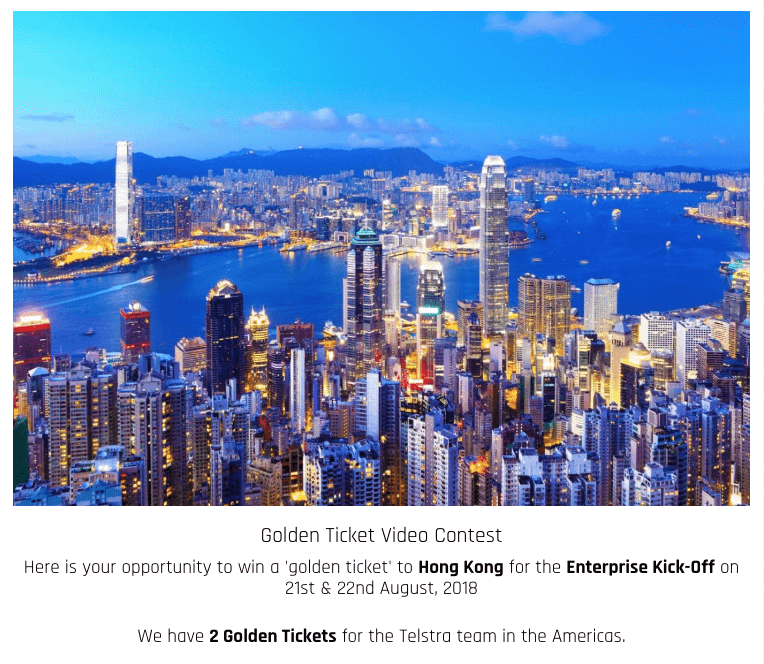 The winners would be selected by a jury, but the brand offered a special prize for the first five entries, too. This gave users an extra incentive to take part. Offering a range of prizes is always popular – and in contests which demand a lot of effort from participants, it's important to offer a proportionate reward.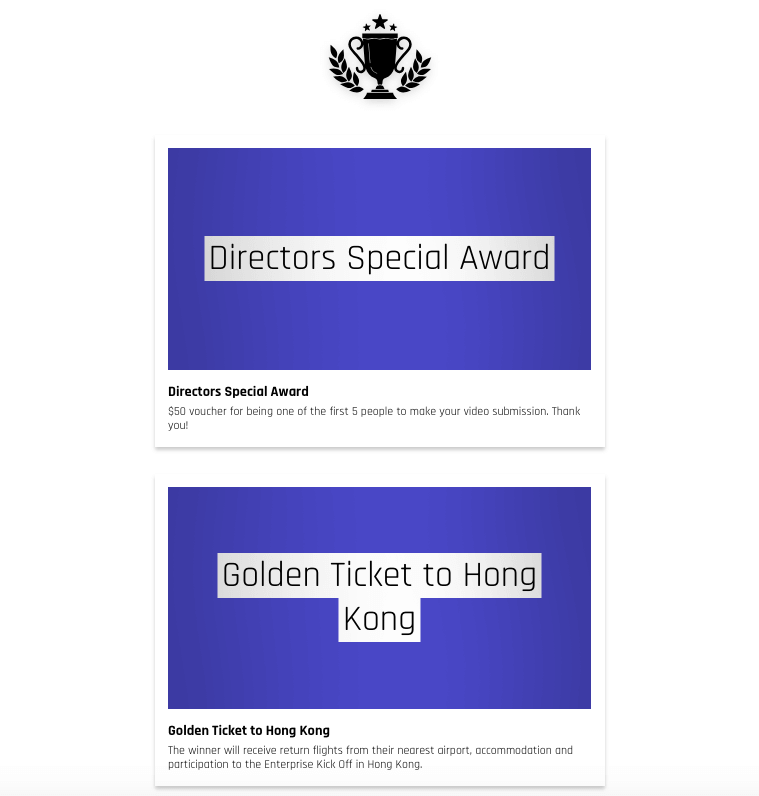 You can collect photo entries, too. A photo contest is always popular, and may be easier for users to join.
Collect videos and votes
In the last example, we saw a video contest where an expert jury would decide the winner. But you can also choose to open your competitions up to the public. First, share all your photo or video entries in a public gallery. Then users can view, share, and vote for their favorites.
Here's an example from a recruiters' conference. They asked users to share videos about their biggest professional challenge, and encourage their friends to vote. The most popular video would win free travel and a conference pass.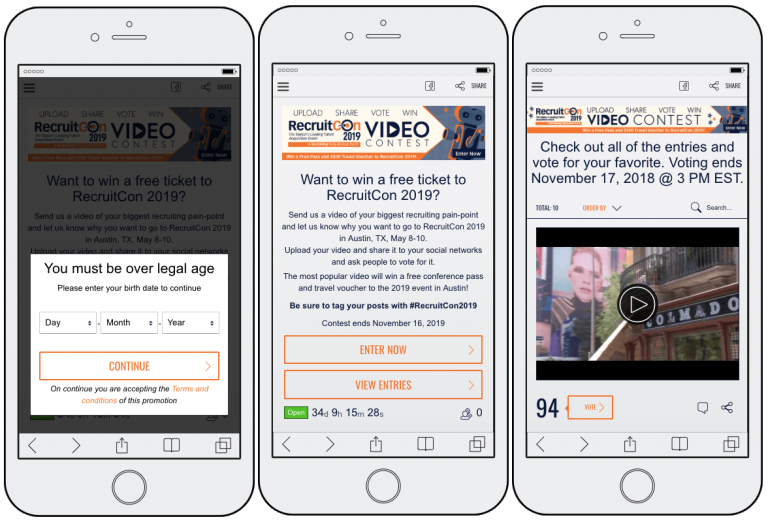 Voting contests like this are a great way to maximize engagement. Your most committed followers will share competition entries. But even people who are less engaged have the chance to join in, by voting. Run a small prize draw to give voters extra motivation.
Instead of using video platforms, this brand asked users to share their videos on social media. Use a specific hashtag to collect all the entries into your public gallery.
Invite your followers to refer a friend
The contest examples above are all great ways to increase engagement by collecting contact details, organizing fun quizzes, and challenging your followers to create user-generated content. But sometimes, your marketing goal is even more simple: you just want to reach as many people as possible.
In a social world, it makes sense that the best way to connect with other people is through their friends. However, social networks are cracking down on contests which ask people to share posts or follow your profile. So how can you get more followers organically?
In a recruiters contest, you give away tickets in classic prize draw – with one key difference. Every time that users refer a friend to the promotion, they get one more entry in the prize draw. So your followers are highly motivated to share with friends, and increase their chances of winning.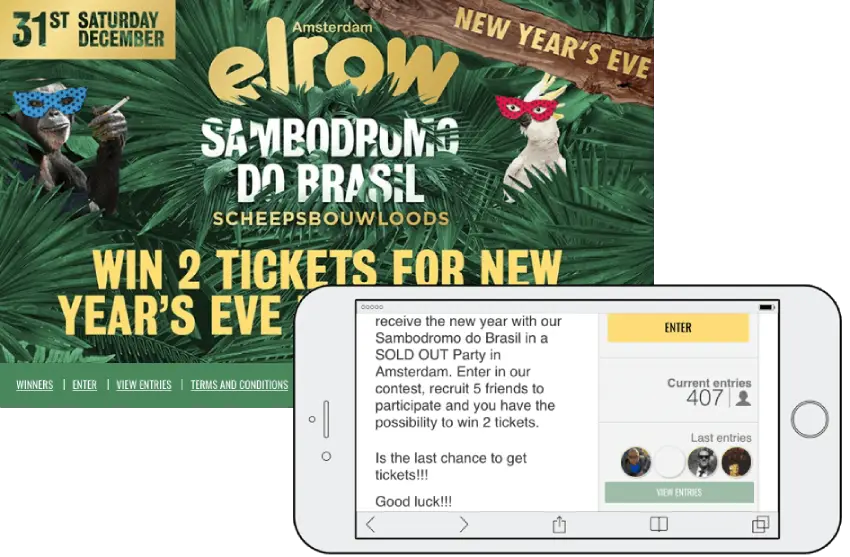 Here's an example from a New Year's Eve party in Amsterdam. Tickets were selling like hot cakes – so the brand decided to turn up the heat even more with a recruiters contest. If users recruited 5 friends, they would enter the prize draw to win free tickets. And when friends joined the contest, they could be invited to follow the brand's social media pages.
How will you give away tickets for your event?
If you're feeling inspired, you can create an account and start drafting promotions right now. We're excited to see what you come up with!