Let's start with some facts and figures, fresh from the 2017 IAB Study of Social Networks in Spain:
Instagram is the fastest-growing social network for new users and number of visits…
… and it's the 3rd best-known social network among internet users
8 out of 10 users follow brands on social media
39% of users follow their favorite brands "a lot" or "quite a lot"
23% of users participate in contests or promotions organized by brands
So Instagram competitions, contests, and giveaways should be a key element of your strategy on the network. However, every brand is different. You'll need to design promotions which suit your unique goals. Read on below to see the best Instagram contest ideas for 3 common marketing objectives:
Increase engagement: Instagram comments giveaway
What's the best way to increase engagement? The answer is simple: make it easy for people to engage. Ask your followers to do something quick and easy – such as commenting on your posts. Then offer the extra incentive of a giveaway, by choosing a winner at random from among the commenters.
You can also ask users to tag their friends in the comments. And it's possible to combine both actions. Ask people an engaging, open-ended question, and invite them to tag a friend in their answer.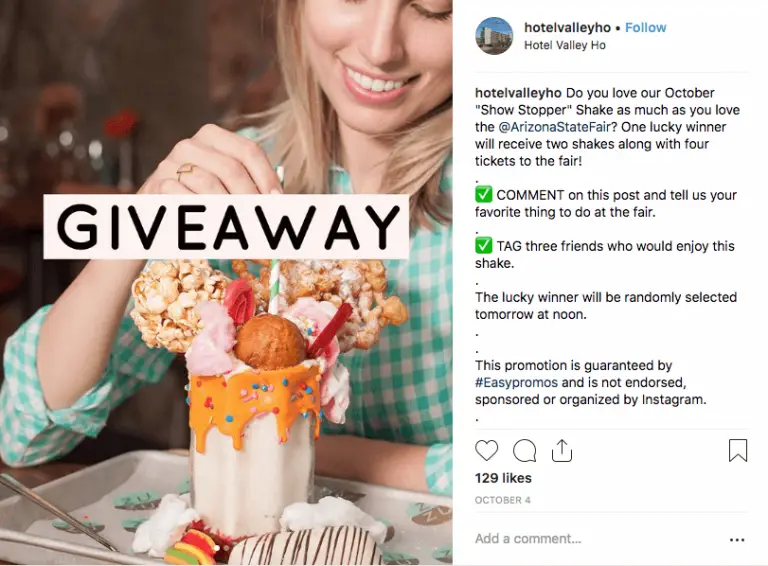 Giveaways based on followers are something of a grey area on Instagram. Since Instagram updated their API in April 2018, there's no automatic way to verify if someone follows you or not. So there's no rule against follower-based contests – but you'll have to check who follows you, slowly and by hand.
There's another reason that follower-based giveaways are a bad idea. For any online promotion, you need people's consent to terms and conditions. When someone clicks "follow", that's not enough! So if you want to ask for followers, you must combine it with another action. When users comment on a post or use your hashtag, as well as following you, that demonstrates their consent to the contest.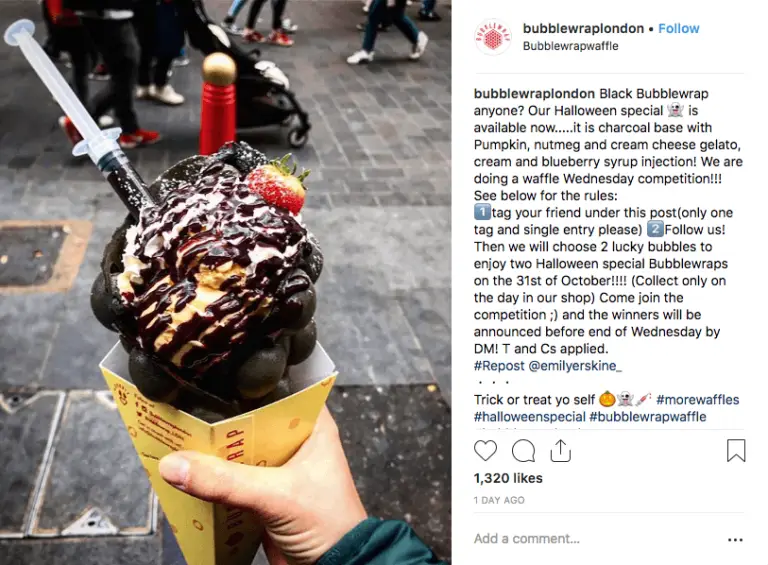 Overall, it's not really worth the hassle. You will get better long-term results by simply inviting users to follow you. Trail the date that the winner will be announced, or tease future updates to encourage users to stick around.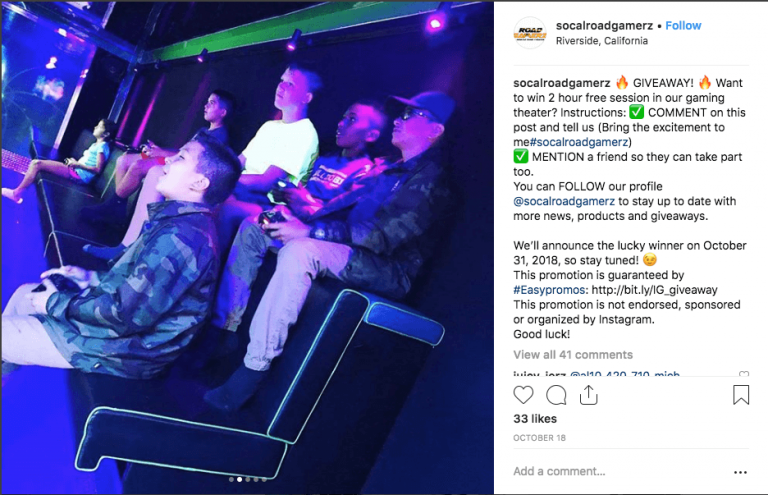 Although you can't verify individual followers, you can exclude bad users. Use Easypromos' filter and exclusion tools to enforce the rules and keep your contest on track.
Get user-generated content: mention + hashtag contest
If your goal is more than simple engagement, then you can ask more from your followers. Instagram contests are an excellent opportunity to collect original, visual user-generated content. There are two ways to do that, so let's start with the quick version: a mention + hashtag contest.
Just like a comments giveaway, you start by publishing your own post. Ask users to share photos on a theme that highlights your brand, products, a special event or holiday. Here's an adorable example from a vet. They launched a search for the happiest pet in town.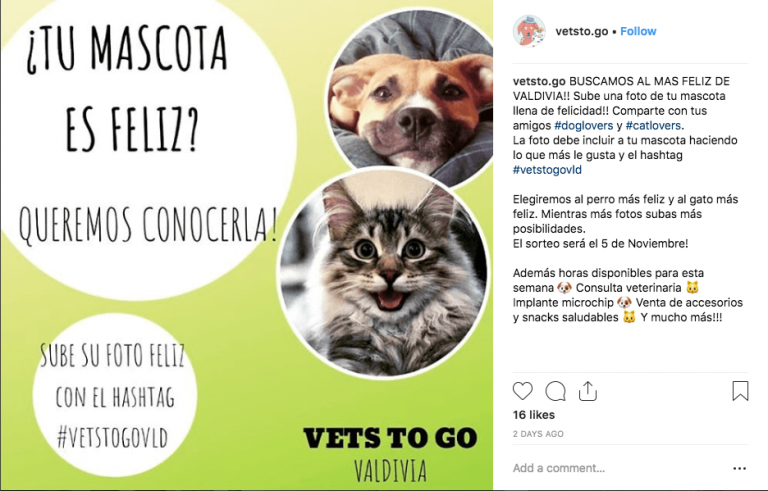 To join the contest, users had to post photos of their pets with the hashtags #vetstovld, #doglovers and #catlovers. This brand chose to use their name as a hashtag, but you can also require users to @mention your brand or sponsors.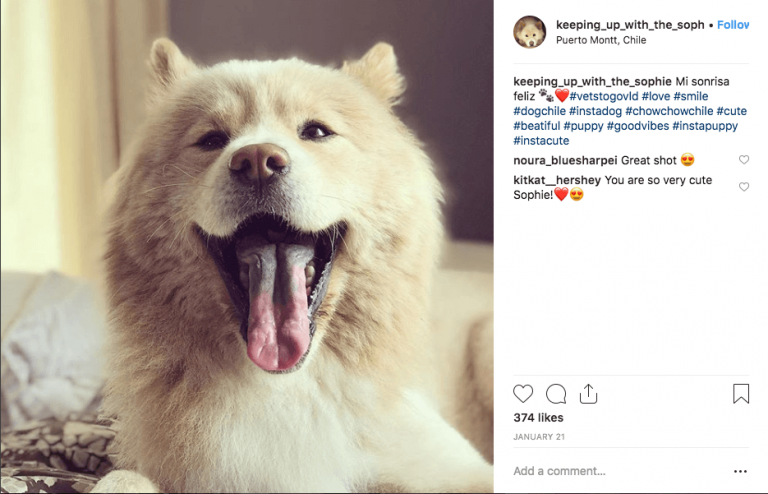 Then you can collect all the photos and videos shared on public profiles. You can select a winner right away, or create a gallery and invite people to vote for their favorites. And if you want to run a cross-platform contest, people can use your hashtag and mention to post on Twitter too.
Capture leads: Instagram photo contest with entry form
Finally, we come to the ultimate Instagram competition: a photo contest with entry form. Use this to collect user-generated content, connect on social media, and get contact details to follow up on your leads.
It starts the same as a hashtag + mention contest. Invite people to share photos on Instagram, using your hashtag. Then you direct them to your competition app.
The app is very simple to use. First, participants connect their Facebook or Instagram account with social login. This is your chance to get extra details, too: ask for email addresses or lead-qualifying info. As soon as they've completed the form, your users will see a selection of their photos which use your hashtag. They just have to select which photo they want to enter.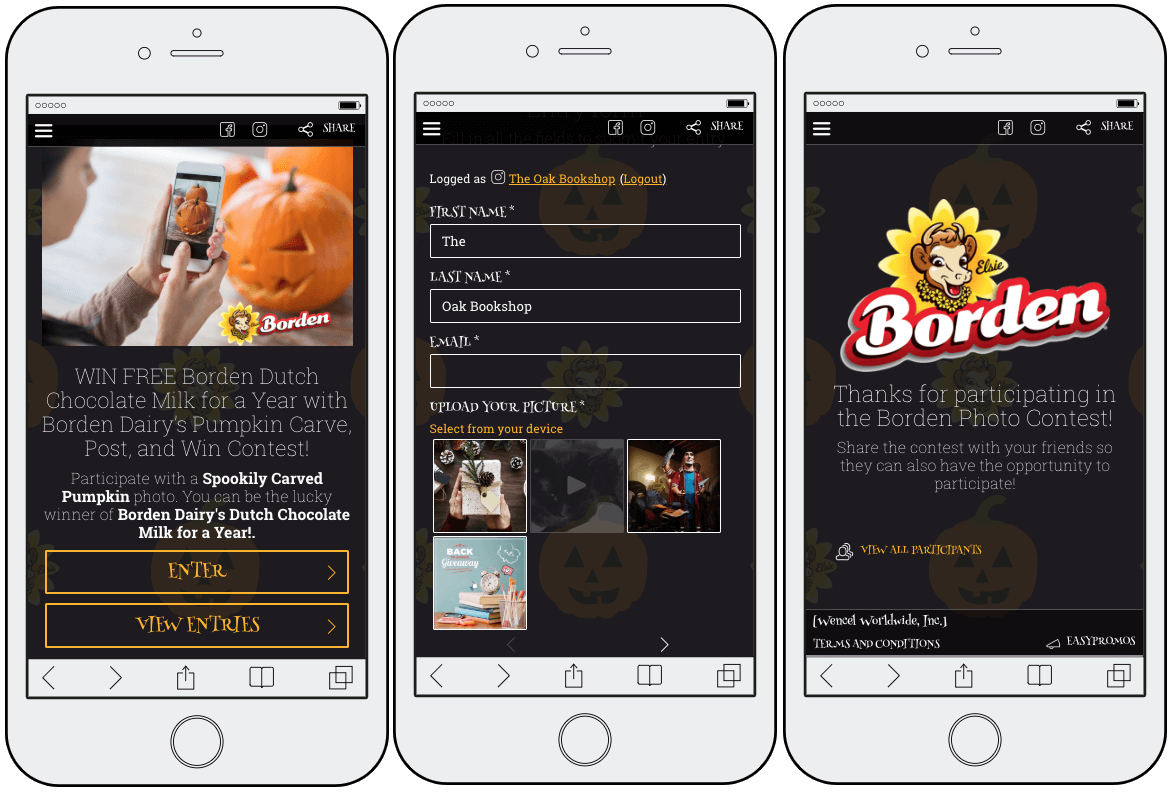 This works even for people who have private Instagram profiles. You'll still be able to collect their competition entries. And in the process, you will also get image rights permissions. So you can collect user-generated content and use it for your campaigns, with total confidence.
Compare the best Instagram contest ideas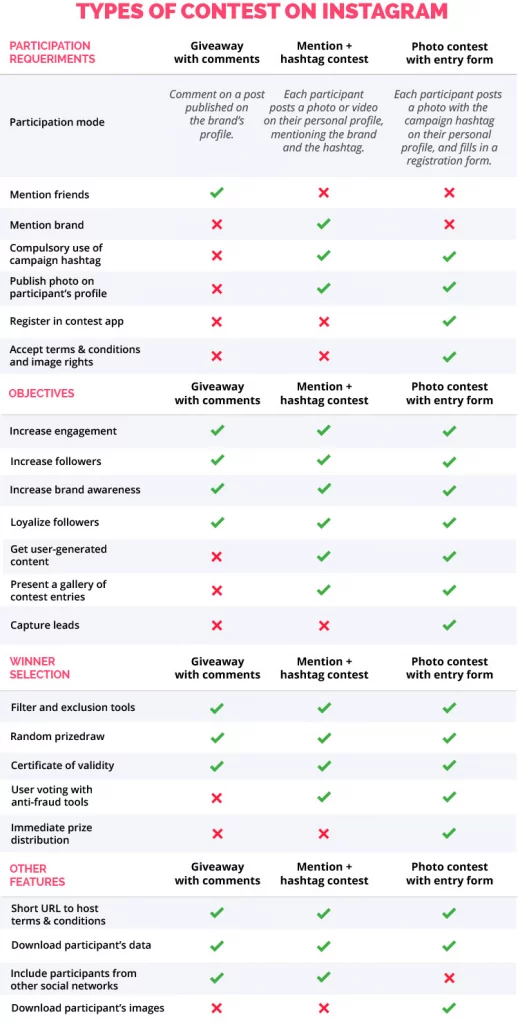 If you know your marketing objectives, then it should be clear which are the best Instagram contest ideas for you. But to get all the details, take a look at this comparison table of the three contest types on offer:


Ready? Create your contest in just three minutes here. Your first Instagram giveaway is free!