Why do people even start thinking about opening their own businesses? We can think of two principal reasons: to make a profit or to share their passion with others. But today we'll focus on the first point.
The ultimate goal of any business is to be profitable and grow, and to do so each and every single company needs clients. You might be lucky enough to have a store in the center of a busy metropolitan area – in that case, your marketing actions are probably minimal. However, if you're based in a quieter area surrounded by competitors, or if your online business needs more customers, you might want to look into data collection.

Apart from the very basic information about potential customers (at least first name and email address), some brands would like to understand their prospective clients a bit better, in order to be able to provide adequate offers or simply launch personalized marketing communications. Luckily for you, nowadays it's much easier to collect essential information from customers than some years ago. In this article we take a look at marketing data collection: we'll show you how to use digital promotions to collect information from your target audience and customers.
Grow your database with Entry Form Giveaways
You might know by now that social media giveaways are the easiest and simplest type of digital promotion. They require minimal effort from both the organizer and participant. However, the only real downside to sweepstakes is that brands don't own any information about the users that enter their comment promotions on Instagram, Twitter or Facebook. So if you're looking for something more than just boosting social media engagement, opt for a simple Entry Form Giveaway.
This application takes second place when it comes to simplicity and digital promotions. You still launch an easy-to-enter giveaway, but this time, instead of commenting on a promotional post users register their contact details for a chance to win.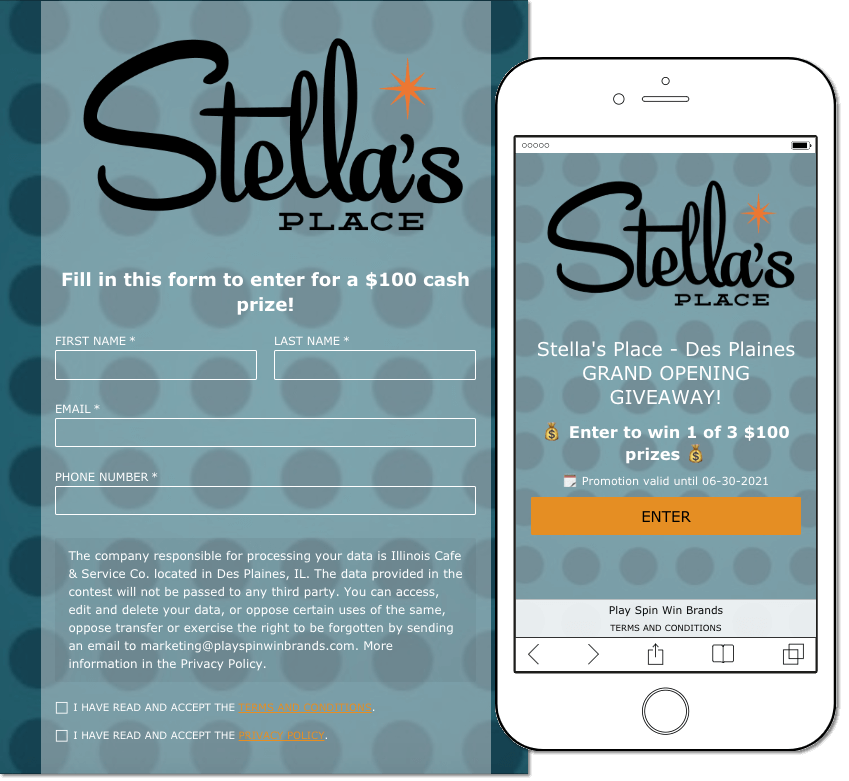 The above example shows how a premium gaming and video poker establishment celebrated the grand opening of their new location. Stella's Place launched a giveaway with a registration form in an attempt to obtain marketing data from potential customers. Each registered participant had a chance to win one of three $100 vouchers. This is a great example of how a new business can grow their mailing list and attract visitors.
You can edit the registration form and ask for more information (phone number, date of birth, etc.), however, the more you ask for, the more participation barriers you create.
The best thing about launching promotions that aim to collect marketing data with Easypromos? You can sync the data collected with Easypromos with your CRM applications; your database can be automatically updated with the new data.
Learn more about your leads with surveys and questionnaires
Surveys and questionnaires are typical dynamics for marketing data collection and there are two groups of users to launch them for:
Existing leads: send a link to your survey to existing customers or leads to ask more specific questions about their likes, preferences and customs.
New leads: launch a survey and share it on social media to convert followers into leads and collect more detailed information at the same time. However, many new prospects might not be willing to share more information with a brand they just came across.
One of the main reasons to collect more information about your existing and potential customers is to be able to better understand their needs and pain points. The more data you have, the easier it will be to launch personalized offers and communications, too!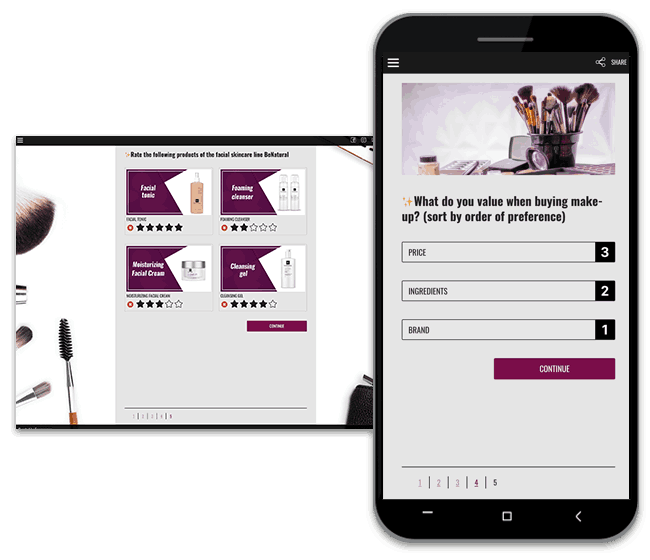 Would you like to launch a survey for your customers? Use one of our ready-made survey templates to save some time. The template comes with images and text that you can fully edit!
Ready to launch a survey? Prepare a few questions (don't ask too many questions if you want participants to submit the survey!), for example, "Which product do you prefer?", giving two possible answers. Next time you launch an email marketing campaign, you will know that user A prefers body lotions, while user B looks for hair-care products. Offering coupons for specific products will boost brand loyalty and trust, as your customers will get the feeling of being important to your company.
Collect marketing data through gamification
Branded mini-games are popular engagement and visibility boosters. But did you know that they can also be used as great tools to collect organic information about your audience?
Imagine launching a branded Puzzle for existing customers; you can send a direct link to your gamified campaign to your whole database. Once you finalize your promotion you will have a list of users that positively and actively respond to gamified campaigns, which will bring you a new avenue of boosting customer loyalty.
Another way of using gamification for your audience is to reward the real loyal fans of your brand. Have you ever heard of a Multi-Game promotion?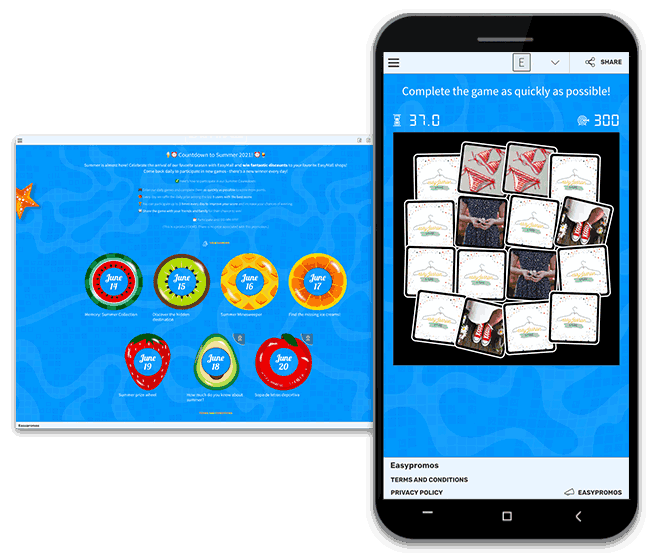 The Easypromos Multi-Game application allows you to launch a promotion with various participation stages. It basically means that you can organize daily, weekly or monthly challenges for your clients and potential customers. Like in the above example, you can open a new game every day! How will that help marketing data collection?
If you reward participation, the number of participants will significantly increase. Give a small prize to the winner of each stage (discount voucher, product samples) and reward the overall winner with a grand prize. This will bring users back to your promotion! And you can once again identify the users most engaged with your product and brand. Once you know who they are, you can launch promotions aimed especially at these users. You will also know who are the users that need to be reengaged and possibly retargeted.
Do you have other ideas for using promotions for marketing data collection? Or maybe your campaign was a great success and you'd like to share it with us? Let us know via our live chat!