Social media marketing for food and drink brands is a hard nut to crack, mainly because of the high number of competitors you face. A good location is probably the best and easiest way to drive traffic to your brick-and-mortar business; however, there are some marketing strategies that will also attract clients to your brand, to your online brand too.
In this blog post, we look at how to use social media for promoting your food or drink company and generating visibility and engagement online.
Run giveaways to spread awareness about your food and drink brand on social media
Have you spent months planning the opening of your new bar? Or maybe you're ready to launch the food brand you've worked on for years? Start by making sure your target audience knows about your existence.
Apart from sharing attractive images of your location, products, or interiors, find a way to generate excitement within your audience. One way to do this is to put your mind to organizing comment-to-win promotions that will help you grow your following, spread awareness on social media, and generate visibility for your new project.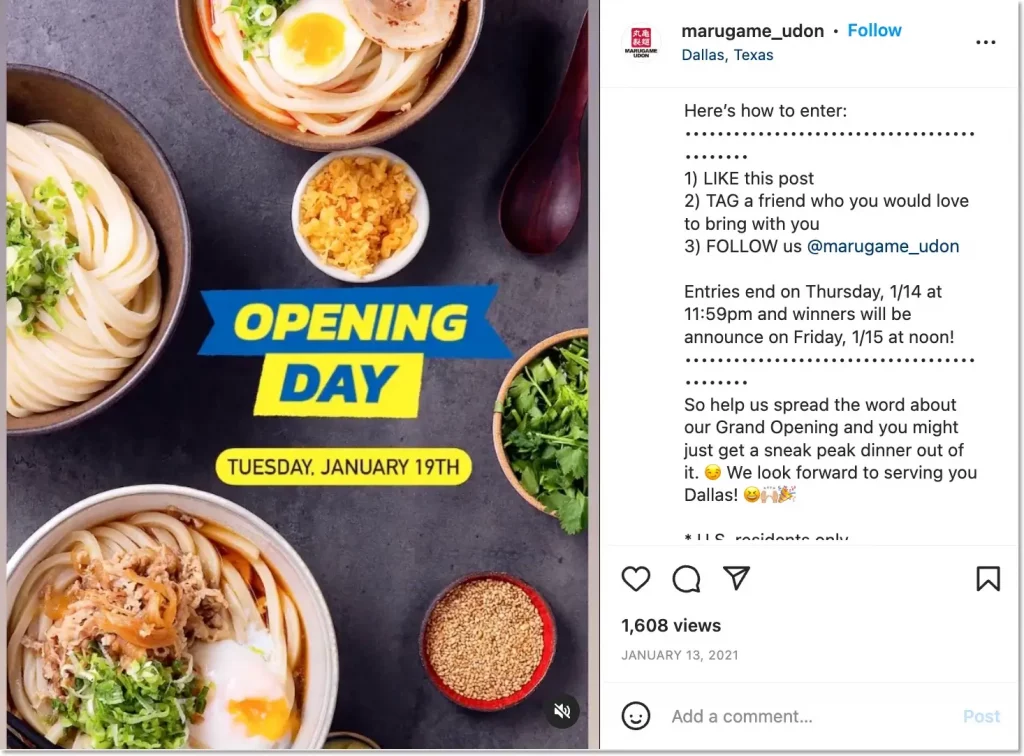 Marugame Udon is a Japanese fast-food brand popular all over the world. In order to promote the grand opening of the new restaurant, the Japanese brand organized a social media giveaway in which they raffled one hundred $10 vouchers. Participants liked the giveaway post, followed Marugame Udon, and tagged a friend who they wanted to bring along.
Let us stay with Asian cuisine for a minute longer by taking a look at the following example from Harborview Restaurant & Bar.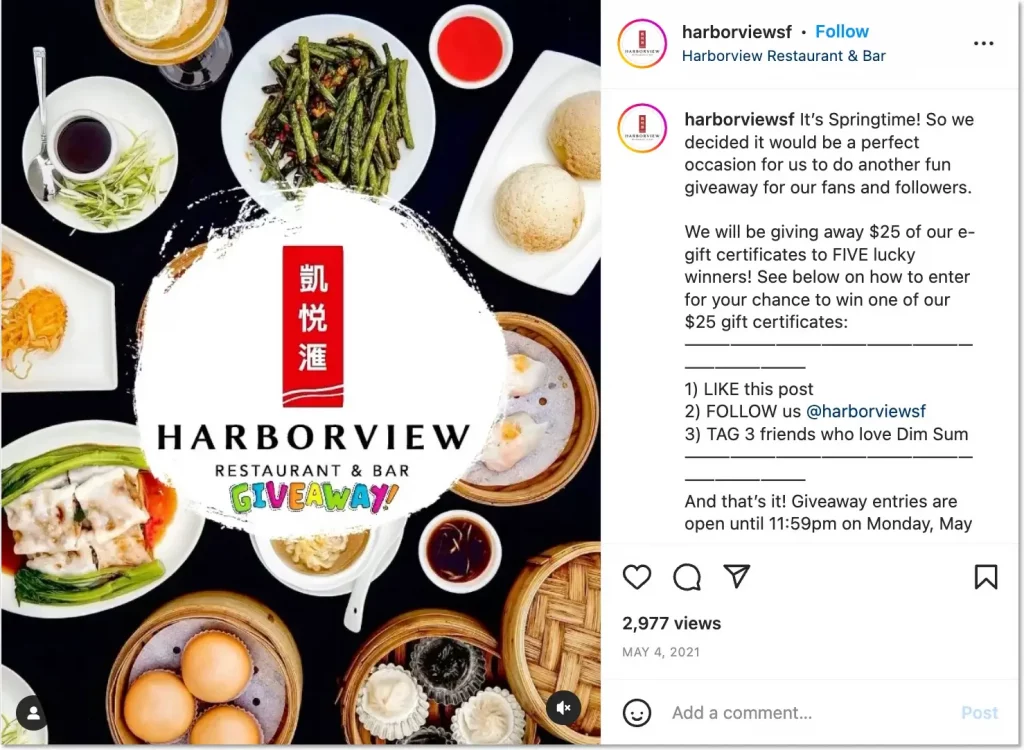 The company wanted to celebrate the arrival of spring with their followers and so they invited everyone to participate in a fun Instagram giveaway. Users liked the post, followed the organizing account, and tagged three friends who love Dim Sum. In return, each participant got a chance to win one of five $25 e-gift certificates redeemable at Harborview.
Food and drink social media promotions: increase brand awareness by giving away merchandise
Word of mouth is the cheapest and most effective way to spread awareness about your brand and products or services. Genuine recommendations from existing customers are more trustworthy than marketing campaigns and likely to convince hesitating potential clients. Well-planned social media marketing is also a vital part of any successful food or beverage brand, however, there is a way to take it even further.
By giving away merchandise you turn your customers into proud brand ambassadors. Clients that wear t-shirts or caps with your logo or carry reuseable bags or pens with your slogan help you promote your brand to a wider audience. All you have to do is come up with a fun way to give away the merchandise so that you can generate more visibility for your food or drink brand in the meantime.
La Croix is one of the best examples to show how food and drink brands can generate engagement for their social media channels. La Croix regularly launches comment giveaways on social media to raffle branded products like tote bags, yoga mats, magnets, or stickers.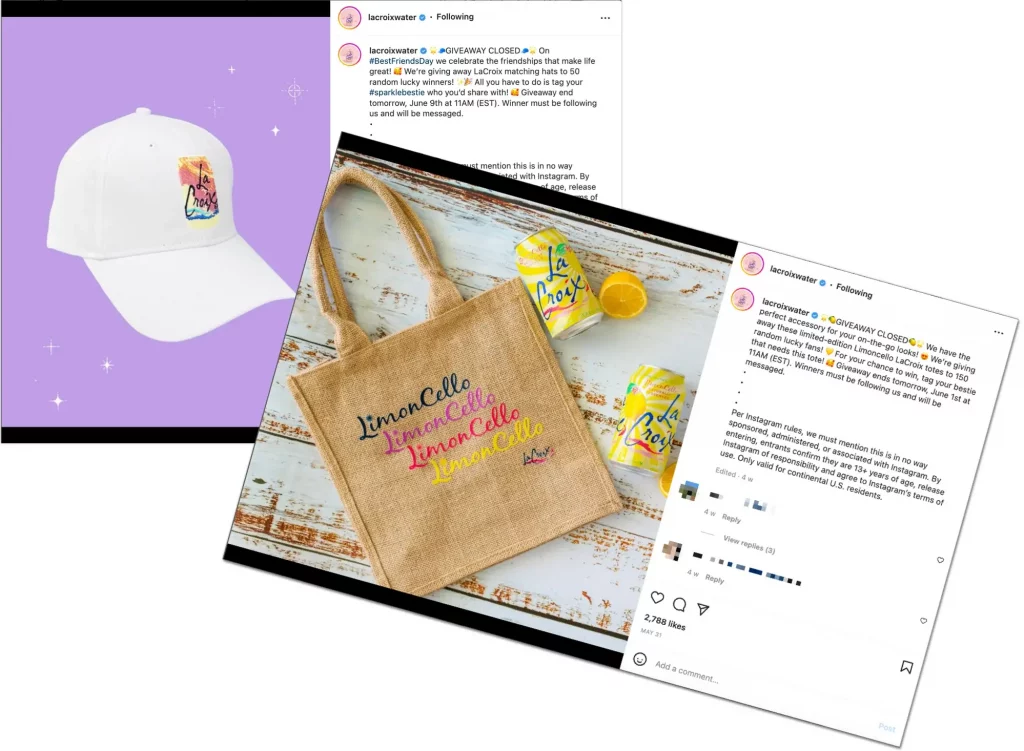 Each of the giveaways generates for La Croix more than 2000 comments – that's roughly 1994 more comments than the regular posts that the brand shares.
Food and drink promotion on social media: give away vouchers, coupons, discounts, and product bundles
DeeBee's Organics is a freezer pop brand that shares creative and vibrant content on its social media channels. Apart from regularly resharing user-generated content that makes the brand more trustworthy, they also organize comment giveaways, which generate engagement and therefore help the brand stand out on social media. Take a look at the following example from DeeBee's Organics to see how they raffled a month's supply of their real fruit freezies, as well as a $100 Amazon gift card.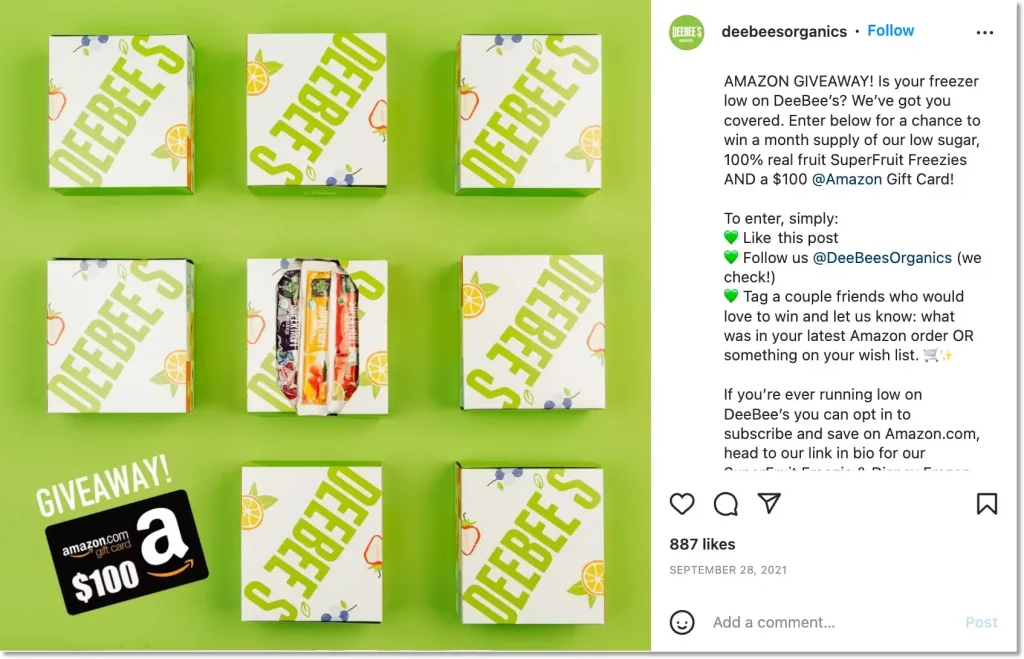 This example is especially helpful as it shows a great tactic to target not only the existing customers but also those that haven't yet heard of the brand; surely, many users were driven to the giveaway by the idea of winning an Amazon gift card, however, the winner also received Deebee's Organics products. This means that apart from forming a valuable bond with the brand, the winner also got to try the product and who knows, maybe they became a new loyal customer!
However, Deebee's Organics has also discovered another great way to promote the food brand on social media. They recently teamed up with Frieda's Branded Produce, a brand that promotes healthy eating. Together, they ran an Instagram giveaway that promoted both food brands. Interested participants followed both organizing accounts, liked the giveaway post, tagged a friend, and shared which red fruit or veggie is their favorite. In return for helping the brands generate engagement and visibility, each participant had a chance to win a huge product bundle from both organizers.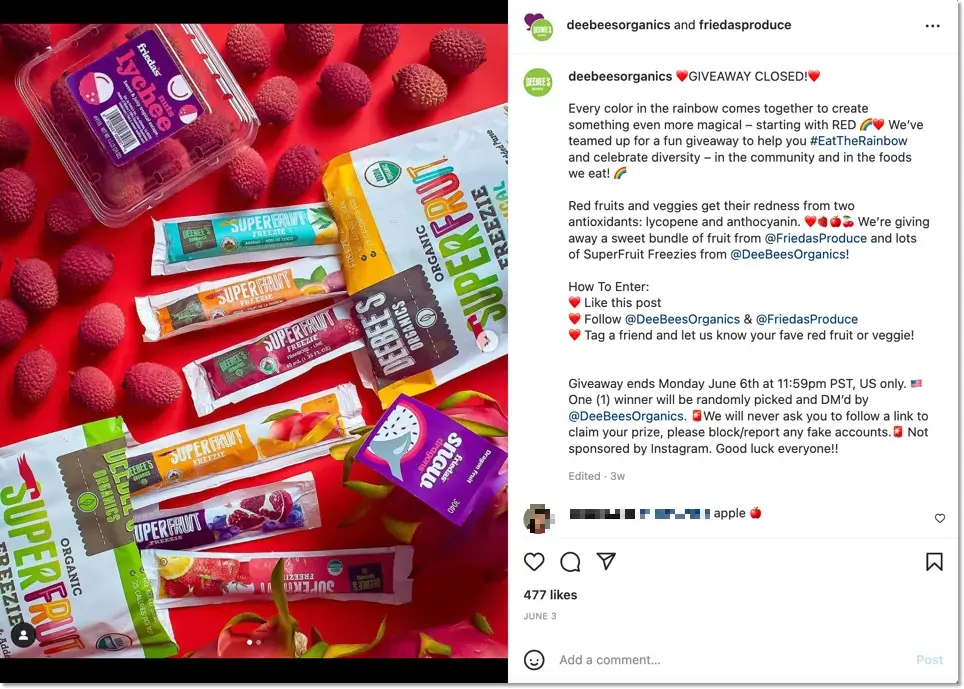 Collaborate with like-minded brands to grow your food and drink account
Growing your food or drink brand's Instagram account can be difficult, especially if you're only just getting started. However, there are fun ways to attract followers of other like-minded brands to your account. All you have to do is team up with another brand that has the same values as you. Otherwise, look for a brand that goes together with your products, like in the following example.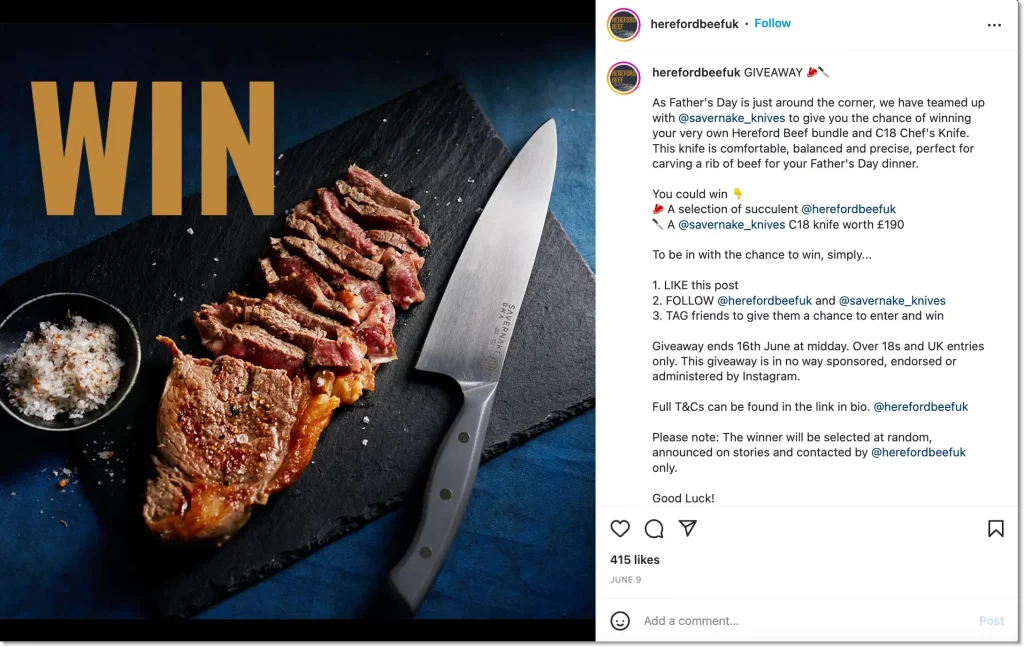 Hereford Beef collaborated with Savernake Knives to together run a Father's Day giveaway. Together they provided beef and knives right in time for Father's Day barbeques and celebrations. All interested participants liked the giveaway post, tagged friends in the comments, and followed both organizing accounts. As the giveaway was also shared on Savernake Knives' profiles, Hereford Beef got some new high-quality followers, and vice versa.
Are you ready to promote your food and drink brand on social media? Don't worry if you have more questions; our Customer Support team is ready to help!