Posted in: Success casesLast update: 12/04/17
The agency

Lifecom Agency is an online marketing agency that works with sportsmen and women, celebrities and FMCG companies. Jorge Lorenzo is currently one of its principal clients.
The agency is dedicated to the management of social media communication of brands, helping them meet all their communication needs with their followers and fans.
It covers all fields of digital marketing and its aim is to improve online positioning of brands, encouraging greater user engagement and loyalty.
Lifecom wants its clients' ideas to become reality, its clients' followers to be as well informed as possible, and its clients' brands to be top of mind for internet users.
The Client
Jorge Lorenzo, Moto GP world champion in 2010 and 2012 with the Yamaha team, and 250cc world champion in 2006 and 2007. With a total of 49 victories, he is the seventh greatest driver in the history of motor racing.
The official Facebook page of Jorge Lorenzo has 965,631 fans (October 2013). His Twitter feed also redirected users to the contest being held on Facebook.
The Campaign
After reaching 2 million followers on his various social networking sites (Facebook, Twitter, Google +, Instagram and YouTube), the racer launched a campaign on his official Facebook page to raffle prizes, with the aim of thanking his fans for their support.
Under the title, 'Win one of Jorge Lorenzo's 5 incredible prizes!', the contest consisted of a raffle of 5 Jorge Lorenzo packs, including a signed helmet, a paddock pass to attend a MotoGP championship of the user's choice, and a special edition watch. In order to take part, users had to invite their friends to also take part, getting at least 4 of them to enter the contest. Only those users who met this challenge could enter the raffle. The user who won the contest, plus their four friends, would each receive a pack.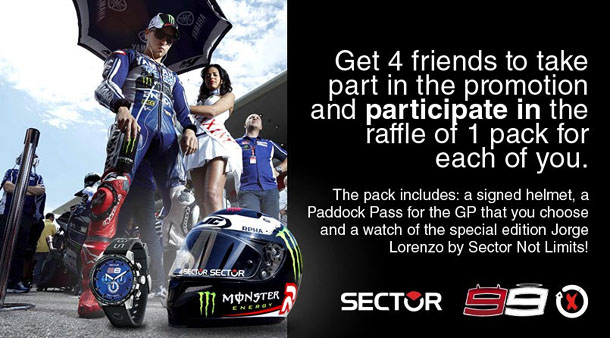 CHALLENGE:
The main objective of this campaign was to give thanks to Jorge Lorenzo's community of followers for their loyalty by offering them a series of fantastic, high-value prizes. The campaign had to involve the maximum number of followers – not only Facebook fans, but also those who followed the driver on other social networks. To this end, a system was found that would enhance the viral effect of the campaign and generate an impact on the whole fan community.
With followers from up to 45 different countries, the official Facebook page of Jorge Lorenzo offers information and up-to-date content to fans in Spanish and English. The challenge was to organize a contest on the racer's fan page that would reach all his fans, regardless of nationality. To this end, the promotion had to provide the same content in both Spanish and English.
The Solution
In order to carry out the campaign, the Easypromos White Label solution was chosen and the following features were utilized:
Easypromos recruiting system, which allows the contest winner to be chosen based on the number of fans that he or she has encouraged to take part in the promotion.
Multi-language support, which enables the same promotion to be set up in various languages, with content displayed according to a user's language.
Easypromos tool for selecting winners, to enable the raffle to be carried out among all those users who recruited a minimum of 4 friends.
After completing a simple registration form, the user was registered in the raffle and could begin recruiting friends. To do this, the user had various tools with which to invite friends, for example by sending direct invitations, publishing the contest on their wall or even sharing their entry with their circle of friends.
To enter the raffle, participants had to get at least 4 of their friends to register too. This method provided users with a challenge and helped enhance the viral effect of the campaign: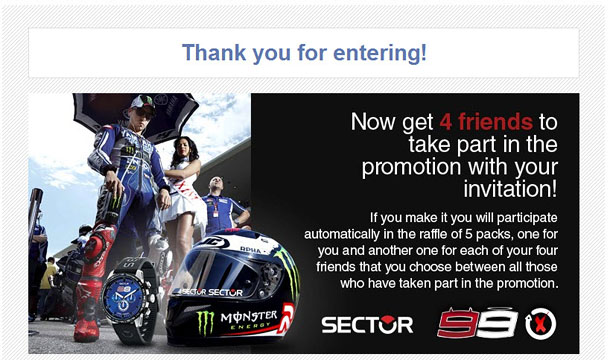 Participants received a Facebook notification each time one of their friends accepted their invitation and registered in the contest. Users could also access the application on the racer's fan page at any time in order to see their recruited users and check the progress of their participation.
The multi-language support of Easypromos White Label enabled the promotion to be set up in both Spanish and English. The same promotion content could be shown in either language, depending on the participant's language setting on their Facebook profile. English was the application's default language, so the promotion was shown in English to all users who did not have Spanish as their Facebook language.
The Benefits
The campaign had more than 5,000 unique participants, of which 60% came from recruiting actions.
Thanks to this contest, Jorge Lorenzo's fan base was increased by 1,959 new followers, meaning that not only did the campaign have an impact among those who were already fans, but it also reached people who weren't previously fans of his official page.
Related links: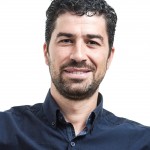 Easypromos CEO and co-funder