Posted in: Applications,Ideas for your websiteLast update: 05/08/22
The fashion world has found its ideal environment in the social networks. It is now very common to see online campaigns carried out by the most prestigious brands, via meticulously planned actions in Facebook, Twitter, Instagram, Pinterest, Vine, etc. Discover the advantages that social networks provide to brands, and learn how to create sweepstakes and contests to help you dynamize these channels.

There are a number of factors that have made online and social network marketing more popular now than traditional marketing, with companies dedicating more economic investment and greater time and effort to it. The popularity of social media networks is the main reason for clothing brands turning to social media to promote their new fashion collections. To put it simply, social media channels bring together billions of monthly active users who happen to be the target audience of clothing brands. Today we take a look at examples of successful fashion promotions on social media. We will also show you how to organize social media giveaways for your fashion brand. Here we go!
Advantages that social networks provide to brands
They maximize the impact of images and videos. Fashion has found a perfect channel on social networks and no longer has to rely only on magazines, billboards, TV, etc. An image is capable of transmitting an idea, concept, or sensation in tenths of a second. If we accompany this image with sound, we can make an even greater impact. This is because users share visual formats more often than texts, demonstrating the effectiveness of visual marketing.
Bi-directionality is another reason why the fashion world has embraced social media. You can launch a new collection, present it to the world via social networks, and immediately find out what your customers think about it.
The changing behavior of the public as regards the proactive search for information has also been significant in the growing use of social networks in this sector. Before making a purchase, the user searches for information about the product or service in question, making it vital for brands to have an online presence. But that's not all: having a social media presence means your brand will be followed by a percentage of customers who are fans of your brand.
For these reasons among others, no brand has been able to resist the new 'social publicity'. By getting creative they have squeezed the most out of the digital environment by taking advantage of the advantages each social network can bring to the fashion industry. Below, we outline what each of these brings to the fashion industry.
Increase brand awareness on Instagram
Instagram is the perfect platform for capturing everyday moments. Brands have got behind this trend, as have the influencers who have intentionally become the best advocates of brands. What's more, it's a platform that is much utilized by brands that want the users themselves to create content, generating confidence among other users. With more than 1 billion active monthly users Instagram has become the go-to social media network for many brands, including fashion.
Here are some examples of fantastic marketing actions published on Instagram by fashion brands.
Promote your fashion brand with comment-based Instagram Giveaways
Instagram giveaways are very simple to prepare, launch, and finalize. With an attractive image and well-written text, you can attract the attention of your existing customers but also potential new leads. The most popular sweepstakes on this social media network are comment-based, as they're easy to enter and they bring many benefits to the organizing brand. They boost engagement, attract new followers, reinforce brand awareness, and also tap into customers' loyalty and trust as they feel like their opinion and story matter to the brand.
Of course, another key reason to organize a fashion social media giveaway is product promotion. So if you're about to launch a new fashion collect, clear out the stock, or you simply want to boost sales… an Instagram Giveaway is the right thing to turn to!
Here's an example from Dockers Europe. The brand looked to promote their products so they asked the participants to answer a simple question: which outfit is best for a job interview? Thanks to this open-ended question the audience got to share their views; it also led to real conversations between the brand and their followers.
Many brands have their bestselling pieces that daily attract new potential customers. Promoting these bestsellers on social media is a fantastic idea if you're looking to boost sales further. The previous example was a fashion giveaway organized by a clothing brand for men. But let's be honest, the fashion world is still dominated by women and that's the reason why fashion giveaways are mostly aimed at the female part of the community.
Here's an example from Oh So Her. The brand hosted a fashion-themed social media giveaway to promote the launch of the new brand. Oh So Her launched a giveaway solely for their followers, therefore new participants had to follow the organizing account in order to enter the prize draw. If you're looking to grow your social media audience it is definitely a worthy entry requirement.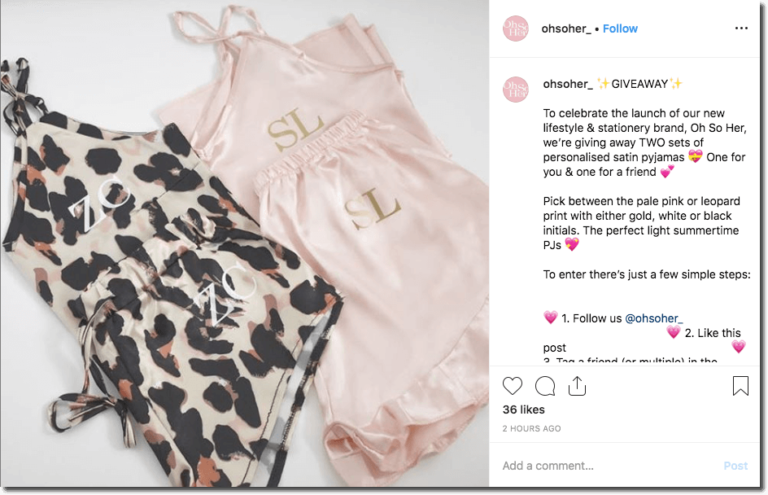 By asking the participants to mention a friend in the comments, the brand ensured their fashion giveaway would go viral.
Not sure which product would be the most adequate prize for a giveaway organized by your clothing brand? Why don't you raffle a gift card? Your participants would definitely appreciate such an incentive as they'd be able to walk away with the piece of your collection they like the most!
Promote your fashion brand on Facebook
If you're unsure if Facebook should be part of social media marketing for fashion brands then let us share something… As of May 2020, Facebook has 2.6 billion monthly active users, and 1.73 daily active users. So…? You should definitely promote your fashion brand on Facebook!
If your clothing brand is well established and you clearly know the products your customers love your task is easier. You can create a comment-based Facebook Giveaway to which you'll attract your audience with your fashion bestsellers.
But how to organize a fashion giveaway for a newly established brand? What prize will be most adequate for your growing audience?
Here's a great example from Laboutiek that looked to attract new customers, reconnect with their already existing community and strengthen their customer relationships. This fashion giveaway was also a perfect tactic to promote Laboutiek's e-commerce.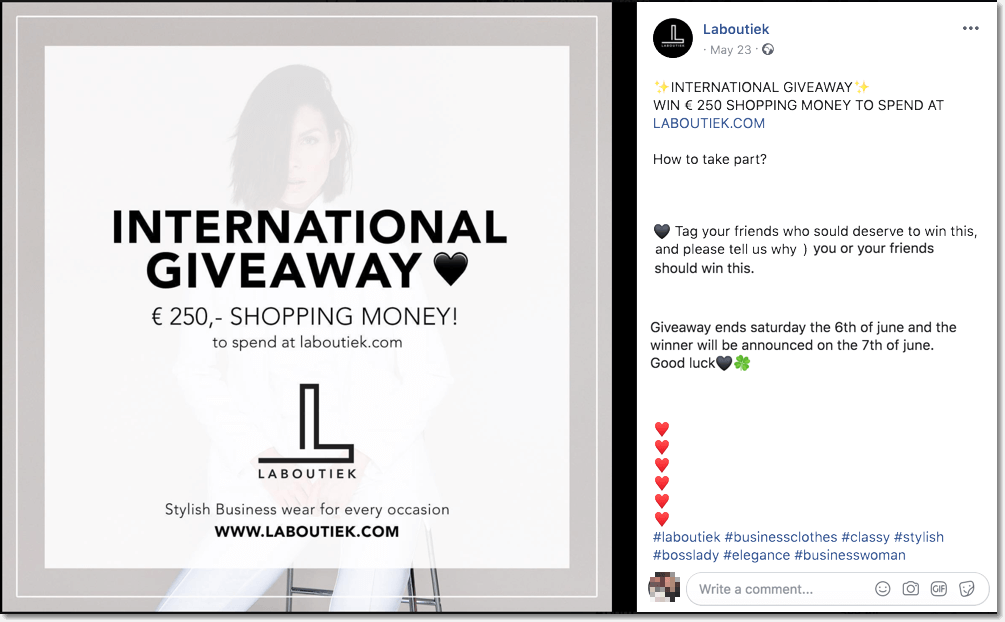 The company organized an international fashion giveaway for anyone who tagged their friends in the comments section and explained why they should win. Apart from promoting their clothing brand, Laboutiek also boosted social media presence, engagement and grew their audience.
Remember, social media marketing is a must for fashion brands because that's where your audience is at!
Any occasion is good to promote your fashion brand
Many customers often ask us when to promote their products or brand. The truth is that any reason is good to promote your fashion brand. Mother's Day coming up? Launch a Mother's Day campaign and raffle clothing pieces for mums and their kids. Valentine's Day around the corner? Create a fashion giveaway and reward your followers with outfits for their Valentine's Day dates. Or maybe it's your company's (or your birthday like in the next example) anniversary. If that's the case, you should definitely take it to social media and reinforce your brand awareness!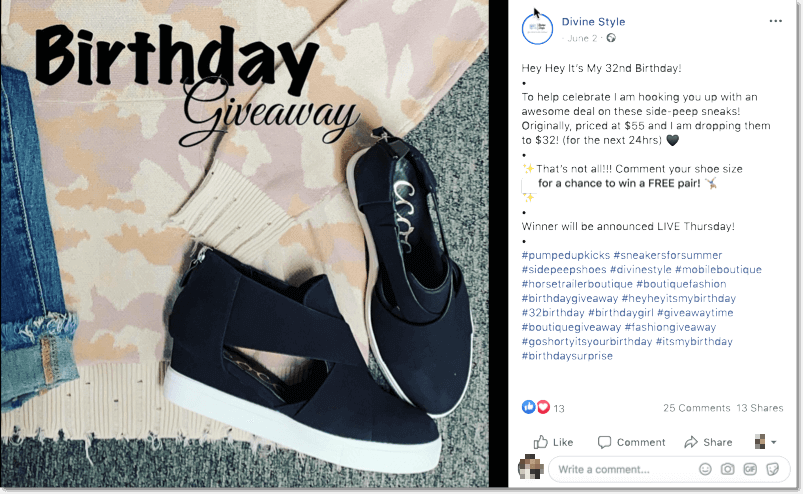 Divine Style is a small fashion brand. The owner decided to celebrate her birthday with her company's Facebook audience. Every person who commented on the post with their shoe size enter the draw and had a chance to win a pair of the advertised shoes.
This fashion giveaway not only boosted social media engagement but also strengthened the company's customer relationships.
Are you looking for a way to incorporate digital promotions into your marketing strategy? Or maybe you want to organize a branded mini-game to promote your fashion brand? Discover more ideas to expose your brand online!
Organize a fashion Giveaway on Twitter
There's nothing more effective at attracting a person's attention than a good title accompanied by an engaging picture. Twitter is the perfect channel to do this. Contests based on the use of hashtags, retweets, and favorites are an undeniable trend. Here's an example of a quick and easy Twitter Giveaway organized solely to increase social media exposure and brand awareness.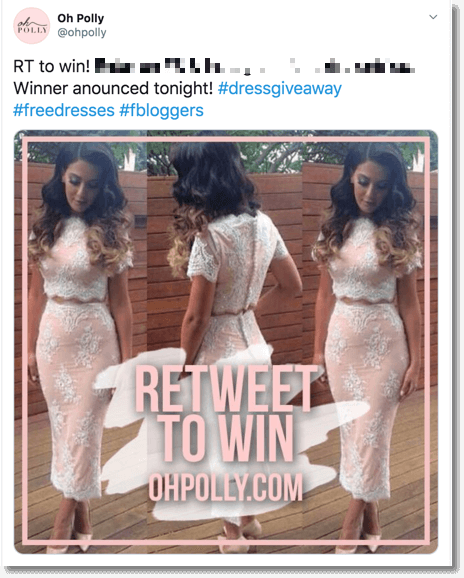 Another great tactic to promote your fashion brand online is by organizing a Mention + Hashtag Contest. This app allows you to collect user-generated content shared by your social media followers and reshare it for your promotional resources. So if you're looking to organize a contest for your existing customers a Mention + Hashtag Contest will be a great solution.
Do you need more real examples of fashion giveaways on Facebook and Instagram? Here you go!
Do you have questions about social media marketing for fashion brands?
Do you have a question that hasn't been answered in this blog post? Or maybe you need more advice on promoting a fashion brand online? Contact us through our Online Chat!

Publication date: 2015-04-16