Posted in: Success casesLast update: 18/05/20
Facebook photo contests are simple and effective ways to engage and expand your fan base, build user-generated content to support marketing objectives and generate buzz about your brand. Easypromos client Greenpeace Canada came to us for help in managing a photo contest that would engage and broaden their audience. The overwhelming success of their program offers a fantastic example of why using an application like Easypromos can not only help the contest run more smoothly, but vastly exceed engagement goals.
The Client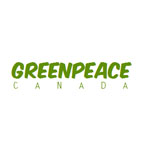 Greenpeace is an independent global campaigning organization that acts to change attitudes and behavior. Greenpeace works to protect and conserve the environment and to promote peace.
The Opportunity
Greenpeace Canada wanted to engage new and existing Greenpeace supporters to participate in a Facebook photo contest. The purpose of the contest was to promote the beauty of nature by showcasing the best Canadian wildlife and landscape photographs. The goal was to significantly increase the volume of contest participants and make the contest experience more engaging.
The Challenge
The organization had a short period of time to reach a national audience and limited space for promotion on busy internal digital channels. It became clear that they would need external support to reach these goals.
The Solution
After a review of several promotional applications, Greenpeace Canada chose the Easypromos app because of its intuitive, easy-to-navigate interface, customer support and smart design.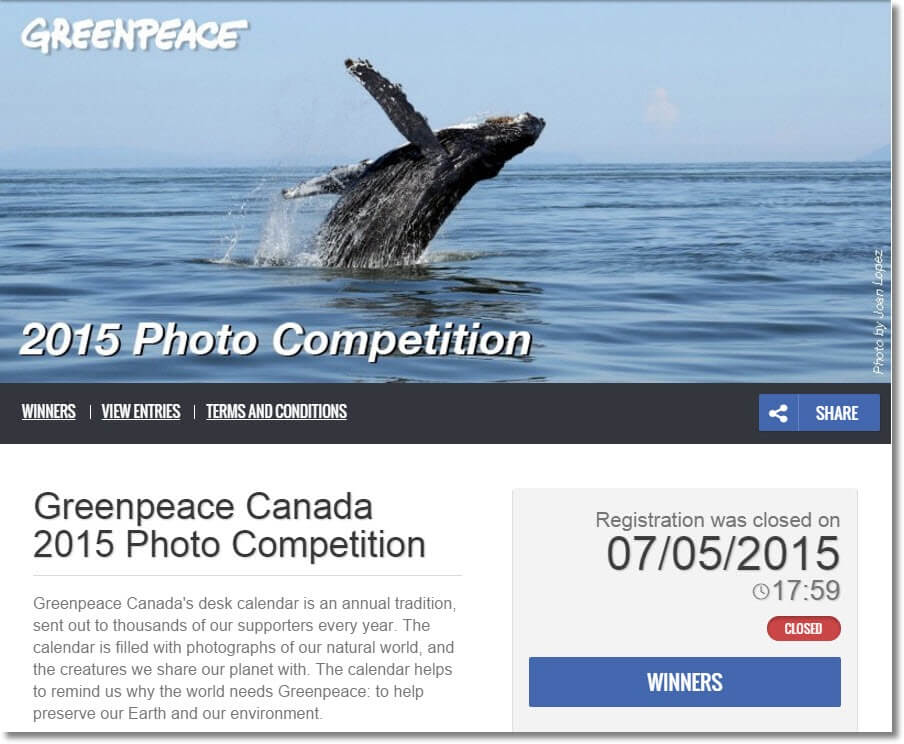 The Result
In a short amount of time, with Easypromos help, Greenpeace Canada ran an engaging Photo Contest. Supporters from across the country submitted beautiful high-quality photos of Canadian wildlife and landscapes. The photo contest received 720 photo submissions, a 600% increase over the previous year's (2014) results, and offered opportunities to broaden participation through voting on favorites.
Our contest awarded and recognized 12 winners plus one people's choice from public voting via the app. In order to present these winners in a winners tab, the Easypromos app gave us a few options to meet our needs. The option we went with involved a small workaround we didn't know was possible until consulting with the Easypromos team. As a result, we were able to present the winners in the exact format we desired.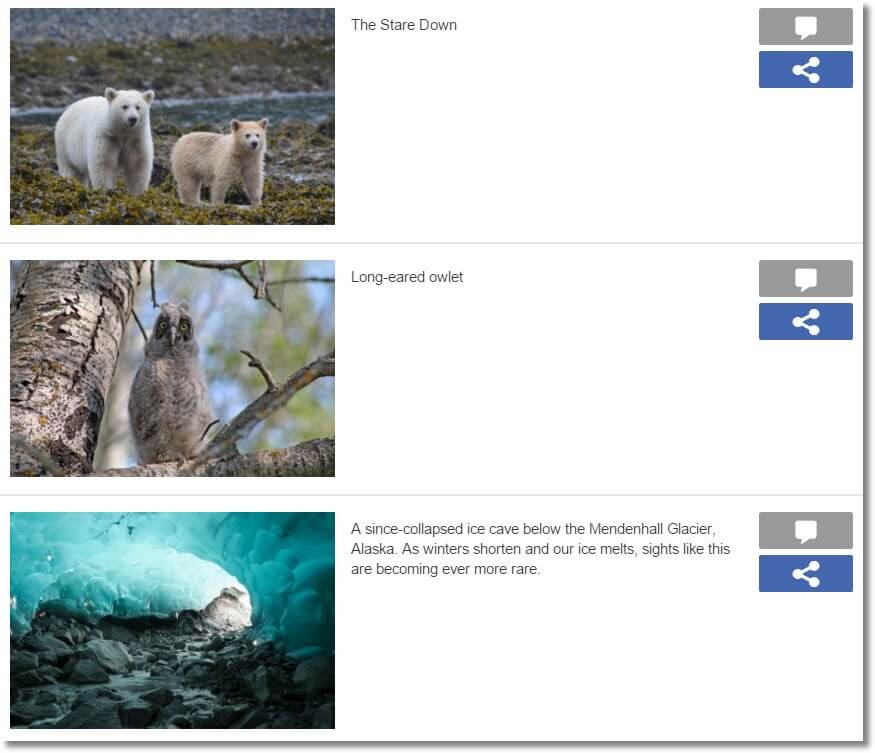 "The Easypromos app offered everything Greenpeace needed to run an engaging photo contest on Facebook. The contest setup was intuitive and up and running in no time. Easypromos support staff was there to help every step of the way and were intent on ensuring our contest was a success. The photo gallery and contest pages on Facebook were well-designed and easy to navigate. We especially liked that our supporters and their friends and family could vote on which photos they liked, opening the contest up to an even wider audience. "

-Jackie Gallagher-

Head of Supporter Journey, Greenpeace Canada
Your turn
So would you like to create your own Photo Contest with Easypromos but you have some questions? Don't worry, you can now contact our Support Team! They're always ready to assist and inspire!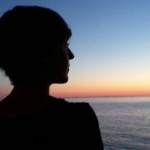 Alexandra Cantos
Journalist and communication freelance Digital marketing and Cultural communication skills Alex is an Easypromos' Blog contributor
Publication date: 2015-10-23