Posted in: Applications,Digital marketing,Ideas for your websiteLast update: 11/05/20
There's nothing like a betting pool to get people excited about a sporting event. Run a sports sweep on social media to boost engagement and have fun with your online community. With the Easypromos Predictions app, you can run a sweepstakes on social media – no programming needed! Read on to learn how to turn sports fans into sales leads.

Setting up a social media betting pool doesn't have to be complicated. You can use the Predictions app to set up a contest where users try to predict the winner. You can even create a sequence of promotions and group them together. Then you can follow each round of the Premier League or World Cup, and choose a champion for your office sweep!
It's a great opportunity to learn more about your brand's fans and followers. You can collect data such as names and email addresses, as well as their sporting picks. Once the match or tournament is over, just record the result in the app. It will automatically calculate the winner of the sweep. If you want to, you can run a prize draw among multiple winners. And you'll be able to download participants' data to your CRM or email marketing platform. So now let's have a look at planning your social media betting pool!
Best way to launch a betting pool for your team
When you create your social media betting pool, you can customize the app to match the sport in question, your brand, and your marketing needs. You could ask users to pick the winner of the match – that's the simplest and most popular option. But you can be creative, too! Ask participants to guess the number of goals in a match, or brighten up your questions with photos and videos.
In the example below, the brand asked users a variety of questions: the winner, the runner-up, which teams would make it the knock-out, and who would be the top goal scorer. And the questions were illustrated with images, to make the app more dynamic.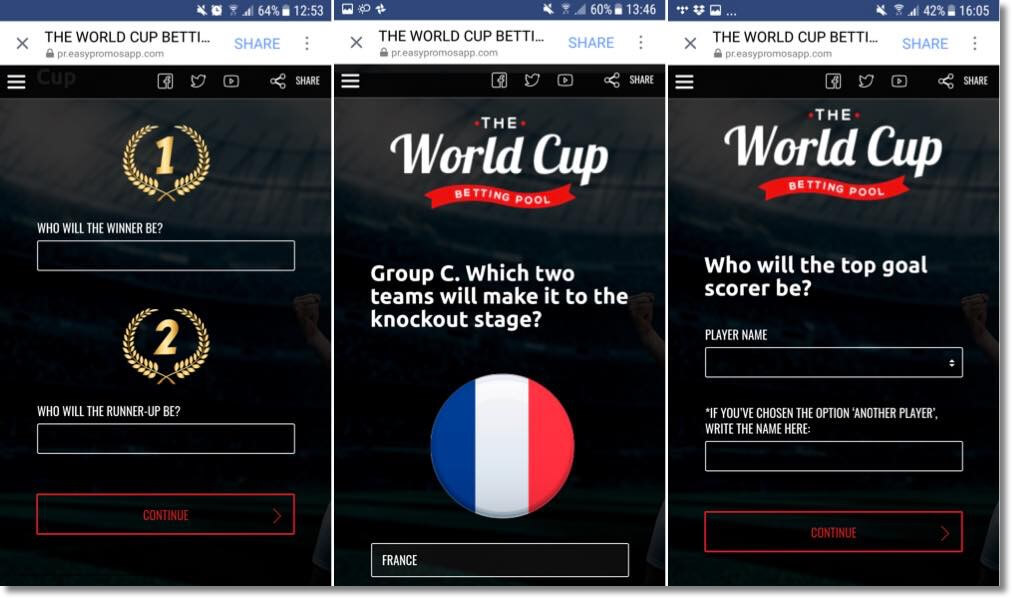 Prizes for winners of your club's betting pool
Offering the right prize is key to a successful social media betting pool. Remember, the prize is your followers' motivation for taking part. So ask yourself:
Does this prize highlight my brand or products? Choose something that reflects your brand identity, or advertises a specific product.
Is this prize relevant to the sports competition? It's a sports betting pool – so try to choose a sporty prize! If your brand isn't directly related to sports, consider co-branding.
Is this prize something my followers want? Make sure you choose an attractive prize. Then users will be more likely to take part and share the sports lottery with their friends too.
And is it in proportion to the sweepstakes?
That final point is more important than you might think. For example, if you're just offering a 10% discount on a sports drink, most users won't bother to answer a 50-page questionnaire. So make sure the size of the prize reflects the competition. You want your followers to feel lucky and rewarded, not over-worked.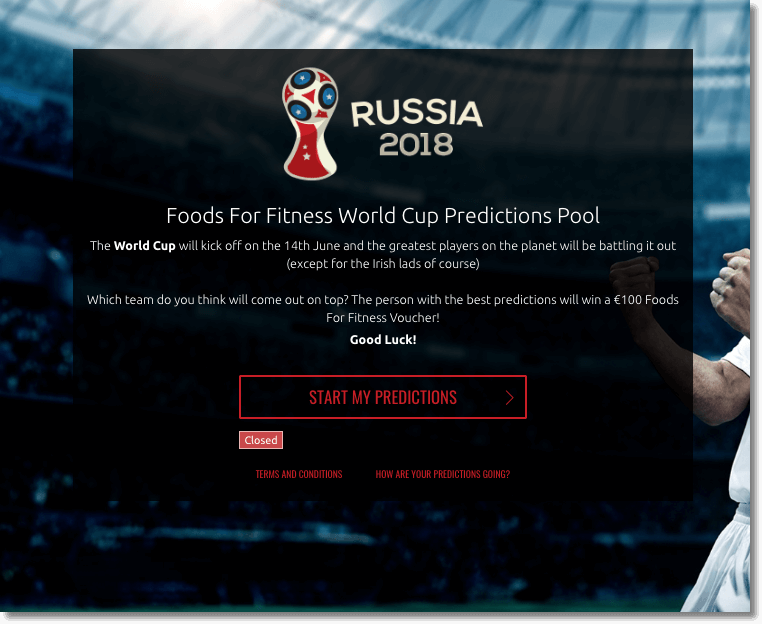 We like the example above. The brand has chosen a prize that's related to the World Cup theme – a voucher for healthy food. And they've kept the contest simple, asking just a few questions in exchange for the chance to win the sweepstakes.
Make your betting pool mobile, desktop, and tablet-friendly
Connecting to your social media page couldn't be easier. When you create a social media betting pool with Easypromos, a unique URL is automatically generated. This URL is compatible with all social media and all devices. Just announce the sweep with a post on your Facebook, Instagram, Twitter page, and include a link to the competition app. Users click the link to enter – and whatever device they're using, they'll see a slick, optimized display.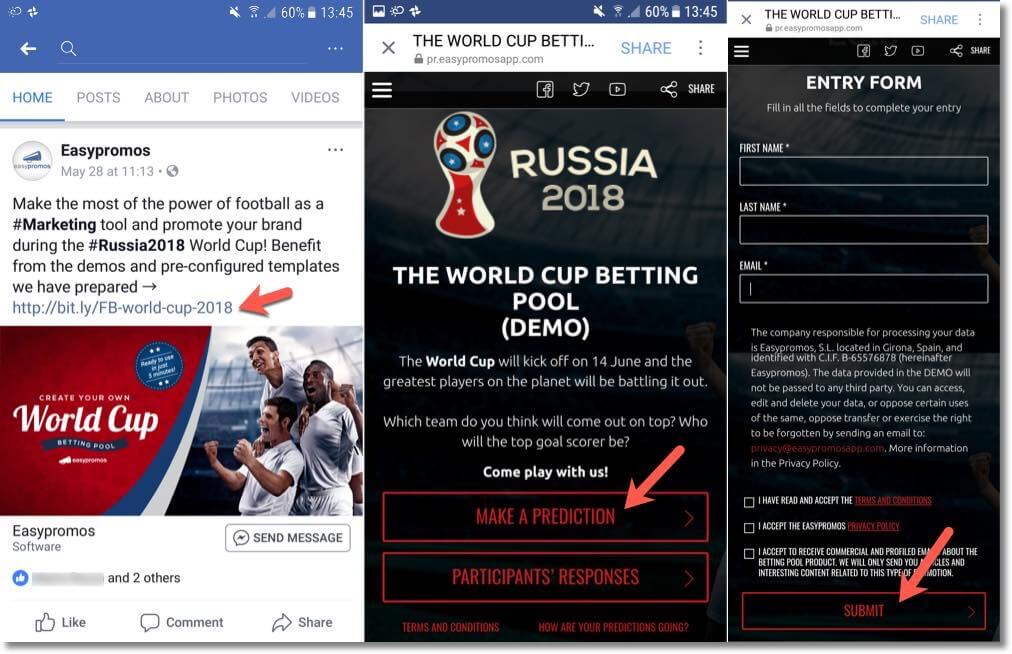 Wanting to launch a betting pool but you're not a sports club? Co-branding is the answer!
Here's a great option if you want to join in with football fever – or any other sport! – but your brand doesn't have a direct connection. Team up with another brand to run a social media betting pool with a desirable prize. You'll both benefit from the boost in publicity, and your fans will love the crossover event.
In the example below, McDonald's worked with the Scottish FA. Children could enter the competition for a chance to walk out onto the pitch with players at their next big match. It was a great way for McDonald's to connect with the buzz around the football match. In return, the Scottish FA benefited from McDonald's high media profile. And of course, the fans loved the prize!

Get more social media engagement thanks to sports betting pools
Competitions are an excellent way to increase engagement for your brand online. And sports sweepstakes are the ultimate move. Participants get the thrill of following along in real-time, and you'll see lots of chatter on your social media posts as the contest develops.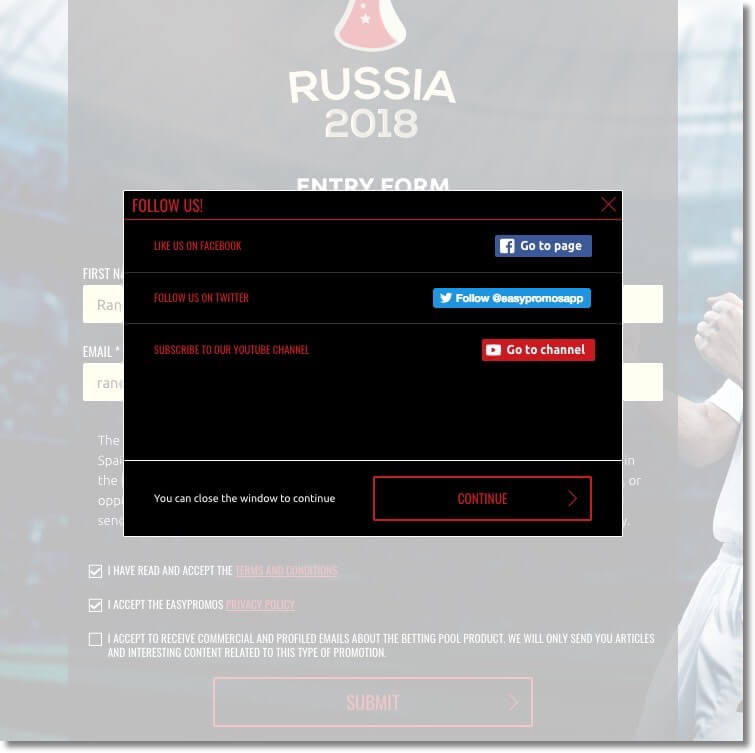 When you build your promotion, you can include a pop-up which invites participants to follow you on social media. Use the unique contest URL to share the promotion as widely as possible, and link all your social networks together! You can also embed a link to the sweepstakes on your blog or website. And if you really want to go viral, consider boosting your social media posts, or highlighting the competition with Facebook Ads.
Anti-fraud features for your social media betting pool
It's no fun playing when people cheat. When you create a sports betting tool with Easypromos, you'll receive access to a comprehensive set of anti-fraud features. You can blacklist followers who misbehave, either permanently or temporarily. You can also restrict the contest based on country, age, or whether someone has won a prize before. This means that everybody has a fair chance to win.
It's completely free to create an Easypromos account and start drafting your promotion. And remember, our tutorials and support team are always here to help!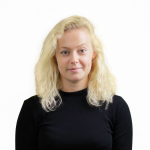 Kamila Palka
Easypromos marketing team
Publication date: 2015-10-28