Posted in: Events,Ideas for your websiteLast update: 29/03/19
Christmas: season of goodwill, gifts… and high-level marketing campaigns. But how do you make your Christmas promotions stand out? In this post, we share the top 5 Christmas promotions that worked for brands in 2018.

In other posts, we've shared ideas for Advent preparations, last-minute Facebook promotions, and marketing for the full range of winter holidays. But today, we're going to focus on something a little different. Here are our most popular promotion styles for 2018: the promotions that users love and participate in, again and again. Try these 6 ideas to maximize engagement for your Christmas promotions.
Most popular Christmas promotions this year
1. Step up your social media with a multi-network giveaway
2018 has been a year full of change in social media. As a result, many of our users have been changing their marketing strategy to match. Facebook is still popular, while Instagram is on the rise, Twitter is making a comeback, and YouTube is the unsung success of the year…
So here's a solution to make it simple. You can run a single giveaway on all your social networks and profiles. Collect comments from your fans around the internet, and award a single prize. You'll save time and effort, without neglecting any of your online communities. What's more, you can access advanced statistics to compare your Christmas promotions on each network.

? See our festive campaign website for Christmas promotion templates and inspiration! ?
2. Generate leads with an email registration giveaway
Even though social media marketing becomes bigger and more sophisticated every year, it still hasn't replaced email. Email marketing remains the most effective strategy for lead generation. So it makes sense that giveaways with registration forms continue to be so popular with marketers.
And that's not the only advantage. A classic giveaway like this is easy to design, create, and share: just publish the promotion URL on your website, blog, socials, and even offline promotional materials. Once you've collected customer data, you can seamlessly integrate it with your CRM.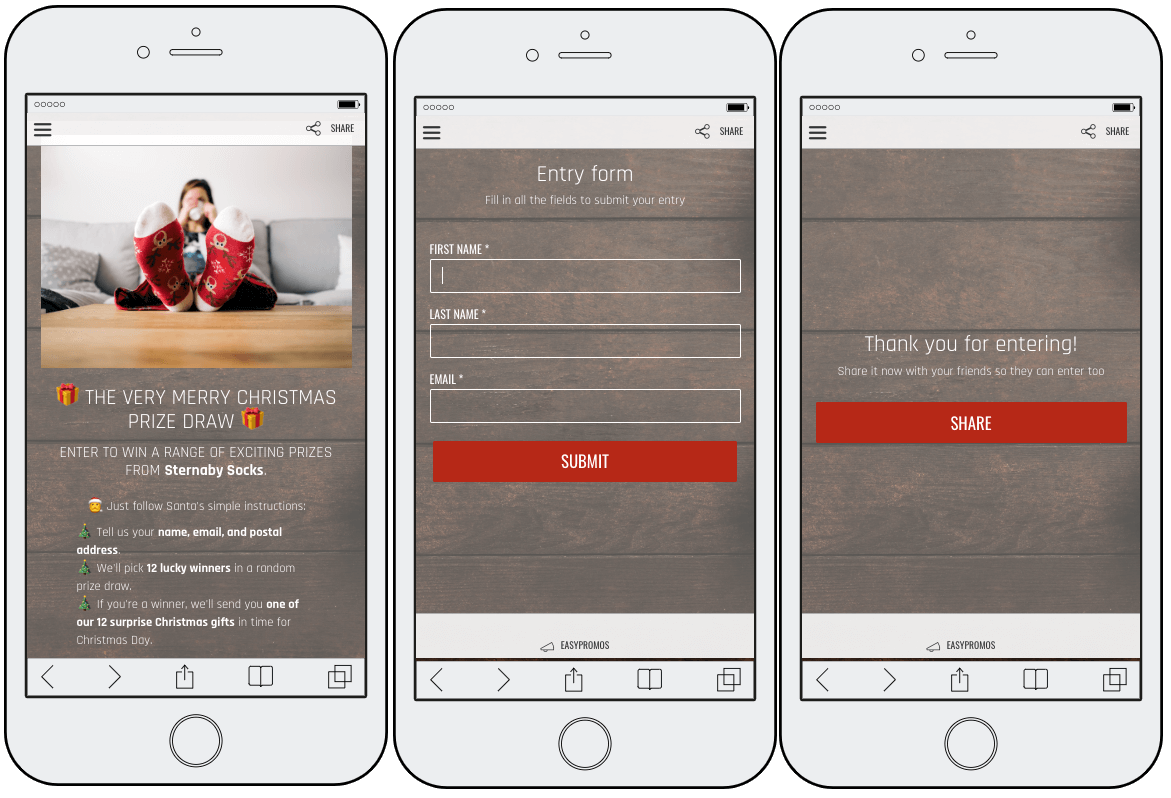 Don't forget that 2018 was the year of the new GDPR regulations. Make sure you ask for participants' consent to send them emails, and include terms and conditions in all your giveaways.
3. Find new fans with a Refer-A-Friend contest
Just a few years ago, you could ask followers to recruit their friends on social media. But nowadays? Both social networks and their users dislike posts which demand "like, share and follow". There has to be a better way.
If you want to make contact with new potential customers, without being too intrusive, then the solution is a Refer-A-Friend or Recruiters contest. It's a simple prize draw, with one key difference. Every time someone recruits a friend to the promotion, they earn one more chance to win. So you can encourage your followers to share the giveaway, without breaking social media rules.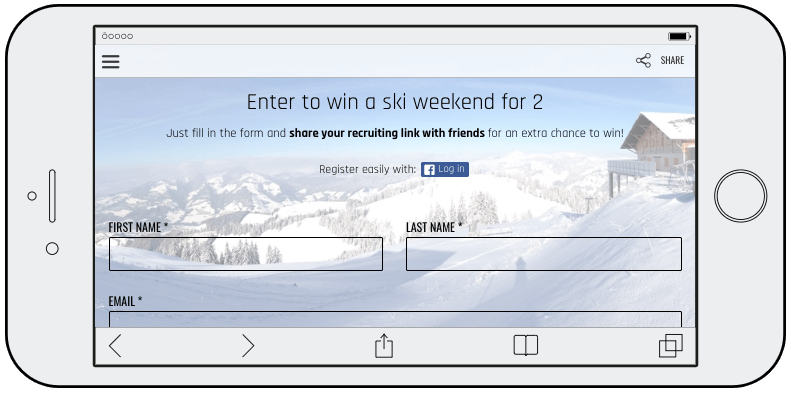 4. Increase engagement with a Pick-A-Favorite contest
So far, we've talked about the Christmas promotions that marketers enjoy. But what are your followers looking for? This year, we saw a huge trend for photo, voting, and Pick-A-Favorite contests.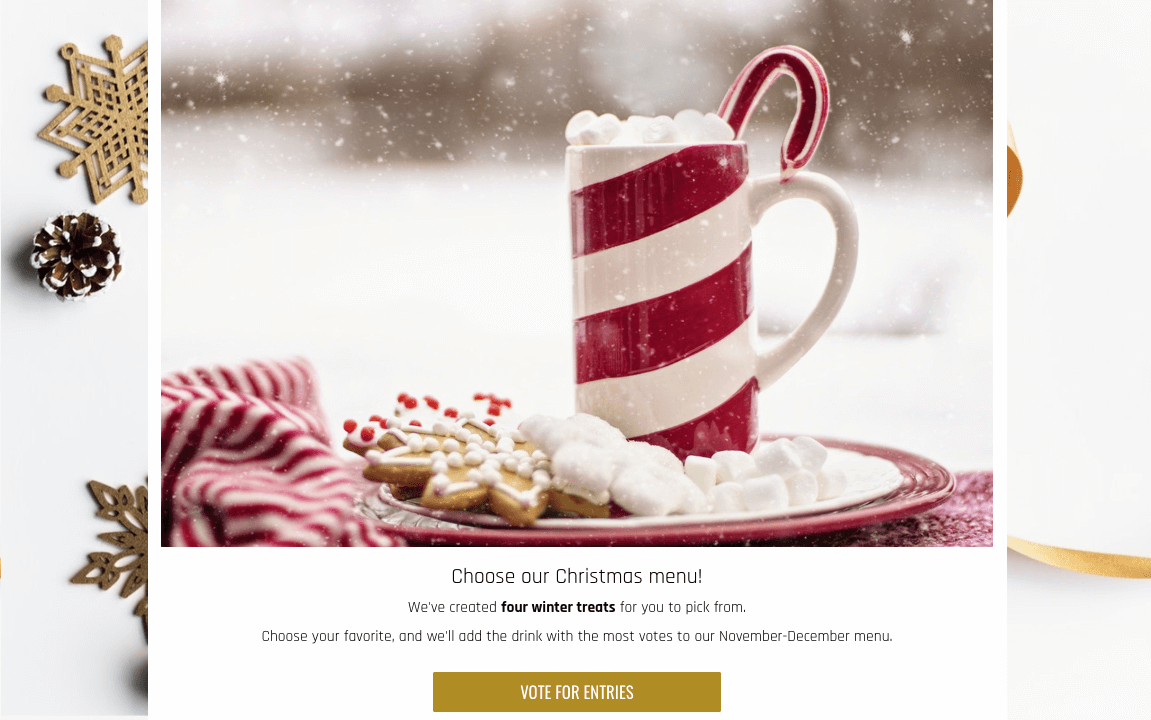 Ask your customers to share their opinion by simply clicking to vote. Then you can use the results to inform your ad campaigns, product design, and marketing strategy. In this example, a local coffee shop asked their customers to choose a new drink for their Christmas menu.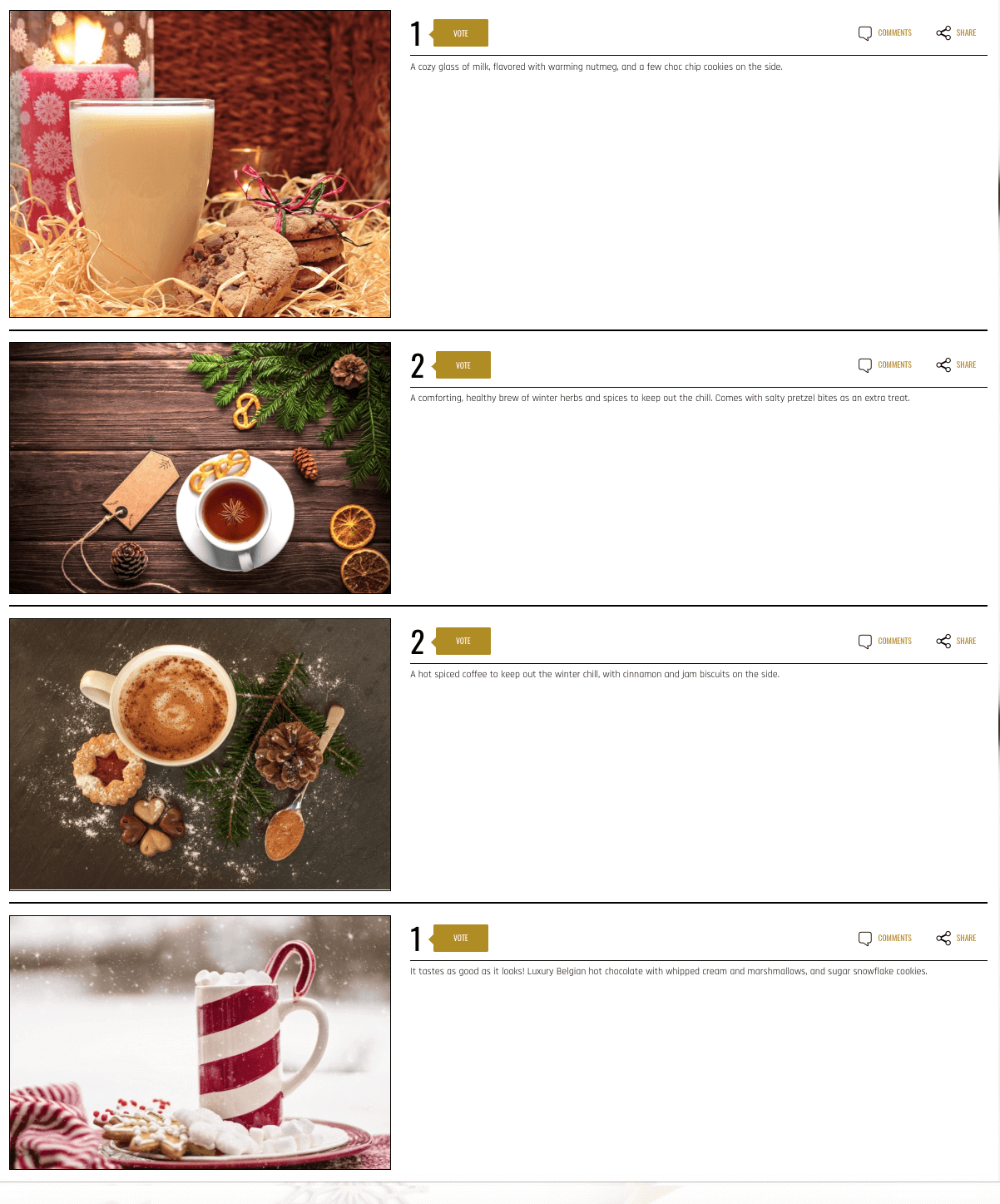 They boosted online engagement by asking users to vote and share. After that, customers were also more likely to visit the café, in order to taste the winning drink.
5. Increase Christmas sales with coupons and exclusive codes
Getting social media followers, email contacts and online engagement are all important marketing goals. But let's not lose sight of the real challenge: how to maximize Christmas sales. Promotions like the examples above will make sure that customers are aware of your brand. Now you need to close the sale.
When it comes to boosting sales, nothing beats a coupon campaign. Shoppers love them – and a well-run campaign will produce a huge return on investment.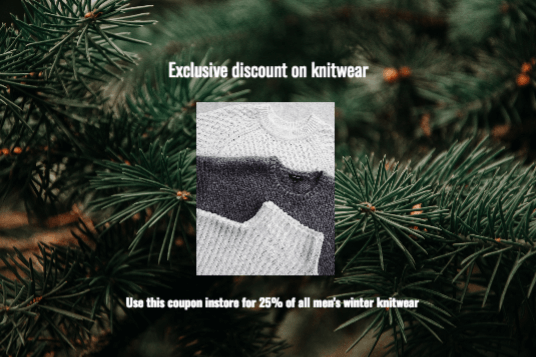 You could share coupons in a prize draw, or as a small reward for taking part in a larger contest. Think about what you want customers to do. If you want to bring shoppers instore, then offer exclusive, location-based discounts. If you need to increase online sales, then offer coupons for free shipping or samples.

There are hundreds of way to share coupons, promotional codes, and rewards with your customers. Check out our library of free ebooks to get insider advice.
6. Personalize your Christmas marketing with a survey
In 2018, we learned that surveys are really popular online – and a great way to get people to share your links. However, there were already a million reasons to run surveys for your audience. You can find out more about the market, target your promotions more accurately, and make your customers feel appreciated.
As always, remember to incentivize users with a prize that's in proportion to the task. In the example below, an interior design retailer asked their customers 3 quick questions. Then in return, they offered a very generous gift card to shop for Christmas decorations.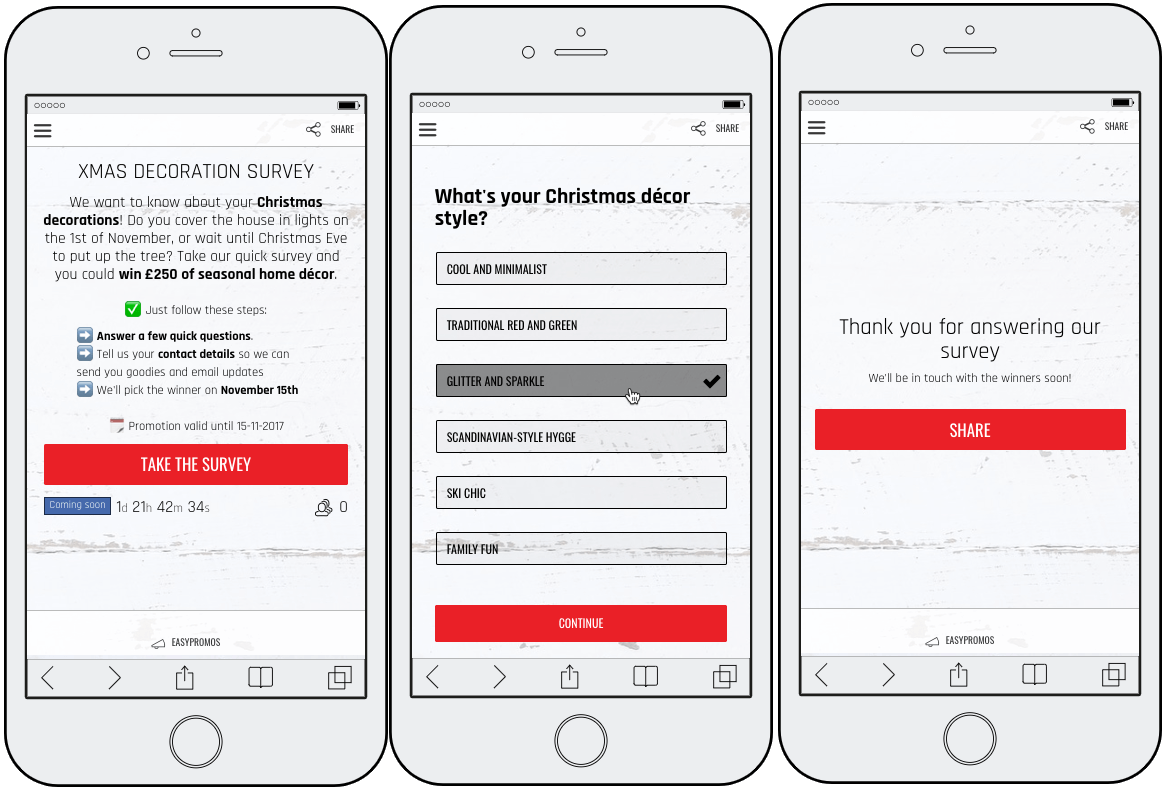 ? Looking for more quick promotion ideas? ? Get 3 easy ideas for Christmas Facebook giveaways.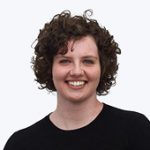 Corinna Keefe
English copywriter at Easypromos marketing team