Posted in: Events,Ideas for your websiteLast update: 20/02/18
It's time to start thinking about Christmas. You might think there's plenty of time yet, but a lot of people get an early start with their Christmas shopping in November. Your promotional marketing actions should be active by then to capture new clients. So, what are the most effective and attractive promotions according to recent trends? What encourages online clients to pay attention to your online promotions? Below we give you some tips, examples and suggestions for your Christmas campaign.

1. Fun and useful surveys
With this entertaining and motivating promotional tool you can carry out a multitude of Christmas promotions in order to get to know your customers better and offer them products based on their specific likes or needs. Who wouldn't like to have a personal online shopper, someone to give advice about what would be the most appropriate present for a favorite nephew or to offer suggestions based on tastes? With surveys you can create this type of promotion. Make the most of customized final messages to give specific advice and ideas to your users. Choose between a multiple choice test, a survey for collecting info on tastes and preferences, or a trivia quiz to evaluate clients' knowledge of a subject.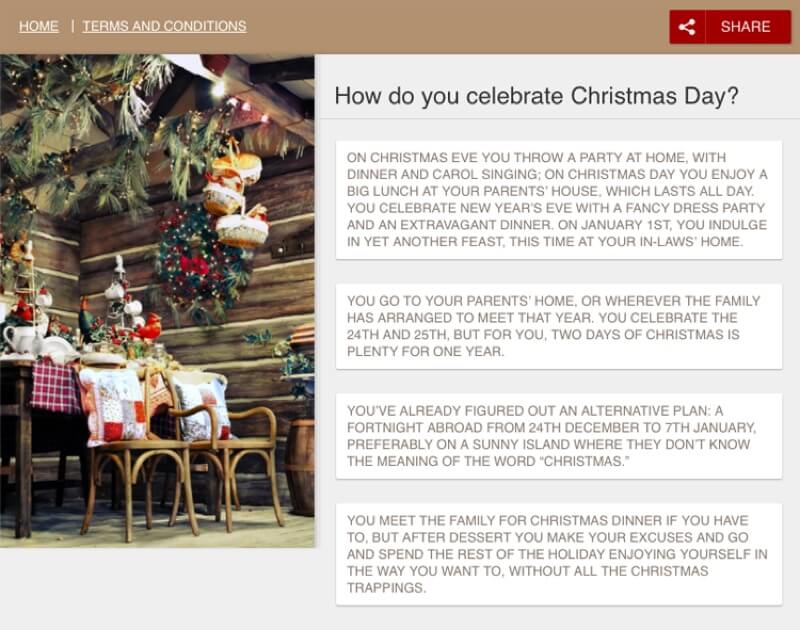 2. Multi-platform contests to provide a festive atmosphere
Another growing trend is the use of hashtags to participate in a contest. This permits users to enter their participation quickly via the social network of their choice (Facebook, Twitter or Instagram). Contests can be based on photo, video or text entries, or they can be a combination of all three formats, thus providing a greater diversification of inputs. All entries are displayed in a gallery that you can choose to publish. Via the direct link to the gallery you can use it to decorate your store if you have a digital screen, or embed it in your webpage or blog to offer up-to-date, seasonal content. You can enable voting to increase engagement and visibility and let a jury have the final say in the selection of the winners.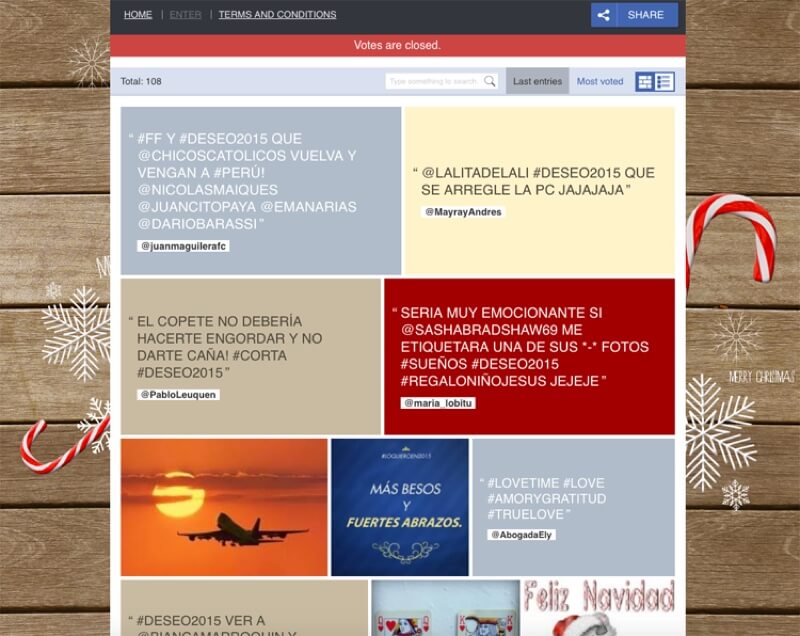 3. Trendy coupons
Coupons have been growing more and more popular as one of the most effective promotional actions to impact the customer and incentivize sales. According to a recent study, 85% of consumers showed willingness to purchase in stores that provide offers and exclusive advantages. And here, coupons and discount codes are king, so now that we are all getting ready for Christmas shopping, offering a discount coupon or a promo code can be the best gift. Create a simple promotion in which users just have to fill in their details in exchange for a discount code or coupon, which they can then redeem in your store via the Validation Portal.
4. Want to give users an opportunity to play?
Prepare an Instant Win contest so that instead of all participants obtaining a discount or gift code, only those who register in the contest at the previously configured winning moment get the prize. This type of promotion will allow you to give away the prizes immediately upon entering and users will love to find out that they've won a prize. In addition, you'll be able to connect the Instant Win with the Promotional Codes app, in order to distribute promotions and discounts in a more fun and exciting way for participants.
5. Promotion groups for Advent
Who doesn't like to feel like a child and get a chocolate each morning while counting down the days to Christmas? If you want to present daily or weekly promotions up to Christmas, you can collect these in a Promotions group like an advent calendar. This way your participants will be attentive because they will see that a variety of promotions have been prepared. Like a child asking for chocolate, allow your customers and followers to visit the link again and again to keep tabs on the planned and active promotions. Guaranteed loyalization with these types of promotional campaigns!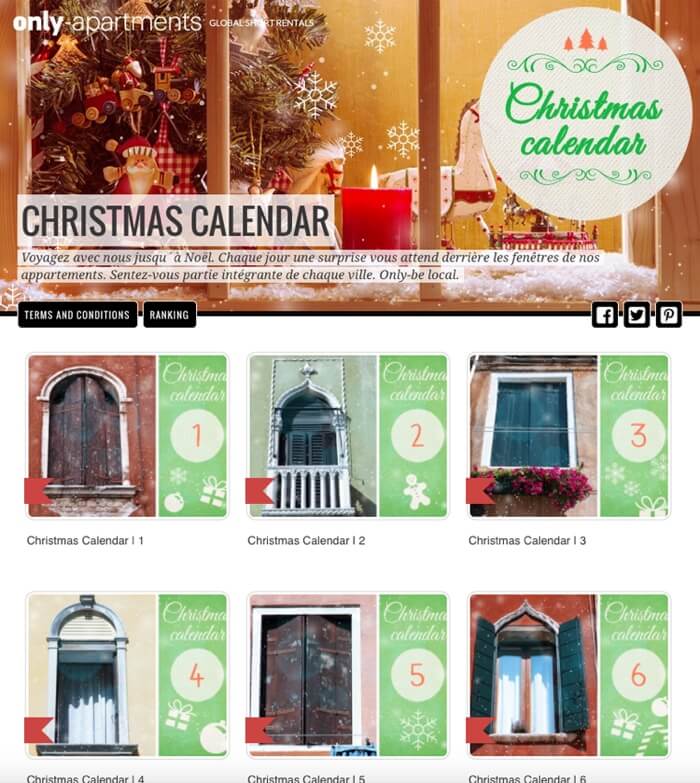 6. Short on Time? Hold a Fast and Easy Sweepstakes on Facebook
Organize a Sweepstakes for your Facebook fans among all those users who Like or comment on a post on your fanpage. This quick and easy action will allow you to increase the visibility and interaction on your page and you'll be able to select the winners in an easy and safe way. Take the opportunity to ask your fans how they are going to celebrate Christmas. This is one of the most effective and easy ways to carry out promotions, which even allows you to apply exclusion rules for the finalists.
Ready to launch your Christmas campaign?
Remember that any idea for a promotion can be an excellent opportunity for you to maintain contact with your current fans and customers, while obtaining new ones. The important thing is to provide a fun contest and offer a prize that users really want to win.
Enter the Control Panel now and start building your Christmas campaign! And if you have questions, remember that we will be happy to guide you through the process.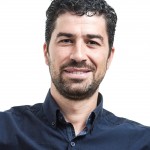 Easypromos CEO and co-funder