Posted in: Success casesLast update: 04/08/22
Online surveys offer a great way to engage with key audiences and gather input and feedback. When coupled with a sweepstakes giveaway, these surveys can be even more effective. Adidas came to Easypromos for help in increasing engagement with their employees in order to select a charity which represents what is most important to them. The overwhelming success of the Adidas program offers a fantastic example of why using an application like Easypromos can not only help companies manage a survey easily, but exceed engagement goals through creative add-ons like a sweepstakes which inspire sharing and can heighten engagement.
The Client

Adidas Group is a multinational corporation that designs and manufactures sports shoes, clothing and accessories.
Goal of the Adidas Charity Campaign
To perpetuate a company culture that encourages and supports giving back to the community and that allows employees to participate in selecting charitable organizations that reflect what's important to them.
Looking for creative team-building activities? Discover our favorite ideas that any brand can easily incorporate into their strategy.
The Campaign
Adidas was looking to engage its employees in the selection of a charity. The most voted charity would receive a large donation. One employee would also be randomly drawn from all submissions to receive an additional individual prize to direct toward the charity of their choosing.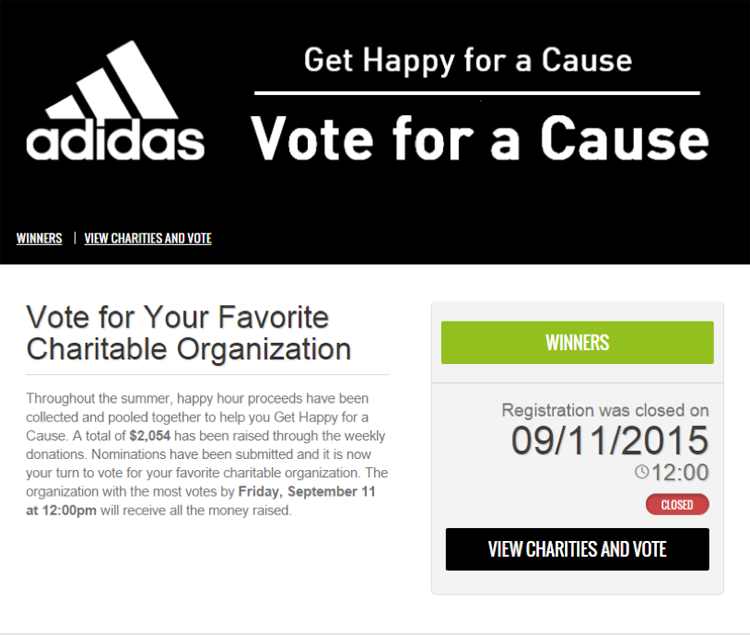 The situation
Adidas promoted several months of weekly happy hour events to encourage employees to socialize, share ideas, and get to know their colleagues. Additionally, they wanted to promote a company culture of giving back to the community. They created the "Get Happy for a Cause" name and proceeded to encourage employees to make cash donations, which would be consolidated and distributed via a crowdsource approach at the culmination of the happy hour events.
In the past, Adidas has used internal IT support to enhance other employee voting and/or submission types of promotions. This time they needed something more sophisticated and relevant around the "Get Happy For a Cause" charity selection effort.
The strategy of the Adidas Strategy Campaign
Provide a visually appealing digital display of the shortlisted charities which offered the ability to cast a vote, tally the votes to select the winning charity, and collect the voters' information so they could be entered to win a prize.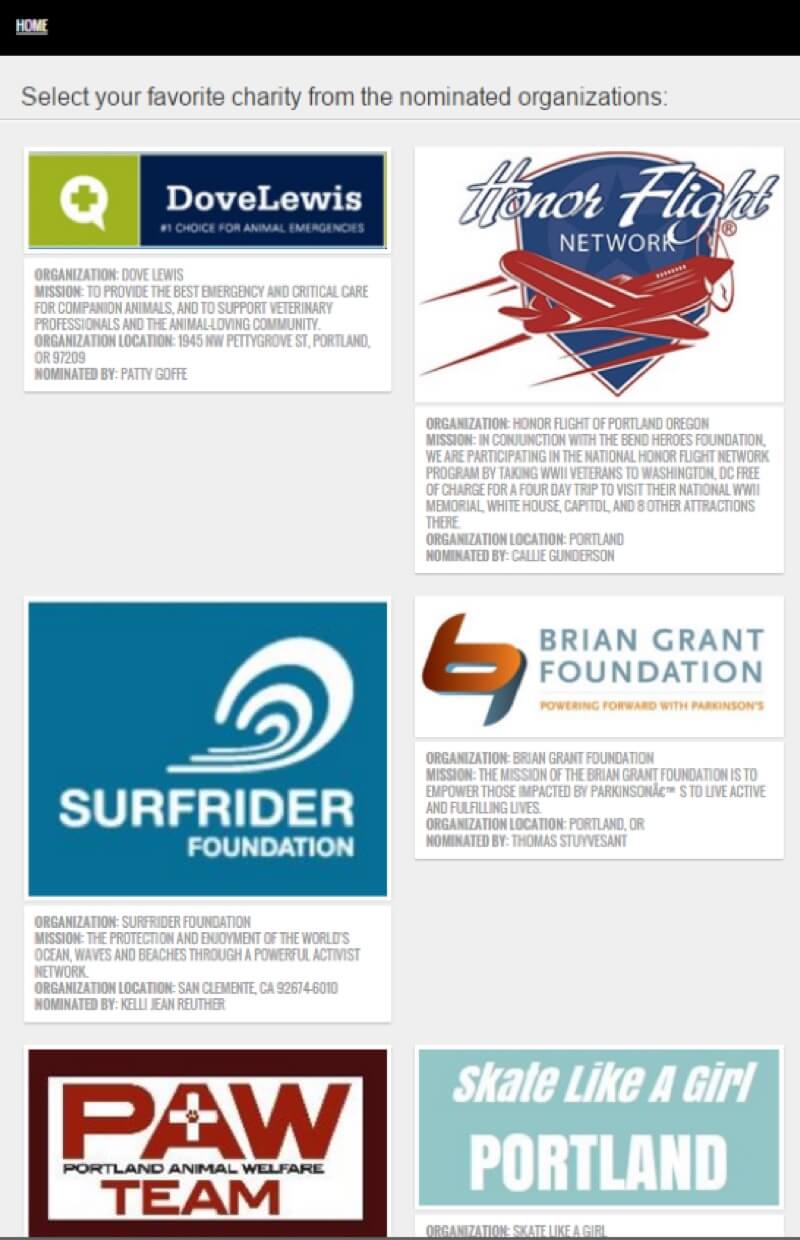 The challenge
Containing this contest within the established Adidas intranet platform meant placing the contest within its protected domain and firewalls. It also had to be quick to assemble, offer the ability to easily choose a winner and display the winner all within the intranet environment, and not be sharable via social media or email.

The solution
Adidas chose the Easypromos White Label quiz app because it could be configured to allow for a voting environment with a stunning display of content. It also was customizable to remove sharing options.
The results of the Adidas Charity Campaign
Through the Easypromos platform, Adidas employees showed passion in rallying their coworkers to vote for a specific cause. The company received more than 50 charity submissions with over 250 employees participating in the voting. We were able to determine a winner of the charitable donation easily as well as run employee random draw quickly and seamlessly.
Employees found the app simple to use, and it was easily contained within the Adidas intranet environment, providing end-to-end functionality to pick and display the winners. Importantly, the high participation level proved that employees value charities and that they care about their community. Through the success of this contest, Adidas was able to forget stronger ties with its employees by giving them the opportunity to make a difference and see the reward of their efforts. The campaign was a positive experience for both the internal Adidas community and the community at large via a donation to a worthy charity.
Publication date: 2016-02-04