Posted in: Ideas for your websiteLast update: 04/08/22
The beauty of offline marketing events is that they bring you face to face with your target audience. But now you're in the room – what's next? We share our experience of offline events, and how we use mobile-enabled promotions to follow up on leads at live events.

Excerpt: The beauty of offline marketing events is that they bring you face to face with your target audience. But now you're in the room – what's next? Here's our experience of offline events, and how we use mobile-enabled promotions to follow up on leads at live events.
Before we dive in, let's take a moment to think about your goals for offline marketing events. In this post, we're going to focus on 3 main objectives:
lead generation
lead qualification
lead feedback
With those goals in mind, we won't be focusing on social media. Social media can be very useful to publicize events and create buzz, but it's less efficient at generating qualified leads.
Creating a strategy for offline marketing events
"Offline" doesn't mean "totally disconnected from the outside world". Instead, we're talking about events where you get to meet leads face to face: trade shows, expos, conferences, workshops, tours, and so on.
These are all great ways to connect with your audience. And they should exist within a wider, multi-channel strategy for growing your brand. So online promotions and social media are still relevant tools; they're just not the primary focus.
Let's talk about 5 methods we've used at Easypromos to collect and qualify leads – without distracting attention from the main, offline event.
Offer a surprise when people sign up
Before anything else, you need to get people through the door. Registering attendees or selling tickets is your first opportunity to collect leads from an offline event.
Of course, in 2019, it's unlikely that people will sign up for your event offline. It's far easier to create a landing page for your event, and register attendees there.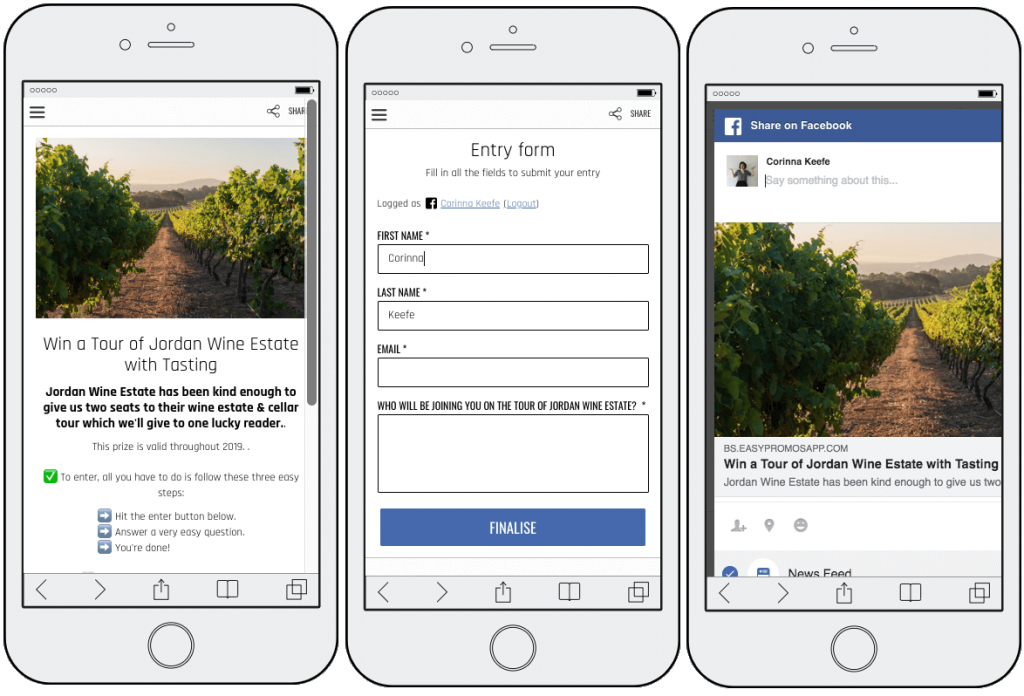 You can ask for any information you want here, so be smart – collect the data that will be most useful to you. Just don't demand too much, or ask for personal data which isn't directly relevant to your business.
If you want to motivate people to sign up, try offering a small reward at the end of the registration form. It doesn't have to break the bank – think promotional codes, merchandise to be distributed at the event, or early-bird discounts.
Scan badges at conferences and trade shows
Landing pages are all well and good… But what about when you're attending an event, instead of organizing it?
Think about trade shows and expos. They're amazing opportunities to meet people, with potentially thousands of leads passing by your stall, listening to your presentation, or just stopping to say hi. How do you jot down all those contact details, quickly and efficiently?
Business cards are useful, and a pleasant business ritual, but they're inefficient when it comes to adding leads to your CRM. Instead, many events now offer badges for attendees with personal barcodes or QR codes.
Earlier this year, we took the Easypromos roadshow to the B2B Expo at the ExCel Centre in London. We invested in hand-held scanners to read the badges of everyone we talked to. In the end, we had hundreds of names and email addresses from the event, ready to load into our mailing list.
Of course, wherever personal data is concerned, you should make sure that you have consent. Ask the event organizers what permissions they receive when people sign up, and always ask someone if they're comfortable with you scanning their badge. Finally, just like with a landing page, it's a nice idea to offer some kind of incentive for people who do sign up.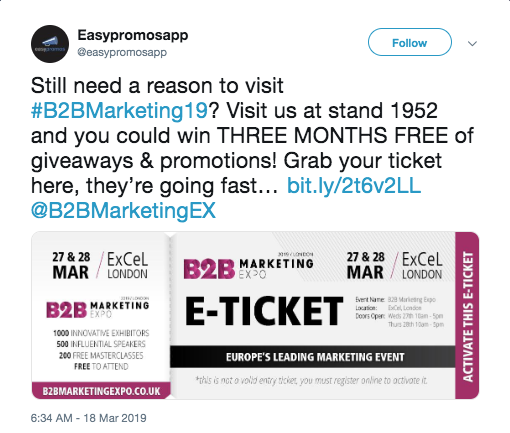 Go old-school with fairground games
Another strategy we saw at the B2B Expo was fairground and arcade games. These are really fun and eye-catching!
However, you'll need to incorporate a strategy for getting people's details. Will you ask to scan badges before they can access the games? Could you integrate a sign-up page into the game? Think creatively, and be aware that games like this may involve significant overheads.
Round off your presentation with a quiz and instant prizes
So far, we've covered lead generation and qualification. But what about getting feedback from event attendees?
At Easypromos, we organize regular workshops and presentations to help people understand our apps. And we noticed that there was a real gap in the market for quick, live surveys and quizzes with a prize at the end.
So we decided to build our dream product.
The Live app doesn't collect user data, because people are already at your event – you should have ample opportunities to qualify leads. Instead, Live is designed to collect quick survey responses, or quiz the audience on what they learned during your presentation. All they need is a mobile phone with internet access!
Run a survey after the event… with an incentive
If you want to run a more in-depth survey – or combine lead qualification with feedback – then you're probably better off building a survey landing page. You can send the survey page out to all the new leads on your mailing list, or add it as a tab to your own website.
This is a nice option if you want to get detailed customer feedback, without distracting people during the event. They'll have the time to mull over their answers and give their impression of the whole experience. Plus, the survey is an opportunity for you to connect with new leads and follow up on any conversations started at the event.
What's are your goals for offline marketing events? Get in touch and we'll tell you how we can help.
Publication date: 2016-11-04