Posted in: Success casesLast update: 09/06/17
The baby products brand, Chicco, wanted to celebrate Mother's Day, which in the UK fell on Sunday 26th March 2017. With the help of their PR and Social Media agency, HROC, they planned a Facebook Timeline Sweepstake that included four different pre-scheduled competition posts to ask for entries. To enter, mothers were asked to comment on one of the four posts with their one golden piece of advice to new mums. Chicco then used the Easypromos app to gather all entries from all four posts in one sweepstake in order to select five winners. The response to the competition was very positive, with the first post receiving more than 300 comments and the Chicco Facebook page receiving over 900 more likes during the week the sweepstake was running.
Do you want to learn how the agency HROC ran a sweepstakes from multiple Facebook posts for Chicco UK to celebrate Mother's Day and created great engagement and increased community? Turns out asking mothers for something important to them, can create a lot of interaction with the community. Read more here.
The Agency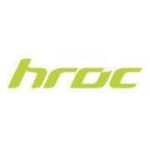 HROC is a fully integrated PR and advertising agency spanning disciplines such as creative services, digital marketing, web development, video creation, social media and public relations. Based in Moseley, Birmingham, UK it works for a variety of clients nationally across a huge range of both B2B and B2C industries.
The Brand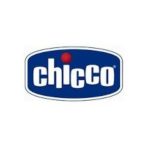 Chicco is an Italian-born baby products brand with a very strong presence throughout Europe. Chicco's mission has always been to make a baby smile, helping mums and dads in their baby's growth journey. It provides safe solutions, which are designed to meet the demands of babies as they progress through the growth phases, because for Chicco happiness is a journey that starts when you're a baby. With household-name products such as its Chicco Next2Me side-sleeping crib, Chicco combines innovation and traditional design to provide modern classics across all areas of infant and childcare.
The goals of the campaign
The aim of the promotion was to mark Mother's Day in a fun and interactive way whilst promoting Chicco's innovative range of NaturalFeeling bottles. Given that the vast majority of people who like the Chicco Facebook page are mothers, we felt it was only right to recognise the day with more than just a simple message. The competition asked for mothers to share what they've learned since becoming a mother to help other new mums out. We thought this was the perfect way to mark the day, in celebration of mothers everywhere.
The reason we ran a Facebook Sweepstakes with comments was to allow entrants to really express their views in a personal and authentic way. If the entry mechanism had been something less personal – for example simply liking a post or using a hashtag – we wouldn't have been able to celebrate everything about being a mother in the way we wanted to.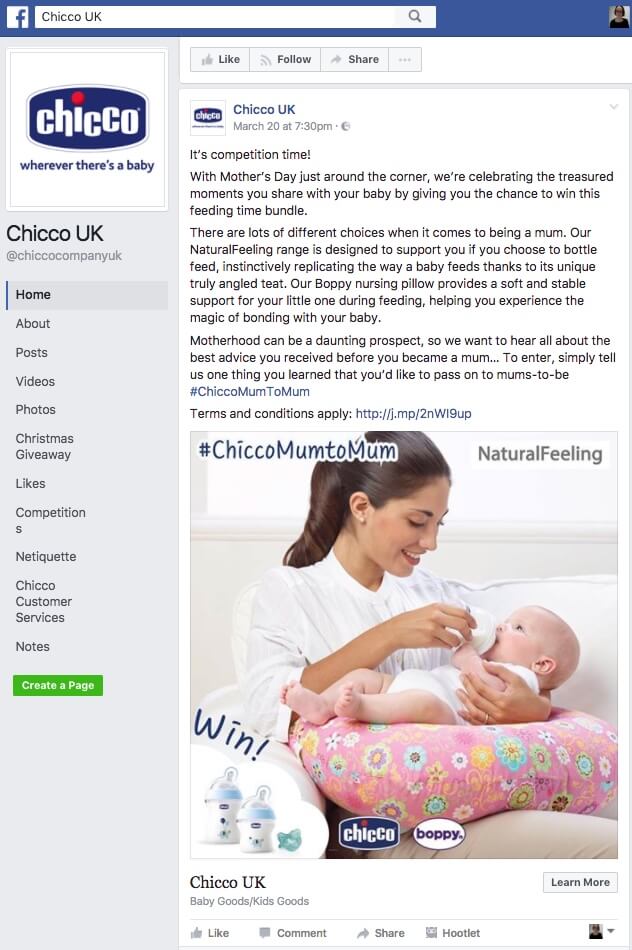 The keys to reach the goal?
We drafted four posts in advance and scheduled them to run throughout the week leading up to Mother's Day. The first post that introduced the competition was boosted, but the other posts relied purely on organic reach and engagement.
The prizes were a Chicco NaturalFeeling gift set that included two different-sized feeding bottles and a silicone soother, as well as a Chicco Boppy feeding pillow that can be used both when breastfeeding and when bottle feeding. We chose these to benefit both babies and mothers in honour of Mother's Day.

The solution
We used the Easypromos Facebook Sweepstakes app to gather entries from all four posts into one sweepstake and randomly select five different people who had commented on any of the posts. The app has a really handy function that allows you to select all relevant posts at once which means you can select winners from any of the competition posts, rather than having to do it one-by-one.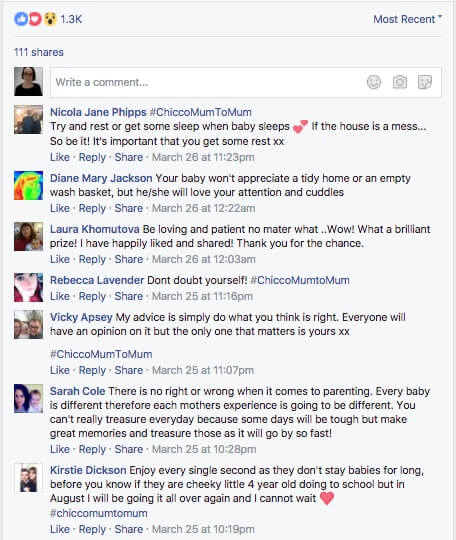 The Results
Altogether the competition received a total of 371 comments and a reach of well over 100,000. The reaction was overwhelmingly positive, with mums providing lots of helpful advice and wisdom on the trials and triumphs of being a mother. Throughout the week, Chicco's Facebook page received 919 additional likes, of which they attribute a large proportion to the Mother's Day competition.
Testimonial
Easypromos made the whole thing very easy and straightforward. It is the perfect way to choose competition winners on fair and random basis, and by providing the capability to select multiple posts to choose from, selecting winners is a very simple task.

It also allows you to choose back-up winners should there be an issue with the original selection, as well as blacklist entrants with whom there may have been issues before.

–  K. Morris –

Account Executive, HROC PR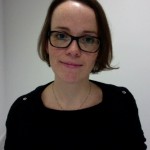 Randi Jensen
International Business Developer in Easypromos