Posted in: Success casesLast update: 22/08/22
Devising specific actions to loyalize your blog readers is an important task. When carried out effectively, such actions can provide helpful feedback from individuals who are genuinely interested in your brand or product. Because we know that preparing promotional actions can be a challenge, we've written this case study of a successful promotion carried out by Mocay Caffè called the Café Culture Challenge. How did they do it? Keep reading to find out!

For Mocay Caffè – part of Grupo Pascual – the Coffee Culture concept is a cornerstone of its online strategy. Most of the brand's audience and community are hospitality industry professionals and coffee specialists. For this reason, the brand's social media posts are always about coffee and what it can offer to bars and cafés.
Mocay's content strategy relies naturally on its own corporate blog, Mocay Comparte, where users can find accessible information about the world of coffee and learn new preparation techniques.
The Coffee Culture Challenge began in 2015 as the perfect union between a social media loyalization promotion and an action for increasing traffic to Mocay's blog. The brand decided to launch a quiz, challenging their Facebook community to prove how much they knew about coffee. Quiz participants were rewarded with entry to a sweepstakes for the chance to win one of three decorated mugs each week. To drive traffic to their blog, the brand made sure that participants knew they could find answers to the questions on Mocay Comparte. The Coffee Culture Challenge is repeated each year and is now one of the brand's most emblematic campaigns.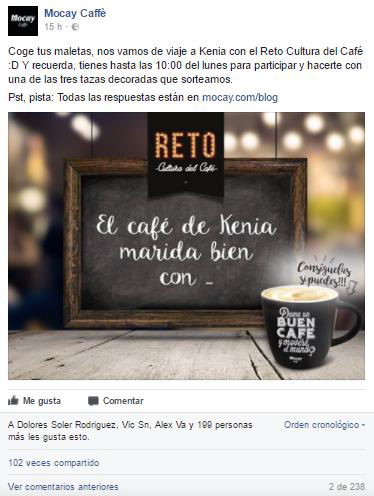 What are the goals of the Coffee Culture Challenge?
The Coffee Culture Campaign is founded on two primary objectives:
To improve people's engagement with the official Facebook page, thereby increasing the loyalty of followers and attracting new fans who have an interest in coffee.
To drive traffic to Mocay's blog.
Why did they choose Facebook?
Mocay Caffè chose to launch the contest on Facebook for several reasons:
Mocay's Facebook community had already shown interest in the branded mugs that were being offered as prizes.
Prior analysis had revealed that fans of Mocay Caffè often tagged other users in the posts, thus boosting the potential reach of the content organically. The fact that users were being tagged by their friends meant that they placed greater trust in the recommendation.
The platform's programming functions make it possible to implement segmentations and advanced delivery settings for each post.
Why was the quiz format chosen?
The question and answer format provides versatility when it comes to preparing the weekly challenges. It also reassures the participant that he or she is taking part in a transparent contest, in which the type of prize is appropriate to the level of involvement required. Mocay's followers knew that there were a limited number of responses and that the correct answers could be found on the brand's blog.
In addition, this format gave free reign to the creativity of the Mocay Caffè team who were able to alternate different types of questions: questions with numeric answers, true/false questions, multi-choice, answers to be completed with keywords, etc.
Keyword quizzes provide another advantage over sweepstakes in which participants have to write out their responses: all participants need to do is enter the keyword and add it to the comment. Participants might have to look up the correct answer, but they can do this by simply visiting the blog where all the answers are displayed. This makes it easier to participate: it's simply a case of commenting on the thread of the promotion post.
In this way, the combination of the quiz format with the Facebook platform works to achieve the goals of the campaign: generating loyalty and traffic to the corporate blog.
How do I carry out a transparent sweepstakes in Facebook?
The Coffee Culture Challenge promotion asks users to provide the answer to a coffee-related question. From among all those who got the answers right, three winners were selected transparently and randomly.
Ever since the challenge was first launched in 2015, Mocay Caffè has been powering its promotion using the application for running Facebook giveaways. The brand made this decision after evaluating their sweepstakes needs:
Marking only correct answers as valid responses, while taking into account time and form.
Carrying out a totally random and automated sweepstakes with no manual intervention by the Mocay Caffè team needed.
Being able to provide a certificate of validity for the sweepstakes to share with the Facebook community.
Being able to filter and catalogue users based on their previous entries.
With these four needs covered, the selected app enabled the brand to carry out weekly sweepstakes quickly, automatically and totally randomly for over two years. The most useful features of the app for the management of the Coffee Culture Challenge promotion are as follows:
Direct integration with the fanpage. This ensured that a list of participants was uploaded automatically each week and that only the valid participants were selected.
Implementation and management of a list of fraudulent users. This list was maintained throughout the promotion and was continually updated with new entries.
Implementation of a list of previous winners throughout the campaign. This facilitated management, ensuring that no participants were awarded a prize more than once.
Application of advanced segmentations to exclude participations that were made before or after the sweepstakes.
Results of the Coffee Culture Challenge
By using the Facebook sweepstakes app and asking questions related to their blog posts, Mocay ensured that the Coffee Culture Challenge became one of the best-loved campaigns among their Facebook community.
This is reflected in the data collected each month:
Engagement with promotion posts: 20%-30%.
Participating comments per post: 270-350.
Reach per post: 4,500-6,000 people.
Shares per post: 175-200.
The promotion also ensured that Mocay's community of followers visited the blog regularly as they knew that they could find the correct answers to the quiz questions.
In this way, Mocay Caffè fulfilled its two key objectives with a single campaign.
Now you know how to loyalize your blog readers with a social media quiz and sweepstakes it's time to come up with your own strategy. All you need to do is create an Easypromos account and choose the option that best suits your needs.
Publication date: 2017-10-26