Posted in: Ideas for your websiteLast update: 29/07/22
You probably know by now that digital promotions are the best way to engage your audience. But it's often quite difficult to come up with the right idea for your promotion. This is why today we share 7 ideas for social media promotions. Read on to discover the most popular and effective ideas for promotions for your social media followers.

Are you wondering what campaign would work best for you and your marketing objectives? Take a look at these ideas for social media promotions:
1. Comment giveaway: open-ended questions
Social media is all about engagement and high-quality interactions. Ask users to complete a sentence or answer an open question – they're the best kind of questions to encourage real conversations, which happens to be the best engagement boosters. Ask users to share their opinion, let them help you come up with a new slogan or product name.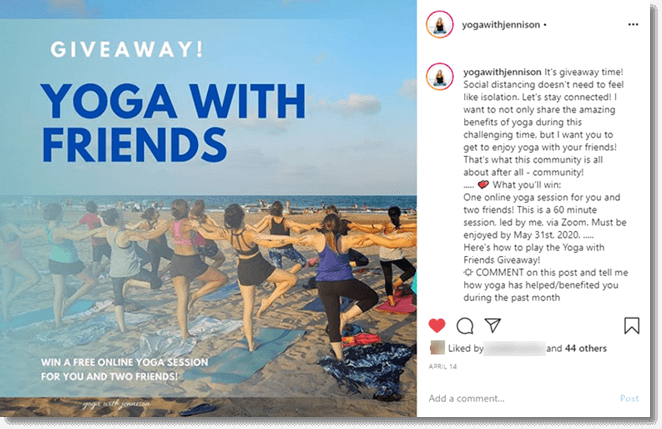 What could the prize be? The best prize for a social media giveaway is your own product or a product bundle. You can also run a social media giveaway in collaboration with another brand – you can then raffle products of the two organizers.
What are the benefits of this type of action? Social media giveaways generate great user interactions and it's a great way to energize and engage your followers. If you choose to raffle your products you will also increase product awareness.
Which Easypromos application should you use? You can run a social media giveaway on Instagram, Facebook, Twitter or YouTube. You can even organize one giveaway across more than one social media channel. All you need is one of the Easypromos social media giveaway applications.
2. Collect user-generated content
Brands can often play a part in people's happy memories. You can remind someone of their childhood, or of fun moments with their family or friends – this is especially possible for brands that have been on the market for some time. However, if your brand is only a few years old you can help your clients create new memories. Encourage customers to share pictures, videos, and texts with your brand. Ask clients to share pictures of how they use your product or how it's present in their daily lives. Show your sensitive side and touch your followers' hearts!
Did you know that user-generated content is the most authentic content that brands can share on social media? Collect creative pictures, videos, and texts and reshare them on your social media channels to boost customer loyalty and trust. Take a look at how a small photography studio collected UGC with a photo contest app that they shared on their social media channels.
What could the prize be? It all depends on your promotion! Is your campaign pet-themed? You better share same dog toys! But if you're collecting UGC with your product in it, you should raffle product bundles or special edition products!
What are the benefits of this type of action? Apart from high-quality user-generated content and leads you also boost brand visibility and customer trust. Reshare the collected content to show your potential customers that you have a loyal and established customer base.
Which Easypromos application should you use? You can collect UGC with one of the Easypromos contest applications.
3. Organize a branded mini-game
Did you know that you can now launch a branded game for your brand? Your audience can engage with a fun Puzzle, Memory or Minesweeper game among others. The best aspect of Easypromos gamification is that you can fully customize your application! Take a look at the following example of a customizable branded Puzzle, launched by a bodycare brand.
What could the prize be? You can raffle your own product or product bundle! Or you could distribute discount codes to all registered users.
What are the benefits of this action? This type of action can boost the brand recall of your company because you're encouraging participants to dedicate some minutes of their time to you. You also get to obtain high-quality leads and improve product awareness. And if you distribute discount vouchers you might as well increase sales!
Which Easypromos application should you use? All Easypromos game applications are fully customizable and responsive! And they come with default templates that will save you some extra time!
4. Collect market research and obtain valuable insights
So… Are you feeling brave and you're looking to make improvements to your products and services? Why don't you ask your followers to share their views and opinions? You can find out what they like most, and also what they like least. If you have a broad and representative community of followers, this could be an excellent opportunity for conducting market research.
What could the prize be? Are you working on a new launch? Offer participants product samples or send them early-bird access to your e-commerce site where they'll be the first ones to order your new products.
What are the benefits of this action? You can have your suspicions confirmed and make successful changes, obtain feedback and user engagement, and create a community around your brand and its products.
Which Easypromos application should you use? Create a survey for participants to indicate what they like least about your product and what improvements they'd like to see. This feedback can be analyzed later. And don't forget to attract participants with attractive prizes!
5. Boost sales with Product Recommenders
This one is one of our favorite ideas for social media promotions! Did you know that you can recommend products based on how participants answers a series of questions? You can simply created 4 or 5 questions where you ask for users likes and preferences. Once they share their contact details you can display a personalized messaged. And of course boost the awareness of the products you wish to promote!
What could the prize be? Why don't you run a random giveaway among all registered users? We also recommend sharing a discount for the recommended product!
What are the benefits of this action? You can obtain lots of important information and offer more personalized marketing campaign. You gain more knowledge of what products your users are interested in. It's a great way to boost sales and covert leads into paying customers.
Which Easypromos application should you use? Make sure you use our Product Recommender application for your promotion. You will be able to fully customize your applications and expose your audience to your brand a little bit more.
6. Registration with prize
Even if you don't have a physical store you can still show off your products. Launch an Entry Form Giveaway and give your products away as prizes. Create a registration form where users leave their contact details and tell you which product they're most interested in. You can then run a giveaway among everyone who registers and reward the winners with their favorite products.
What could the prize be? As mentioned, you could reward winners with your products.
What are the benefits of this action? This action can generate new leads for your brand and promote your products.
Which Easypromos application should you use? With a simple Entry Form Giveaway you can run a sweepstakes automatically and randomly for each prize, creating as many prizes as products.
What do you think of our ideas for Social Media promotions? Try them and you'll see your sales increase and your relationship with your community become stronger, all thanks to your social media promotion strategy. Sign in to your dashboard and get started or contact us in case of any questions!
Publication date: 2018-02-28