Posted in: Digital marketing,Ideas for your websiteLast update: 29/07/22
The festive season is one of the most important moments in your marketing calendar. Here's why you should run online promotions, contests, and giveaways to increase sales, demonstrate your values, and reward loyal customers.

It's a busy time of year in marketing and sales. You're probably wondering how to get everything finished in time… let alone how to find exciting and fun winter holiday giveaway ideas. But whether you're working on Thanksgiving, Black Friday, Cyber Monday, Christmas or New Year, a holiday giveaway can help. It's not just a gift to your customers; it's a gift to yourself.
Why? Because a holiday giveaway is easy, affordable, and effective. In this post, we'll share winter holiday giveaway ideas that you can complete with Easypromos.
1. Highlight your holiday products and services
First things first. Chances are, you have some special products in mind that you want to incorporate in your winter holiday giveaway ideas. Perhaps you offer seasonal services, or you've added some Christmas cheer to your usual product line. Even if you're just offering the same merchandise with a Christmas marketing twist, you still need to get your message out there. So a holiday giveaway is a great way to tell the world about your products – and reward one lucky customer with a free sample.
Here's a case study from baby products brand Chicco UK who runs a holiday countdown celebrating the 12 days of Christmas with a Facebook Giveaway per day. Each day the Elves have visited and left one of the brand's products that the users can win by commenting on the post with the answer to the day's question. Both Elves, product, and question are displayed in a cute, Christmassy video with bells, Christmas trees, and ornaments.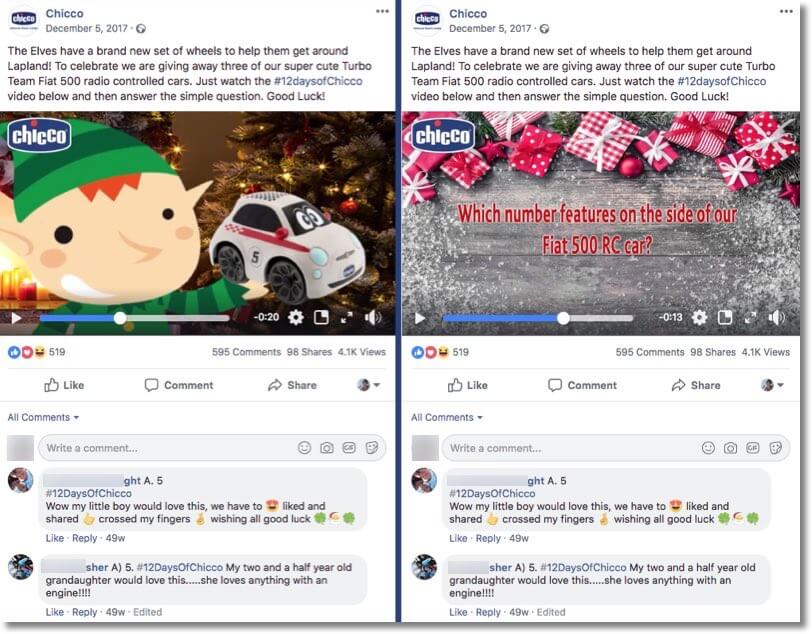 If you want to run a Christmas countdown promotion like this, you can also try creating an Advent Calendar. Find out more and learn how to engage your audience over 24 consecutive days!
2. Target your customers with personalized gifts and rewards
Advertizing your holiday catalog is all well and good. But what if you want to share more personalized promotions? Consumers love prizes that are relevant to their wants and needs. So you can micro-target your holiday sales campaign. Identify different segments of your target market and share promotions designed for them.
If that sounds a little complicated, it doesn't have to be. Here's an example where the brand allowed customers to make their own targeting decisions. They offered a range of luxury prizes in a single Christmas holiday giveaway. First, users signed up with their name and email address and picked their favorite reward. If they were lucky enough to win the prize draw, they would receive their perfect prize.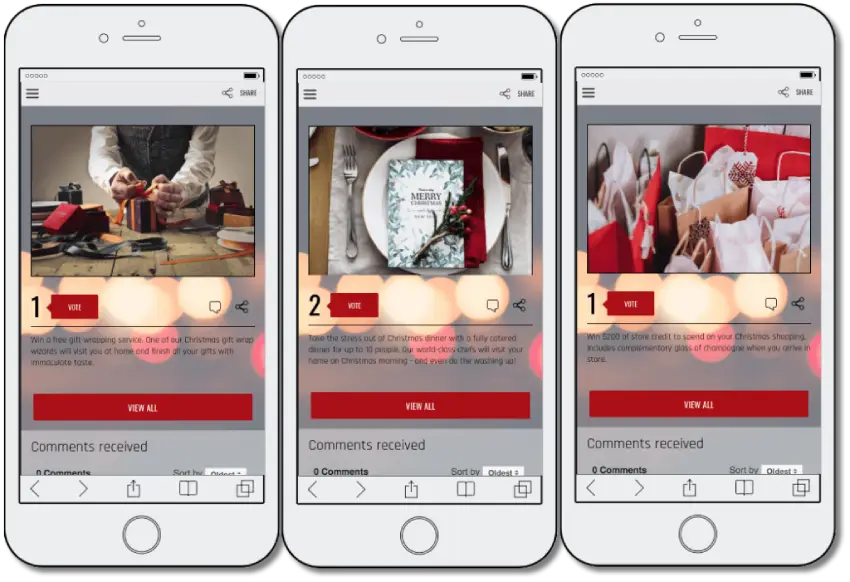 Store credit and gift cards are always very popular in online promotions. So offer tempting rewards for Black Friday and Cyber Monday, or give away store credit to make Christmas shopping easier.
3. Show your human side with a charity contest
Of course, the holidays are not just about gifts for your customers. Thanksgiving is a time when we reflect on what we owe to others, and what we are grateful for. Christmas is a season of giving and charity. And even Black Friday has developed a philanthropic opposite: Giving Tuesday. It's time to be generous. So showing the strong values at the heart of your brand can only improve what your customers think about you.
In this first example, a shopping mall offered a $500 shopping spree. They asked customers to vote for their favorite store decorations, for a chance to enter the prize draw. However, at the same time, they offered another $500 to a deserving local charity. So they rewarded their customers and shared some Christmas spirit at the same time.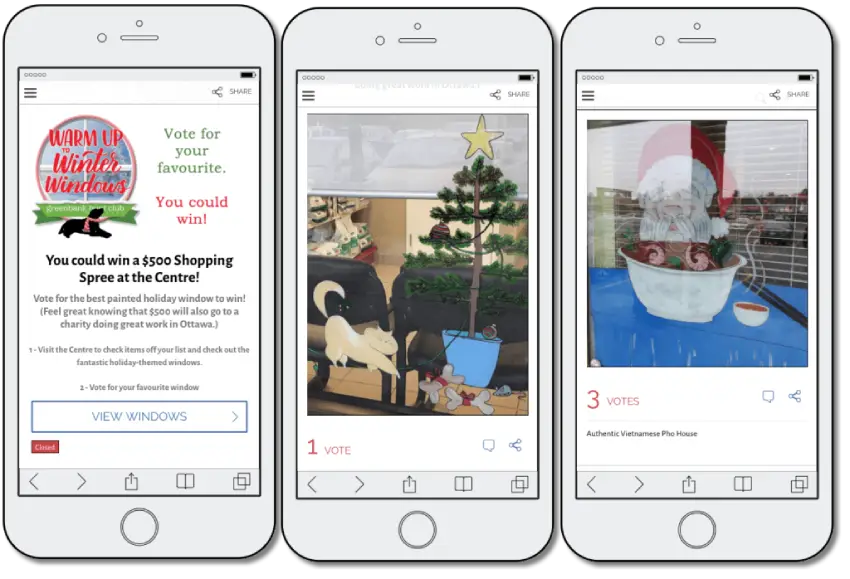 Here's another example from a major Australian department store. They asked customers to vote for their favorite cause. Then the winning charity received a very generous donation. That's a great way to gain loyalty!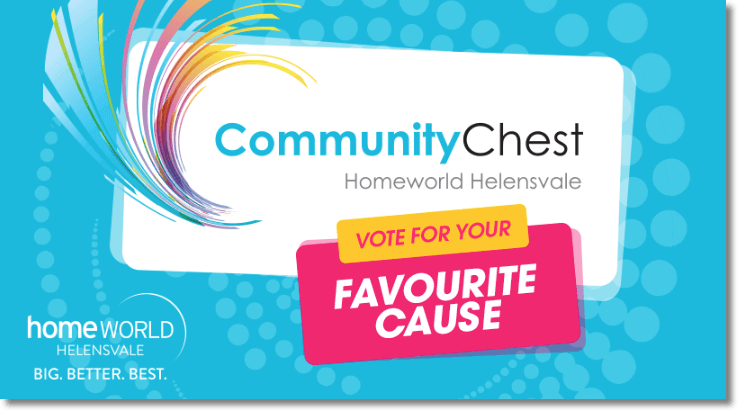 Community-focused contests like this are very popular in malls and retail marketing strategies. If you're working on a marketing campaign for a shopping center, click here for a free ebook full of inspiration and case studies.
4. Share seasonal content to get shoppers' attention
The holiday shopping season is actually pretty long. Almost half of shoppers start thinking about the holiday season in October. Then they follow the sequence from Halloween, to Thanksgiving, to Christmas and New Year. So you need a way to build and maintain excitement among your customer base.
A holiday countdown is an easy, fun way to do this. The most obvious example is with an Advent calendar – but don't be afraid to think outside the box! You can offer a week of spooky treats in the lead-up to Halloween, or count to the New Year on December 31st with an Instant Win prize every 30 minutes.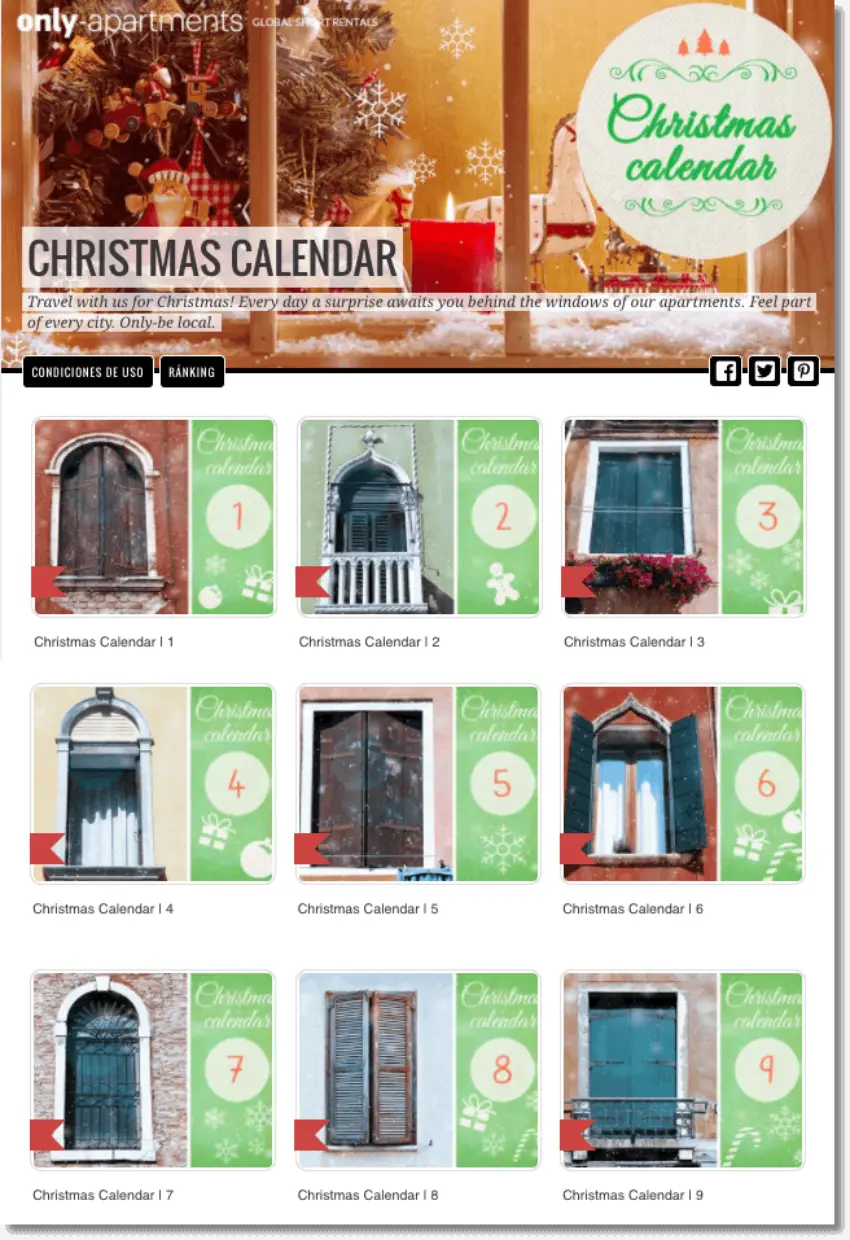 We loved this example from a holiday apartment company, above. They created an Advent calendar, where each window was a photograph taken at one of their properties. Then customers had the chance to win a prize each day, counting down throughout December.
This drinks brand also decided on a Christmas countdown, shared as a daily Facebook post. Each day, customers could win different prizes, such as gift cards, handbags, beauty products, etc. At the same time, the brand used the posts to showcase their Christmas products and recipe inspiration.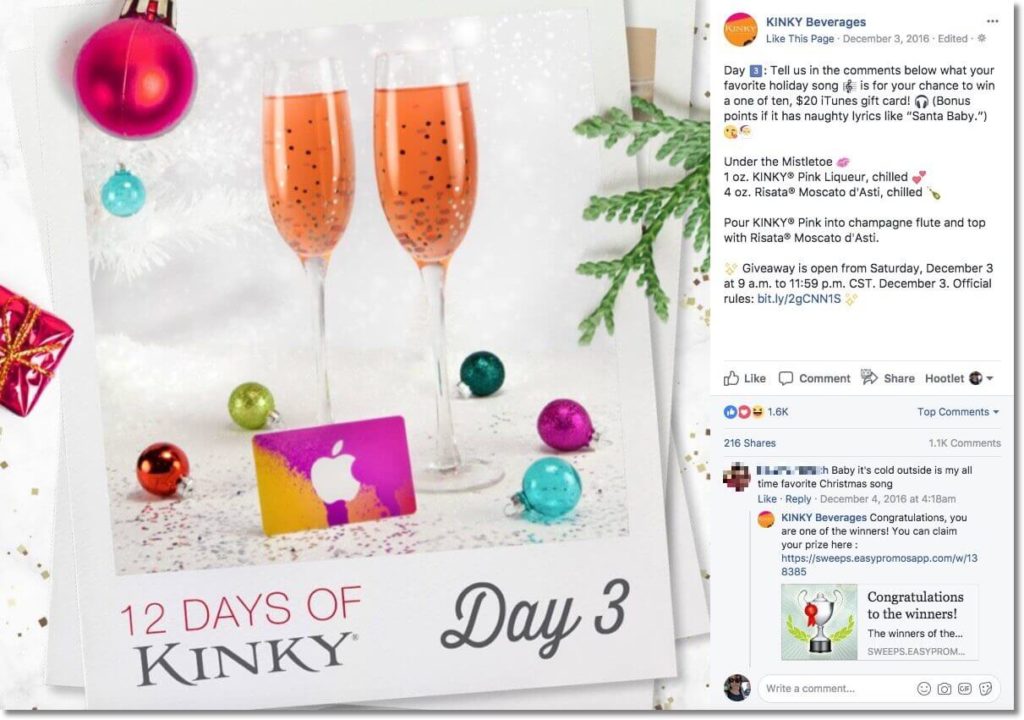 Sharing giveaways on social media is easy and quick. Plus, you can announce the winner with minimal effort! If your brand uses several social networks to reach followers, consider combining them in a Multi-Network holiday giveaway.
5. Increase sales and bring customers in-store with coupons
Of course, every seasonal marketing campaign has its own specific goals. And the aim of your holiday giveaway may well be to directly increase sales or store footfall. In this case, our top recommendation is a coupon campaign. Share discounts, free samples, or multi-buy deals to encourage customers to spend.

Here's an example from a French-language school, which wanted to bring their followers off social media and into their center. They offered a 15% discount on courses if students signed up between Christmas and New Year. It's a great idea for a New Year promotion when many people are making resolutions and plans for the year ahead.
If you're marketing an online store, then think about sharing coupons for free shipping. This is always popular with consumers – and even more so in the busy holiday season.
6. Share the good news with viral content and word-of-mouth marketing
For the last two sections of this post, let's focus on distributing and publicizing your holiday giveaway. Your carefully-planned seasonal marketing campaign will be wasted if you don't share it as widely as possible.
First off, let's talk about sharing on social media. You'll need to create viral content to make your promotion popular. So, as well as an exciting holiday giveaway idea, make sure you create attention-grabbing graphics and a catchy hashtag. We liked this example below: it shows the Christmas theme and reminds followers of the brand's logo.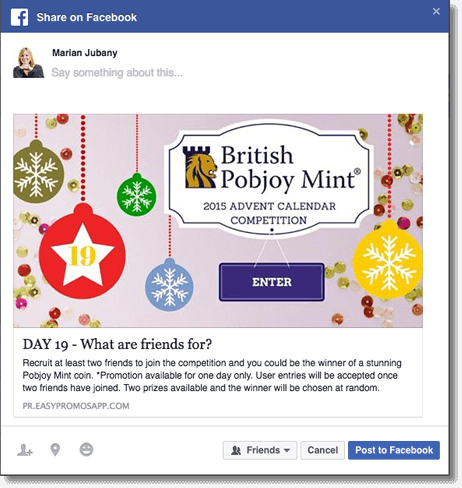 But there's a second reason we picked out this case study, too. It's an excellent example of word-of-mouth marketing. Remember, every time your promotions are shared on social media, they're being shared by real people. And those people have friends, families, and colleagues who trust their recommendations.
Use a Refer a Friend contest to encourage followers to share your campaign. As you can see in the example above, it's really just a simple giveaway. But every time users recruit another friend to the contest, they get an extra entry in the prize draw.
Do you know the rules on social media? Social networks such as Facebook don't allow contests where users have to share your posts. Refer a Friend contests are a fun alternative, without the risk of account suspension.
7. Keep your brand top-of-mind with email marketing
Before you go and get started on your holiday giveaway, we have one last trade secret to share. Distribution on social media is great… but email marketing is even better.
Many people don't fully realize the power of emails in your giveaway promotions. Use email to thank participants for registering, remind them of competition deadlines, announce winners, follow up after the promotion, share surprise rewards… In other words, use email to build a relationship with your leads and customers.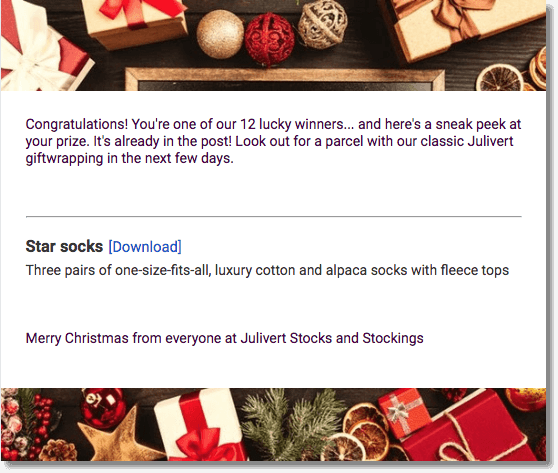 The Easypromos email platform is one of our best-kept secrets, for this very reason. You can schedule emails based on how people interact with your promotion website. Dress up your emails for the holidays with your own images, graphic design, and even emoji. Save time by using personalized tags to insert users' names and individual prizes. And best of all, the email platform is already fully integrated with your promotion. So no need to waste time downloading email lists, adding them to a new mail client, and organizing all your communications by hand.
Now you've seen how to advertise your products, increase sales, and stay in touch with customers… What are you waiting for? Create your account for free and start designing your holiday giveaway now. For even more inspiration, check out our winter holiday campaign website.
Do you have more questions? Don't hesitate to use our Online Chat to contact us.
Publication date: 2018-10-09