Posted in: Ideas for your websiteLast update: 03/08/22
Super Bowl spending is over 15 billion dollars. And statistics show that Instagram is the social network with highest engagement for Super Bowl posts. But are you making the most of this opportunity? Here's how to increase engagement, attract followers and get sales leads on social media, with a Super Bowl Instagram giveaway.

Start with a simple Super Bowl-themed prize
When you create a giveaway on Instagram, the first question you should ask is: What are my goals?
Most brands aim to increase engagement and attract new followers. If that is your goal, then the best strategy is to keep it simple. We recommend an Instagram comments contest because it's easy to organize and easy to select the winners.
What's more, your followers can take part on their cellphones – without missing a moment of the game!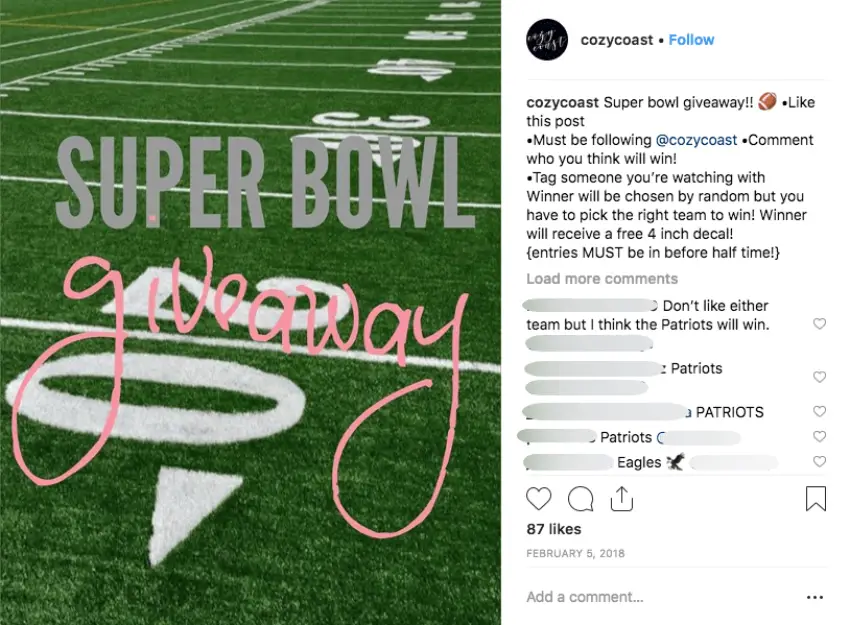 Take this example from a fashion brand Cozy Coast. They asked a simple but engaging question: "Who will win the game?" Everyone who guessed correctly had a chance to win one of Cozy Coast's products.
Ready to play? Use our free templates for a Super Bowl giveaway on Facebook or Instagram.
Share sports gear for the big game
Many brands choose to showcase their own products for Super Bowl season. But if you struggle to connect with the football theme, then try giving away themed prizes, or even teaming up with another brand.
Here's an example from a weightlifting clothing company. They challenged their followers to bet on the final score of the game, for a chance to win exclusive gear.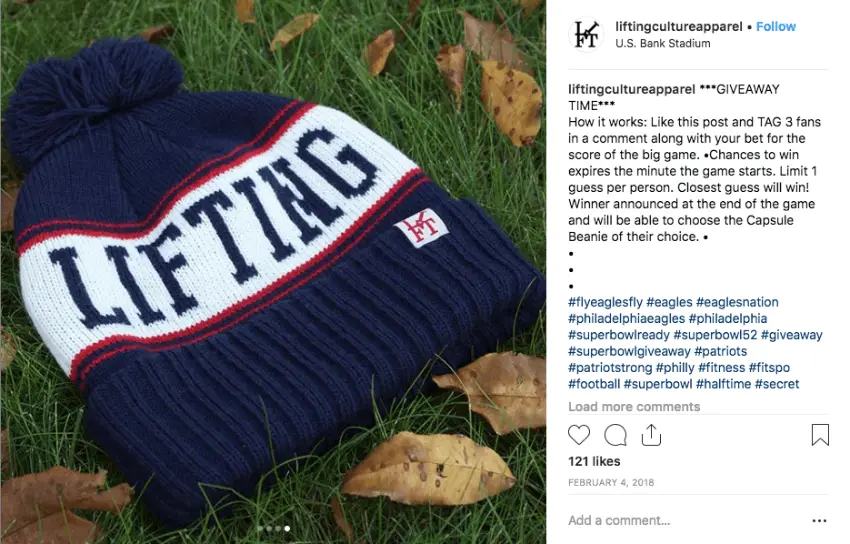 Now here's the twist: the contest was only open as long as the game lasted. When you set up an Instagram comments contest, you can decide when to import comments – and which ones to exclude.
Next, take a look at this example of a brand collaboration for a Super Bowl Instagram giveaway. The Golden Horseshoe Baseball League in Canada teamed up with Nike for this contest.
To add to the challenge, they shared an image of the NFL playoff bracket, with some key spots left blank. Their followers had to fill in the blanks correctly with a comment.
Be creative with your Super Bowl Instagram giveaway. You could ask your followers to make predictions, choose a favorite player or highlight, comment on the half-time performance, and more.
Interested in inviting your audience to predict the winner of the Super Bowl? Would you like to collect leads? Use the Predictions app to run a promotion for your audience! Share the link on social media to engage your followers and convert them into high-quality leads.
Serve up some game day snacks
It wouldn't be the Super Bowl without snacks! So if you run a food brand, restaurant, bar, then this is the perfect opportunity to boost your profile on social media. Remember that you can team up with other brands and sponsors, too.
In this example above, nutritionist and blogger Anna Brown shared some classic chips and salsa with her followers by teaming up with two gourmet brands.
You could update your usual menu to celebrate the Super Bowl, too. This smoothie and acai bowl shop created some special themed dishes for the event.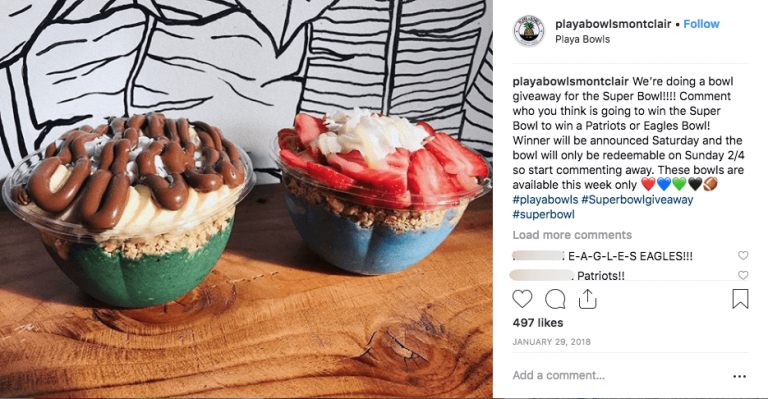 Their followers commented which bowl they wanted, for a chance to win. And of course, anyone could visit the store to buy their own.
Get user-generated content with photos, recipes, and more
If you're feeling ambitious, and your followers are active, then you can take your Super Bowl Instagram giveaway to the next level.
Invite your followers to share game day photos, recipe recommendations and more, by posting with your mention + hashtag. Then you can collect all the entries and publish them in an online gallery. Your visibility on Instagram will increase, too.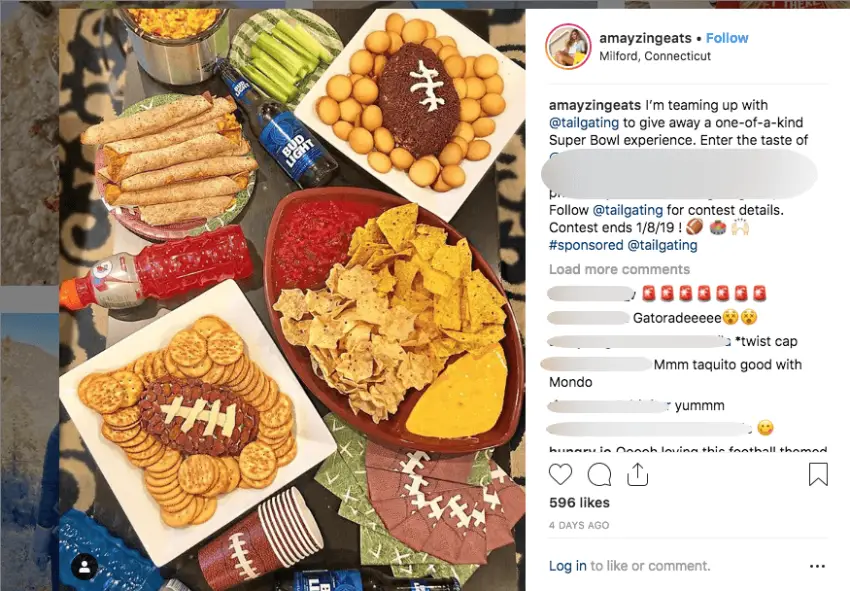 If you want to use all that user-generated content in your own ad campaigns, then it's a good idea to get image permissions from your followers. Try the Instagram photo contest app for a quick, easy, and above-board process.
Ready to run a Super Bowl giveaway on Instagram? Don't worry if you have questions! Our Support Team is ready to help with any doubt!
Publication date: 2019-01-10