Posted in: Digital marketingLast update: 25/07/22
The popularity of digital media over print media has exploded over the last decade. Unsurprisingly, it has led to endless debate about whether or not print media can survive in the current market. However, while pundits prematurely announce the death of print media, most businesses know that the best way to reach consumers is by using a combination of print and digital resources.

The main concern for businesses is getting the balance right between these two types of media. Why? Because the right balance means more sales and more leads.
In this post, I will outline the five best ways to balance print with digital. But first, let me explain what kind of materials and tools fall into the print and digital categories.
What is print media?
Print media falls into the traditional media category, which includes radio and television. Since the invention of the printing press in the 15th century, print materials have been the most popular method for businesses to reach their customers.
Modern technology has made printing much easier, and led to a drop in printing costs. Concurrently, distribution channels have been opening up, so businesses are able to reach more people than ever before.

From a marketing point of view, print media includes newspapers, magazines, brochures, billboards or banners, physical newsletters, posters, and flyers. Not all businesses need to use every type of print media, but many will find themselves dipping into a few of these forms for their marketing.
What is digital media?
Information technology was trotting along at a decent pace until the 90s, when the tech industry began to see a rapid change. With the rise of Apple, businesses around the globe galloped ahead, innovating constantly to usher in the current digital age.

Digital or new media can be categorized as paid, owned, and earned media, and includes everything on the internet, such as websites, blogs, ebooks, whitepapers, social media, videos, podcasts, and emails. Marketers will generally use a combination of all these kinds of digital media to reach their end customer.

Now that we have a good idea of what falls under print and digital media, we can look at the five best ways to balance them.
1. Find your audience for print and digital media
Your choice of media depends largely on the kind of audience you want to reach. There is no point in investing heavily in digital media just because that is the current trend, if your audience doesn't engage with digital.

For example, if your target audience is in the older age-bracket, you may have more success with a newspaper advertisement, or handing out flyers. On the other hand, companies with a focus on engaging audiences between the ages of 18-45 would do well to promote their content on social media.

This Candy Bar article on restaurant marketing outlines how critical digital media is in the food industry.
In this industry, print media only really appears in the form of menus. But even menus need to have a digital form: many customers visit a restaurant's website before eating there. The below menu can be printed for a restaurant while also being made available online for viewing and downloading.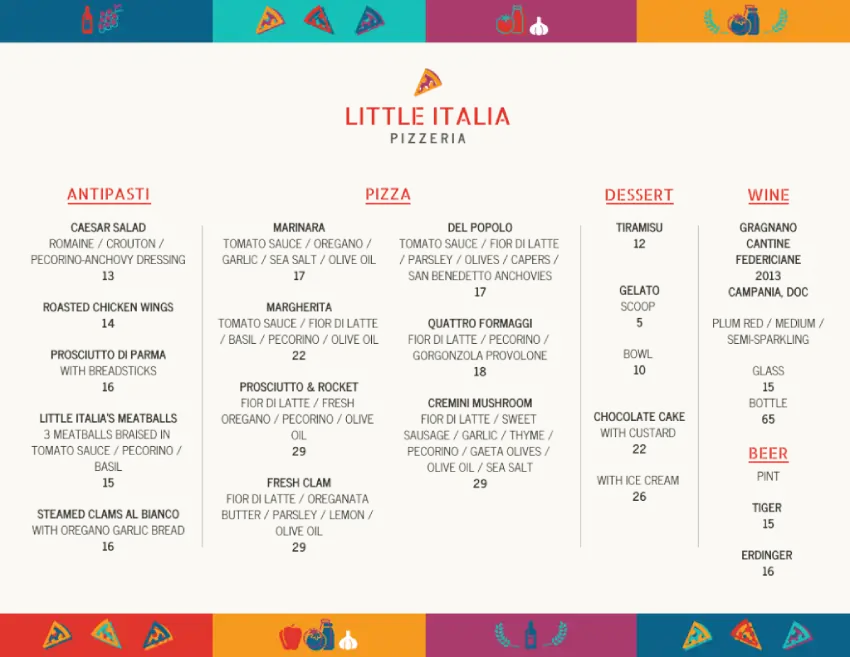 And this is something every industry needs to keep in mind. Start by learning which media your audience prefers, and choose your channels accordingly.
Speaking of restaurants… Get more fresh ideas and marketing strategies for your café, bar, or future Michelin star in this blogpost.
2. Plan your digital and print media budget
Both print and digital media will take a bite out of your budget, but the specific amount depends on your goals and campaign strategy. Traditionally, print media has been more expensive than digital. So this is something you need to acknowledge when deciding which platform to use.
For instance, social media accounts can be set up for free. Even websites can be created for a minimal cost. Costs only factor in during content promotion in the digital world. Even then, the price of boosted posts and ads is far smaller than anything related to print media. (This article from Blogging Wizard on promoting your blog highlights how little money needs to be spent on digital promotion.)

If your company is large and sees a decent cash flow, you can afford to invest in the many kinds of media available to you. But for smaller businesses, it may be better to focus your efforts on consistent, affordable engagement on social media.
Click here for tips on creating social media posts that will keep your followers online and engaged – whatever size your business is.
3. Determine your marketing goals
Your end goal for your marketing campaign is intimately tied to your target market and your campaign budget.
If your company has a local focus, you may find that digital media doesn't effectively reach your target audience. Instead you can use print materials such as flyers and brochures to engage customers.

On the other hand, digital media is an excellent resource for global events, tourist spots, and international companies. If you don't have people on the ground, then it's difficult to distribute print media. So if you work internationally or over a large area, you need to make the most of your digital assets.

Determining your goals in advance will help you save marketers from spreading themselves too thin. Instead of using every channel available to you, your goals can help you choose specific resources to reach your audience.
4. Send a consistent message in digital and print media
The best way to balance your print and digital media is to treat them as two halves of the same entity. You can achieve this by standardizing your messaging across all platforms.

This means using the same taglines, logos, and tone of voice in print and digital advertising. You'll also need to consider pantones in print versus digital.
Don't make your digital voice informal just because that's the trend in the digital sphere, while making your print voice more formal and sales-focused. Use the same voice throughout to help your audience with brand recall.
A simple Instagram post, like the example below, can also be adapted as a poster or flyer that can be distributed to a physical audience.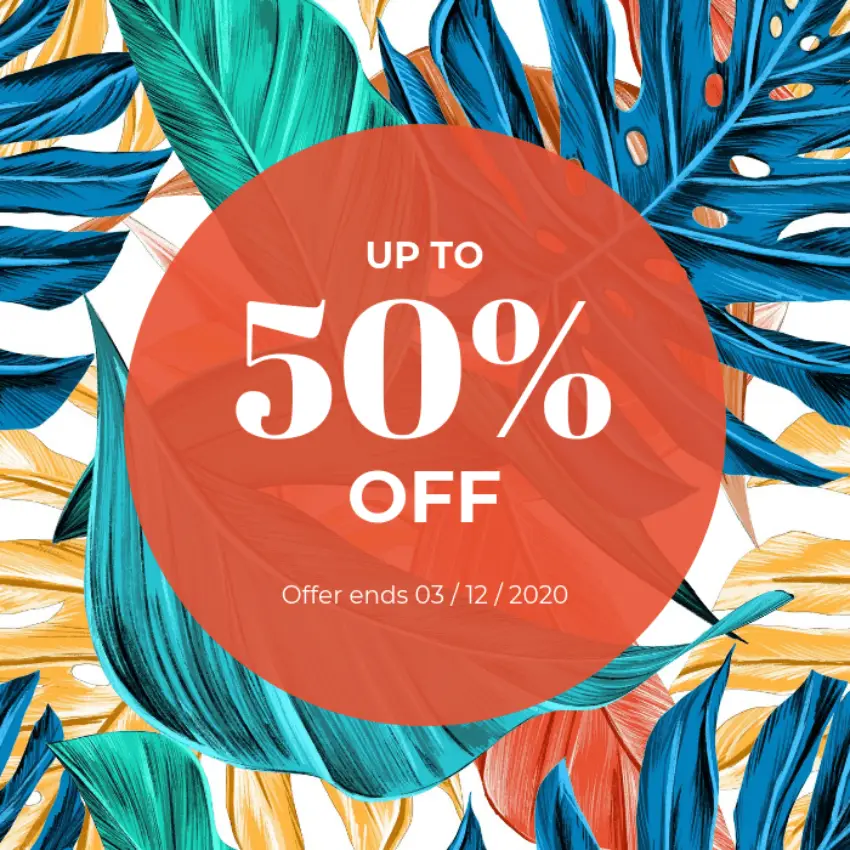 Want to run a killer coupon campaign? Click here for the essential guide.
5. Create a media marketing loop
Whatever print and digital media you use should work in combination, feeding back to each other.
Print materials should include a call to action that sends your target audience to your website. Your online campaigns should encourage people to visit your brick-and-mortar store or engage with you offline at events. This kind of integrated marketing is the most effective way to reach your audience.
Not sure where to start? Use Venngage's poster maker tool to design print materials quickly and easily.
In conclusion…
Some marketers are still under the impression that brands can only capitalize on one kind of media. But this is simply not true.
Print creates tangible and memorable materials that can complement digital advertising. And digital advertising can extend your reach to new areas and audiences.

A comprehensive marketing strategy will take both types of media into account, without breaking your budget. A strong, integrated marketing plan is the best way to balance print and digital and will eventually lead to conversions and sales.
Publication date: 2019-06-25