Posted in: Digital marketing,Ideas for your websiteLast update: 16/08/21
If you're on a lookout for ways to dynamize your social media audience, here's a tip for you: wow your followers by targeting their soft spot: pets. Give them a chance to win pet beds, gadgets and toys for cats and dogs, or gift cards redeemable at your store. Discover our ideas for pet-themed giveaways for any business!

We're all on social media and we've all had our own experiences with pets. Some of us have always had a dog or cat, while some of us simply had a goldfish as kids. It's been proven scientifically that owning a cat or dog helps mental health and well-being. So let's just admit it – we all love animals. Seeing as some of your followers are full-on pet lovers, it's time you target their soft spot and organize pet-themed social media giveaways.
There are many pet events throughout the year; National Pet Days in different countries, Hug Your Cat Day, World Animal Day, or even National Pet Appreciation Month, so you'll have many chances to launch your pet promotion. Let's look at examples of interesting pet giveaways, so you can learn how to organize a giveaway for your own community. Here we go!
Ideas for Instagram pet giveaways

Ideas for pet promotions organized by art shops

Organizing pet giveaways is possible for any business or brand that has social media accounts. You don't have to have a pet shop or be a producer of pet food or gadgets to launch a successful social media giveaway for your followers. You can still promote your products or services, you will only have to tailor the message to reach your target audience, in this case, pet owners.
Let's take a look at this pet giveaway organized on Instagram by Hannah Elliott, an artist specializing in… pet paintings. The organizer was looking to achieve three marketing objectives: increase social media engagement, brand awareness, and the number of followers.
The entry requirements were very simple; interested participants were asked to follow the organizer's account, and mention in comments "a friend who's obsessed with their pet". These entry requirements automatically ticked off all the marketing objectives set at the moment of launching the promotion.
This example is a fantastic proof that any business can organize a pet giveaway. Here are some ideas:
Print shops: you can organize a pet-themed promotion for your audience and give away a high-quality picture of their pet.
Personalized t-shirts: you can launch a giveaway to gift a personalized t-shirt with a pet's likeness.
Jewelry: give away pet-themed pendants, bracelets or earrings.
If you're looking to draw a random winner of your Instagram promotion you can use our Instagram Giveaway app. It's easy to use and the winner selection process is automatic and transparent. And your first giveaway is free!
Instagram pet giveaways organized in collaboration with another brand
But what can you do if you're brand has absolutely nothing that connects you with animals? Collaborate with another brand! This way you will both reach a wider audience, which will benefit both businesses.
Surely, you can still collaborate with another brand if you offer pet products or if your followers are pet lovers. Here's an example of an Instagram Giveaway organized by Henry the Colorado Dog (we assume it was actually Henry's owner… 🙂 ) and We Feed Raw Pet Food.
The entry requirements were exactly the same as in the previous post. The entrants were asked to follow both accounts and mention a friend in the comment section.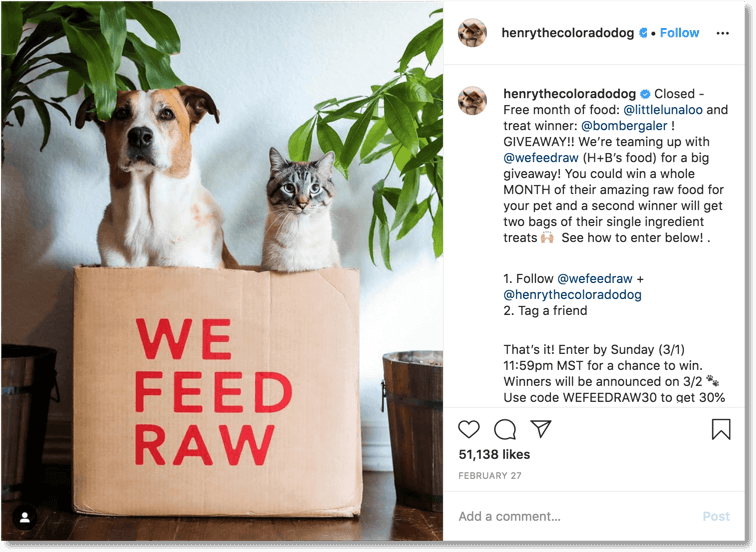 The participants were in for a chance to win a monthly supply of raw food for their pets. The giveaway post had almost 2000 comments, which means that We Feed Raw's awareness has increased dramatically. Both brands also gained new followers and more visibility.

This example shows really well how Instagram collaborations can benefit businesses and attract a new audience. Here's also another example to show you that many brands collaborate to promote pet products.
In this example, two brands – Clifbar and K9Sportsack – teamed up to organize an Instagram giveaway targeting dog owners. The winners had a chance to walk away with a dog carrier by K9Sportsack, and energy bars (for when the dog's starting to be too heavy to carry) from Clifbar. Once again, the entry requirements were simple, and exactly the same as the ones in the previous examples. The participants were asked to follow both organizing accounts and tag three dog owners in the comment section.
By now you probably have an idea of how to organize a pet Instagram giveaway and what requirements you can set to achieve the most important marketing objectives.
Use our ready-made Instagram and Facebook giveaway templates for your pet-themed giveaways.
Instagram pet giveaways launched by veterinary clinics
Pet shops and veterinary clinics are of course the two most common organizers of giveaways targeting pet owners. You can easily promote pet food, toys, beds, and other gadgets. But how do you promote services? Here's an example from a Spanish veterinary clinic that was looking to promote their pet services. And they did it well! Happy Cat Veterinaria had one main objective that they wanted to achieve: promote the services they offer. So they organized a pet Instagram giveaway offering one lucky winner… a spa day for their pet!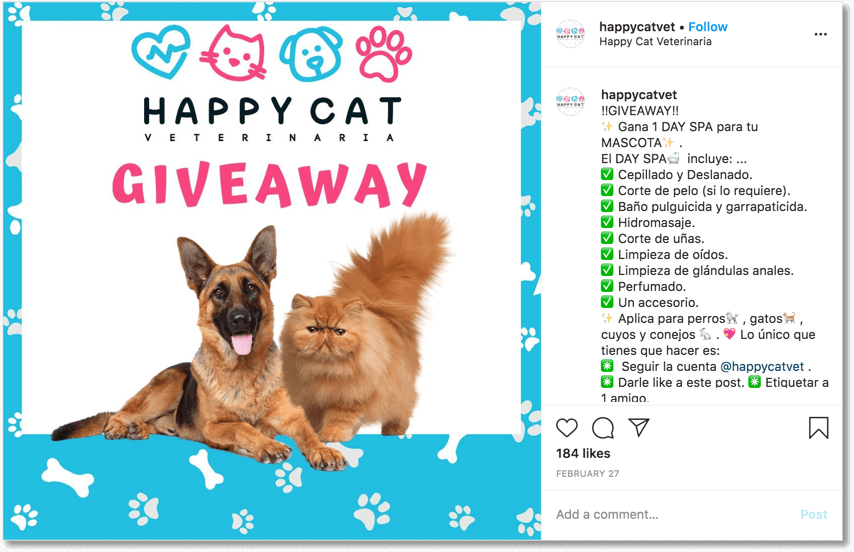 The dog or cat of the winners would get a full body treatment! The prize included a haircut, full hairbrush and untangling, flea bath, hydromassage, nail cut, ear, and bottom cleaning, perfuming and toy of choice. Sounds nice, right? By now it's no surprise that the entry requirements were the same as always; the users were asked to follow the account and tag a friend. This way the brand got more exposure and more people were informed about the services provided by Happy Cat.
Facebook giveaways for pet owners
Apart from Instagram, Facebook is another go-to social media network when it comes to organizing giveaways. With 2.5 billion monthly active users you can easily target pet owners! Let's take a look at two different pet brands that organized Facebook giveaways targeting cat and pet lovers.
Facebook giveaway organized by a pet brand to promote a new product

Sanicat is an international cat litter and pet care brand. In this example, the brand organized a Facebook giveaway to promote a new product to their Italian audience. In this case, the brand launched the giveaway as a great excuse to remind their audience about Father's Day.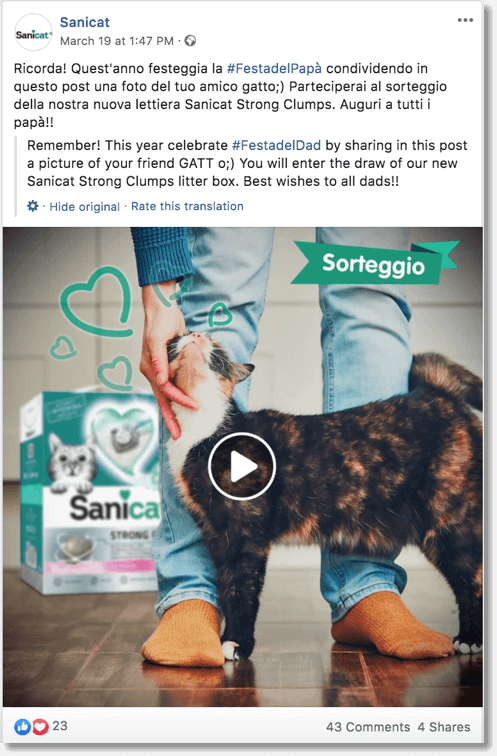 The participants were asked to use the comments section to share pictures of their cats. The winner won a new Sanicat Strong Clumps litter box!

Comment-based giveaways are also fantastic when it comes to Facebook. Just like on Instagram, they boost engagement and improve your positioning. And by asking your audience to share pictures of their cats you automatically encourage them to participate. Apart from winning they also want to share pictures of their beloved four-legged friends with other online users!
Organize your Facebook sweepstakes and once you're ready to choose a winner, use our Facebook Giveaway app. Draw a random winner and obtain a certificate of validity to prove the transparency of your prize draw. And your first giveaway with Easypromos is always free!
Facebook giveaway organized by a pet shop looking to increase brand awareness

Here's another example of a successful pet giveaway organized on Facebook. This time the giveaway was launched by a Spanish pet shop. The organizers were looking to increase their brand awareness and reach a wider audience. This is why they also went for a comment-based giveaway.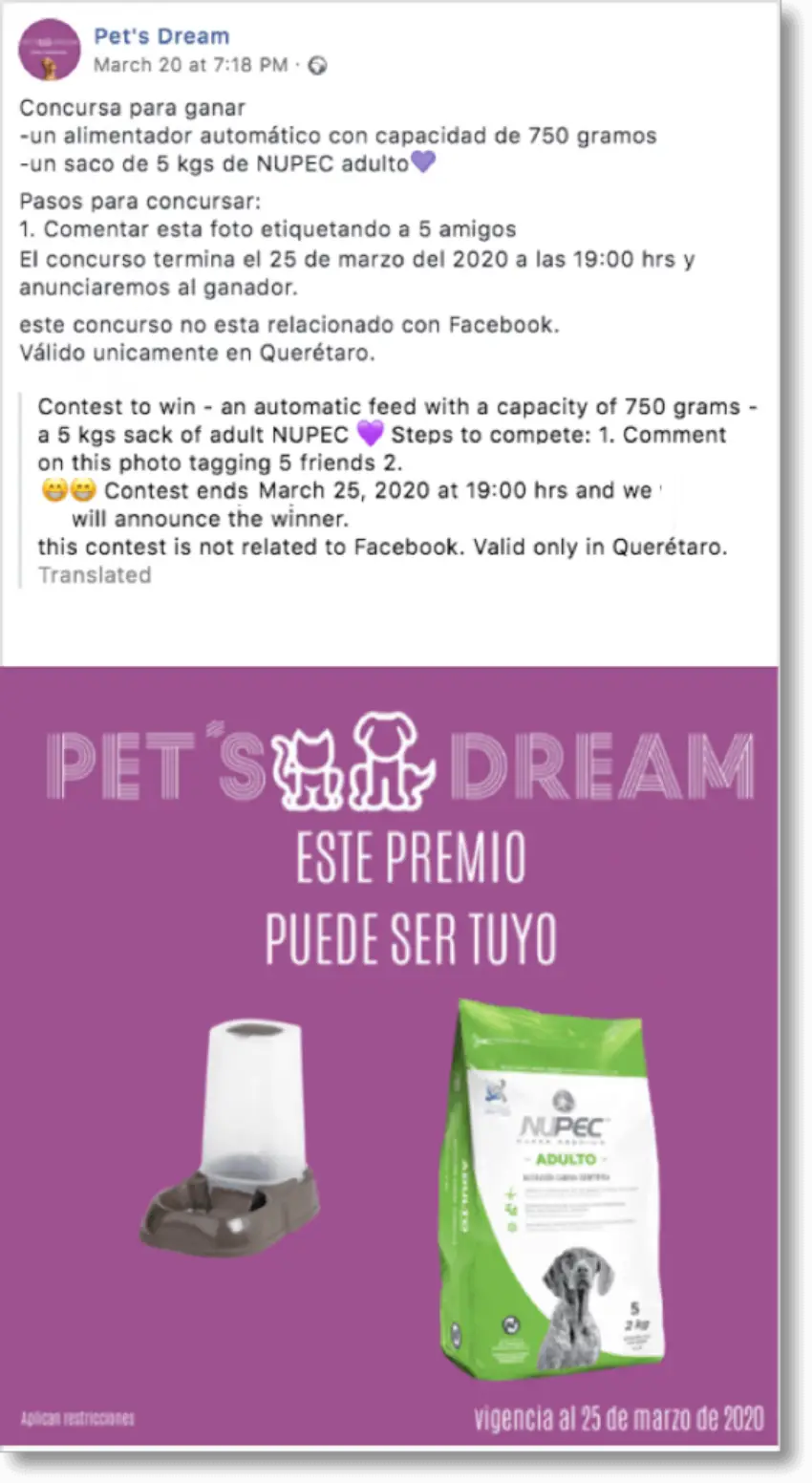 The brand asked their audience to mention five friends in comments for a chance to win. Very easy, right? This entry requirement helped the brand promote their products and brand visibility. And one lucky dog got a new automatic feeder and 5 kilos of food!
It's your turn to organize a pet giveaway on your social media!
We hope that by now you already have enough ideas to organize your own giveaway targeting pet owners. However, if you're looking for ways to promote your pet products or brand then stay tuned because soon we will share with you a new blog post full of branded pet contests and giveaways! And in the meantime, you can contact our Support Team in case of questions or doubts!
Publication date: 2020-04-01