Posted in: Ideas for your websiteLast update: 19/04/22
Want to save time and money while creating more authentic, effective content marketing campaigns? User-generated content, or UGC, is the answer. Here's how to collect user-generated content and run UGC campaigns on social media.

What is user-generated content?
User-generated content is any content that your followers or customers create about your brand. It can include anything – from photos to videos, comments, testimonials, reviews, recipes, and ideas for using your products.
There are lots of different places to find user-generated content. But in this blog, we're going to focus on user-generated content from social media.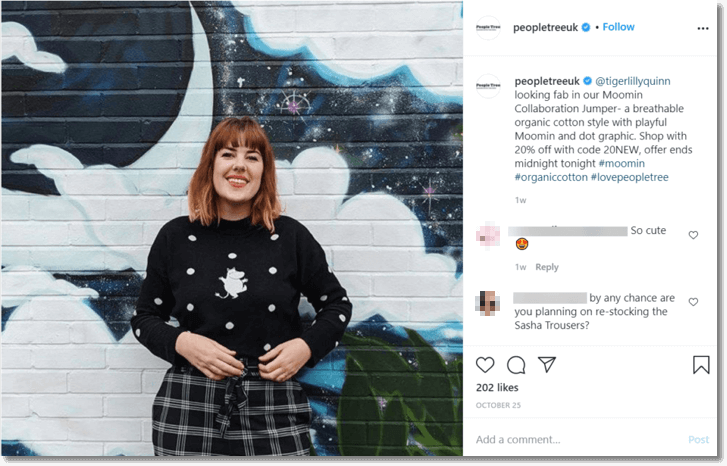 Concentrating on social media still leaves you with a whole lot of options: Facebook, TikTok, Instagram, Snapchat, Twitter, Reddit, LinkedIn and any other social network you can think of! The beauty of social media is that it works fast, so you can collect UGC quickly and easily.
In the next few sections, we'll look at why UGC campaigns are effective, and how to run your own.
How user-generated content marketing works
We've covered what user-generated content is. But we haven't talked about why it matters. What's so great about user-generated content? Shouldn't content be left to the professionals?
Well… not always. User-generated content carries some serious advantages. Such as…
Websites which feature UGC have up to 29% more web conversions (Merkley and Partners)
50% of consumers find UGC more memorable than content created by brands (Digital Information World)
75% of marketers say that UGC makes their content campaigns more authentic (TINT)
So what is it that makes user-generated content more effective, memorable and authentic? It all comes down to social proof.
People like to hear from other people. While they might love your brand, admire your website design or enjoy your snappy comments on social media… none of that is as powerful as a recommendation from someone they really know. It's no wonder that user-generated content is tipped as one of the big marketing trends for 2021.
Ideas for user-generated content campaigns on social media
In principle, it's easy to get hold of user-generated content. People love posting on social media… and they post a lot.
However, that doesn't mean that everything they post will be useful or relevant. And in fact, according to a study by Merkley and Partners, 50% of consumers wish that brands would tell them what kind of content they're looking for.
That's right: people actively want to have their content featured by brands. They're just not sure where to start. What hashtags should they include? Do they have to tag your brand? Is there a special phrase or style they need to use?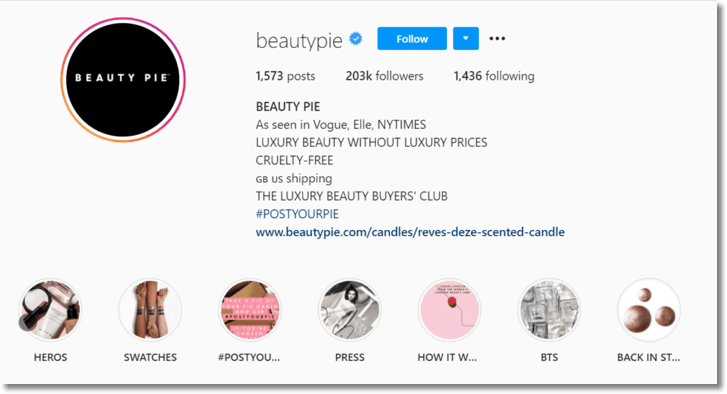 So, when you run a user-generated content campaign on social media, you need to start by planning a few basic points:
How will we tell people about this campaign?
How will we obtain user-generated content for this campaign?
What incentives will we offer to people who post UGC?
Do people know which hashtags to use?
One of the most important steps in collecting user-generated content is choosing the right hashtag. And it's not just a question of branding. Hashtags are essential in helping you find, filter and extract posts for your user-generated content marketing campaign.
For example, if you ask people to share photos on Instagram, you'll need a dedicated brand hashtag. Why? Because you can only collect posts that use your brand @mention and #hashtag. Find out more information about collecting user-generated content on Instagram.
Examples of user-generated content marketing
Here's a really smart example of a hashtag campaign from cult drinks brand LaCroix. They wanted to raise brand awareness, grow their reach, and prepare their followers for upcoming contests.
So they ran a prize draw where people had to comment with their favorite LaCroix-themed hashtags: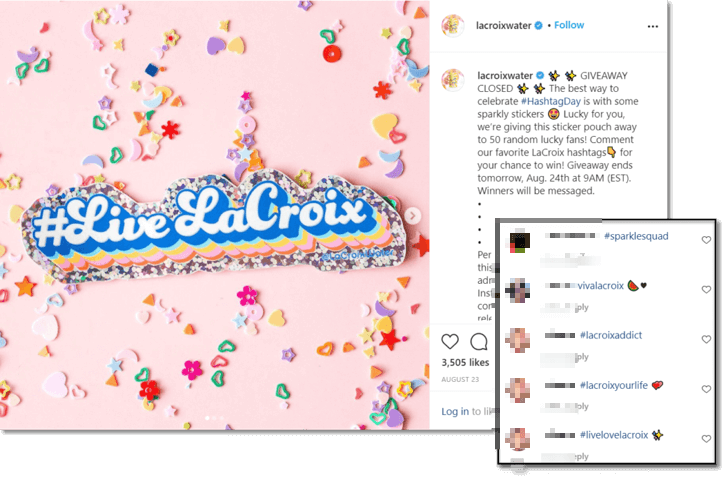 Result: they collected several thousand likes and comments. Their hashtags jumped up Instagram's rankings. And they made sure that their followers would use the correct hashtags in future contests.
And you don't have to stick to social media comments, either. Once your audience is used to joining giveaways and using the correct hashtags, you can branch out! Ask your followers to share photos, videos, reviews, or anything else that might be useful in your user-generated content marketing campaign.
Here's another example of a successful UGC campaign online. Peli is a popular producer of torches, cases, military and professional gear. Every year, they organize a Photo Contest for their customers and reward three winners in store credit. However, instead of asking for comments like in the previous example, Peli makes sure they specifically target their clients. Interested participants share pictures showing how Peli products can be used outdoor and in other circumstances.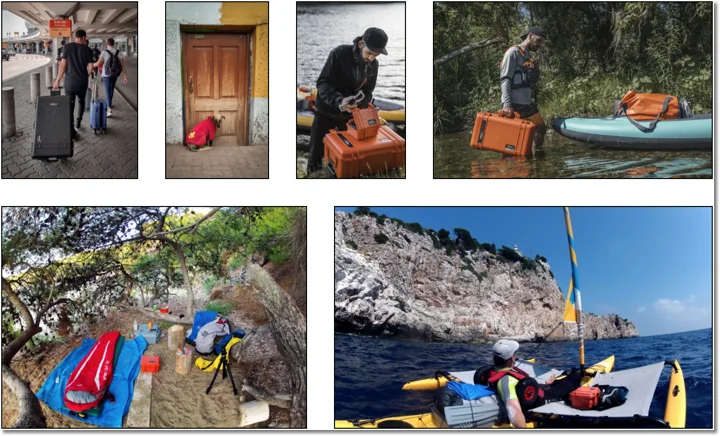 What does the brand achieve with this UGC contest? Apart from collecting high-quality content for their social media channels they also make their brand look more authentic. Because who can give better testimonials than customers that actually use the products?
In this case, Peli gave away $1000, $750 and $500 in store credit incentivize people to share user-generated content.
Here's one example from a company that installs private swimming pools. They asked their followers to share photos of their home pools and spas. The best photo won a professional photoshoot. And SwimLife collected lots of real-life photos of their products.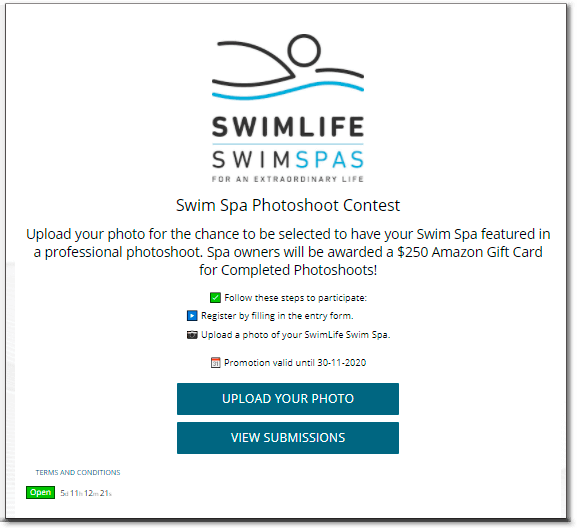 Ready to run your own campaign? Chat live with our support team for help, ideas, and advice.
Publication date: 2020-12-04