Posted in: Applications for Instagram,Digital marketingLast update: 19/10/22
Are you thinking of organizing an Instagram giveaway, or you already have but want to promote it to increase its reach? Organizing a giveaway through a mix of organic and promoted posts is not only a good idea but also an effective and affordable one. However, there are some important factors to consider when picking a winner to keep your promotion transparent, fair, and easy to manage.

So, you are organizing an Instagram Giveaway, you've decided on the prize, dynamic, participation requirements, deadline, etc. You are all set to go but, why not promote the post to increase its reach? This is indeed a good and affordable idea, your post will reach more users and therefore, potentially increase participation levels. However, it is fundamental that you know how to pick a winner for an Instagram giveaway with promoted posts.
Whether the objective of your campaign is to increase your follower base or promote your product or brand, promoting the giveaway post will definitely give it that extra oomph. There is, nonetheless, an important factor to keep in mind in this situation to avoid unnecessary headaches. That is: how to pick the winner for an Instagram giveaway with promoted posts.
In this article we will go over two important aspects:
How promoted posts work.
How to use Easypromos to pick a winner in an easy, transparent and fair manner.
Promoted posts
Although you probably know this by now, we think it won't hurt to do a little explaining on the topic. The most logical, and common, first step is to publish your organic post. This is the post you usually publish from your account, it's free and organically visible to your followers. Being a Giveaway, the post will mention the prize, participation requirements, deadline, and the corresponding image, nothing new here. We're pretty sure it will comply with all the do's and don'ts of an Instagram giveaway. However, if you want to double-check, click on the link to read an article on that.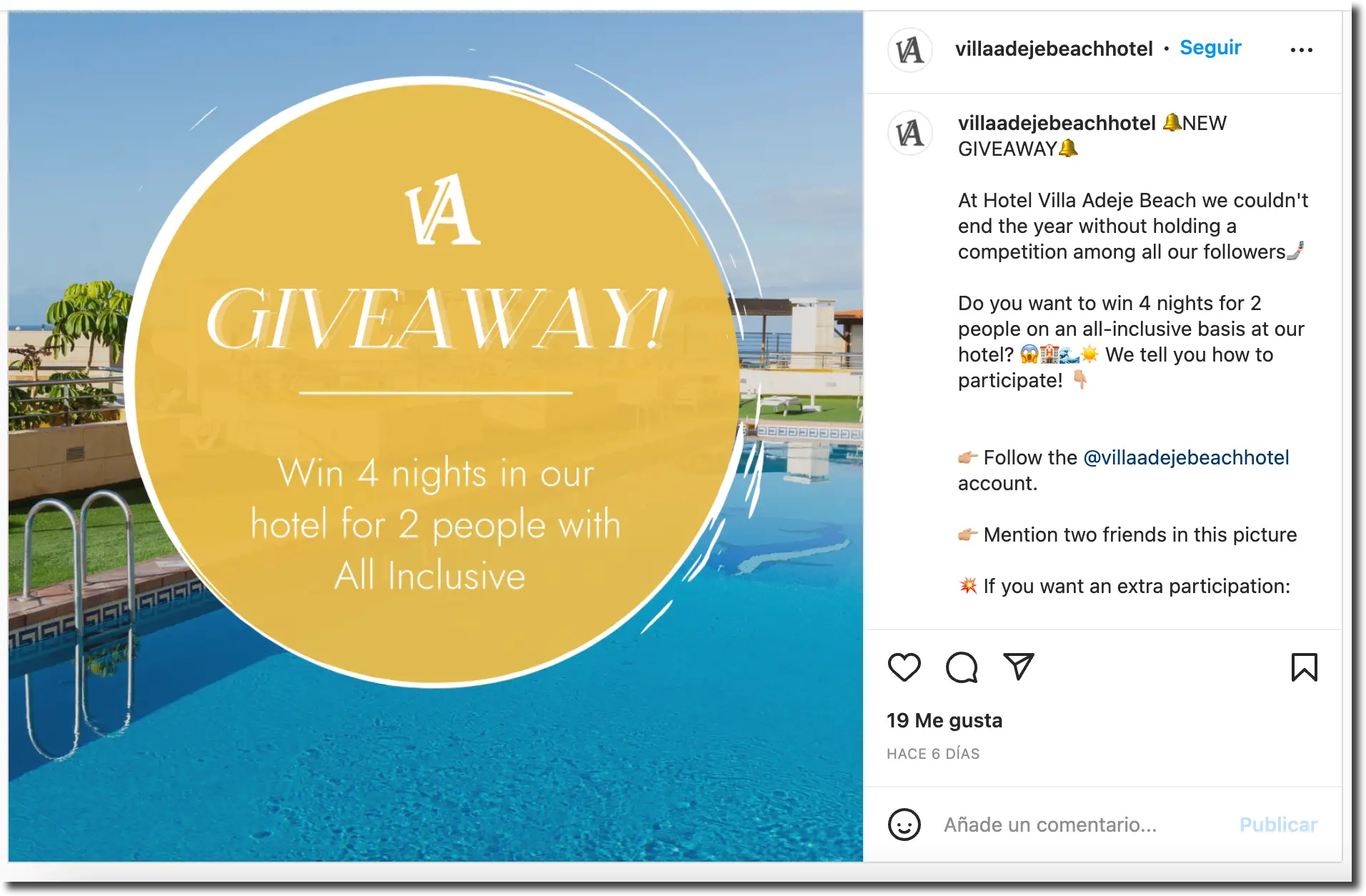 Once you publish the organic post and decide to promote it to increase the reach, you will have to use Facebook Ads. This is where things might get a bit complicated if you're not fully aware of what's going to happen next.
When you click on the "promote" button in your Instagram business account, Facebook Ads will clone your organic post, creating a "dark" post. This post is the one that will reach the audience segmentation that you selected when promoting it. The users that get this post will see the "Ad" caption in the post, and the post itself will NOT be visible on your Instagram feed. However, the original organic post will be.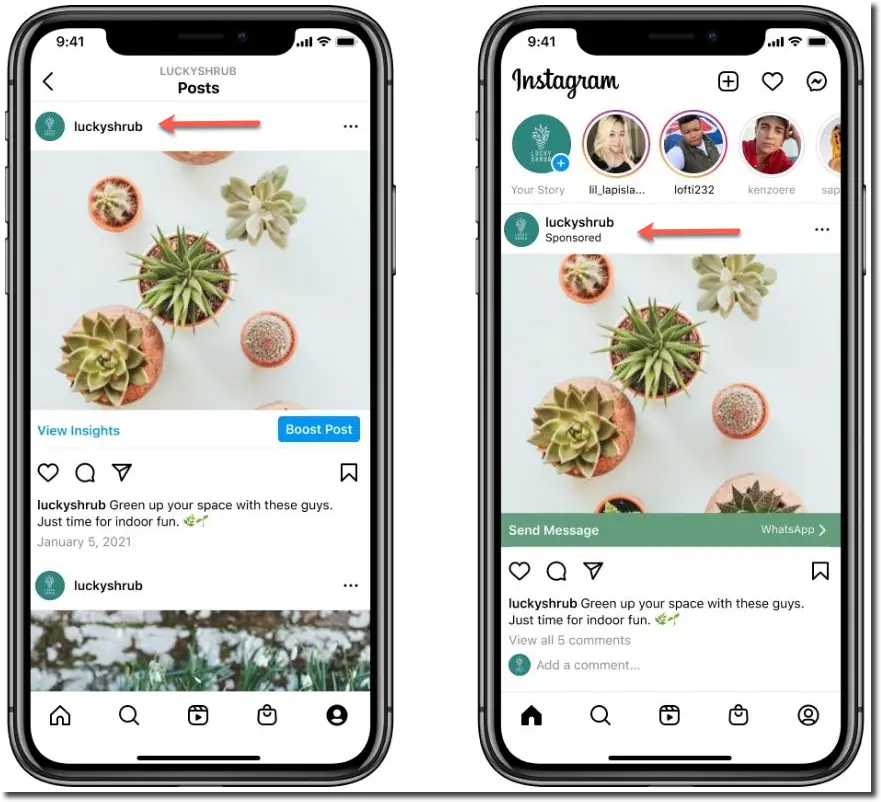 Users will be able to participate through both posts, the organic -posted for free in your account and visible to your followers- and the dark post created by Facebook ads that will be featured in the target audience's Instagram feed.
The result of this will be that you will now have two "independent" posts. Both with different comments. And consequently, giveaway entries coming from two "sources", from which you have to select a single winner. But worry not, Easypromos has your back and the tools to navigate this situation efficiently and transparently.
Two Instagram giveaway posts, one winner
When the time comes to pick a winner, you will have to carry out a prize draft from among the participants of both posts. To do that, make sure you log in as the administrator of the Facebook page that created the post and follow these simple steps.
Go to the Easypromos control panel and create a "Multi-Network Giveaway".
In the first step of the process, select "Instagram" as the social network where you want to create the giveaway.
Log in with the Facebook profile that manages the Facebook page linked to the Instagram account where you want to create the giveaway. Authorize Easypromos App to read your Facebook ADS, by accepting the Facebook ADS READ permission.
Select the Instagram account.
The panel will display all the posts on the Instagram profile. Select the organic post.
Once you have selected the organic post, the next step is to add the sponsored post. To do this, click on the option "Add a sponsored post".
Select the Ad account where you have created the sponsored post. If this is the first time you connect your ad account, you must authorize the Easypromos application so that it can read and access the ads created in your ad account.
Finally, select the sponsored post that you want to add to the giveaway from the list to include the users who have commented on the ad.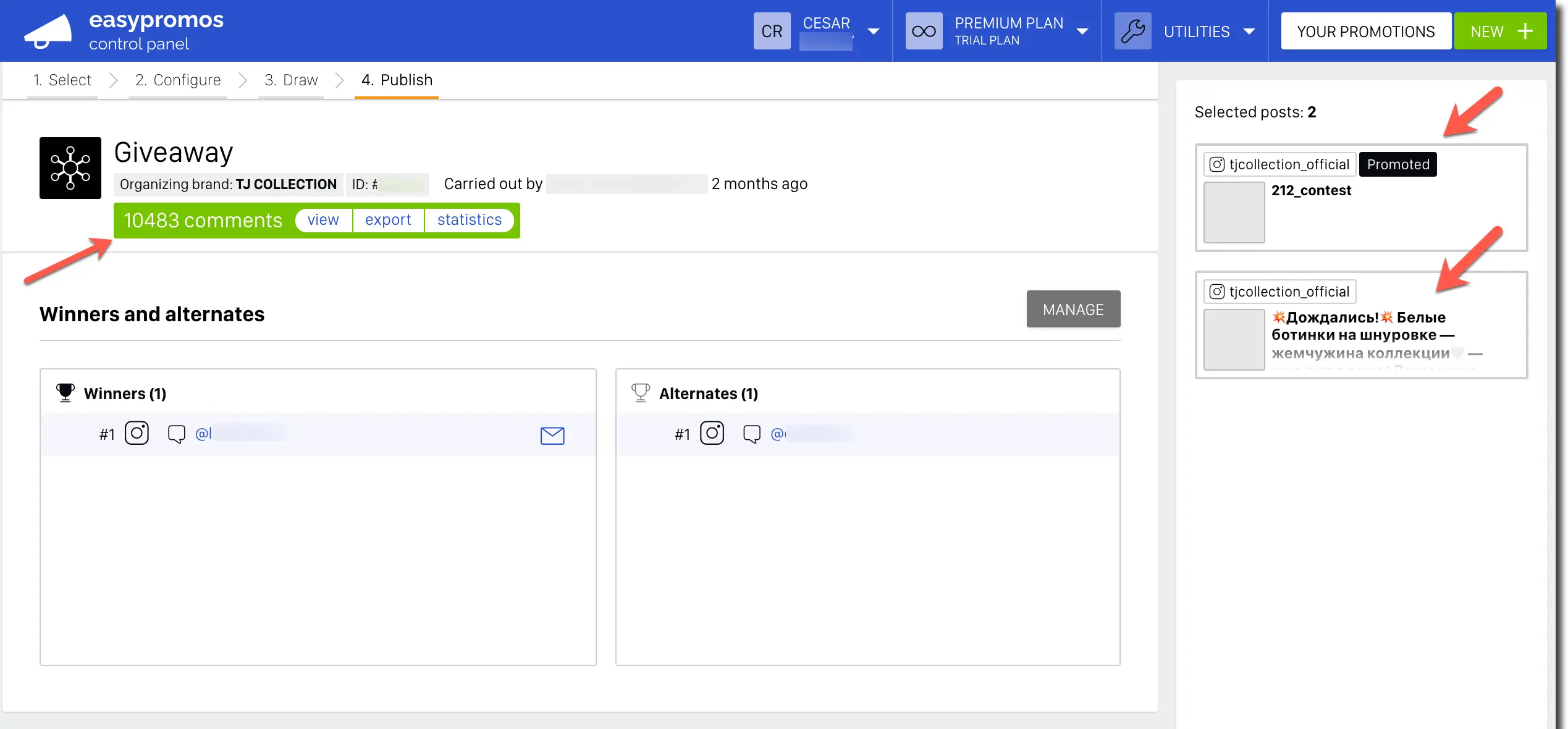 You can also access our step-by-step tutorial on how to add a promoted post to your giveaway here.
At this point, you have combined all the participating comments from the posts you have selected in one single group. Now you can manage the promotion's entries, set up exclusion rules, decide on the number of alternates, etc. And finally, carry out the final prize draw, randomly and transparently with Easypromos' certificate of validity.
Using the Easypromos Multi-Network giveaway app you are able to group the comments of up to 10 different posts, whether they are promoted, organic, or from different social networks altogether.
Giving an image of fairness and transparency is essential for your brand's reputation and to build customer loyalty. Not to mention it will greatly help your future promotions be a success. If you have any questions or need technical assistance, our live chat team will be happy to help you.
Publication date: 2021-12-21