What does a Refer a Friend Contest consist of? The key to this dynamic is that it makes it possible to reward users for all the new participants they obtain for the promotion. As such, one point that you should make clear in all your different texts and messages is the concept of recruitment. What does it mean exactly? It's very simple: participants must persuade their friends to enter the promotion as well.
Here are the 5 keys to ensuring that your Refer a Friend Contest is a success:
Make it clear to participants what they need to do
The first key to a successful Refer a Friend Contest is to ensure that users who come to the promotion can quickly locate the entry requirements. It's important that you clearly explain the mechanics of the promotion. The Refer a Friend contest enables you to:
Ask users to obtain a specified number of recruited friends. Example: only users who get at least three of their friends to participate in the promotion will enter the final giveaway.
Carrying out a final giveaway among all users, but providing additional entries for each recruited friend. Example: award an extra entry for each friend recruited.
Both options work well. However, it's really important to explain the requirements so that the users understand the dynamics before entertaining the promotion.
IMPORTANT! Never automatically award the prize to the participant who recruits the most users because this will lead to greater competition between users, incentivizing bad practices.
Tip! Never award the prize directly to the most-recruited user. #Contest #GoodPractices
Click To Tweet
Make the most of all areas of the promotion to outline the rules to your users. For example:
On the Landing Page: use the Description to explain the concept of Recruitment and tell users what they need to do to have a chance of winning the award. You can even customize the Title, making sure that it includes the most important verb "share" or "recruit".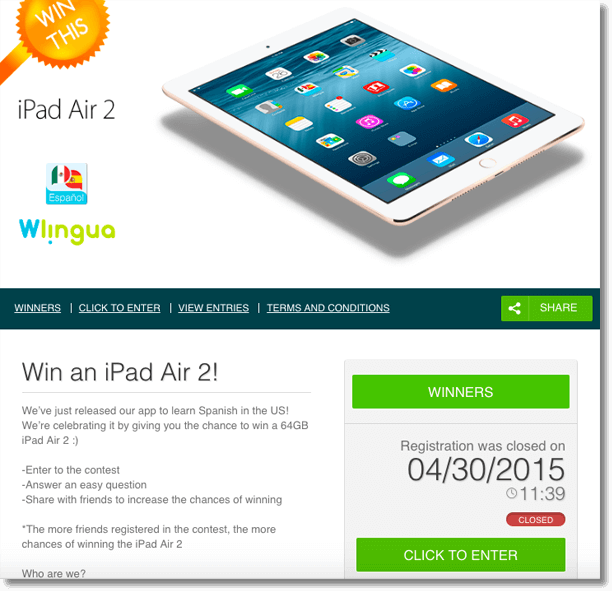 In the Terms and Conditions: it's very important that you include a specific section explaining what a Recruitment promotion consists of, stating how many friends participants should recruit in order to enter the giveaway (if you've defined a minimum) and how many additional entries you will assign for x recruits.
On the Final Page: the Thank You message enables you to thank users for their participation and remind them that they must recruit their friends in order to obtain more chances to win the prize.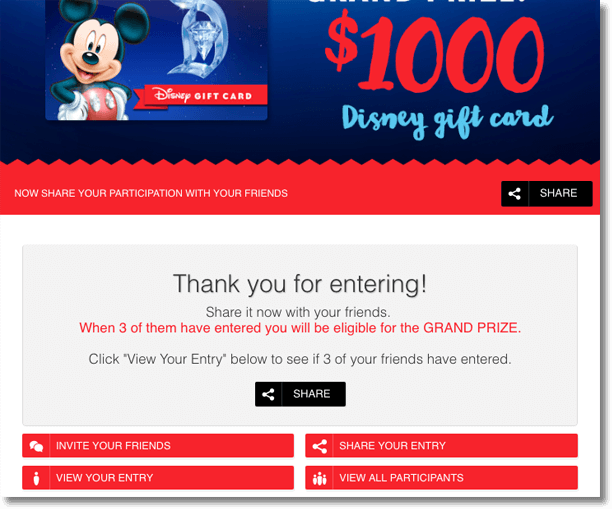 Use the Emails Platform to program the automated sending of emails to participants, reinforcing the recruiting action.
Work on the viral content
The second key to success is to ensure that participants understand how to invite their friends to the promotion and have them counted as recruits by the system. When a participant completes the registration process, the platform generates a recruitment link that is unique to each participant. This is the link that participants must share with their friends when inviting them to participate in the contest. It is very important to provide users with a recruitment link. The platform provides the following tools:
Option to share the promotion on social media channels or via messaging apps: on the final page, the participants can invite their friends via their favorite social networks or instant messaging apps. All these options will share the participant's recruitment link.
Emails Platform for sending emails to participants containing their recruitment link and reminding them about the recruitment.
You'll also be able to customize the viral content that participants share, helping them to convince their friends to enter the promotion. If you're not sure how to write your viral content, don't worry! We have a failsafe rule: write the message in the first person so when a participant sends an invitation to a friend, the message will appear as if it's been written by the participant themselves.
A message that says: "I've entered a contest to win a trip for 4 people to Paris. Enter too and help me win!" will be more effective than a generic, neutral message.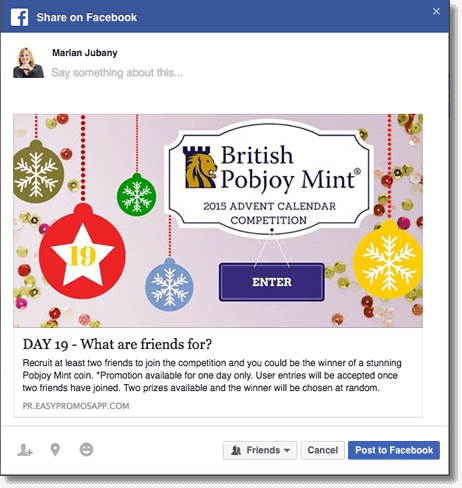 Want to see some ideas on how to write your viral content? Check out our 5 keys for achieving a viral promotion.
A prize that's attractive and appealing to your audience
In a recent study, we discovered that 93% of users participate in promotions because they like the prize. This confirms what we already suspected: the prize matters. A lot.
The prize will become a decisive factor in attracting users to your promotion. However, to achieve the desired effect it's not enough to simply offer a valuable prize: it's also vitally important to ensure that users know from the start what prize they can win. It's essential that you show the prize, in your texts as well as your images.
To find out what kind of prize will appeal to users, and prove most suitable for your promotion, you should ask yourself the following questions during the briefing phase of your campaign:
What's your budget for the prize?
What type of prize might be of interest to your community?
If you need ideas about what type of prize to offer, find out which prizes are most popular with users.
93% of users participate in promotions because they like the prize. The prize matters. A LOT
Click To Tweet
Design the dissemination strategy
Once the promotion has been designed, the next important step is to design the dissemination strategy. It's not enough to simply have a well-designed promotion with an attractive prize: if it doesn't receive visits then you won't get the results you hoped for. And the key to obtaining visits is to bring traffic to the promotion so you can attract as many participants as possible.
But first, you should ask yourself a series of questions to help you to focus your communication strategy. The first and most important is: What audience am I aiming for? In other words, what profile of users might be interested in the promotion, and therefore will they feel encouraged to participate?
Knowing your target audience will enable you to hit your target and ensure that all the communication and diffusion actions that you carry out will be effective. The key is not so much to invest lots of money in advertising, but rather to do a good job of segmenting the public that you will target with the promotion.
Other questions you should ask yourself when designing the communication strategy are: Which channels will I use to promote the campaign? Facebook? Twitter? Do I have a budget to invest in advertising? Do I have a database of clients who might be interested in my promotion?
From this point onwards, once you're clear about your target audience, you should think about how to go about announcing your promotion. Discover practical tips and recommendations for gaining greater visibility for your campaigns and achieving the greatest reach possible.
Communicate with the participants
We've already highlighted this point, but it bears repeating: the success of a recruiting promotion depends ultimately on two main factors. Firstly, whether users have correctly understood what they need to do to participate; and secondly, how easy they find it to 'recruit' their friends.
The Emails Platform is designed to help you with both these factors. It enables you to communicate with participants, in a way that is both direct and personalized, via automated emails. The objectives of these emails will be as follows:
Providing each participant with their unique and individual recruiting URL to make recruitment as simple as possible.
Motivating participants to keep recruiting. Reminding them of the prize will encourage them!
Sending reminders and informing participants about the status of their entry: how many recruits they've obtained and how many they still have to find. Don't forget to congratulate them when they meet their objectives.
Fluent and direct communication with your participants will help to improve their promotion experience. Participants are sure to be happy to receive your emails and find out how they're doing. Who wouldn't be pleased to receive an email like this: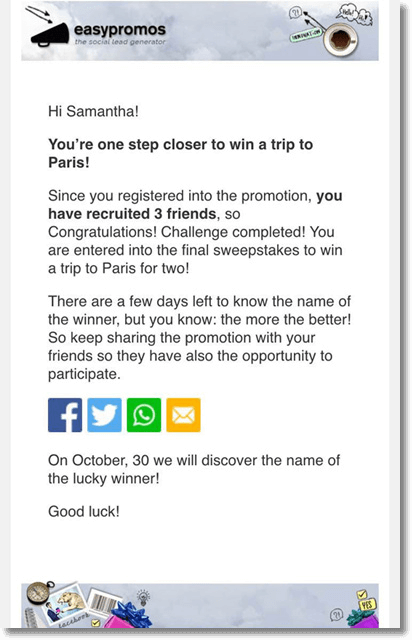 Find out how to create emails designed specifically for Refer a Friend Contests.
Now that you have the keys to carrying out a truly effective Refer a Friend Contest, how about creating your own Recruitment Campaign? Click here and we'll take you through it step by step. Or contact us through our Online Chat in case of any questions or doubts.