The client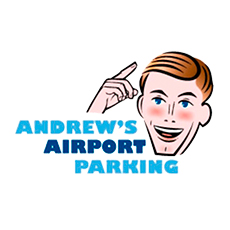 Andrew's Airport Parking is Australia's off-airport parking network across several locations. Andrew's Airport Parking also offers cruise parking and long-term vehicle storage solutions for their customers. The main goal of the business has always been to deliver "good-old-fashioned service" to customers all around the country.
The objectives and reasons for launching a gamified promotion
With the sudden outbreak of COVID-19, Andrew's Airport Parking's market decimated. Customers could not fly and therefore weren't parking. The brand wanted to maintain in contact with their existing customers, as well as the online community. Apart from consistent social media communications, the brand looked for a more direct approach that would allow them to touch base with their members, deliver a positive inflection, and also put the brand in a positive light.
When translating all these aspects into online communications, the organizers realized that gamification seemed like the most appropriate fit for their goals. Andrew's Airport Parking put their bets on a branded Memory game. The company had previously used gamified solutions. However, it was the first time they promoted a game package inside an external platform.
Andrew's Airport Parking's branded Memory game
In order to connect with the online community, Andrew's launched a fully customizable branded Memory game with Andrew's brand livery to further reinforce brand recognition. The particularly memorable aspect of the promotion was the game dynamics, as players matched up images of the company's employees.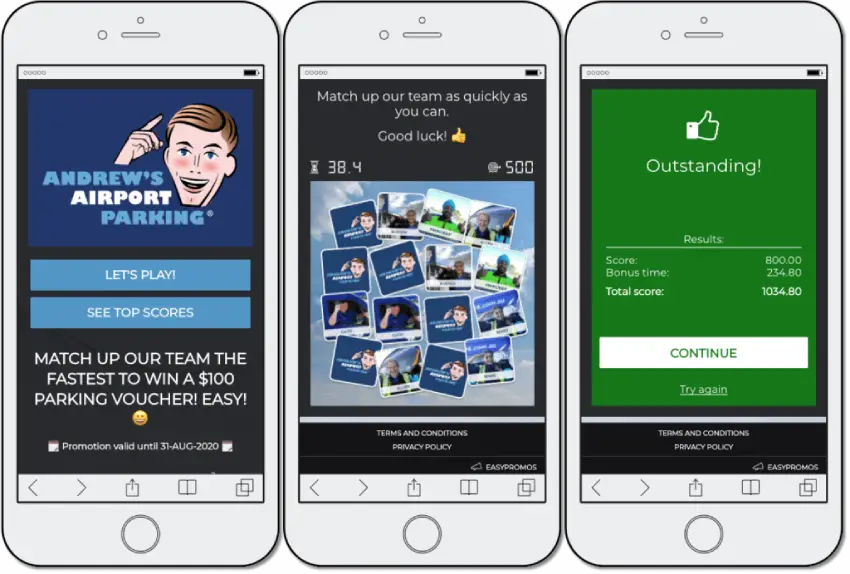 "We're a pretty buoyant business, friendly staff, friendly bus drivers. Good personal customer service is a key aspect of our business", said Adam Wilson, sales and marketing manager at Andrew's Airport Parking. Therefore, apart from engaging their existing customer base, the brand also got to recognize some of their employees.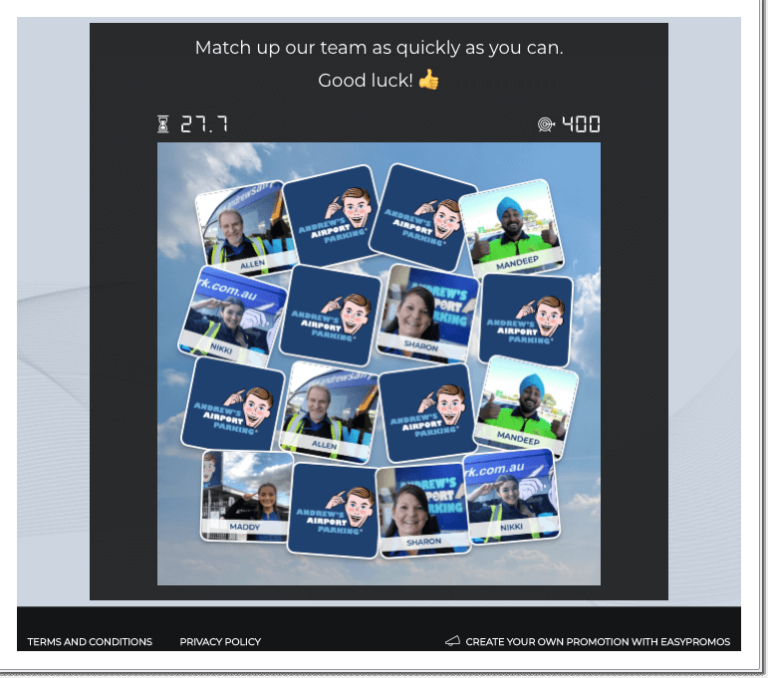 Andrew's Airport Parking publicized the game through newsletters to the existing database, scoring a great open and click-through rate.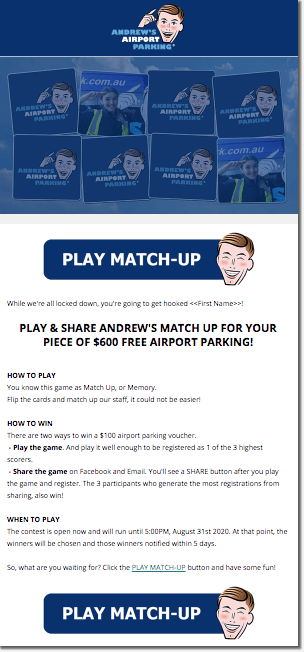 Apart from promoting the campaign with email marketing, they also disseminated it through social media. It was a great opportunity to convert social media followers into qualified leads, as the brand rewarded six entrants with $100 free airport parking vouchers – the three fastest players and the three participants who generated the most registrations.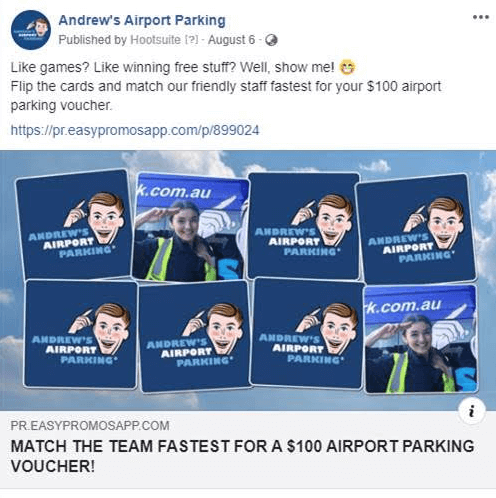 The promotion result
1490 users registered and played a total of 9936 games. The final user engagement was 4 days 6 hours and 45 minutes, and Adam Wilson believes it was "a great and pretty cheap piece of branding".
The airport parking group concurrently ran two other Memory games for their other brands. Adam Wilson is very pleased with these results too, adding that they all reflect the size of each business.
"To have our members when they can't come and see us have a positive interaction with our brand, and to have so many repeat plays is a really good brand stamp for us. It did exceed my expectations", said Adam.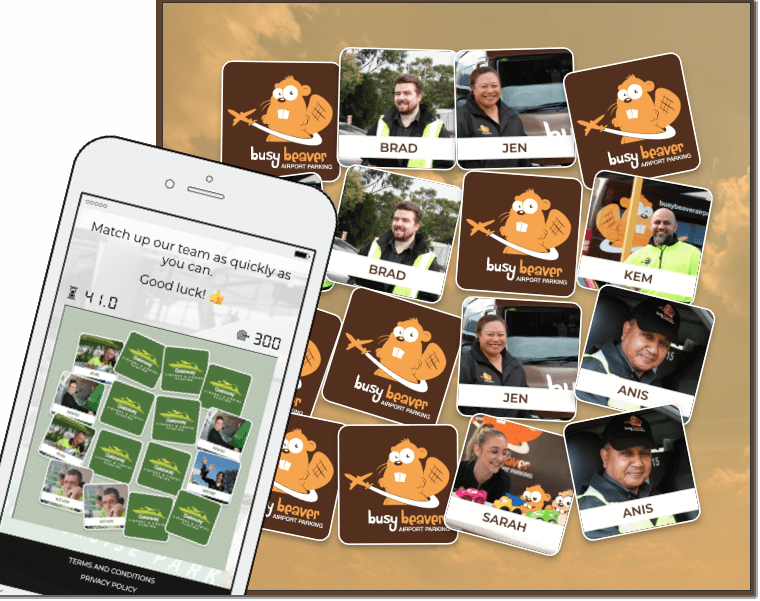 Since then, Andrew's Airport Parking has built the Easypromos gamification solutions into their ongoing marketing strategy. So far they have launched Puzzle and Minesweeper games.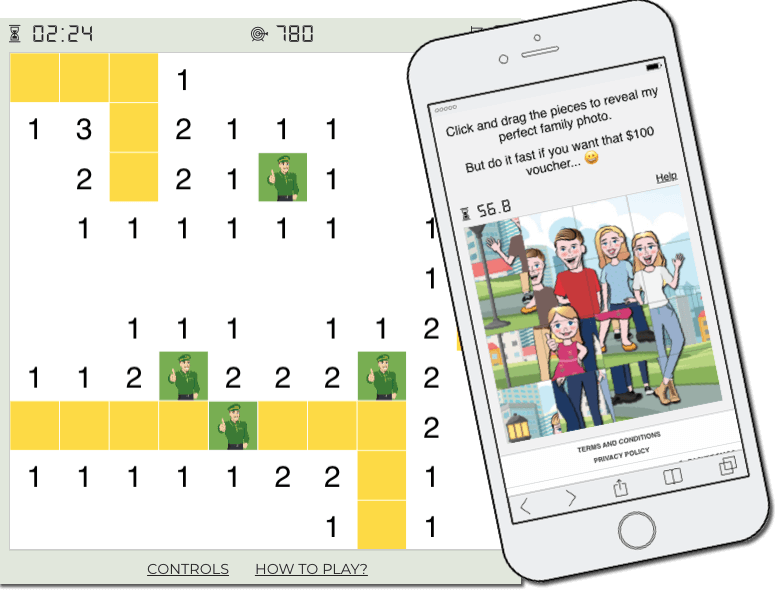 The Easypromos platform
Adam Wilson came across Easypromos when searching for gamification solutions for businesses. "I'm not a developer, so to be able to set those games up reasonably easily is definitely a bonus. I had to sit down and go through it step by step. As soon as I did take the time to read the instructions which were comprehensive, and understand how to set each area of the game it was user-friendly."
Testimonial
"Easypromos provided a simple and straightforward way for us to provide an enjoyable gameplay experience for our members. It's a way for us to have a positive brand touch with those members during the times that they can't be with us. For a business in airport parking where customers are on-side once or twice a year, having that offside brand touch and making it positive is a critical part of our customer attention strategy. So thank you to Easypromos for making that pretty easy. We will definitely be using the platform going forward."
-Adam Wilson-
Sales and Marketing manager at Andrew's Airport Parking