Back to School is one of the highlights of the shopping calendar, especially for brands with a direct connection to the school, students, and stationery products. So making your business stand out is key to success. Here are just a few of the marketing objectives you can achieve with a successful Back to School giveaway:
Raise brand recognition and awareness
Inform consumers about your products and offers
Grow engagement on social media and increase reach
Boost sales, online and in-store
Reinforce customer loyalty and retain clients
When you sit down to plan your Back to School giveaway, there are three things to bear in mind. Who are you targeting? What channel are you going to use? And what prize are you going to offer?
Whatever stage of the planning process you're at, we've collected some fantastic examples of Back to School giveaways on social media organized by brands from different sectors. Take a look at these successful examples and get inspired!
Do you need more inspiration and ideas for your Back to School campaign? Head to our Back to School hub full of ideas, resources, and ready-made templates!
Back to School giveaway idea: boost social media engagement with comment giveaways
Instagram giveaways are now the most popular type of social media promotion. Brands from different sectors turn to Instagram to reach potential and existing customers. What is the best thing about organizing "comment to win" giveaways on Instagram? They're super easy to enter, and the entry criteria often make them go viral. The Back to School season is perfect for organizing comment-based sweepstakes that boost social media engagement, cultivate a loyal following, and create buzz around your brand.
The weeks leading up to the return to school are especially prosperous for stationery shops, as kids and parents are out and about looking for new notebooks, cute markers, and new pencil cases. During this busy period, the main focus of stationary brands is convincing their target audience to become their brand of choice. Here's an example of how to better position a stationary brand on social media.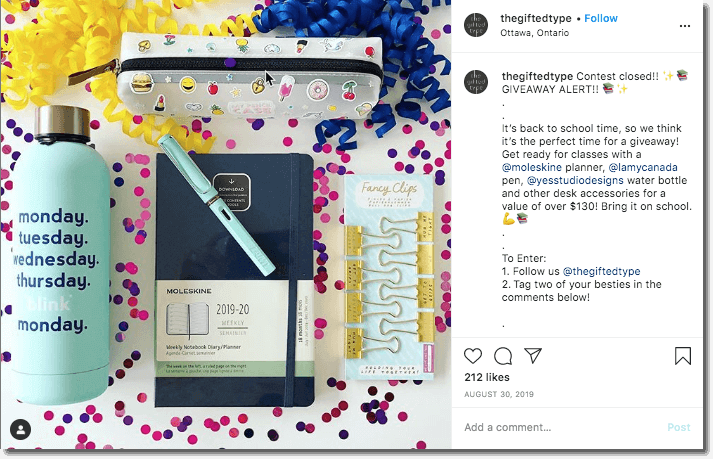 The Gifted Type ran a comment giveaway for their followers, in which all they had to do was mention two besties in the comments. Can you see how the organizer reinforced brand and product awareness, while also boosting engagement, attracting new followers, and showcasing trendy products?
Planning to launch a Back to School giveaway on Instagram? We prepared ready-made templates for a Back to School Instagram Giveaway to save some time and hassle.
The majority of school kids simply want to be cool, and the first days of being back at school are about showing off the new fashionable apparel. That's why fashion brands should take the Back to School campaign seriously, as it's the time of the year when parents look for new shoes, backpacks, t-shirts, jackets, and pants! Benaiah Clothing organized a comment giveaway for their followers. To double the reach they asked the entrants to tag a friend in the comment section.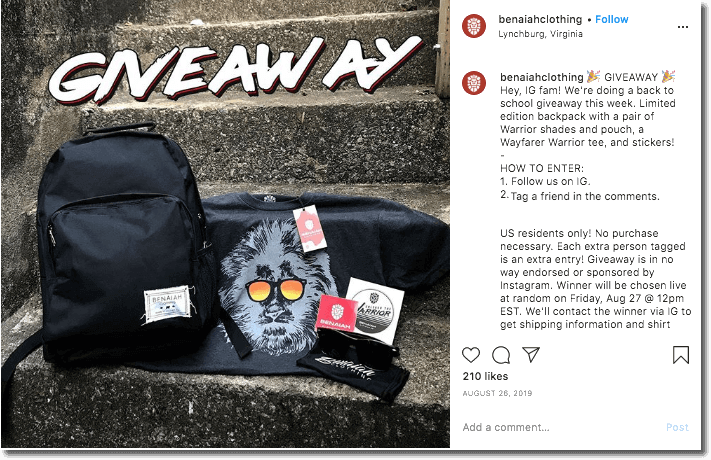 Reach your audience with Facebook Back to School giveaways
Brands launch Facebook Giveaways for exactly the same reasons they launch Instagram giveaways; they help in boosting engagement, improving brand awareness, and recall, while they also engage online communities.
Let's remember that Back to School is not only about school kids. University students also make their way back to lectures and student halls.
Every year the Ball State Alumni Association organizes a "Homecoming Week" full of fun activities. To generate extra excitement among the students the association launched a giveaway for all participants that liked and commented on the post.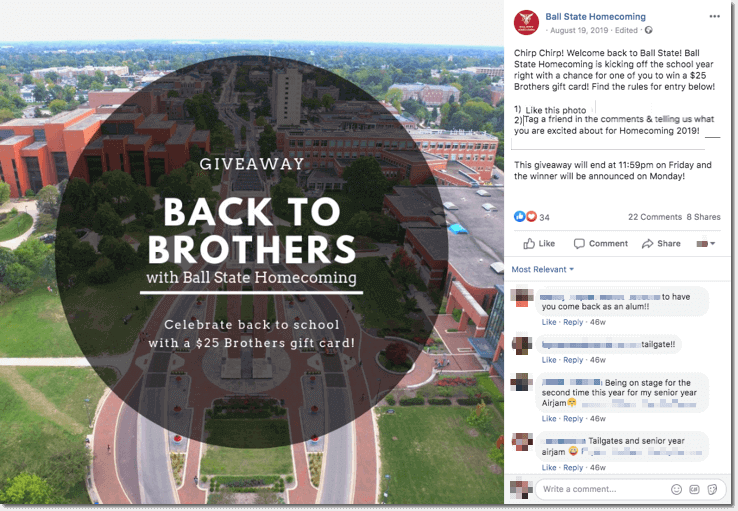 If you're planning to hold a Facebook giveaway as part of your Back to School campaign don't forget to use our ready-made template! It's fully customizable and it might save you up to 70% of production time!
Energize your followers with a Back to School giveaway on Twitter
Twitter Giveaways require minimal design elements but they can bring about valuable and desired results. Back to School Twitter sweepstakes are very quick and easy to set up, enter, and finalize. Their simplicity attracts many online users who willingly enter for a chance to win. Take advantage of it for your Back to School campaign.
We've said it before and we'll say it again: any brand can organize a Back to School giveaway. And to back up that statement here's an example from Gardiner Family Apothecary. To celebrate kids going back to school they launched a Twitter Giveaway promoting skincare products for juniors.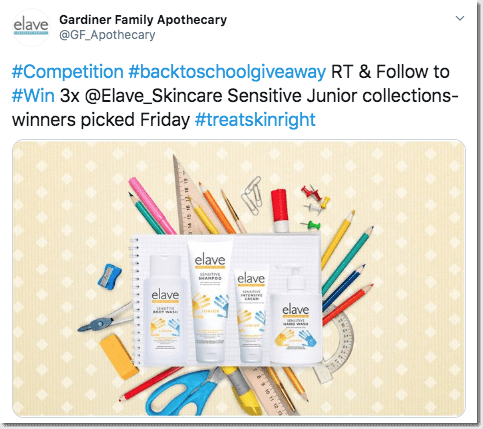 In order to participate Twitter users retweeted the promotional post and followed the organizing brand. It was a great activity to boost brand engagement.
We've mentioned the students, the parents… But let's not forget that Back to School is also a big thing for students and professors! Quizalize, an online learning platform wanted to give back to schooling professionals. They ran a Twitter giveaway to raffle a new laptop for one lucky teacher!

The brand asked the participants to retweet the giveaway and tag a fellow teacher. This was a fantastic opportunity for Quizalize to strengthen the previously established customer relationships.
Back to School giveaway idea: Convert social media followers into sales leads
Do you have an active social media following? Do you think your followers are good potential customers? It might be interesting to convert them into qualified sales leads for your brand. All you have to do is use our Back to School Entry Form Giveaway template, come up with a prize, and share some convincing and inviting messages on your social media channels. Then, wait and see how social media users willingly share their contact details for a chance to win a prize.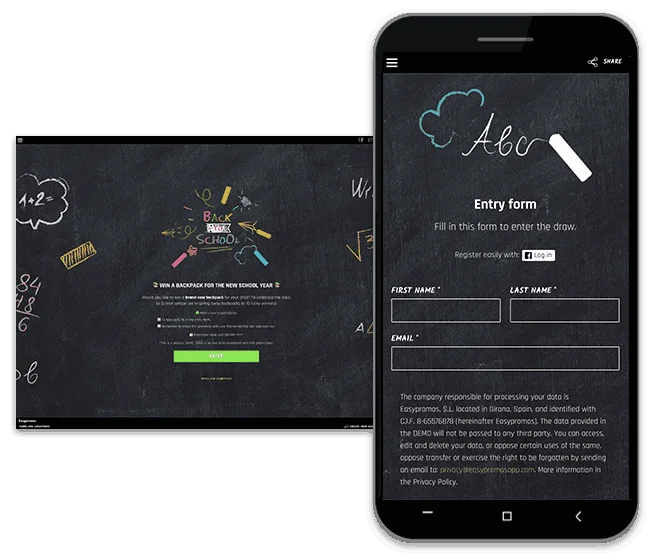 Remember, that some users might be reluctant to share their contact details. This is why it's important to make sure that the prize you're raffling is worth the hassle. Give away something that is attractive and appeals to the majority of your social media followers.
You're all good to go. And remember, if you need a hand with your Back to School giveaway, we're always here to help.