It's no news that interactivity has taken over the marketing world. Every day we come across playable ads and gamified promotions, and every day more and more brands launch their first branded mini-games in an attempt to attract new customers. But that's not the only reason why gamification is so popular with marketers all around the world. Branded mini-games help businesses retain their existing clients, maximize lead generation, and even foster customer loyalty. What's not to like?
At Easypromos we continuously work on new marketing solutions and the Timed Quiz application is something you haven't yet seen!
You must have come across traditional quizzes, personality tests, and surveys but how about a quiz where your customers race against the clock? With Easypromos you can now launch a branded quiz where users have a limited time to answer questions previously prepared by you. Sounds interesting, right?
What marketing objectives can you achieve with a Timed Quiz promotion?
Let's start with the most obvious goal the Timed Quiz application can help you accomplish. And that's what we've already mentioned, engagement.
Users participating in a Timed Quiz are entertained by not only the challenge but also by the element of rivalry that comes with the new game. It's not just about getting the answers right, it's about being the fastest, too! All these aspects lead to positive customer engagement, which is the key element for successful brands. Throwing in an attractive prize or discount code will additionally attract more potential customers who you will easily convert into qualified leads, as users must leave their contact details in order to opt for a prize. Let us point out that positive experiences often lead to happy users who actively promote your brand through word of mouth.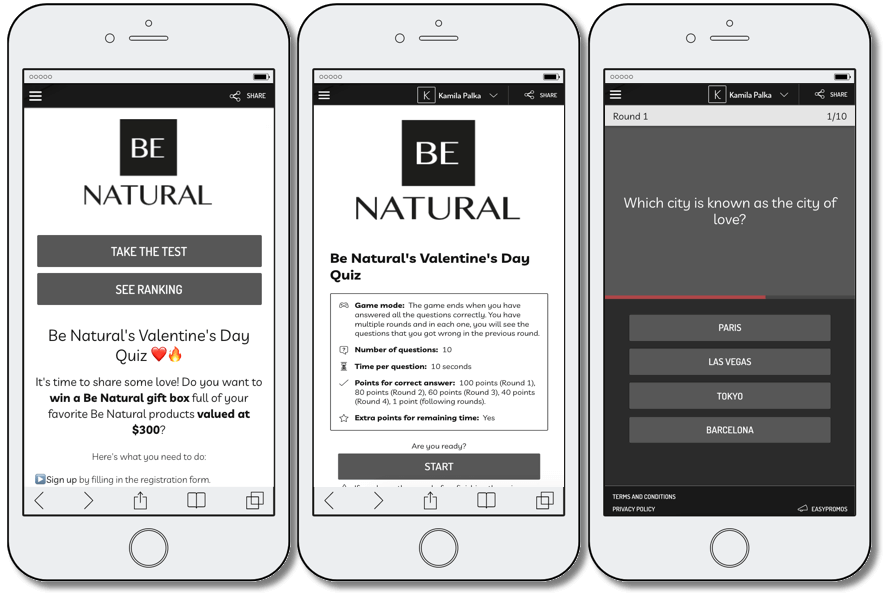 That's a whole package, isn't it? It might make you wonder who'd be the target audience for your branded Timed Quiz. It all depends on your final goal:
Convert followers – share the link on your social media channels and watch how easy it is to turn them into high-quality sales leads. Only those really interested in your brand will sign up.
Convert web visitors – want to know more about website visitors? Or maybe you just hope to convert them into paying customers by sharing discounts, codes, and prizes? Embed a Timed Quiz on your website or e-commerce site and turn visitors into leads or even customers.
Retain clients – looking for ways to make sure your customers keep on coming back? Send out a newsletter with a branded Timed Quiz to your database and foster customer loyalty by raffling prizes, exclusive deals, and discounts.
Timed Quiz game modes
The unique characteristic of our Timed Quiz is that there are three different game modes. Each one of them will help you boost brand engagement and user interaction, however, they all have different final goals:
Pop quiz – the game ends once the user has answered all the questions, no matter if they got all the questions right or wrong. This standard quiz is a good way to test your customers' knowledge and expertise.
Repeat round quiz – all questions are shown in the first round. The questions that haven't been correctly answered in the first round will be then displayed in the second round and so on. The game finishes once the user answers all the questions correctly. It's a great option for anyone looking to educate their users and to prolong the overall time of engagement.
Sudden death – the game finishes as soon as the user gives a wrong answer, no matter if it was the first or last question. You can give players multiple daily tries, or encourage them to try their luck again tomorrow, which will help you increase user engagement over a longer period of time.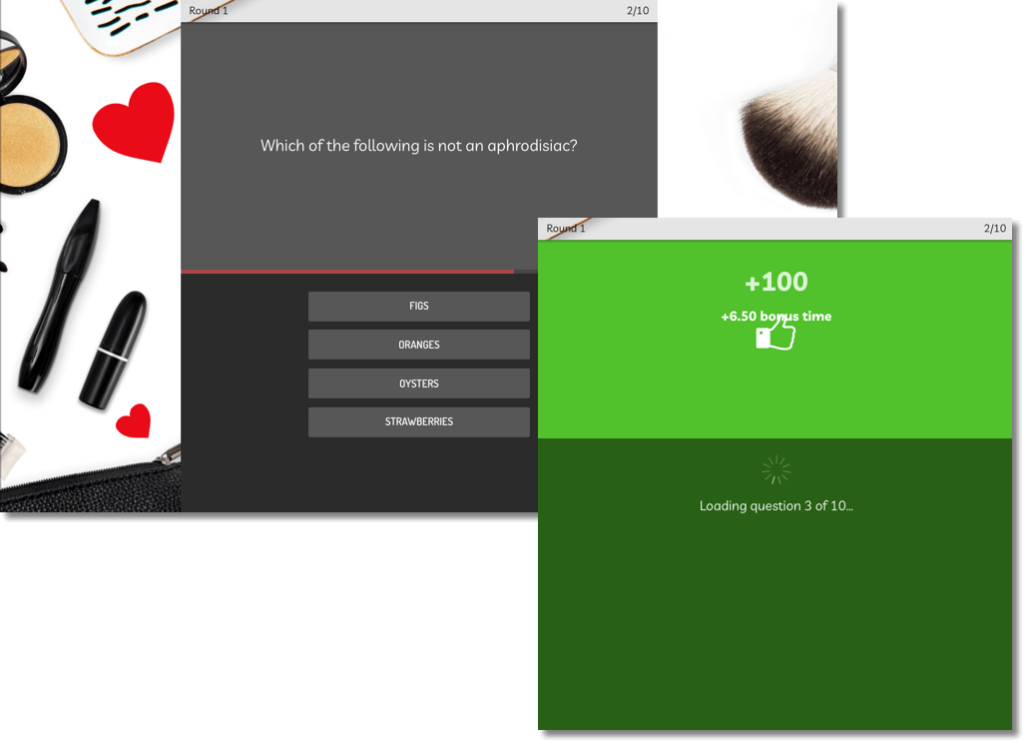 Bear in mind that all these modes allow you to give users multiple tries to better their final score. So… Which mode will work best for you?
Ready to give a go to our Timed Quiz DEMO? It's a repeat round quiz! Test the user experience and check for yourself how it' can help you attract and retain customers!
How to configure a branded Timed Quiz promotion?
If you've previously launched a digital promotion with Easypromos, you'll know by now that our applications don't require programming skills. They're easy to use and always come with pre-configured templates to make your life easier. The same thing happens with the new Timed Quiz application. All you have to do it configure the following pages:
Welcome page: say hello and explain how the game works, what your audience can win, and how they should participate.
Registration page: in order to participate in your Timed Quiz users must sign up using their email address, Google, or Facebook account.
Registration form: customize the registration form so that you can collect all the details you need for your database.
Game instructions: the next page you have to configure is an instruction page that users see right before proceeding to the questions.
Timed Quiz: this is where the fun's at. The app displays questions previously uploaded by you. Users participate by answering questions as quickly as possible. In the next section, we talk more about quiz questions and game settings.
Thank you page: once the user completes the game they see the 'Thank You' page with their score. They can either finalize the game or retake the game to improve their score. You can personalize the 'Thank You' message.
Overall ranking page: you can choose to disable the ranking page but we recommend you make it public! It generates more rivalry which means users are more likely to repeat the game and therefore interact with your brand over a longer period of time.
Prizes: raffling multiple prizes? Show all the prizes to encourage users to participate.
Main characteristics of the Easypromos Timed Quiz application
The Timed Quiz is a fully gamified solution for brands looking to entertain their community with high-quality content. The engagement rate can easily go through the roof and you can maximize lead generation and foster customer loyalty. Wondering if it's complicated to set up your own Timed Quiz? It's easier than you think.
Upload all questions and answers in bulk: thinking to upload hundreds of questions? Good news: you don't have to rewrite all the questions and answers as the Timed Quiz app allows you to upload all your questions and answers in bulk from any spreadsheet!
Set a time limit for each question: are engagement and rivalry the things you're looking to generate? Set a time limit – anywhere between 5 and 30 seconds – and see if your audience can answer questions under pressure. Choose which quiz type is better for you (Pop Quiz, Repeat Rounds, or Sudden Death) and allow multiple participation if it'll help your overall goal.
Multiple participation can help you boost engagement even further. Encourage users to take the test multiple times to improve their scores. You can choose to give participants three tries a day, an hour, or in total.
Display questions randomly and change the order of the answers so that users must pay full attention to the game every time they participate. It's the perfect solution if you want users to be fully engaged with your campaign and if you want to inform or educate them on certain topics.
You can even combine the Timed Quiz with a Multi-Game promotion! Simply add a new stage to your Multi-Game campaign and create a Timed Quiz to test your community's expertise.
Ready to launch a Timed Quiz? You can start by using one of our Timed Quiz templates. Choose the topic and share with your audience to take engagement through the roof and segment your audience.
Incentivize participation to attract more participants to your Timed Quiz
We've already mentioned that we believe public ranking is a great way to boost engagement and generate rivalry. But why?
Because you can use the ranking to reward the best players! Give prizes to the top five players or specify a minimum score the users must get to enter a random prize draw. Another option is to raffle prizes among all registered users.
Or maybe you feel like distributing discount codes and vouchers? You can use the final scores to share discount coupons of different values. You can even use the Easypromos platform to design your coupon, with your logo, colors and corporate name!
It's up to you to decide which option will work best for you but remember to incentivize participation; it's the best way to drive more participants to your promotion!
Fun ideas for a Timed Quiz
Do you like the idea of launching a Timed Quiz for your online community? We guess you might need some ideas…
General knowledge quiz: if you don't know of any specific topic that would work for your audience, launch a quiz about general knowledge. Use our ready-made template which comes with ten simple questions and see if your audience responds well to quiz apps. Next time you can launch a more specific or topic-oriented quiz, like for example…
TV shows Timed Quiz: we all have our favorite series! Entertain your audience with a fun quiz with questions about the most popular and successful series. Don't you think that a Netflix gift card would be a great prize? You could give it to the best player or raffle it among the top 10 participants. Check out our TV series Timed Quiz DEMO and use our ready-made template with 25 preloaded questions!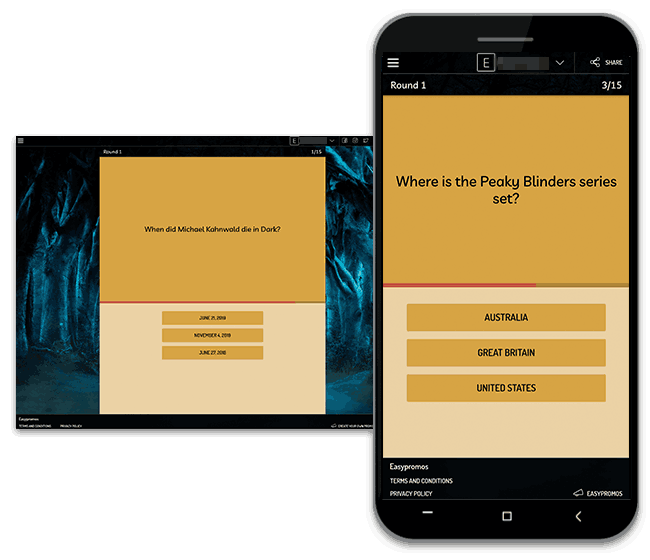 Harry Potter quiz: the magic world of Hogwarts is a great topic for a Timed Quiz. Just think of all the questions you could ask! Did you know that May 2nd is International Harry Potter Day? There's no better way to celebrate!
Corporate quiz: quiz apps are great tools to identify the most loyal customers. Create a series of questions about your brand and products and share it on social media. Reward the user with the best score to reinforce their loyalty even further!
Are you ready to launch your first Timed Quiz? Don't worry if you have questions or doubts! Our Support Team is ready to assist and inspire!