Chinese New Year, Spring Festival, Lunar New Year… No matter how you refer to this big event happening this year on January 22, you should definitely give it some significance and thought. It might come as a surprise that Chinese New Year is celebrated not only in China. It is also an important cultural happening in Korea, Vietnam, and Japan. Celebrations go on for 16 days until the beginning of the Lantern Festival. This year more than 2 billion people will welcome the Year of the Rabbit. It ranks third in the Chinese zodiac and represents willpower, courage, and personal strength. People born in the Year of the Tiger are believed to be competitive, self-confident, and brave, but they can also be impetuous and irritable.
Having in mind the big importance of this event for one-fourth of the world's population, Chinese New Year should make an appearance in your marketing plan. And even thinking about promotion ideas for the Chinese New Year puts you in an advantageous position, as there aren't many businesses that celebrate the Lunar Year outside of Asia – although the event has become well-known all around the world, mostly because of globalization.
At Easypromos, our mission is to help your marketing goals; this is why we strongly recommend you celebrate Chinese New Year with your online community. And today, we share with you Chinese New Year giveaway ideas for social media! They will help you attract new followers, create engagement, and – most importantly – promote your brand. And all that while your competitors are most likely missing out!
Social media giveaways tend to increase brand visibility and social media engagement. So why not incorporate them into your Chinese New Year social media campaign? Let's take a look at some ingenious examples.
Create product awareness with Chinese New Year Instagram Giveaways
Social media giveaways are a great marketing tool. Why? Because they give you a chance to showcase your products and reinforce your positioning in the market. Take this opportunity and promote your products or services to your existing audience. But a well-organized sweepstakes will also attract new followers! Take a look at this Instagram post by China Southern Airlines. They wanted to incentivize their community, grow their Instagram following, and also generate customer loyalty. They organized 15 days of giveaways!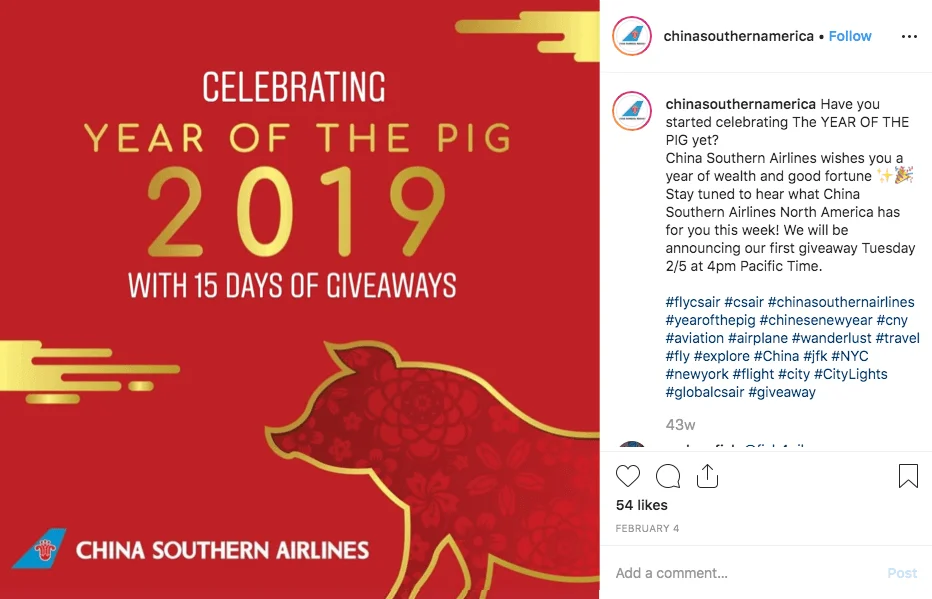 Spectacular New Year celebrations go on for 16 days and so China Southern Airlines decided to go along with the festive spirit. They announced their 15 days of giveaways on the first day of The Year of the Pig. The company gave its audience 15 chances to win plane tickets, getaways, or plane models.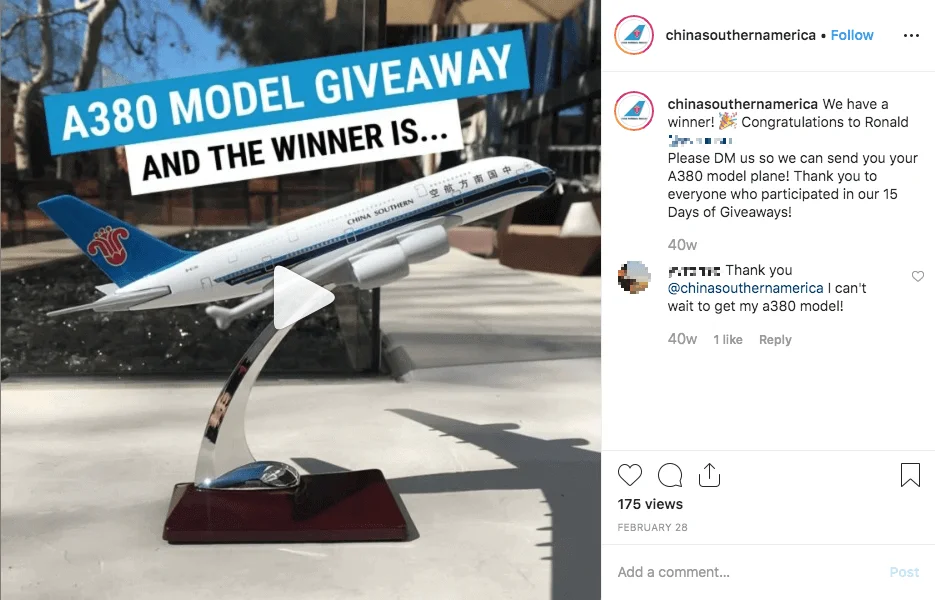 China Southern Airlines gained a great number of new and loyal followers, even though the giveaways were primarily aimed at their existing audience. The brand increased its brand awareness and stimulated social media engagement. They also accomplished their primary goal, which was to incentivize their online community. Of course, not every business will be able to launch two weeks of online sweepstakes. Don't worry! If you do it right, you can accomplish your marketing goals with a single Chinese New Year giveaway.
Chinese New Year social media giveaways with two organizers
Here's another successful example of an Instagram Giveaway launched to celebrate the new Lunar Year. A popular blogger teamed up with a local Chinese restaurant. Their collaboration aimed to gain new followers for the blogger, and promote the restaurant by giving away a $75 voucher.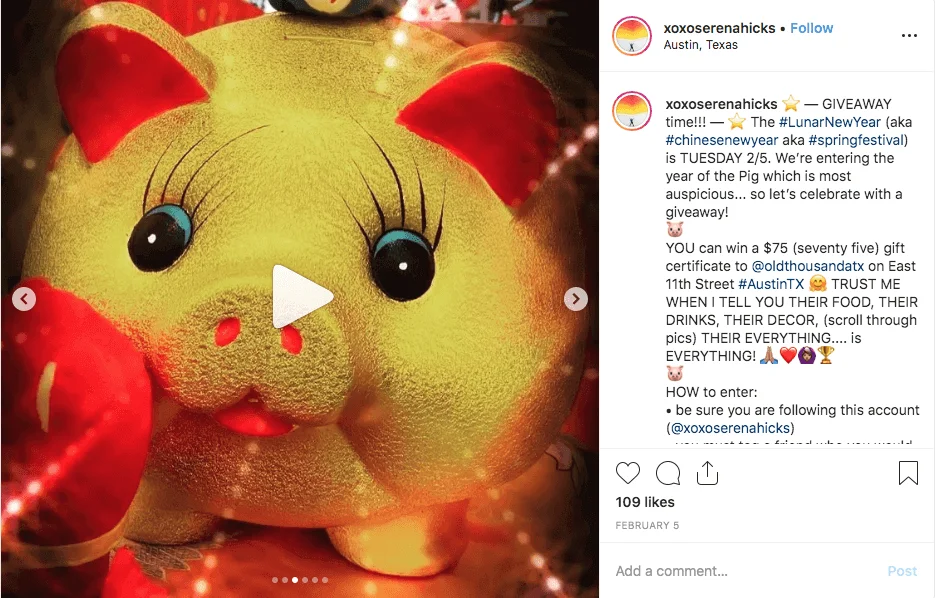 The participation requirements were very simple, which made the giveaway easily accessible for everyone. The participants had to follow the blogger's account, and mention five friends that could also be interested in the Chinese New Year giveaway. Both objectives were accomplished; the Instagrammer saw the followers' number go up, while the local restaurant welcomed new customers.
A word of advice: make your social media giveaways simple. Don't ask for too much, and you will see the engagement going through the roof! You can then randomly choose a winner of your Chinese New Year Instagram giveaway with our tool.
Are you planning to create your first Instagram or Facebook giveaway for the Chinese New Year? We know that designing a comment sweepstakes might be difficult – this is why we prepared ready-made Chinese New Year giveaway templates. Use them to launch your online raffle in less than five minutes!
Boost engagement and online presence with Chinese New Year Twitter giveaways
Looking for Chinese New Year marketing ideas can be time-consuming. But have you thought about hosting a Twitter Giveaway? Twitter is a great social media network with 330 million monthly active users! Does your brand have many Twitter followers? If yes, then that's a great reason to organize a Chinese New Year Twitter Giveaway! And if you do it well you will not only work on brand identity; you will also improve your online presence and social media engagement!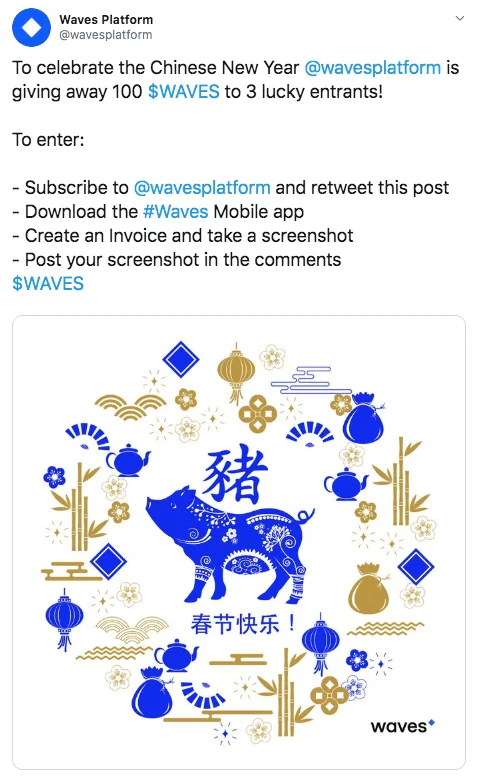 The above example shows well how to launch a successful Twitter Giveaway. As the brand was looking to grow its audience, they asked the participants to follow their account as one of the entry requirements. Another goal was to build an online presence; to do so they needed more visibility – this is why the organizers asked the followers to retweet the promotional post.
Facebook Giveaways to promote your brand and collect UGC during the Chinese New Year celebrations
Facebook giveaways are a very popular way of celebrating the Chinese New Year. The platform is a great way to reach a variety of different segments as Facebook gathers people from all walks of life and it continues to be millennials' social media channel of choice.
A great Chinese New Year marketing idea is collecting user-generated content. And your social media networks have the power of helping you on a big scale. Let's take a look at this Facebook Giveaway created by Qoo10. The brand asked its online community to use the comments section to share their family pictures. In return, they were getting a chance to win one of eight Instax Mini cameras!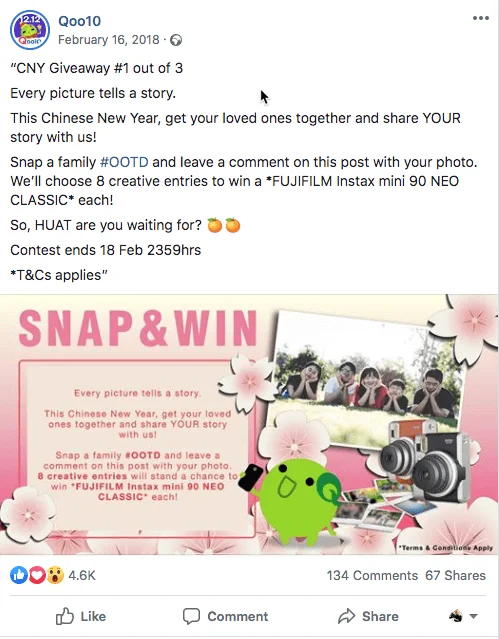 This Facebook promotion highly increased social media engagement and collected user-generated content – high-quality content that can be used by brands to gain loyalty and build customer relationships. Just make sure to ask for your followers' permission to share their pictures on your social media channels.
Branded mini-games: generate leads with interactive content
Social media users respond positively to interactive content – tap into that knowledge by implementing interactivity into your social media plan. Apart from organizing simple giveaways, you can also organize more advanced promotions to work on marketing goals like lead generation and brand recall. At Easypromos we prepared a series of interactive Chinese New Year apps that you can use as part of your strategy to further engage your audience and work on brand affinity. Let's take a quick look.
Chinese New Year Slide & Match game
How about a matching game just like the one that has been so popular lately? Only that this time, instead of candy, you can use your products or brand image as the items to match. Fully customizable y very entertaining!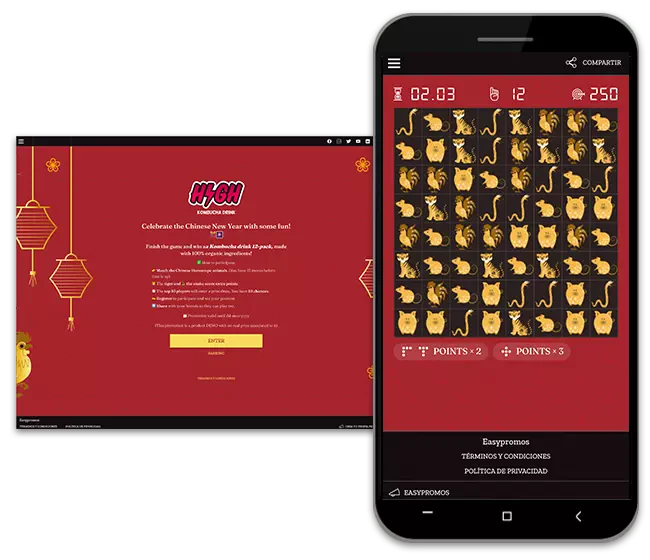 This game features a ranking that you can set so that the top players get a prize or enter a draw. Make it competitive and users will keep coming back for more.
Chinese New Year Memory game
Remember the traditional family card game that we all played as kids? Turning over any two cards and keeping them if they match is a simple dynamic that brings about loads of fun and excitement. So now imagine an online version of this childhood game!
Take a look at this Chinese New Year Memory app.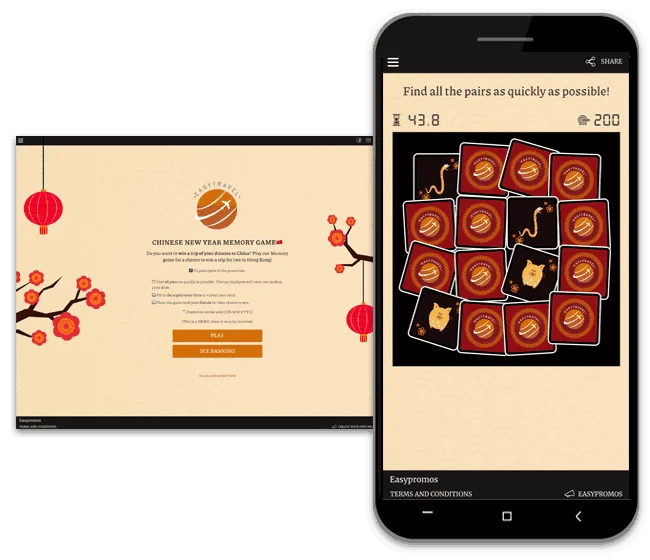 Invite users to find all pairs for a chance to win product samples or bundles, discounts, or vouchers. Share the promotion on your social media channels to not only provide a positive brand experience but also convert followers into sales leads.
Chinese New Year Timed Quiz
Haven't we all imagined being on Who Wants to Be a Millionaire at least once? You can now give your audience a chance to feel like contestants of the popular show by organizing a Chinese New Year Timed Quiz. Create a series of fun questions or use our pre-configured template with Chinese New Year-themed questions to generate rivalry and engagement for your audience. Like in the previous example, you can reward all participants with small incentives or run a random draw to raffle a grand prize among all entrants.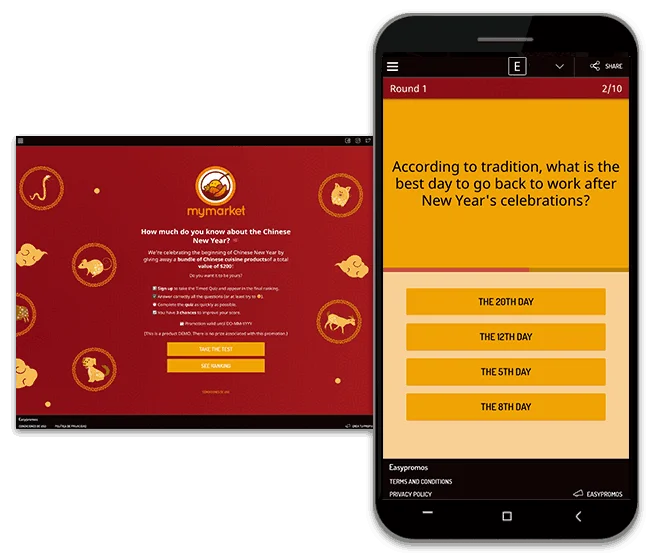 In-house promotion to motivate staff and improve productivity
Las but not least, let's not forget about the people that make every success story possible. We're talking about your own employees. So, why not launch an internal promotion to reward them for their effort and celebrate the arrival of the new year?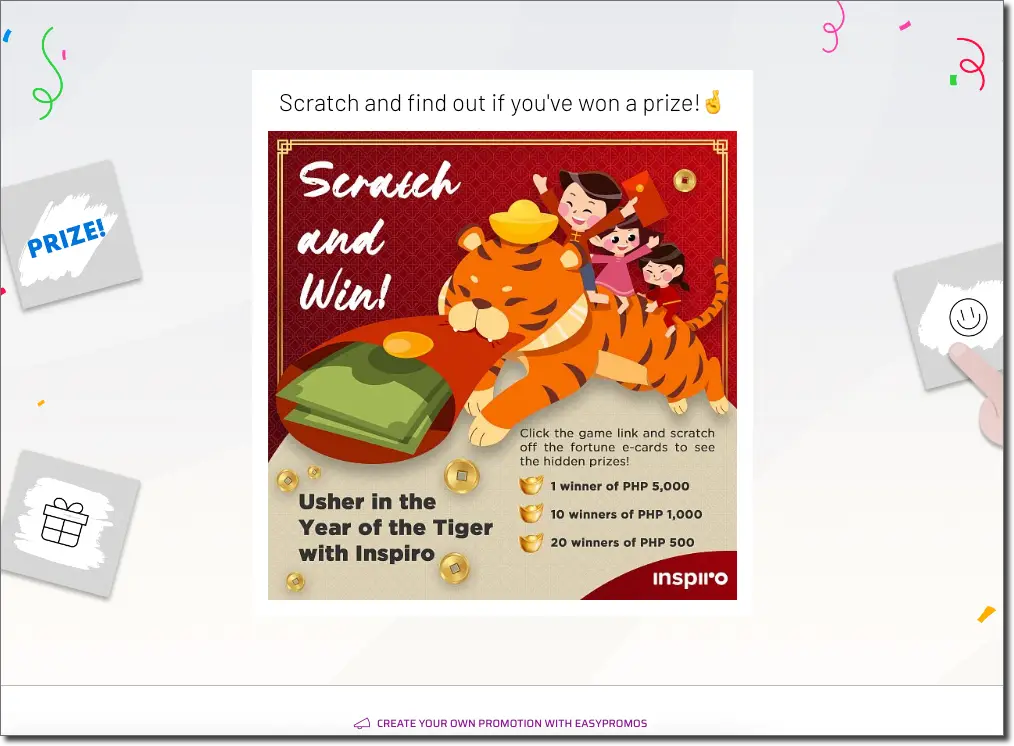 That's what business processes outsourcer Inspiro did for their employees at their center in the Philippines. The company organized a Scratch & Win promotion for their employees to celebrate the start of the Year of the Tiger. The company employees simply had to sign up and scratch to fin out if they had won a cash prize.
How do you like our Chinese New Year giveaway ideas? If you have more questions about Chinese New Year giveaways, don't hesitate to contact our Support Team!