That's why competitive, branded games are such a powerful engine for engagement and customer rewards. Read on to learn how to implement gamification in your customer loyalty program app – with real case studies from successful brands.
A customer loyalty strategy based on relationship marketing
Every marketing strategy should plan for customer retention, just as much as customer acquisition. Why? To maintain and expand your base of repeat customers.
In a traditional sales funnel model, this is called the post-purchase phase; in the AIDA marketing model, this is the final stage of "Action". Inbound marketing, calls it "delighting" customers, in order to transform them into brand ambassadors and promoters. Whatever you want to call it, it's a key phase in the sales cycle – and often neglected by marketers.
But customer retention is now being treated with more respect. We know that repeat customers bring plenty of benefits for brands. And – even though new customers are expensive to acquire – it sometimes feels easier to hunt down new prospects than to retain former customers. The question which many marketers face is: In a world full of limitless options, how do you get customers to stick around?
The key is to think long-term and build lasting, meaningful relationships with customers. Multiple studies have confirmed that modern consumers no longer respond to conventional customer loyalty programs. Instead, consumers have changed their priorities. Although they still want value for money, their brand loyalty is also determined by emotional and ethical factors.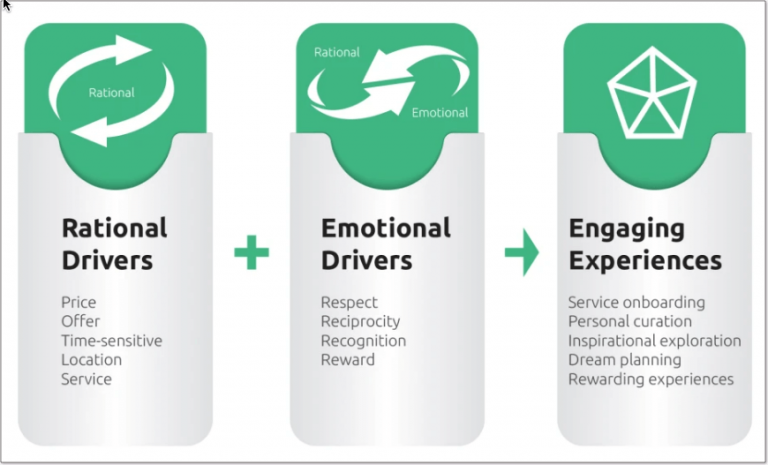 According to a study by Capgemini, 77% of customer loyalty programs fail during the first two years. The solution? Create programs that focus on unique experiences and high engagement levels, offering consumers both rational and emotional reasons to stick around.
To recap: if we only focus on economic rewards for customers, it's difficult to achieve true engagement. We also need to offer emotional incentives which create a relationship of trust and loyalty between brand and consumers. That's how to get customers who make more purchases, identify with the brand, and promote it to other consumers.
Old and new paths to customer loyalty
There are many different paths to customer loyalty and customer retention. Some only appeal to consumers' rational side; others, to their emotions. Let's take a look.
Discounts. Discounts are the perfect excuse to catch up with customers with a special offer. Brands can use discounts as a gift or reward to gratify customers. Discounts are also ideal for encouraging repeat purchases, since they often expire quickly. Add more power to this strategy by linking it to an emotional experience.
VIP offers. These offers make the individual customer feel special: for example, they can shop, reserve or view a new collection of products before other consumers. This is a powerful emotional tactic which can be combined with other, economic incentives.
Customer loyalty programs. The tactic par excellence for customer retention – although it's not as easy as it looks. Many reward programs include points for purchases, rewards for challenges, and so on. This ebook analyzes 5 successful customer loyalty programs; notice that all of them focus on long-term relationships with customers, with a corresponding increase in the lifetime value of each customer.
Gamification. Now that almost everyone has a smartphone, brands are waking up to the power of mini-games and puzzles to entertain consumers and hold their attention. This kind of engaging, interactive experience appeals to consumers on an emotional level. You can also follow up with rewards and economic incentives.
Build customer loyalty with games and rewards
Some brands have been using branded games for years. Walkers Crisps found huge success in the UK with a game where users could design their own crisp flavor – and the most popular creation was then released on supermarket shelves. The customer behind the new flavor won £50,000 and a cut of the profits for life!
Another snack brand, Doritos, teamed up with Marvel Studios to mark the release of Spiderman: Far From Home in 2019. They created a suite of promotions in 35 markets that collected user data, showcased both brands, and boosted customer loyalty.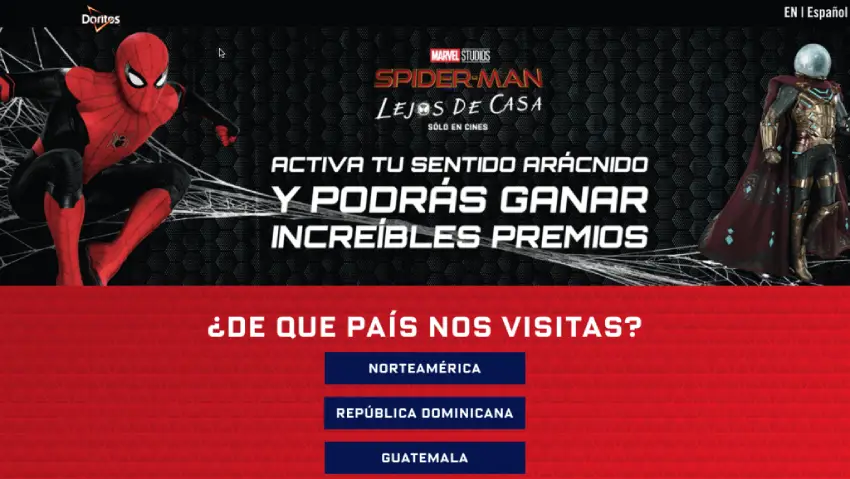 However, branded games used to be restricted to big corporations because of time, cost, and hard-to-measure ROI.
Now, gamified campaigns are much more accessible. In fact, even smaller brands can no longer afford to ignore gamification. As consumers are surrounded by ads and branded messaging, only creative and interactive campaigns can really get their attention.
Branded games are no longer aimed solely at young consumers who identify as gamers. The vast majority of internet users respond positively to mini-games and challenges. According to a Facebook Business report from November 2019, 80% of their users who say they aren't gamers, also regularly enjoy playing games on their phones.
4 examples of gamified campaigns for customer loyalty
Are you ready to add games to your customer loyalty strategy? First things first: before launching a campaign, you'll need to choose your objectives.
Obviously, your primary objective is to grow your community of loyal customers. And your strategy is to use the power of relational marketing. Your gamification campaign should line up with this strategy and objective. Each campaign that you create can focus on a different supplementary objective, as it tactically supports your main goal.
In the following examples, we'll take a look at how four successful branded games, and the objectives they achieved.
Campaign objective: brand visibility
Rosana is an iconic Spanish singer-songwriter. To boost album sales over the Christmas period, her record label set up a branded game. Because many people buy music and concert tickets as Christmas gifts, the festive season is a great moment to work on brand loyalty and repeat purchases.
The objective was to put Rosana "top of mind" for customers and suggest the idea of Christmas gifts. So the label created an app where consumers could decorate a virtual Christmas tree. Then they could download their designs to use as Christmas cards!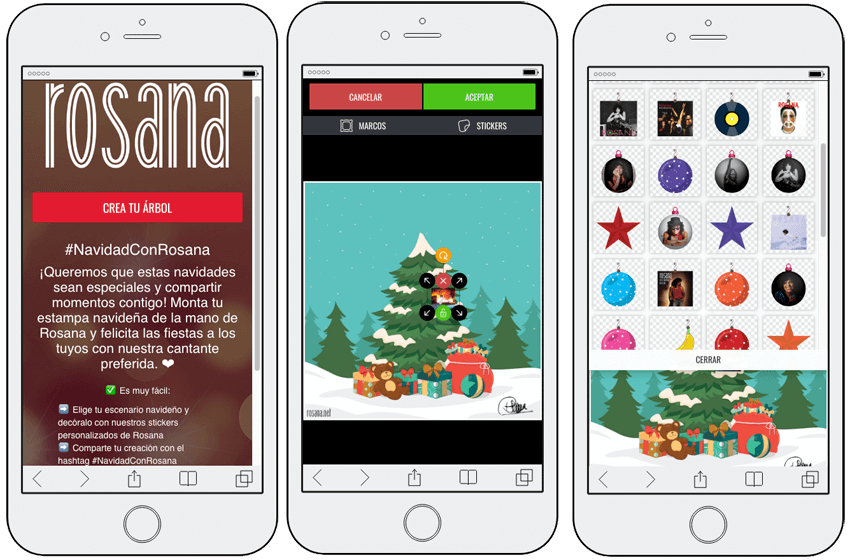 Campaign objective: customer loyalty on social media
Baby brand Liam & Lilly has a small but active community on Instagram. Just like the record label described above, Liam & Lilly decided to take advantage of the Christmas season to build up customer loyalty.
They created an Advent Calendar to encourage purchases. Every day, for 25 days, the brand launched a challenge on their social media channels. Each day brought a different game, puzzle, or task to complete – with discounts or free gifts as a reward.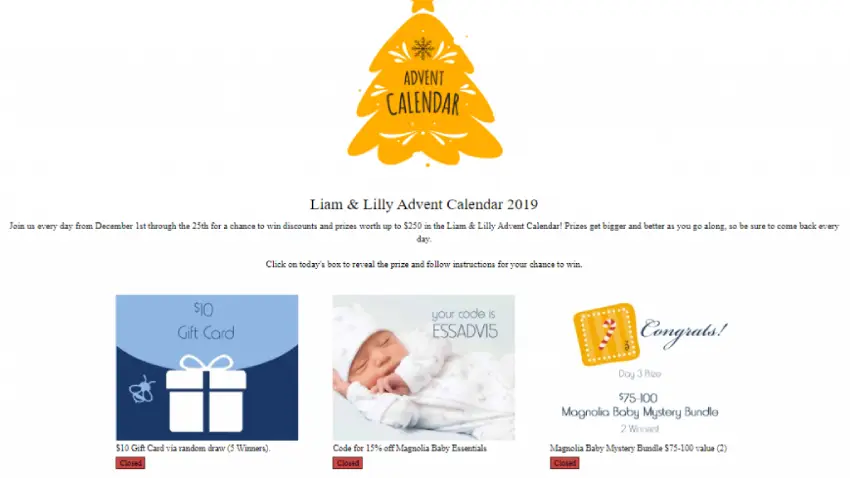 Campaign objective: increase repeat purchases
Customer loyalty campaigns on social media have one weak point. Your follower base is, most likely, a mix of current customers and new prospects. So it can be tricky to run a campaign that focuses on one segment, without alienating the other.
The solution? Leveraging additional channels of communication.
Here's an example from a Spanish food brand. They ran a campaign that was not exclusive to past customers. But because they chose to share the contest via their email list, most of their respondents were past and present customers.
The contest itself was a jigsaw puzzle of their products. So, for as long as people played the game, they were exposed to the brand and its products. After beating the game, participants were shown a page with a direct link to the brand's online store.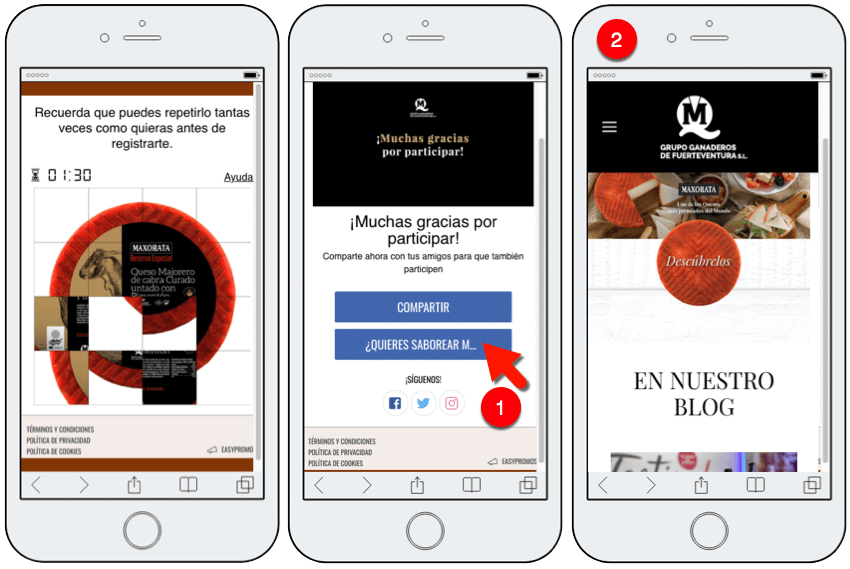 There are a few ways that this campaign could have been even more effective. Segmenting your email list, and personalizing each message, can increase conversion rates. What's more, the brand could have offered coupons or promotional codes on the final page of the contest – encouraging sales and making attribution simple.
Campaign objective: boost customer loyalty among blog readers
Our final case study comes from a transport company that wanted to build loyalty with its blog subscribers. Most subscribers are already regular users of the transport service.
The brand decided to run a special campaign for Halloween. They embedded the branded game in their blog so that it would mainly be seen by blog readers and subscribers. The game itself was a classic memory game: find the pairs of spooky images in a deck of cards. To encourage participation, the brand gave away four free travel passes to the fastest players.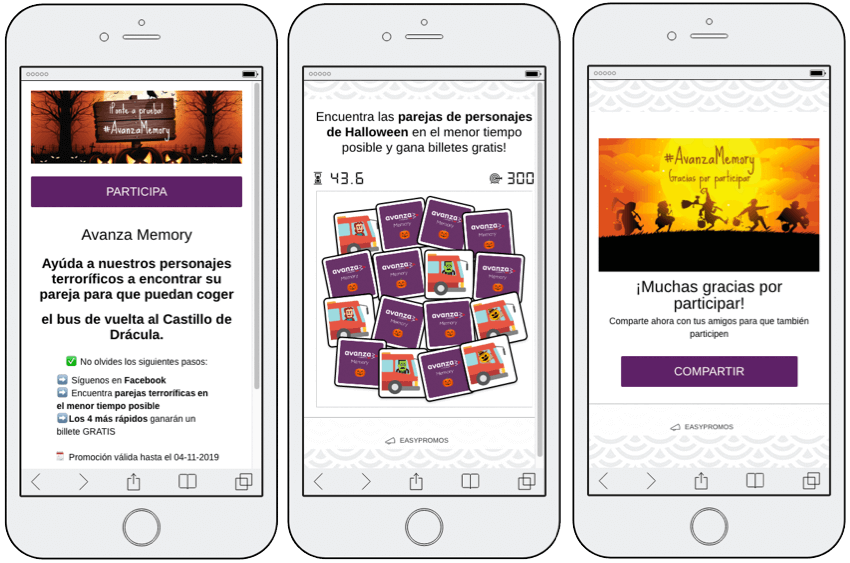 Every one of these gamification examples took a different approach to customer loyalty – whether they chose to focus on brand visibility, sales, social media, or other channels of communication. Customer loyalty campaigns require us to think outside the box and do something creative with each new promotion. What's your big idea? Contact us through our Online Chat in case of any doubts or questions!