2022 will be a year of challenges for marketing professionals. Traditional actions will need revalidation and creativity will be the key to exploring new ways of connecting with brands' audiences. At Easypromos we foresee some trends for the upcoming year and we are sharing them so you can keep them in mind for your next year's marketing strategy. So get down to business, there is a lot of work to be done!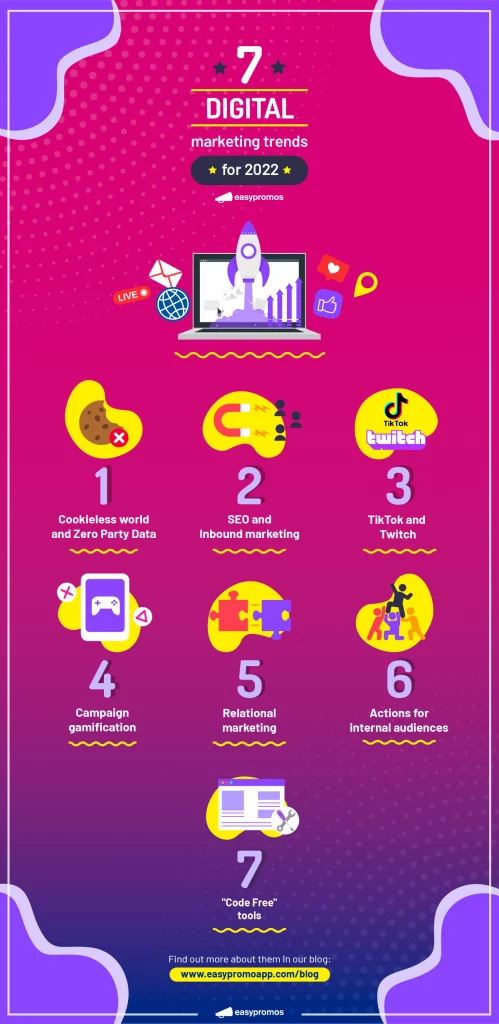 1. Prepare for the cookieless world and activate Zero Party Data collection
The law has boarded up users' privacy. One of the most impactful consequences is the restriction on the use of cookies. Specifically the suppression of third-party cookies that Google has extended until late 2023. It's a new cookieless world, and the advertising world is the most affected. How will conversions be measured? How will audiences be segmented? The engineering teams at Google and Facebook are already working on the design of new technologies (API conversion, Privacy SAndbox, etc.), but until new solutions are available, what should brands do? The answer is: to have and manage their audience. How? Collecting user contact details with their consent. This is known as Zero Party Data: Information that a user intentionally agrees to share with a brand through a contact form or a digital promotion campaign.
2. Increased use of interactive campaigns as inbound marketing actions
Prioritizing Zero Party makes inbound marketing strategies more and more common. Brands must implement actions to draw visits and turn them into leads (identified users) and using value content is the key. Games, questionnaires, and interactive contents allow brands to draw visitors to their websites and followers to their social networks. Eventually turning them into leads.
3. Keep an eye on Tik Tok and Twitch, two social networks on the rise and growing fast
The evolution of social networks is unstoppable and more often than not, unpredictable. The course that Tik Tok and Twitch are taking, and their level of engagement suggest they will be important in the upcoming years. Many brands are already looking for ways to connect those networks' audiences. However, the technical development of both Tik Tok and Twitch still doesn't provide a friendly scenario for promotions. Despite that, giveaways and contests have been coming up, but that is only due to the brands' and Early Adopters' creativity. The fact remains that, as of today, these networks don't have the tools that would guarantee carrying out reliable promotions on their platforms. Nonetheless, if they do develop tools that adapt to the brands' promotional needs, 2022 could be a year of promotional expansion for them.
4. Gamification extends its reach
"Gamifying" is on everyone's agenda. Society has acknowledged that playing games contributes to human development, and more and more people spend some of their spare time playing. Smartphones have made access to games widespread and diversified. Thus, in the marketing world, gamifying the relationship with the audience is becoming ever easier and affordable, in addition to showing unidirectional communication of advertisements. Through 2022 we will see brands gamifying their campaigns become a more common strategy.
5. Relational marketing will be the order of the day
Working on "relationship marketing" has always been an interesting approach. However, the changes in the online privacy panorama are making it unavoidable. Once a brand has a contact, it must build a relationship with the customer to finalize the purchase. It is about getting to know customers and potential customers better. CRM, email marketing and messaging automation, and interactive online dynamics will become fundamental to achieving this objective. The tools are there, but the tactics have been poorly exploited by most companies. In 2022 we will see the rise and evolution of these kinds of actions.
6. Increase of interactive actions for internal audiences
The COVID-19 lockdown made the need for internal audiences evident for companies: being able to communicate, doing online team building, getting customers and employees feedback, etc. These months of high online interaction provided a testing field and many companies have continued using it. Consequently, 2021 brought about a rethinking of the workplace formula and consequently, interactive actions with employees, suppliers, partners, collaborators, and the like, have become customary.
7. The era of "code-free" marketing tools
Marketing professionals have increased the need and frequency of digital solutions for their campaigns. Nonetheless, in-house marketing teams cannot develop the necessary tools to satisfy these needs quickly enough. Therefore, it has become customary for brands to look for external automated solutions to create interactive dynamics for their campaigns. Thus, allowing them more independence and faster campaign launch times. Automation of email marketing has become more widespread and has got a foothold in other areas such as the creation of microsites, interactive applications, contests, and games. As a result, today's marketer is looking for ready-made, template-based solutions, without the need of programming and easy to customize and disseminate.
2022 digital marketing trends: conclusions
2022 will be the year to get ready for the cookieless world. Brands must prepare for this because, as of today, it is still not entirely clear how segmentation will be managed and how digital marketing campaigns conversion will be measured. On the other hand, working on consented user data collection (Zero Party Data) is to invest in success, and a safe bet for marketing teams in the years to come. The challenge lies in finding the best formula to collect this data. At Easypromos we know we are on the right path: interactive and gamified campaigns with prizes and incentives.