Ways of making contact with your Instagram community
Bidirectional communication in Instagram is limited: you can Like or comment on a photo, or you can send a photo with a message directly to a friend, but you can't write directly to a friend unless you're sharing a photo.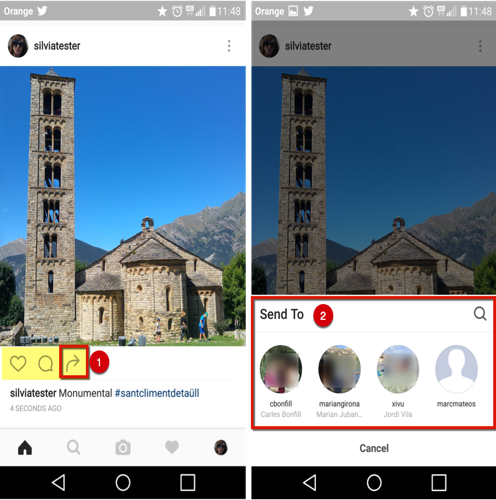 Good news for personal users is that for Business Profiles Instagram is implementing a button to enable users to "Contact" the company or brand. However, the opposite action (Communication Business –> User) is not possible aside from promotion and advertising; there's no option to send a "direct message" to personal profiles unless it's accompanied by an image. Furthermore, this option is not an appropriate way for a brand to contact a follower as it could be taken as advertising, spam or an invasion of privacy.
For this reason, contests are one of the most-used tools by brands on Instagram for communicating and engaging with their communities. In contests, the user is the one who engages in communication with the brand by uploading content to enter the contest. This means it's possible to identify which profiles are interested in the brand and therefore predisposed to receiving information. In addition, Instagram encourages interactions which are relevant and genuine, and with the aim of eradicating spam, requests that you do not post fake Likes or Comments. But by asking the participant to generate genuine, high-quality new content, which is linked to the contest with a hashtag, you're acting in a way that's in accordance with the guidelines.
Contests are one of the tools most used by brands in #Instagram for communicating with their communities
Click To Tweet
Relevant and genuine comments
In this type of dynamic, the comment is a useful tool for enabling the brand to communicate with the participant. Even so, it's important to keep in mind Instagram's Community Rules and Platform Policy. Instagram asks that you don't post repetitive comments or content and that users or brands do not contact other users repeatedly for commercial gains without their consent. In addition, Instagram encourages users to report any behavior that violates these rules via a simple integrated option for reporting such actions. It also offers users the chance to block a profile if they don't want to see it anymore, or even delete comments left on their posts. So be careful how you interact with participants!
Keep in mind the following when commenting on your participants' posts:
Write personalized and unique comments for each person. We suggest you write a response thanking the Instagram user for his or her participation and suggesting that he or she follow you. Avoid any commercial messaging or advertising.
Comments should be unique and representative of the promotional action.
Comments should be written using the brand's profile.
The comment shouldn't exceed 300 characters.
The comment shouldn't include more than four hashtags.
The comment shouldn't include more than one link – and this won't be clickable.
The comment shouldn't be written all in capital letters.
The essence of Instagram requires careful and personalized communication with participants
Click To Tweet
The essence of Instagram requires very careful and personalized communication with participants. To assist in this, Easypromos hashtags contests collect all Instagram participations and a tool informs the organizer whether or not he has responded to the participant. If not, a comment can be written from the platform itself to reply to the Instagram participant. The tool helps by suggesting texts that can be modified and adapted to achieve the level of personalization required by this social network.
Try to run an Instagram giveaway now and contact your followers using the ways we have just explained to you. 😉