When it comes to social networks and their users, Twitter stands out as one of the platforms where user interaction with brands the most, making an essential channel to promote your product or brand. However, the answer on how to promote your on Twitter goes beyond paying for the blue tick or Twitter ads. Running giveaways on Twitter is an effective, organic way of reaching and engaging your target audience, growing your follower base, and boosting brand awareness.
So if you're wondering how to promote on Twitter, writing a giveaway post is step number one. Make sure you put maximum effort into creating your giveaway tweet – this is the main post your online community will see and this is also where all interested users will participate. Come up with attention-grabbing text, clearly specify the entry requirements, publish participation dates, showcase the prize and share a link to your giveaway terms and conditions. Seems like a lot of stuff to include in one short tweet with 240 characters? Don't worry! We recently launched a step-by-step guide to creating successful Twitter giveaways. 
Is your giveaway ready to be published? Great! We're about to take a look at how to promote it and attract more potential participants.
How to promote on Twitter: Pin your giveaway tweet to the top of your profile
Let's start with the easier and fastest way to give extra visibility to your Twitter promotion. Pinning your tweet takes literally less than five seconds and it provides the guarantee that all users visiting your profile will see the promotional post.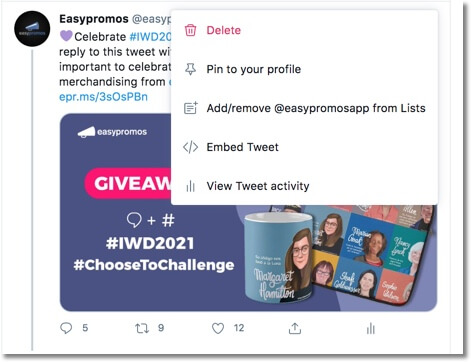 All you need to do is click on the three dots in the top right corner of your giveaway tweet and choose "Pin to your profile". Easy peasy!
Update your profile's header photo
Another way to make sure that all your profile visitors see your promotion is to change the header photo on your profile. Use the same design you used for the image shared in your giveaway tweet – it will help users spot the promotional post much easier. The background image should be 1500x500px.
Run ads on Twitter to promote your giveaway
It's no longer a secret that organic posts don't have the same reach as sponsored posts and ads. And the same rule applies to Twitter. Have you ever run Twitter ads? If the answer is no, running a Twitter giveaway might be the right moment to investigate Twitter ads.
Promoted posts allow users to interact with the content the same way as they interact with organic posts. The only difference is that ads will help reach far more people – meaning that your giveaway will most likely attract more users interested in winning your attractive prize.
Follow up with replies and reminders
Chances are that your followers won't see the giveaway tweet straight away. Make sure you promote it by regularly sharing friendly reminders or by replying to your followers' tweets, exactly the same Funko does.

We recommend using a tweet scheduler for making your life a little easier. You can prepare a series of five or ten different tweets (depends on how long your giveaways last) and schedule them at different times. Make sure to publish the tweets at different times for maximum diffusion.
Share your giveaway on other social media networks and with newsletter subscribers
Is your brand active on other social media channels? Take advantage of your Facebook, Instagram, YouTube, Snapchat, TikTok, or Twitch communities and let them know about your Twitter giveaway. Apart from gaining more participants, you will also grow your Twitter accounts. Because what stops your Instagram followers from following you on Twitter, too? This book blogger was looking to grow her Twitter account. To do so she launched a Twitter giveaway and promoted it on her already popular Instagram account. She redirected some of her followers to the giveaway and also gained new followers.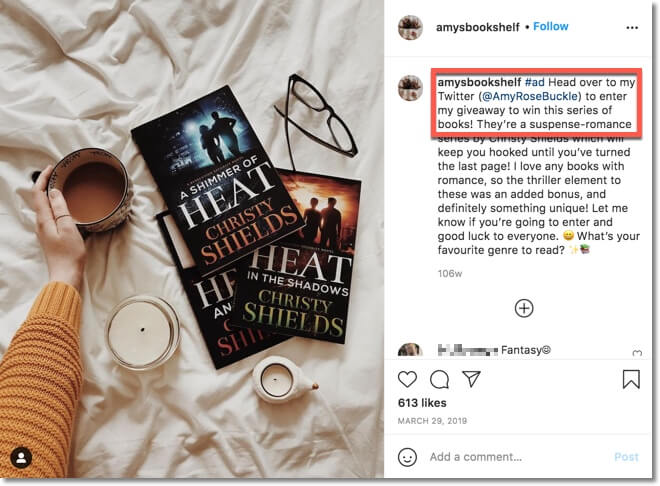 We also recommend including your newsletter subscribers! Do you send out a weekly or monthly newsletter? Invite your subscribers to enter your sweepstakes! You will boost engagement and customer trust at the same time.
We launched a Twitter giveaway for Women's Day. Our subscribers were invited to enter, too!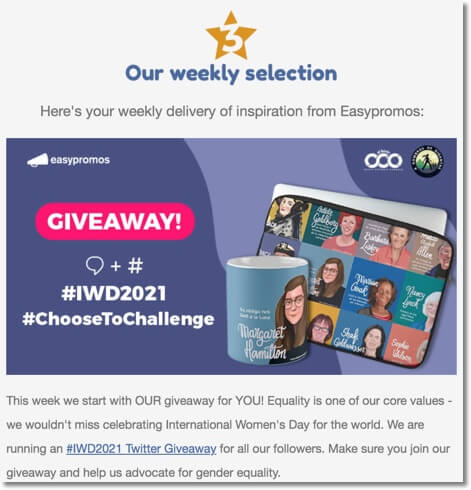 Planning to run a Twitter giveaway? Make sure you use our Twitter Giveaway application for maximum efficiency and transparency!
Add a pop up or banner to your website
Does your website attract many visitors? Or maybe you have a popular e-commerce site? It's time to involve your web visitors in your Twitter giveaway too. Create a banner or pop up promoting your tweet and grow your Twitter audience – what's better than having real customers among your social media followers?

Submit your contest to giveaway and sweepstakes directory and sites
Isn't your giveaway aimed at a specific audience? If you don't care who participates in your promotion, as long as they participate… submit your Twitter giveaway to sweepstakes directories. There are thousands of people looking every day for chances to win online. These websites might really give a spike to the number of participants.
Are you ready to promote your Twitter giveaway? Remember that in case of questions or doubts our Customer Support Team is already ready to help!