What are winning codes and how do they work?
Winning Codes is a client reward dynamic. The brand distributes a series of codes among clients who have made a purchase in a given time period. Clients then go on to a microsite to validate their codes online. Some of these codes have an associated prize and become winning codes. Codes can be alphanumeric, products' serial number, or others.
Our "Redeem Codes" app is the most commonly used to manage promotions with winning codes. The app not only allows to make the promotion exclusive to users that possess a valid code but also to reward users with instant wins depending on the code introduced when participating.
Valid Code: any code that the brand has previously included in the platform. Allows the system to confirm that the code has been distributed among clients within the running campaign.
Winning Code: a valid code that the organizer/brand has linked to a prize.
When the participant introduces a code that has no prize associated, a no-win message will come up in a pop-up window. From the promotion's control panel, the organizer can-pre program which codes will be winning codes and the prize associated with them.
The following image is an example of several sets of winning codes uploaded to the Validate Codes app. The app itself will inform the organizer which codes have been redeemed and which haven't, the users associated with each code, participation dates, etc.
Let's take a look at some examples of how to reward users with winning codes: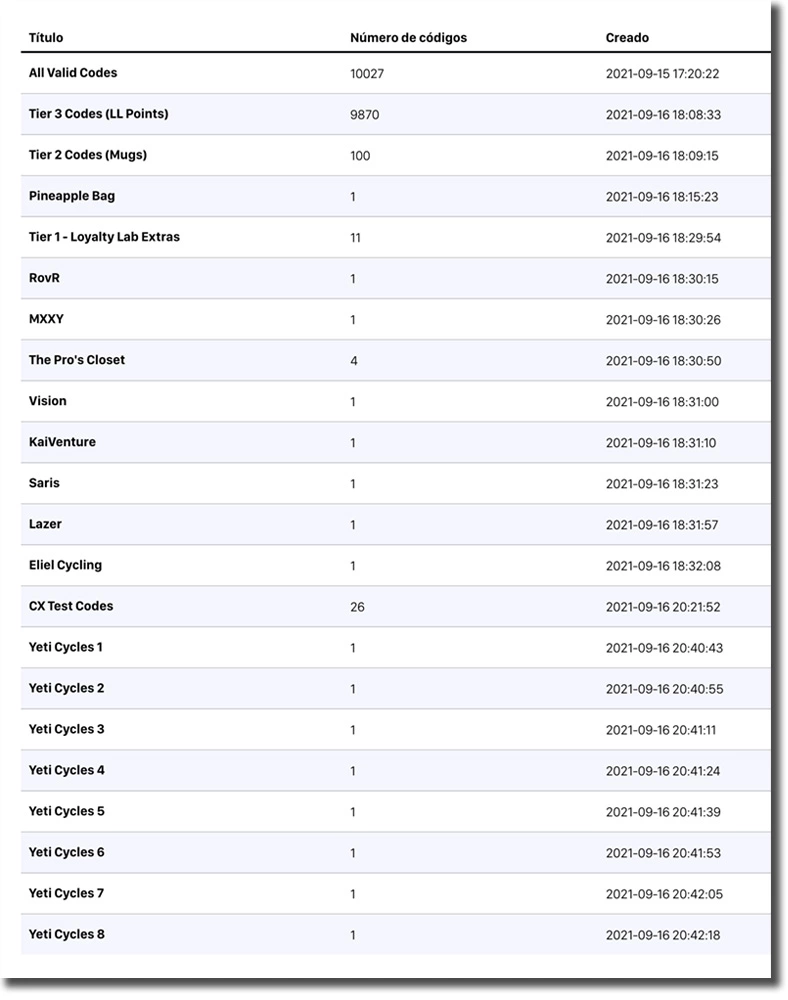 Instant win codes
One of the most commonly used marketing techniques in e-commerce is to distribute codes among users that shop online. It is a good incentive for repeat purchases and to build customer loyalty by giving away prizes.
A very effective way to distribute these codes is to include them in the product's package that the customer will receive. This will add to the satisfaction as the customer will receive an extra prize along with the purchase.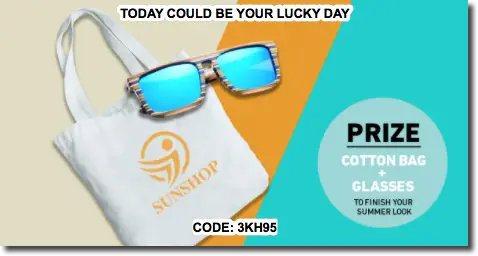 When receiving the package, the user will find a code and a set of simple instructions: go to the website, introduce your code to check in, and find out what you have won. This is the most common dynamic for winning codes.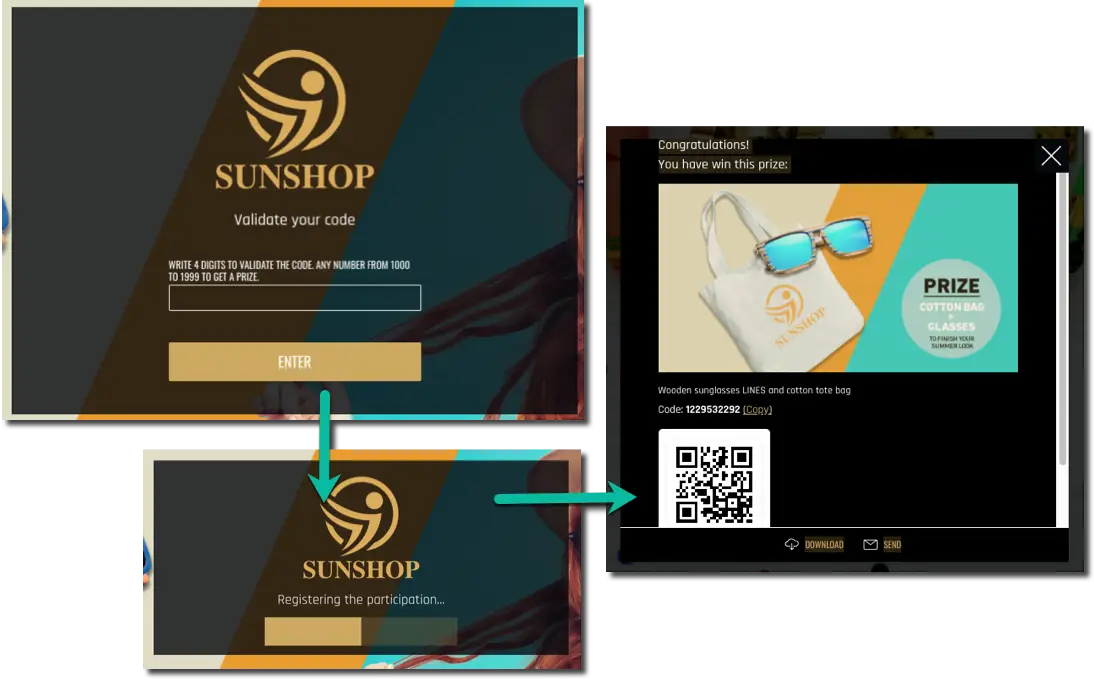 If the user wins a prize when checking in, the prize will come up in a pop-up window along with the instructions to redeem it. By contrast, the code doesn't have a prize, a "Thank you" message will come up.
Generally, this dynamic offers online shops a wide array of possibilities to manage codes and assign prizes:
Define which codes have a prize and which don't.
Decide which prize to award for each kind of code. E.g. promotional packaging, product sample, special prize, etc.
Customize the registration form where users validate the codes. el formulario donde los clientes tienen que validar el código con los campos que cada marca desee.
Send segmented emails to users informing them of their prize, etc.
Winning codes + final prize draft
Large consumer goods companies face the challenge of knowing their clients' profiles to build loyalty and acquire new customers. In this day and age highly competitive market, promotions can make the difference in the consumers' choice for one product or another. The key issue is how to tip that balance in your favor.
In order to meet these challenges, and considering the vast number of products in the market, international hair care products brand Revlon has found a solution. That is, managing promotions with codes and validation through registration forms.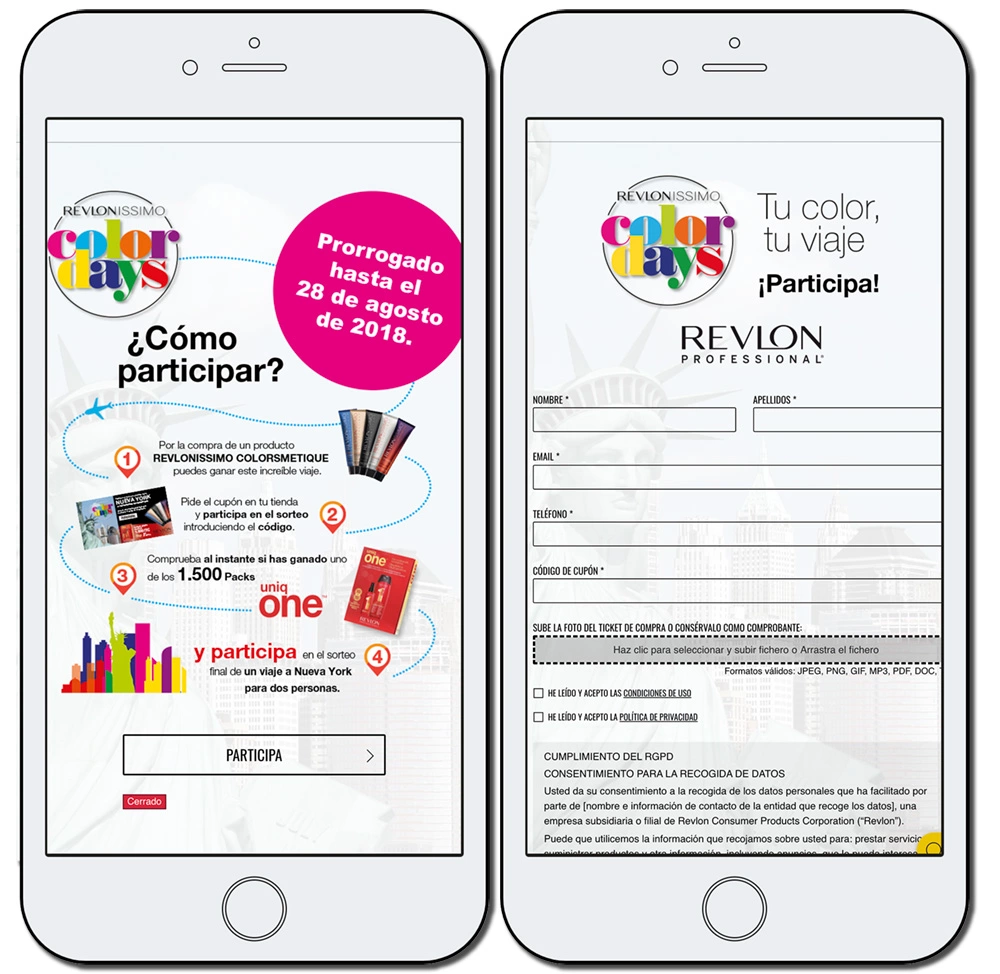 So, what did such a well-known company in that field do to appeal to their buyer-persona? They did it by raffling a grand prize through their products' sales. The brand distributes codes among its distributors. Later on, clients validate them online through a registration form and instantly know if they've won a small prize. To further enhance participation, users that validate their code, enter a raffle for a trip to New York. With this action, the brand builds customer loyalty, acquires new customers, and gets to know its community better.
Here's how Revlon organized the promotion in two: the set of instant prize-winning codes and all the validated codes that enter the grand prize draw.
If you want to have more control over when the prizes are given away, a good option is to award the prizes by Instant Win using the Redeem Codes app. In this scenario, the administrator decides in advance when to give away the prizes depending on several variables: dates, hours, minutes… The user experience is the same in terms of participation. However, the administrator will define the exact moment when users can win a prize. Thus only the users that validate a code at the time previously set by the administrator, will win a prize.

Redeeming winning codes at the point of sale
In our third example, we will discuss winning codes promotions that take place at the point of sale itself. We all have participated in promotion events where you can win a prize then and there. Or how about those pubs or festivals that gave away merchandising products when customers ordered something? The following dynamic is more or less the same, only that part of it takes place online.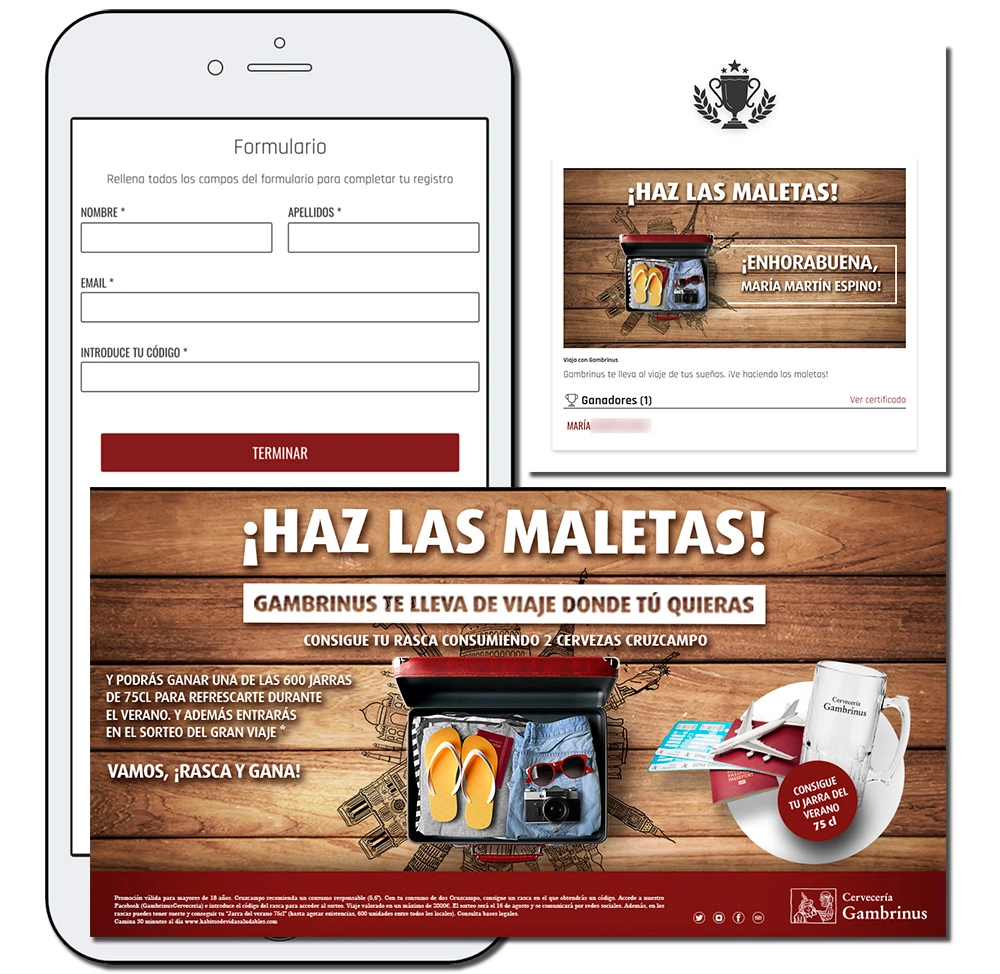 Gambrinus brewery launched a winning codes promotion associated with its beer brand Cruzcampo. Customers received a code to redeem online after ordering a couple of beers and would instantly know if they had won a prize or not.
Generally speaking, users enjoy games of chance and promotional actions. Take advantage of this fact and offer rewards to your customers to increase your products' sales. In the case of Gambrinus, participants had the chance of winning a trip.
This kind of promotion can have different configurations but the most common is to distribute different codes, some of which will have a prize.
Winning Codes + Scratch & Win
Many businesses still rely heavily on their brick-and-mortar sales while others don't even have an online shop. Either way, not having an online presence doesn't have to be a drawback. Alternatively, it must be seen as an opportunity to enhance the online channel while promoting the offline channel and drawing foot traffic to the shop.
There are several formulas that combine offline and online actions. However, we will focus on redeeming a code online to drive sales in the brick-and-mortar shop.
Supermarket chain Frioz created a promotional action like this. Customers that bought a pack of FEIRACO milk obtained a code that they could redeem online and get a scarf of their football team. Participants that had a winning code could choose the scarf model they preferred.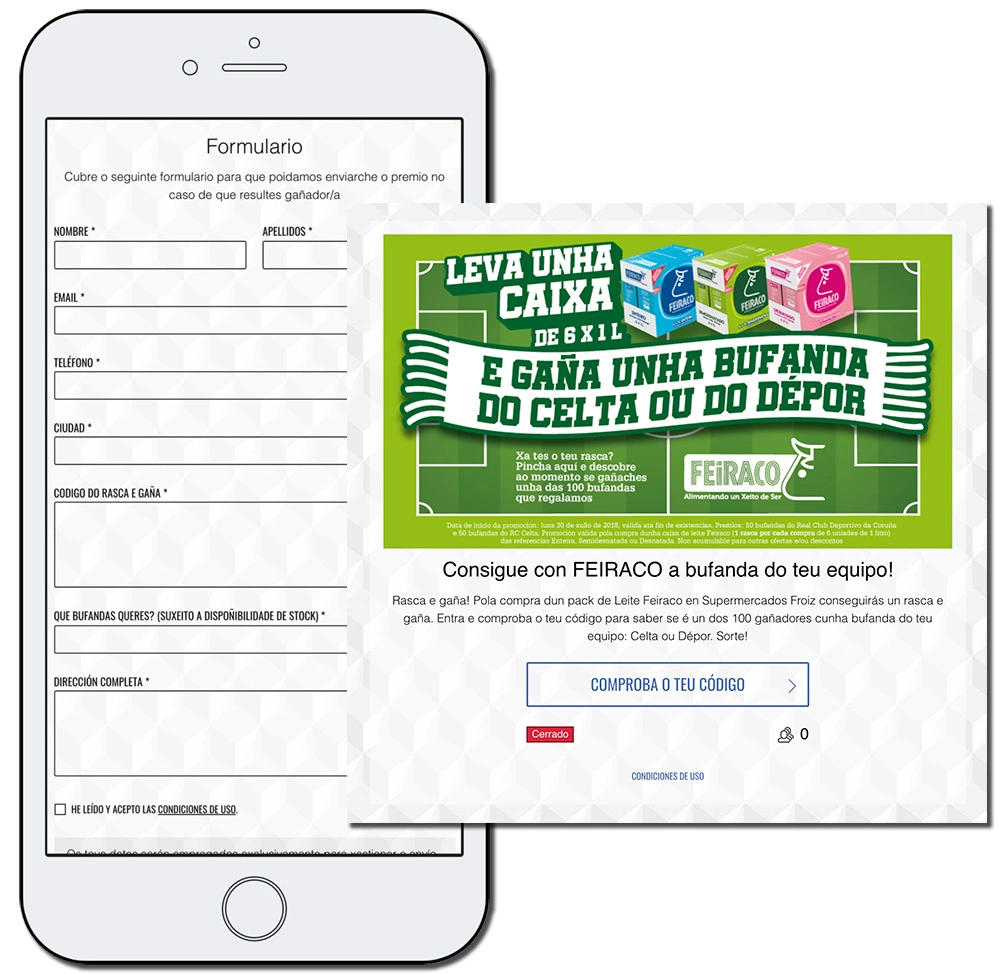 B2B winning codes: incentivize purchasing your products.
Winning code promotions are not limited to B2C (Business to Consumer), they can also be used in B2B (Business to business). The dynamic of the promotion is similar to the previous ones. That is to say, the organizer uploads the codes that customers will use to participate. The registration form can be customized to include the fields and information that the organizer wishes to collect.
Let's take a look at the promotional campaign that Hellman'sorganized to promote their products.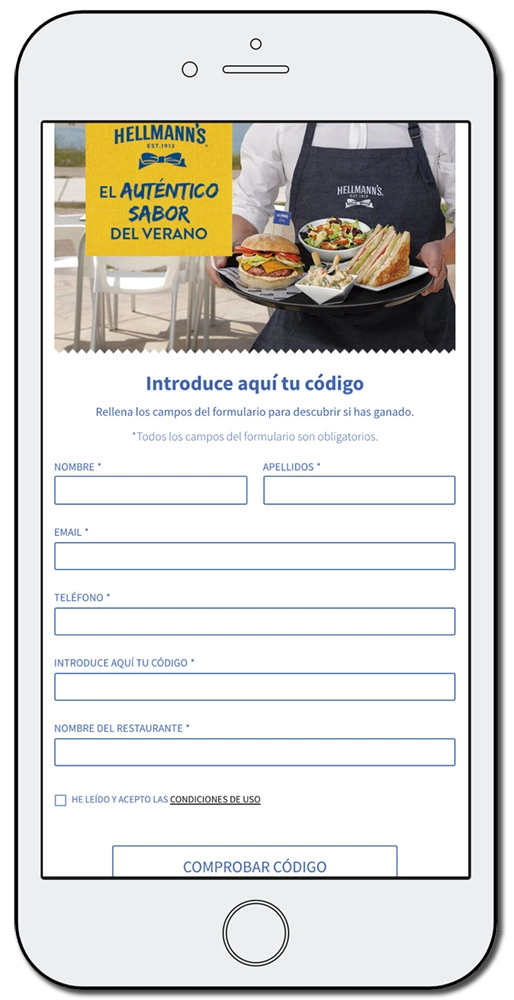 To participate, every restaurant that bought Hellman's products received a card with a code. The user then went online and found out if they had won any of the available prizes. If they did, the prize was announced immediately. The company distributed 264,000, some of which included the following prizes: 5 iPhones, 5 iPad Air, 10 SmartBoxes, double cinema tickets, and several other experiences and activities.
These are only some of many examples of promotions using winning codes. If you have any questions or need further information, contact our Live Chat team. We will be happy to help you!