The United Nations began celebrating International Women's Day in the International Women's Year in 1975. In 1977 the UN invited member states to declare March 8 as a day for women's rights and equality. The official UN website states that "in recent decades, we have seen remarkable progress in women's rights (…) but these gains are far from complete or consistent. We live in a male-dominated world with a male-dominated culture." For this reason, brands that added gender equality to their company values should take part in promoting the event and mission of achieving gender equality. You can do so by organizing social media campaigns, promotions, and events.
Online contests, giveaways, and promotions can help you emphasize your commitment to promoting women's right and their achievements. By organizing online promotions aiming to empower women you will automatically work on goals like brand awareness and follower engagement. So let's skip the small talk, and take a look at examples of International Women's Day promotion ideas for 2023!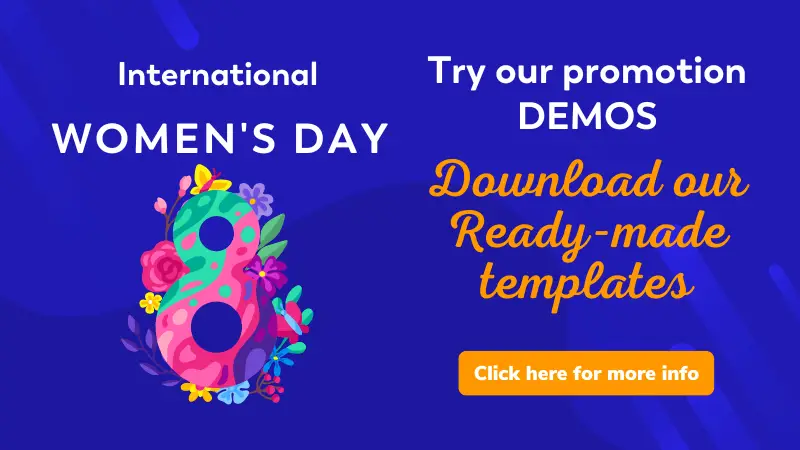 Celebrate Women's Day with an Instant Win promotion
If you're looking for a way to celebrate Women's Day and reward your audience in a fun, easy, and straightforward way, Instant Prizes promotions are the way to go. There are several dynamics available for Instant Win promotions. You can go from a simple register and find out if you've won format to a digital prize wheel, or even a digital Scratch & Win.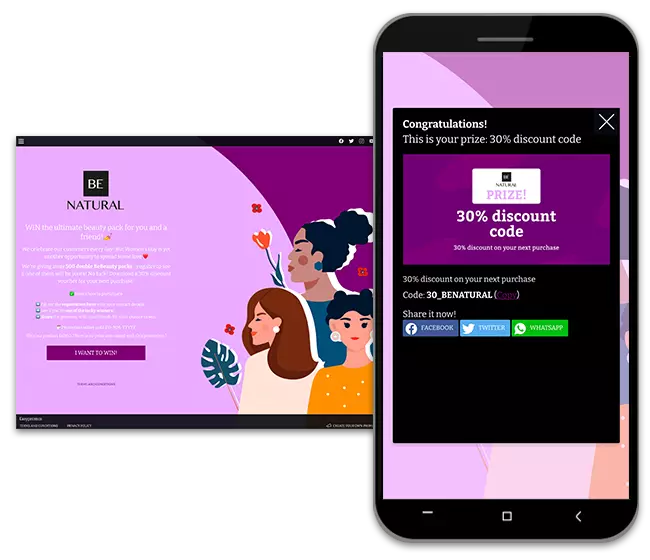 Whichever dynamic you choose, you can fully customize it with your brand or product image and decide how to distribute the prices or coupons associated: by odds, by winning moment, or a combination of both.
Want to learn more about these kinds of promotions and their possibilities? Take a look at these 10 ways to distribute instant prizes.
Your mini-branded educational game to celebrate International Women's Day
Is your audience tech-savvy and used to social media networks? If the answer is yes, then the first example is something you should give more thought to. Gamification is one of the latest and most popular trends. Its dynamic and vibrant nature attracts a lot of attention from online users. Use mini-branded games to support the deep cause of International Women's Day celebrations, but also to entertain your audience and promote your brand like any other marketing campaign. By sharing fun and interactive content you're more likely to convert followers into paying customers.
In the following example, you can see how easy it is to entertain and educate players by showing how certain inventions known to all were created by women, an aspect that is normally unknown to society.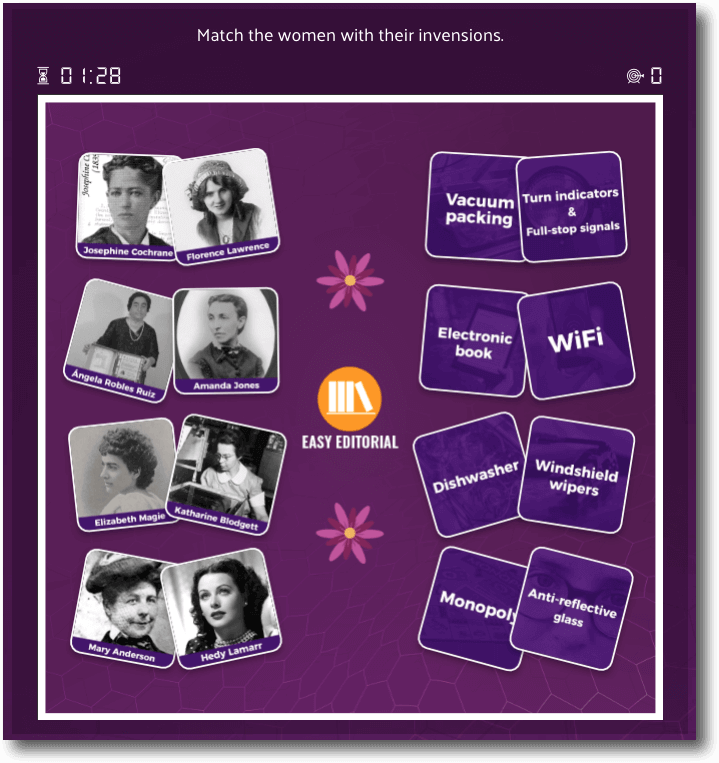 We honestly love this Women's Day promotion idea! If you like it too, you can use our ready-made template for Women's Day Match It to launch your own game for International Women's Day! Organize a prize draw between the 10 best participants or award the fastest player. The integrated registration form will also generate new leads.
Here's another example of a Women's Day Match It game organized by HarperSage, a women's clothing brand. To celebrate the Choose to Challenge campaign, the organizer wanted to fight against gender bias.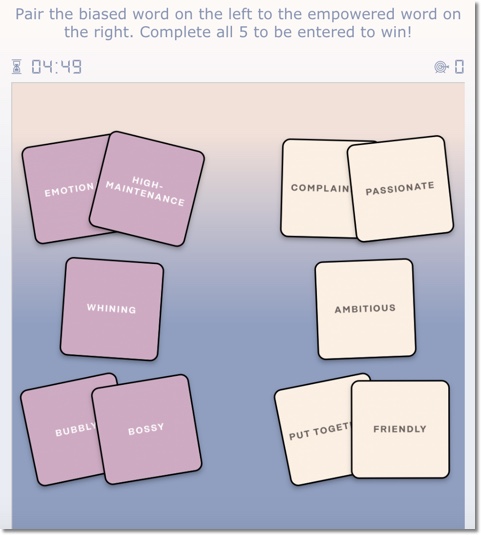 Participants were asked to pair five biased words with their empowering synonyms. What a great idea! All participants entered a giveaway for a bundle of products valued at $150.
Are you looking for ideas to celebrate Women's Day with your coworkers or employees? Head to our article full of ideas for celebrating IWD at work!
Women's Day Knowledge Quiz to highlight the female contribution to society
Educational campaigns are a very popular and successful approach to online promotions celebrating women. Many brands focus on achievements and successes that have been achieved by the female part of humanity over the years. Promoting female doctors, inventors, astronauts, and scientists is something that not only educates the audience but also celebrates the legacy and importance of female pioneers. So why don't you follow the same example?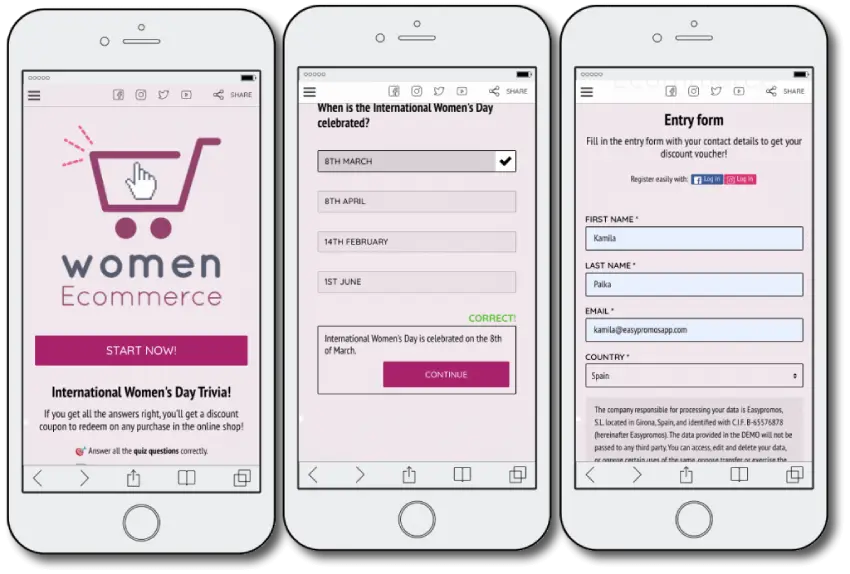 If you decide to organize your own Knowledge Quiz to celebrate International Women's Day you will not only educate and entertain your audience; you will support the cause and also accomplish some of your marketing objectives. Why? Because the Knowledge Quiz app by Easypromos comes with an integrated registration form that you can edit according to your own needs. This means you will be able to collect new leads. To increase the participation numbers add a random prize draw. You can, for example, raffle a prize among all the entrants that answer all the questions correctly. And to promote your company, even more, make sure that the main prize is your own product!
Are you interested in setting up your own International Women's Day Knowledge Quiz? Try our DEMO and if you like it use our ready-made template to save some extra time! Or maybe you want to check your audience's knowledge about your brand?
Photo Contest to celebrate International Women's Day
If you have ever thought about organizing a Photo Contest, then International Women's Day might be the perfect occasion to obtain some user-generated content. Ask your female followers to share with you their pictures! Any theme will work! Pictures with their friends, female family members, favorite things, sharing their moments. All these pictures will have a story behind and you can be the one to share them. And if the participants submit their pictures through one of the photo contest apps designed by Easypromos, they will grant you permission to share their pictures on your social media pages.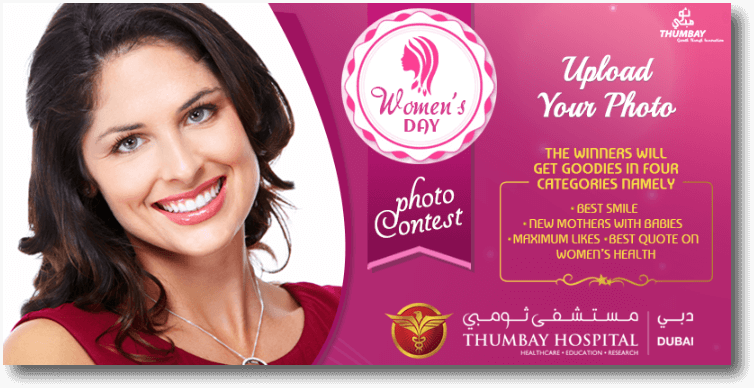 This International Women's Day Photo Contest was organized by a hospital in Dubai. The participants submitted their pictures through a competition app, sharing stories behind their pictures. In such a Women's Day promotion, you can enable public voting to attract even more attention to your promotion. Once you announce the winners you can share photos of your participants and emphasize their impact on our society. Remember, that at the end of the day the main objective of such a campaign is to empower women and their stories!
International Women's Day Promotion idea: Writing Contest
Writing Contests are great to celebrate important and meaningful events like International Women's Day. Invite your audience – female and male – to share stories about important women in their lives. Writing contests can become more personal, creating a strong connection between the audience and the brand.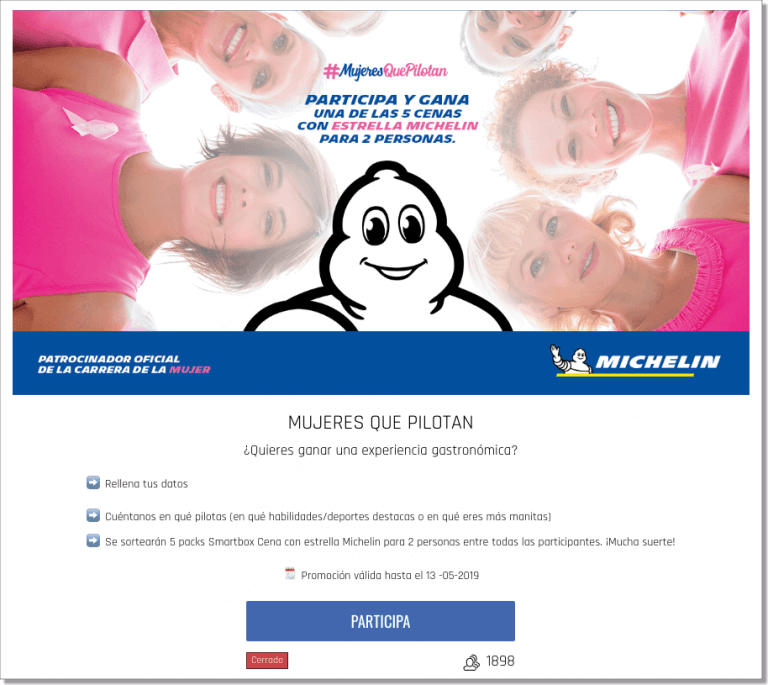 In this example, Michelin organized a Writing Contest for their female audience, asking them to explain what they're best at. From more than 1800 participants the brand drew 5 lucky winners.
Take a look at this case study on how Malas Madres and Cinfa laboratories organized a writing contest to raise awareness and support for women facing life struggles.
Are you looking for something more simple? Don't worry, you can still celebrate International Women's Day in great style. Organize a social media giveaway to celebrate and cherish women. Comment-based giveaways tend to be successful and easy to set up! We have prepared a special blog post about International Women's Day giveaways!
Have doubts about International Women's Day promotion ideas? Don't wait any longer! Contact our support team where all your doubts will be solved!