What gets attention these days? When it comes to social media, the answer is interactive content. People don't just want to see your brand – they want to play along.
Playable ads, branded mini-games, and interactive content are hugely popular online. They can help…
increase brand or product recognition
increase the time users spend on your website or social media profiles
add gamification to your sales, discounts or seasonal offers
collect customer details for lead nurturing campaigns
support your brand image
entertain customers online or in-store
And the best part? You can achieve all those things with minimal time and effort. Branded games are a quick, easy way to get closer to your customers.
What is a Match It game?
In this blog, I'm focusing on Match It games, also sometimes known as Connect The Pairs. This is a classic game that you probably remember from your childhood. And it couldn't be simpler…
All you have to do is match the pairs of related cards. On a mobile phone, it's as simple as tapping the cards you want to use. When you match a pair successfully, they disappear off the board. So as you play along, the number of cards slowly diminishes until you're left with the final pair.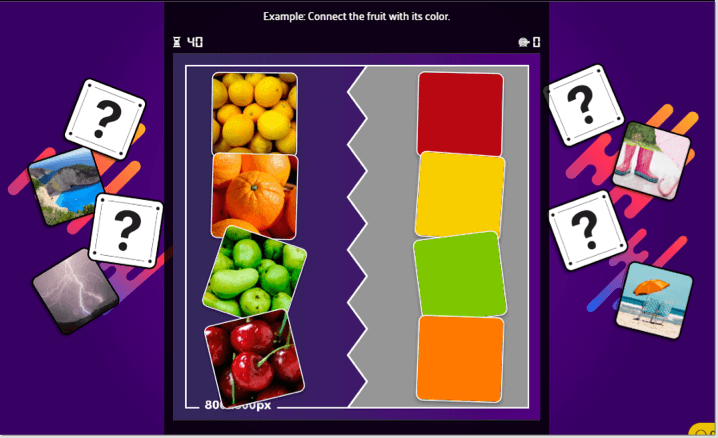 Here's a really basic example – in fact, it's the basic game you'll see when you start designing a Match It game with Easypromos. You just have to match each fruit to its color.
But don't let the simplicity of the game fool you! As long as someone plays the game, they'll be focused on your brand, products or relevant interests. And because they interact with the cards, the images or phrases will stick in their heads for longer. That's one major reason why so many brands are turning to interactive games for social media and content marketing.
Let's take a look at 4 fun ideas for Match It games to boost product recognition, improve brand recall, entertain your customers, and speak to their needs and interests.
Improve product recognition with a Match It game
One of the most straightforward ways to use Match It games is for product recognition. Your customers will be faster to recognize your logo, brand livery, and packaging design once they've played a few rounds of the game.
For example, you could ask customers to match…
The product to its packaging
Travel-size and full-size products
The product to its key ingredient
You can also use Match It games to promote brand recognition or famous faces. While this is slightly different from promoting products for sale, it's an important part of keeping your brand top of mind.
Here's an example: the Mavericks set up a Match It game to show off their best coaches and players. Customers had to match each photo of a coach or player to their biggest achievement.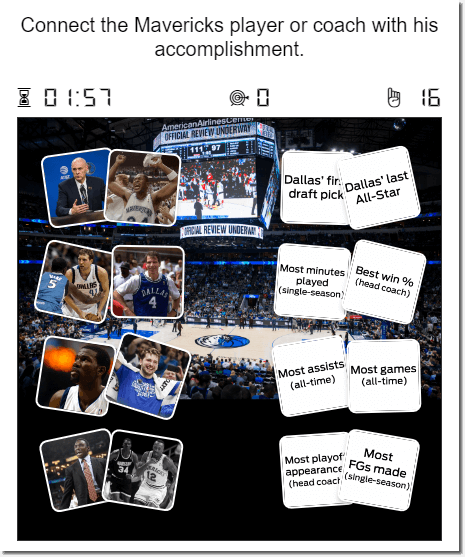 This game helped to build the Mavericks brand, appealing to dedicated and new fans alike. It increased recognition for specific players and reminded people of the Mavericks' greatest successes.
Link features and benefits with a Match It game
You play a game of Match It by making connections. So if you want to make a connection in the minds of your customers – for example, between a specific problem and the solution you offer – then Match It is a good tactic to try.
In this example, a cosmetics company linked 4 common problems for their customers with 4 flagship products. This was a clever way to educate customers and encourage them to learn more about the brand's product range.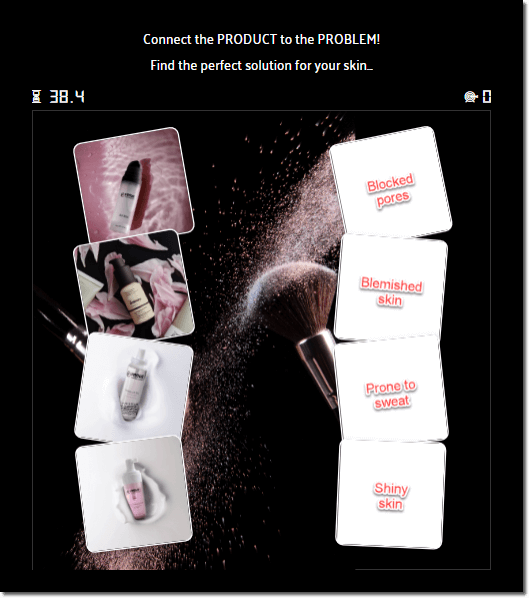 If you create a branded game like this that's designed to drive sales, it's a good idea to finish the game with a relevant offer, discount or coupon. Alternatively, you could ask players to share their contact details, then follow up with valuable content and offers via email.
Entertain your customers with a Match It game
Interactive content isn't always about the hard sell. You might just want to increase followers, get people's attention, or keep them entertained. If your customers have to wait in line in-store or on a customer service chat, a quick mini-game might just keep them happy.
This hotel chain used a Match It game to get their customers in the mood for Valentine's Day. The pairs of cards aren't directly aimed at sales, but they were designed to get people thinking about romantic, luxurious weekends away.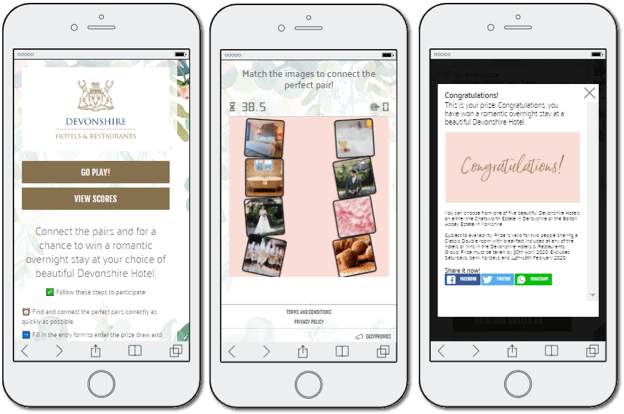 And of course, the hotel chain offered a delightful prize for some lucky players.
Interested in launching your own Match It game? Why don't you try our DEMO to check out the user experience?
Add value and connect with your customers' interests
Now for our fourth and final idea: you can use mini-games and interactive content to add value for your customers.
What does added value mean? Well, for example…
share insider knowledge about your brand, products or industry
participate in your customers' hobbies and interests
offer learning resources or educational games (especially valuable for brands aimed at parents or kids)
challenge customers to show off their skills or knowledge
In other words, you can use branded games as a form of content marketing.
Here's an example from a bookstore. They know that their customers are likely to be keen readers – so they challenged people to match famous authors with their books.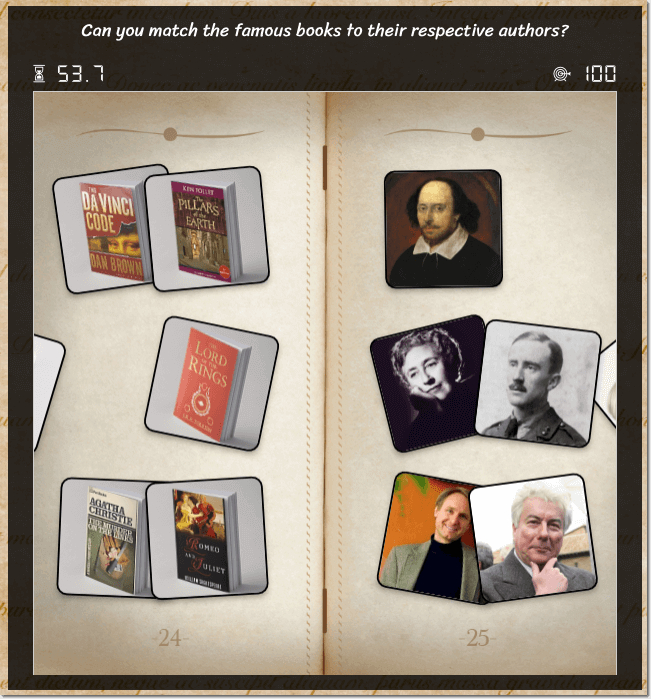 You can get really creative with this kind of game. Think about what your ideal customer likes to do – their hobbies, interests, and areas of expertise.
Just like playing the game itself, creating your own Match It game couldn't be easier. All you have to do is pick a few pairs of images, and the Easypromos game app does the rest. Don't hesitate to contact our Support Team in case of any questions or doubts!