The first question that logically comes to mind is, why would I want to set up a digital lucky wheel? What are its benefits and which marketing objectives can I achieve with one? Well here's a list of some of them:
Brand exposure. The Easypromos Lucky Wheel app is 100% customizable. Use your brand image, colors, or products to create a fully personalized prize wheel. 
Capture leads. Users need to register to play for the chance of winning a prize. Whatsmore, you can configure the registry form to include any information field you're interested in. 
Build customer loyalty. Use it as a fun way to reward your existing customers by offering prizes or rewards.  
Promote your product. Display your product and offer discounts or the chance of winning samples of your products. 
Boost sales. Nudge customers to buy your products. Offer a code allowing them to spin the wheel for the chance to win a prize or discount for future purchases. 
Engage the community offline. Use a prize wheel on offline, live events. All you need is a tablet or mobile device to offer visitors the chance to participate.

Give your Lucky Wheel the right design
Let's begin with the visual aspect of your prize wheel. Use your brand colors to customize the sections of the prize wheel, but make sure they are contrasting enough to make each section perfectly distinguishable from the next one. Don't create too few or too many sections. Too few sections make it look dull and not exciting, too many and it will look cluttered and won't be easy to see. Display the prize of each section with an image or text, but make sure it's clear and can be easily identified or read. Keep it simple e.g. 50% Off, or No Prize.
Take a look at this example of a Spanish confectionary brand that launched a lucky wheel as the centerpiece of their digital marketing campaign. Notice the neat design with contrasting colors and clear information on each section.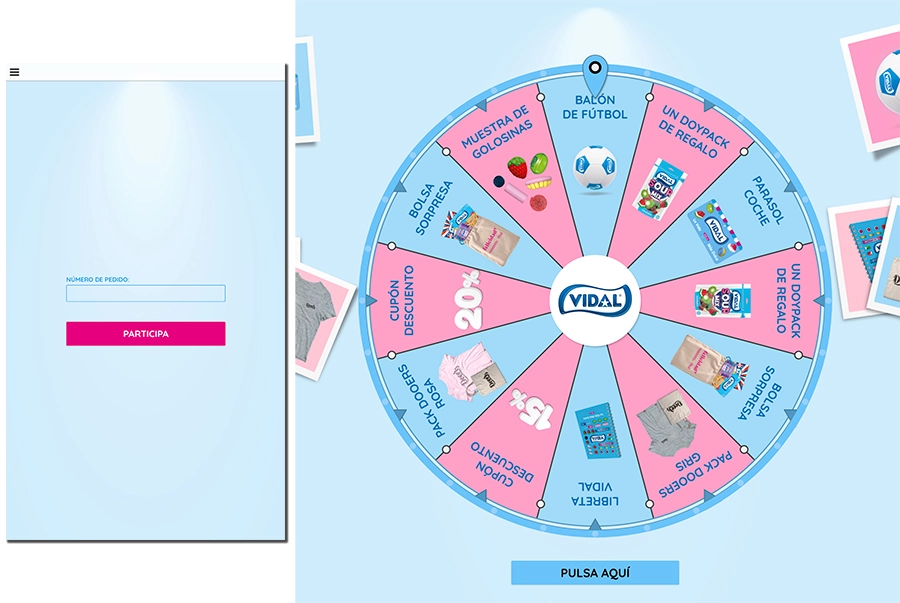 Another important design aspect that goes beyond the visual side, is the participation flow. Depending on what your marketing objectives are, configure the promotion so that users have to register before or after they spin the lucky wheel. We'll delve into that a bit more later on.
Prize distribution
This might seem a bit obvious, but the prize distribution setup can make or break your Lucky Wheel. You want to avoid a situation in which your best and biggest prizes are given away shortly after you launch your promotion. Factors like this are easy mistakes to make and will negatively affect the user experience. Having said this, ask yourself: Are you giving away prizes by probability, or at specific participation times? How many units of each prize are you giving out and within what timeframe?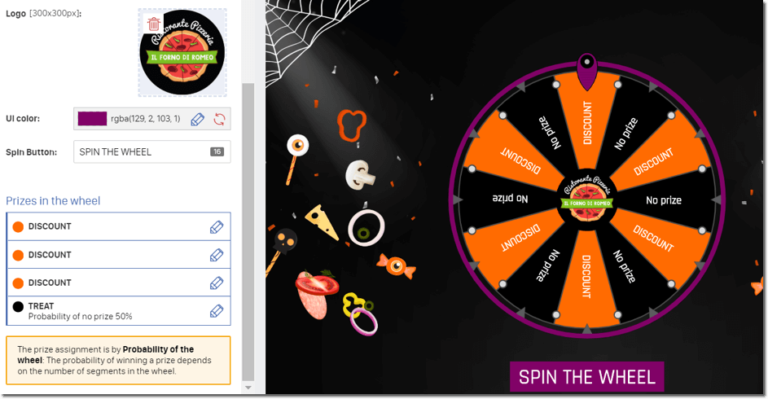 If this sounds a little daunting, worry not. The Easypromos Lucky Wheel app control panel is intuitive and easy to use, and it requires no programming skills whatsoever. And if you're still in doubt or having trouble with any specific issue, you can contact our support team via live chat.
Participation requirements to spin the lucky wheel
There are two important considerations when it comes to defining the participation requirements: your marketing objectives and providing a clear and positive user experience. Make sure that the registration form in your promotion will provide you with the information you need to fulfill your marketing objectives. E.g., if you are looking to nurture your email database, make sure to include a text informing participants that by registering they agree to receive commercial emails and that they can unsubscribe at any moment. In case you want to get to know your audience better, include segmentation fields such as age group, gender, geographic location, etc.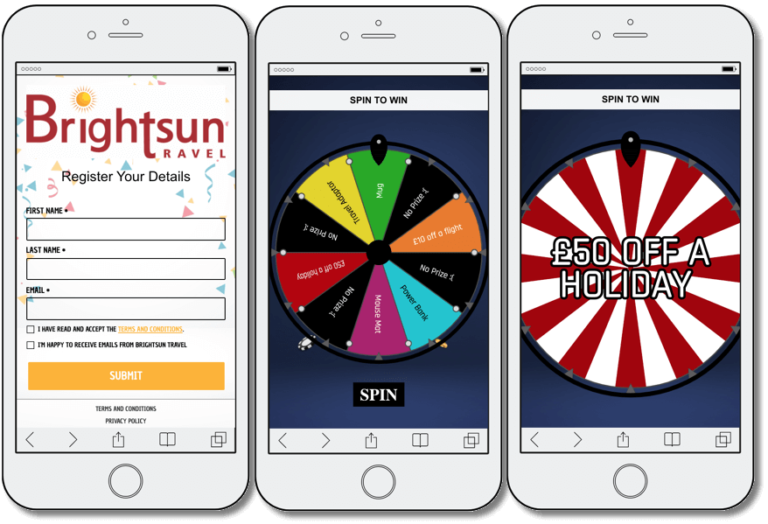 Make sure participants get a positive user experience when they spin your lucky wheel with a well structured participation flow. You can configure your promotion so users spin the lucky wheel first and register second, or register first and spin second. It is also important that you define how many times each user can spin the wheel. All of these parameters can be easily configured from the Easypromos control panel, i.e., registration form, participation flow, automated emails, and more.
Share your lucky wheel
Once you have configured your prize wheel promotion, it's time to get it out to the world. Choosing the right channels to share your lucky wheel is essential to its success. Fortunately, Easypromos is here to make that easy. Every spin-the-wheel promotion has its own microsite so you can share it on your social media accounts or by email. Furthermore, you can use the Easypromos widget to embed it on your e-commerce or website.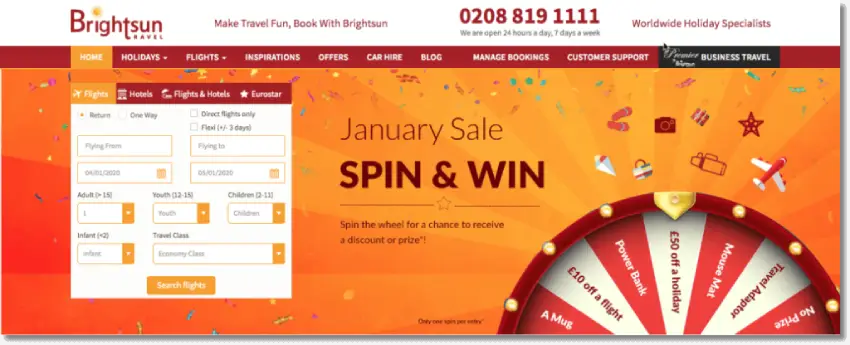 The above example shows how Brightsun Travel embedded their lucky wheel on a prominent place on their website. Hence, making it really easy for visitors to see it and participate.
Don't forget the terms and conditions
This might seem obvious, but it's not only a best practice, it's a legal requirement in many countries. But don't worry if you're not familiar with all the legal talk because, you guessed it, Easypromos has got you covered with Terms and Conditions templates for you to simply fill out with your information and include in your promotion.
Check out our Lucky Wheel DEMOS and templates to get a better feel of the customer experience and how easy it is to organize your own promotion. What's more, you can create your account for free and configure and test your promotion. No payments details will be required until you decide to launch the promotion.
We hope you find these tips and examples helpful and inspiring. If you need additional help or have any questions, don't hesitate to contact our customer support team via live chat. We will be happy to help!