What is Singles' Day?
Singles' Day is the biggest event you've never heard of. Although this holiday brings hundreds of millions in retail value each year, it's kept a low profile. But now, retailers are finally waking up to the opportunities of Singles' Day marketing and sales campaigns.
First invented as a singles' alternative to Valentine's Day, this holiday has the unofficial motto: treat yourself.
It's the biggest day for online shopping, all year. In 2019, the Chinese retail giant Alibaba made $30.5 billion in sales, surpassing last year's sales by nearly 26%.
And we can expect those sales figures to rise. Each year, the number of online shopping orders for Singles' Day rises by hundreds of millions.
It's not just about sales – the number of single people is rising too. Today, about a third of Americans are single; and many of them are happy with their choice. Only 12.7% of people say they're actively dating.
Different countries celebrate different dates. In the US, it's September 12th. Chinese singles enjoy the holiday on November 11th. And finally, the UK version falls on February 15th, the day after St Valentine's.
In this post, we'll share different types of promotions that appeal to savvy, single, mobile users. We'll also take examples from retail brands which have a special appeal for young and single people.
Singles' Day Instagram Giveaways to boost brand engagement and visibility
Giveaways on social media are a great choice as they help you target all your followers – specifically, people genuinely interested in your brand. It is also a great idea if you're marketing on a budget. Singles Day giveaways can be quick, easy, and effective.
Instagram is a strong choice for your Singles' Day campaign. The average user is young and relatively affluent. Over the last couple of years, thanks to their audience energizing dynamics, Instagram Giveaways have become highly popular and even more efficient, as Instagram users are keener than ever to participate in online promotions (yes, that includes Singles Day giveaways, too). You can use profile posts and Stories to share tempting images of your Singles' Day promotion and prizes.
Take a look at this great example from Lover Floras. The flower shop took it to Instagram to celebrate Singles' Day. They ran a short comment-based giveaway for anyone who commented on the post and explained their favorite thing about being single. The participants also mentioned their bestie, followed the florist on Instagram and liked the post.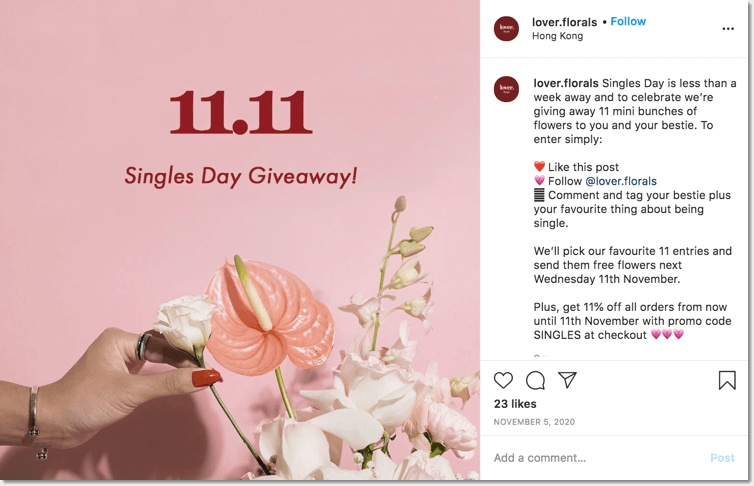 The organizing brand managed to grow their account, boost social media engagement, and sales with a discount code added to the promotional code.
Here's another example from Kyani Europe. The brand decided to give away two self-care bundles right in time for Singles' Day!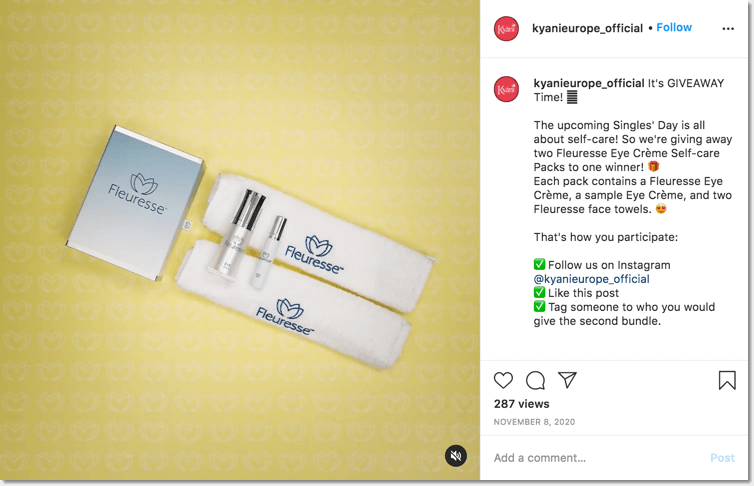 The entry requirements were the same as in the previous example, however, in this case, the participants tagged the person they would give the second self-care bundle to. It was a great way to strengthen customer relationships and reinforce customer loyalty as part of the Singles' Day campaign.
Would you like to launch your own Singles Day giveaway for your social media followers? We've created pre-configured templates for your Singles Day social media promotions. Download, edit, and publish!
Twitter Giveaways to boost your brand's online presence this Singles' Day
You should also seriously consider a Twitter Giveaway. Although this network has a smaller audience, it offers the most flexibility for giveaways. You can ask users to follow you, retweet your posts, reply to you, or even post Tweets with a specific #hashtag and @mention. Twitter Giveaways have very easy entry requirements, therefore they tend to be popular. Quite often they reach bigger audiences than expected, meaning that they achieve the objective of increasing brand exposure.
Here's an example from a radio channel, which shared a prize for video game fans. To take part, users had to retweet the post and tag a friend. Video games can be a great incentive for Singles Day promotions.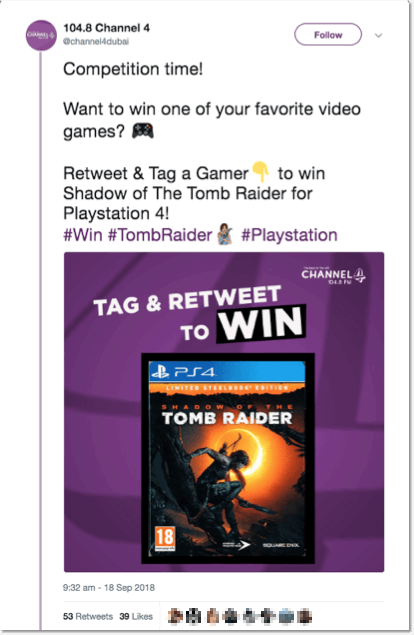 Next up, this cosmetics brand shared a valuable skincare kit for "bright young things". It's a great example of best practices for a Twitter giveaway. They livened up their post with emoji, included terms and conditions from Easypromos, and shared an image of the prize with clear instructions. If you're looking to target the single females out there, take a look at this skincare promotion.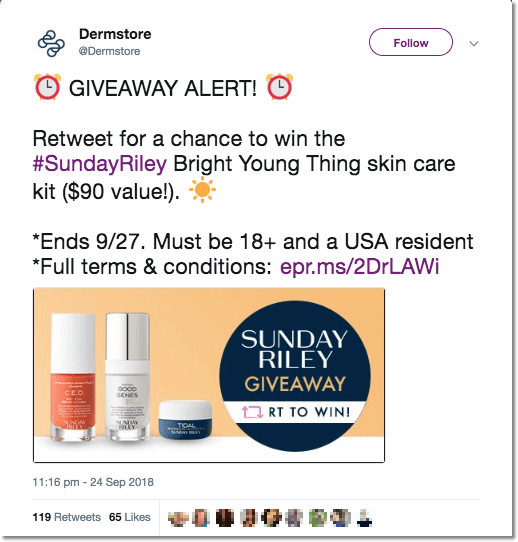 Entertain your audience with a Singles' Day branded mini-game
Branded mini-games continue to gain recognition and social media followers respond positively to gamified marketing campaigns. Use gamification to entertain your audience and increase brand engagement while also maximizing lead generation.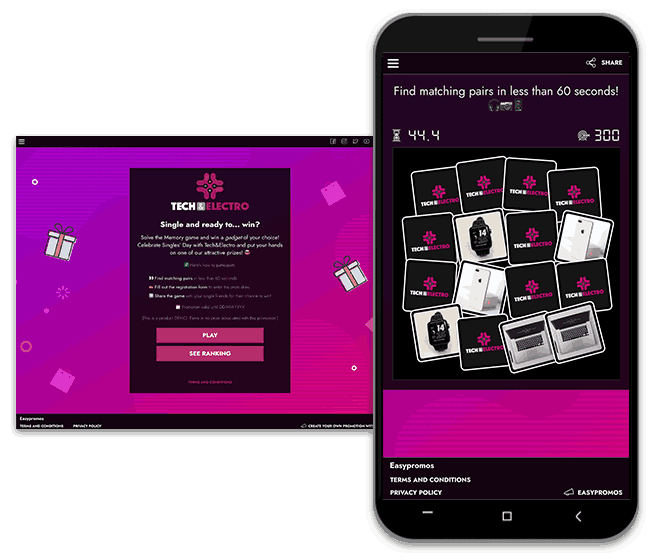 Here's an example of a branded Singles' Day Memory game that can be launched by any brand! In this case, the organizing tech brand looked to promote their bestselling products. They shared pictures of their top sellers and challenged their audience to match all pairs as quickly as possible, for a chance to win a gadget of their choice!
Try our Singles' Day Memory game and use our customizable template to launch your own promotion.
Singles' Day giveaways to capture new leads
One of the greatest challenges of social media marketing is taking users beyond the network. You need a way to contact them and drive sales, outside of Facebook, Instagram, Twitter, or YouTube.
So to keep things simple, we recommend an Entry Form Giveaway. Offer a desirable prize for Singles Day, and then ask users to share their email contact details for a chance to win. Singles' Day is a great moment to collect sales leads for your upcoming campaigns. Here's an example, perfectly designed to appeal to busy singles on the go!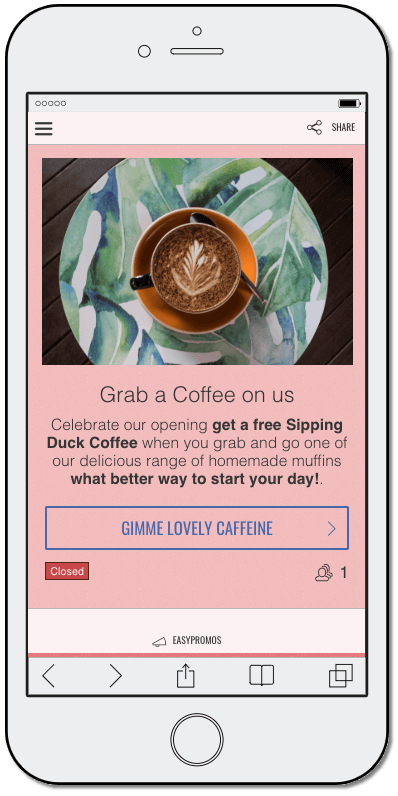 Entry Form Giveaways are a great solution for brands working on the Singles' Day campaigns. You get to incentivize your online community, and you also gain new leads. To make the contact details even of higher-quality, add a lead qualifying question that will segment the audiences into different groups. Ask for their likes, preferences, and interests, so in the future, you can email them discount codes and offers that they will enjoy and be likely to redeem.
Coupons and limited-time promotions for your Singles' Day campaign
We know that consumers today are very deal-conscious. They're looking for added value, rewards, and special offers from their chosen brands.
You can use a coupon promotion to share deals, tickets, and even experiences. For example, this cinema offered cheap tickets to anyone who signed up for their email newsletter. Then they added some tension to the promotion by setting a time limit and only sharing a limited number of coupons.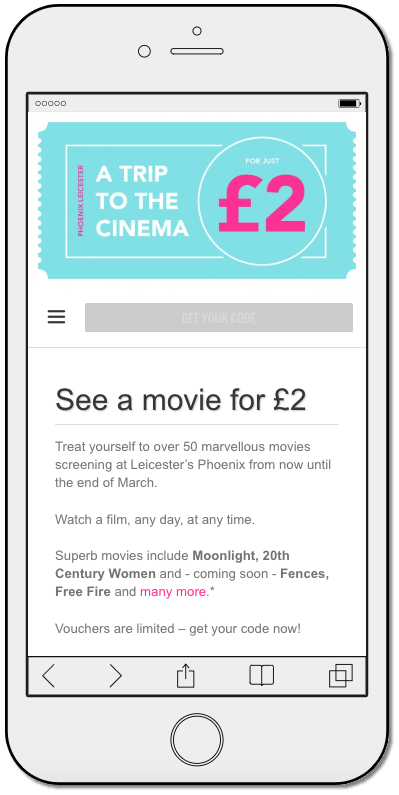 You could run a coupon offer for Singles' Day sales, with special deals on specific products. You can also email a $10 or $20 discount voucher, or offer a free gift with all purchases made on a specific date. Think creatively about how you can reward and incentivize customers, and drive traffic to your store.
Photo Contest to collect user-generated content this Singles' Day
Social media giveaways and simple registration forms make it easy for anyone to take part. But you might want to offer your followers more of a challenge or tap into their creativity.
For example, take a look at this Photo Contest from a brand that sells photography gear. They asked users to share their best photos. Then they posted the results in a public gallery so that everyone could view their favorites and vote.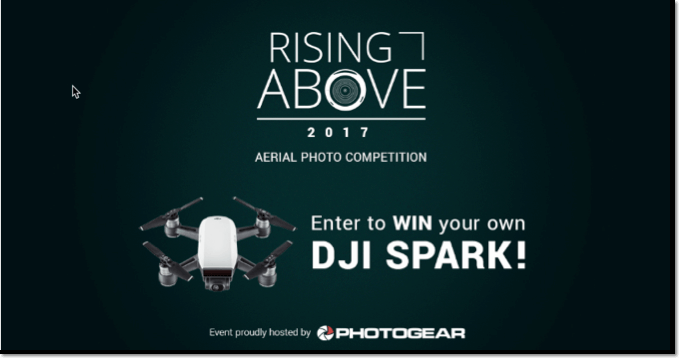 In return, contestants could win a sophisticated camera drone. This is a great choice for Singles' Day when many consumers shop for electronics, devices, and new tech. Photo Contests are a fantastic way to collect user-generated content, which is a great technique to build trust. Once the Singles' Day competition is over you can share the UGC pieces on your social media to increase engagement and loyalty of your online community.
Here's another example of a Photo Contest – this time, with a sports theme. Stihl offered a VIP experience for one lucky winner and their friends. To enter, users just had to share a photo of themselves wearing Stihl World Championships merch.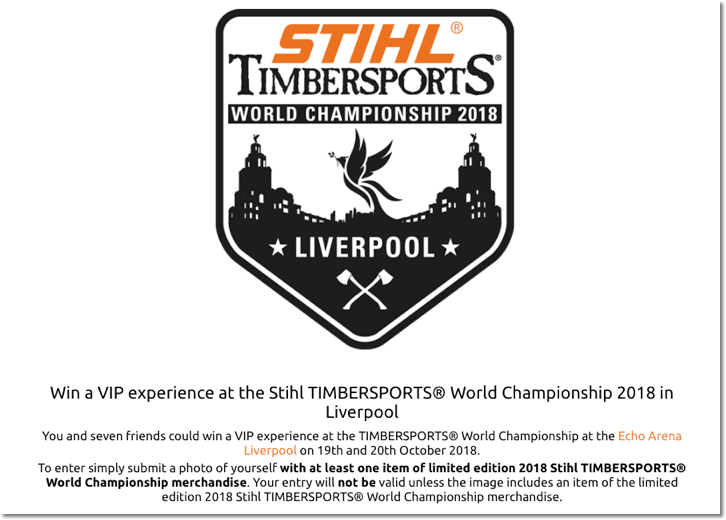 Remember, Singles' Day might not be the best time to share experiences and rewards for two. But offering a prize which people can share with their group of friends is a fun idea, and very popular with consumers.
Surveys and quizzes to qualify leads of your Singles' Day campaign
Another fun dynamic is a Knowledge Quiz, Personality Quiz or Survey. Users don't have to create their own content, but you still obtain more information and interaction than in a basic giveaway.
In the example below, a vape tech company shared a survey with their followers. They learnt more about customer opinions and experiences – and offered an in-store discount as the incentive.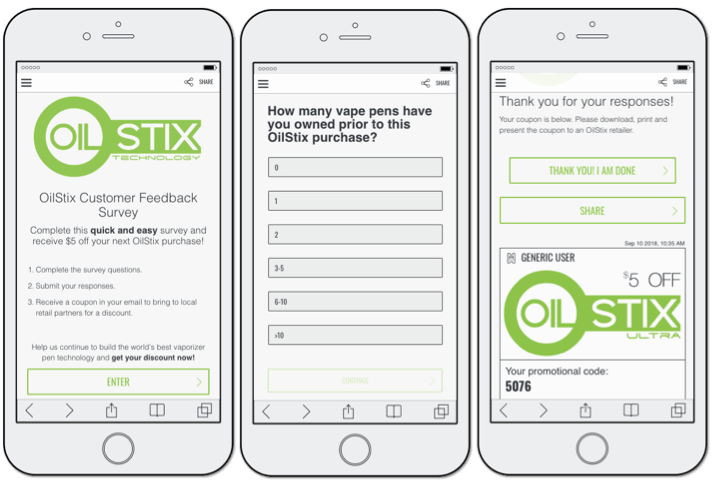 Surveys and quizzes are great techniques to segment your target audience. You don't only get contact details to target in the future, but also you get more insight into the likes and preferences of your new leads. Singles' Day is a great excuse to organize this sort of promotion. Once the participants complete the entry form, you can email them a discount code to redeem instore or online. Encourage more sales with limited-time coupons!
Refer a Friend promotions for Singles' Day campaigns to target a bigger audience
As we saw with the sports photo contest above, it's great to run promotions that speak to single people's social side. One option is a recruiter or Refer a Friend contest. Use the power of word of mouth marketing to spread the good news about your brand.
Refer a Friend Giveaways are great to promote your brand, products, and events. Once your audience shares the recruitment link, they automatically become your brand ambassadors, doing all the hard job for you!
Create your marketing strategy for Singles' Day
All these promotions were great examples of how to reward your fans, and show a human side to your brand this Singles' Day. And by now, it should be clear that you can't afford to miss out on this event. Get started today with a free Easypromos account. How will you celebrate the day with your followers?