As the weather starts to warm up and summer approaches both brands and customers start to get ready for the summer campaign. For customers, it is the time to start planning their summer holidays and to decide not only on their destination but also all the service providers and necessary products to make their yearly summer escapade a memorable one. As for businesses, it is the time of the year to come up with attractive and alluring campaigns to convince potential customers that their brand is the way to go.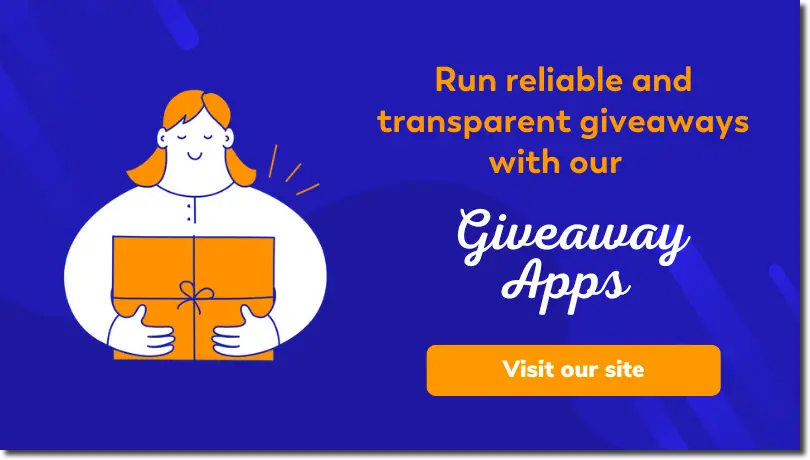 In this day and age, it is no secret that almost all customer research, planning, and holiday-related purchasing takes place online. Hence, it's only logical that your summer marketing campaign takes place online too. Hence, online vacation giveaway promotions might well be the best and most effective option.
Why running Vacation giveaway promotions is a good idea
Vacation giveaways are an excellent way to grab the attention of potential customers. People love the idea of taking a vacation. Therefore, the chance to win a free trip or a prize related to their holiday can be incredibly enticing. Not to mention that they can also help businesses build brand awareness and customer loyalty, as they prove that brands care about their customers and want to provide them with an enjoyable experience. This can help to build trust and loyalty among existing customers. Additionally, it can attract new customers who may be looking for a brand that prioritizes customer satisfaction.
Another benefit of running vacation giveaway promotions is that they can provide valuable insights into customer behavior and preferences. By collecting data on who is entering the giveaway and which aspects of the prize are most popular, brands can gain a better understanding of their target audience and tailor their marketing efforts accordingly. For example, if they notice that a large percentage of entrants are interested in beach vacations, they could create content and promotions that specifically target this audience. This type of targeted marketing can be highly effective and can help businesses to maximize their return on investment.
Now that we have established why Vacation Giveaway promotions are a good idea, let's move on to the next, and crucial, issue to bear in mind. And that is, running a successful digital vacation giveaway requires careful planning and execution. So let's dive into how to do just that!
Choose a prize that is relevant to your target audience
The vacation destination should be something that your ideal customer would be excited about. For example, if your target audience is young families, a trip to a family-friendly theme park or beach resort may be a good choice. In the example below, the online family community 510 Families, organized an Instagram giveaway.The prize consisted of a pack of four general admission tickets for a family to spend a day in a theme park. A prize right down their audience's alley!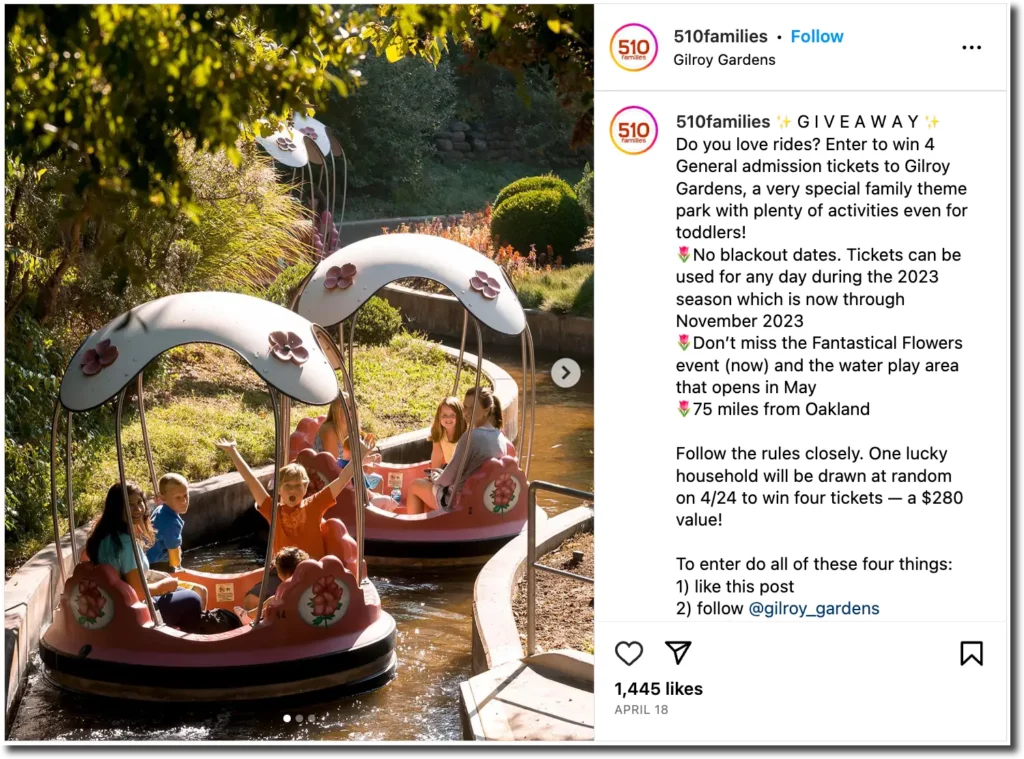 Vacation giveaway promotions should be easy to enter
The entry process should be simple. Thus, participants should be able to enter quickly and easily, without having to go through too many steps or providing too much personal information. In the following example, the Australian resort chain Dreamtime Resorts launched a series of Entry Form giveaways consisting of three-night stays at several of their beach resorts.
The organizers used Easyromos customizable entry forms to create a straightforward registration form which also provided the organizers with the user data they were interested in.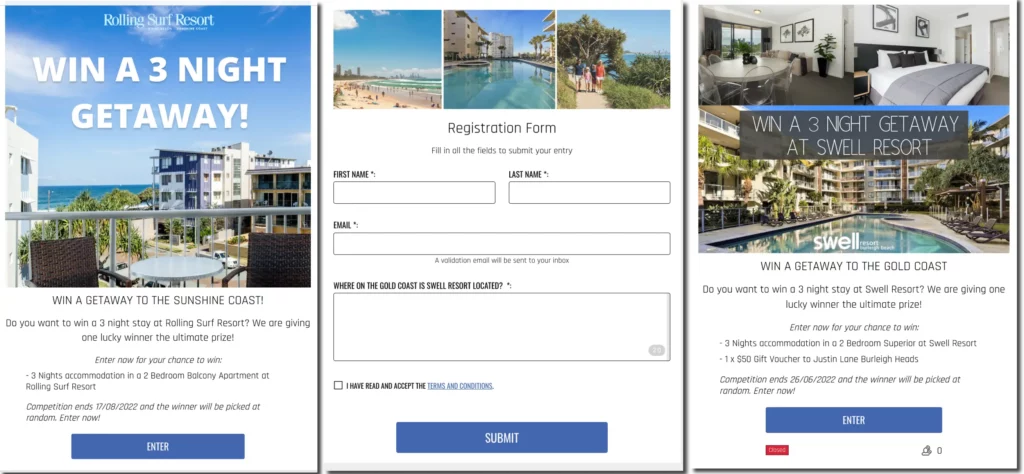 Promote your vacation giveaway promotions across all your digital channels
To achieve the widest possible reach and maximize participation, promote your giveaway across all relevant digital channels, including social media, email, and the company website. Take a look at this example of giveaways that the tourism board of the Caribbean island of Anguilla has launched to promote the island as a tourist destination.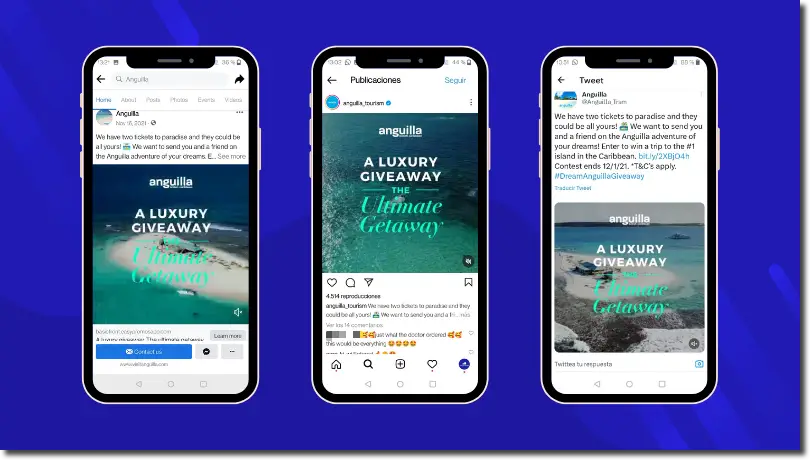 The organizers shared a link to the giveaway's microsite on all their social media channels as well on the official website of the island's Board of tourism. By clicking on the link, users were automatically redirected to the giveaway's registration form.
Set clear guidelines and rules for your vacation giveaway promotions
The guidelines for the giveaway should be clearly outlined. This includes stating who is eligible to enter, how the winner will be chosen, and when the winner will be announced. All this can be easily achieved with properly defined Terms & Conditions. As much as this might seem the least appealing part of the promotion, it is in fact one of the most important considerations to bear in mind. It will make sure your giveaway is 100% legal and will help you protect your brand's hard-earned name and reputation.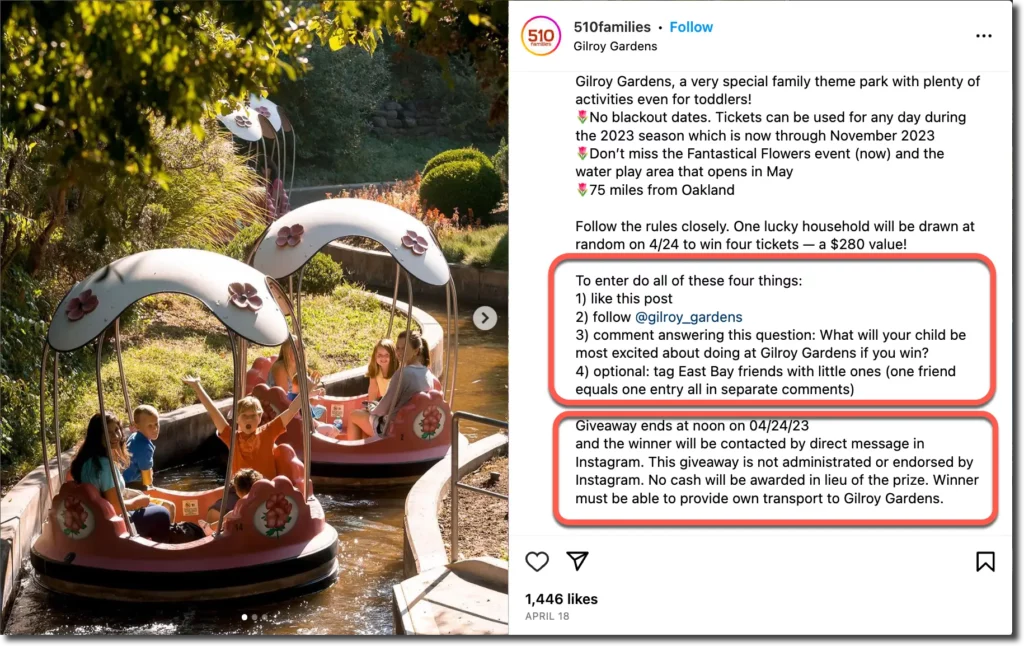 Need a little help using our Terms & Conditions tool? Here's a tutorial we've put together to make it Easy for you.
Announce the winners and follow up with participants
After the giveaway is over, make sure the winners are notified in due time and form. Your initial post announcing the giveaway should include: the date when the winners will be selected, how they will be selected, and how they would be notified. Stick to them! Your brand's reputation might depend on it. It is also always a good idea to select alternate winners in case any of the winners do not claim the prize or are disqualified. Furthermore, it might be smart to follow up with participants to thank them for their participation and provide additional information about your company and its products or services.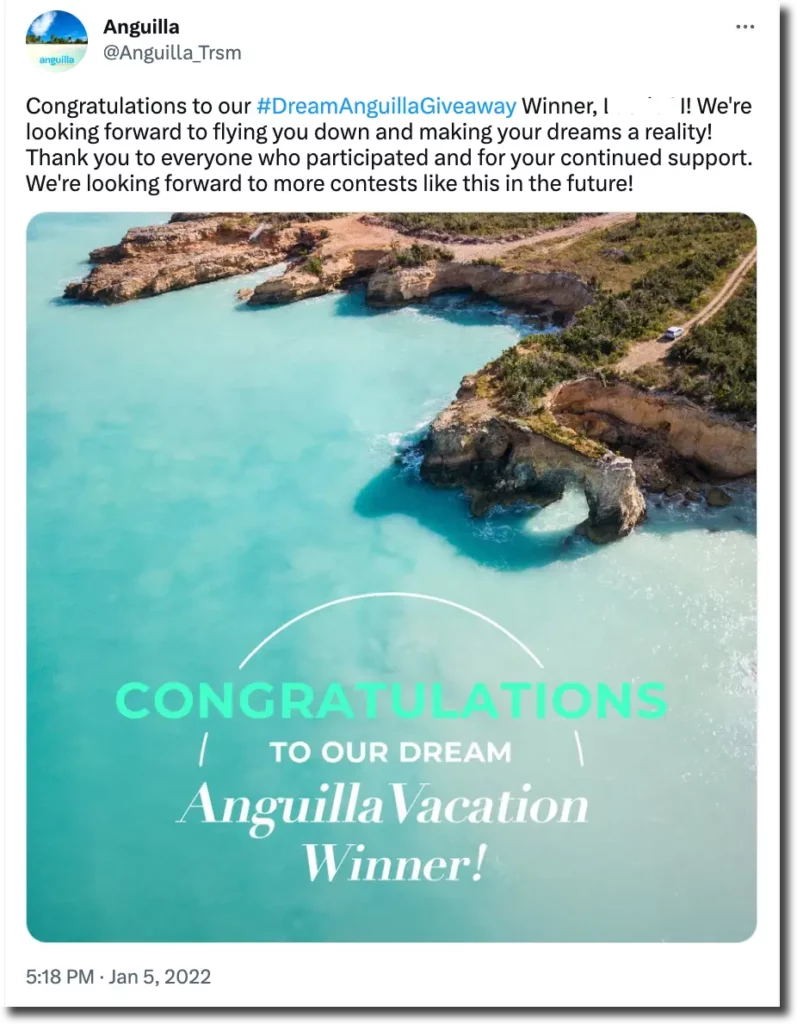 Choose the right platform to run your Vacation Giveaway promotions
No matter the giveaway, using the right platform to design, set up, and manage your giveaway will make or break your promotion, not to mention your brand's image. Also, prizes as attractive as vacation packages will surely draw in a lot of attention and participants. This issue alone calls for using a solid and reliable platform that can handle large volumes of entries and the possibility of automatically managing and importing the user data that you, as an organizer, are after.
Last but not least, the method to choose the winners has to be 100% transparent, fair, and reliable. The last thing you want is an angry or distrusting audience questioning your brand's integrity. Easypromos features a random winner-picking tool and provides you with a certificate of validity that you can share with your audience to show the legality and transparency of your giveaway. Creating an account, and drafting and testing your promotion is free and requires no billing information, you will only have to pay if you activate your promotion. Not to mention a whole lot of ready-made templates that will help you get your promotion ready in minutes, Easy!
We hop you find this information useful to start creating your vacation giveaway promotions, and if you have any questions or want more information, contact our customer support team via live chat. We will be happy to help!