Posted in: Applications,Ideas for your websiteLast update: 01/08/22
Conferences, expos, trade shows, team building, work training, masterclasses, workshops, speaking engagements… They all face the same challenge: How do you get people in the room? And how do you engage their attention once they're there?

In today's post, we're going to break the event management challenge into three phases:
reaching your prospective audience
getting attention during the event
converting customers after the event, and/or bringing them back to your next event
It's three strategies for each of the three stages. Let's go!
Before the event
First things first: you need to find an audience. And not just any audience – your audience.
So while you consider these event management tips below, remember that every event promotion should be targeted to your ideal customer. Use social media channels, content, and styles that will appeal to your highest-quality leads.
#1 Give away tickets to build the hype
It might seem counter-intuitive, but this strategy applies equally to paid and non-paid events.
Why? Because a giveaway adds a note of excitement, risk, and luck to the mundane process of registering for tickets.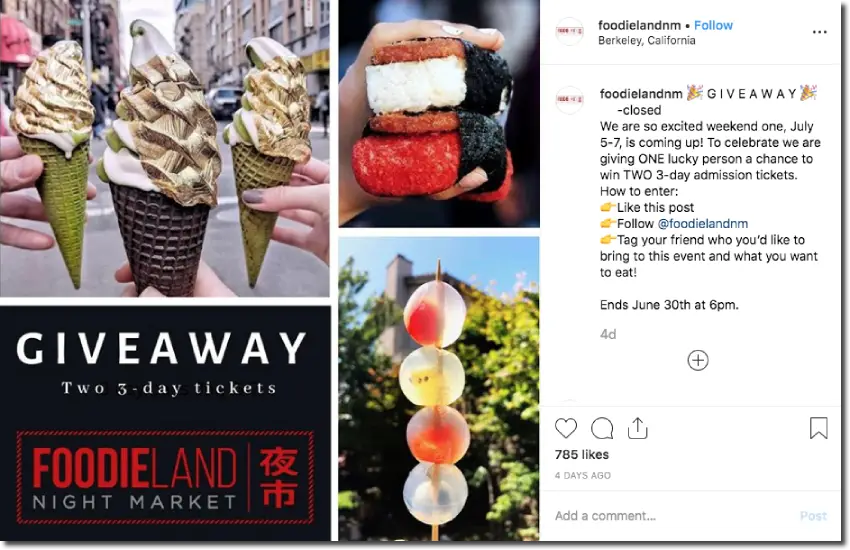 What's more, you can tailor the giveaway to your specific event management goals. If you want to add new leads to your mailing list, then go with a landing page that will capture customer details. If you want to start a fuss online, then give away tickets with a comments contest on Facebook or Instagram.
#2 Use word-of-mouth marketing to recruit more attendees
Never underestimate the power of word-of-mouth marketing. It's especially crucial for B2B marketing event management, which rely so much on networking and industry recommendations.
Think of it this way: recruiting new attendees takes up more resources than creating repeat customers. If you can persuade a repeat customer to recruit new attendees for you, then it's a double win.
But you're probably wondering, How do I build up word-of-mouth marketing? How do you make sure that people are sharing the news about your event?
The key is to offer an incentive. One popular method is rewards for recruiters. Try these ideas:
Offer a prize that your target audience will appreciate, and give them extra chances to win it for every friend they refer.
Give a small discount on ticket fees to anyone who recruits 2 other attendees.
Offer a prize to the person who manages to recruit most friends.
Try this demo landing page to collect attendees' contact details and recruit their friends. Like the app? Use the demo as a template for your own event promotion!
#3 Send email updates and content teasers
Your lead nurturing campaign should start before the doors even open on your event. And you want to gradually ratchet up the quality and frequency of communications as the event approaches.
Use an email marketing client, or an email platform that's integrated with your event management app, to stay in touch with everyone on the guest list. (For example, if you used the Easypromos landing page app in step #1 to register attendees, then you can send them automatic emails from within the app.)
And what kind of content should you send? Think show guides, exclusive sneak previews of presentations, and bonus insider info. If you have a graphic designer, ask them to create social media badges, flairs for email signatures, and other graphics for your attendees to use around the event.
During the event
#1 Set up a photocall or photobooth
Photobooths are already popular at B2C events, festivals, and in-store launch parties. But they're also a crowd-pleaser for B2B events, where they provide a moment of fun and a chance to create social media content.
Set up a photocall area near the entrance to your event, or in an area where there's not too much going on. Remember, people will need space to pose, take photos – and if it's a crowded event, queue!

#2 Reward attendees for posting on social media
Even offline events need a social media footprint. You should have already built up a presence on your chosen social media channels, especially if you ran a social media giveaway to boost ticket sales before the event.
Now it's time to incentivize people to livestream, livetweet, and post all about their experience at your event.
One powerful method is a mention + hashtag contest. Use this app to collect every Twitter and Instagram post that uses your @brandname and #eventhashtag. Then you can share insider rewards and discounts with everyone who posted, or pick a few winners to receive bigger prizes.
#3 Run a live giveaway on stage
Now for the big moment: your presentation on stage.
The old, lecture-hall style of speaking for hours just doesn't work any more. It doesn't help your audience learn, and let's face it, it's pretty boring. An interactive, dynamic presentation is going to work much better than just talking to your audience while they sit still.
So how do you get people involved? That's where apps come in.
Kahoot has been popular with teachers and presenters for a while, because you can set up quizzes and puzzles for your audience to answer from their mobile phones. If you want to teach through the contest, then it's a good choice.
But if you want something quicker and more agile; or you want to ask survey questions; or you want to give away merchandise from your event sponsors… Then there's Easypromos Live. I'll let the video do the talking.
After the event
Your event is over. The audience has gone home, the extra chairs are packed away, and you've earned a rest.
But the next day, you need to come straight back into work, and start following up on your event.
That's the final element that's missing from some event management strategies. There is no point organizing an event if you don't follow up with attendees, and squeeze every last drop of information and opportunity out of it. Here's how.
#1 Re-use your user generated content
Remember the photobooth and social media posts we talked about? Did you have a photographer or camera crew recording the event? Do you have any feedback from your guests?
That's all valuable user-generated content. Repurpose it as content for your social media, email newsletters, business blog and brand website for weeks to come.
If you're planning to repeat the event – for example, an annual conference – then you can also use UGC in next year's publicity materials.
And what's more, when you share content like this, it shows your audience that you genuinely valued their contributions. It's a great way to encourage repeat customers.
#2 Run a survey to help plan your next event
Your audience are now the experts on your event. They know better than anyone else what worked, what didn't, and what they would do differently. So tap them for that information!
Follow up after the event – or even during – with a quick online survey. Make sure the design is adapted for mobile devices. If you really want to boost participation, then it's also a good idea to offer a small incentive for people who complete the questionnaire – like a ticket discount for next year, or a prize draw.
#3 Create a lead nurturing campaign for new subscribers
Finally, don't forget to keep your email campaign going.
If time and resources allow, then it's worth creating a dedicated lead nurturing campaign for subscribers from your event. Because they chose to sign up for that specific experience, you already know something about their interests – so share email content that will be especially relevant for them.
Do you have any more tips for event management and event promotion? Tell us in the comments, or join us on social media!
Publication date: 2015-03-06