Posted in: EventsLast update: 18/10/18
It seems like every year brings more promotional events, big sales dates, and international days of celebration. But Halloween is one holiday you can't afford to miss! In 2017, more than 179 million people celebrated the season in the United States alone. That adds up to approximately 9 billion dollars spent on superhero outfits, creepy decorations, and adorable pet costumes. So how can you tap into that success?

Why run a Halloween giveaway?
Most people now research and review purchases online. In fact, social media is one of the most effective tools for generating sales leads. So your online presence is vitally important. But as social media algorithms get smarter, the trick isn't just increasing your follower count – you need to create meaningful engagement and interactions, too. We know that social media followers love giveaways, especially a Halloween giveaway. Offering a prize or discount in exchange for engagement is a powerful way to activate your online community.
We know it's a busy time of year – so we've given you a head start with free Halloween templates and image resources. Create Halloween giveaways for Instagram and Facebook, or design a photo contest or quiz.
Halloween giveaway ideas for social media
Facebook comments
Facebook continues to be the social network with the biggest global reach. So perhaps it's not surprising that Facebook giveaways are so popular and effective! Start with a simple comments giveaway. First, ask your followers to comment with their ideas, opinions, or answers to a question. Then you can run a random prize draw for everyone who participates.

Here's a great example with a Halloween theme. Although the brand didn't have a direct connection with Halloween, they teamed up with the international cosmetics brand, Lush, to offer some spooky treats. And they chose a competition question which tested their followers' expertise in scary films!
Top tip: The beauty of Halloween is that almost any brand can make a connection with the theme. But if you're struggling for ideas, consider co-branding. Create a fun promotion and ask another brand to help with the prizes.
Facebook photos
If you're just starting out with social media giveaways, then comment contests are a good start. However, if your followers are an active bunch, then give them a challenge! Here's a simple strategy: instead of commenting with text, ask followers to share photos in the comments.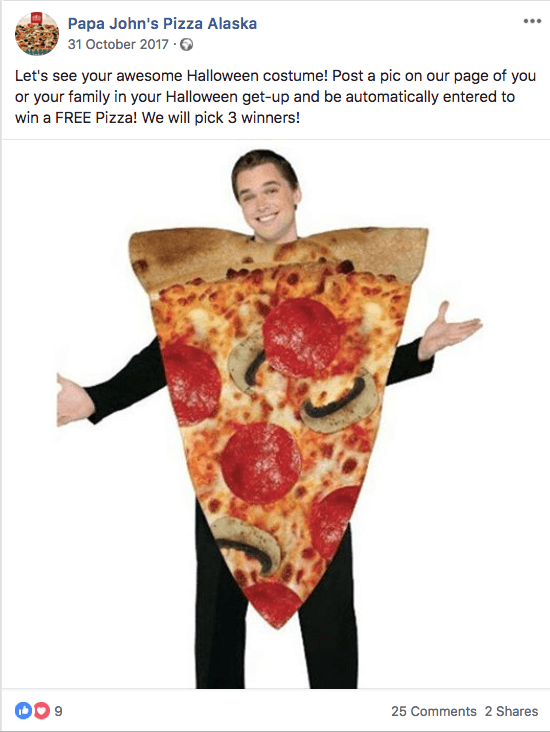 We like this fun example from a United States pizza chain. They joined in the party with a Halloween costume contest. Followers had the chance to win a free meal – and the brand kicked off the competition with a human-sized pizza outfit. It was a witty way to showcase their brand, and boost engagement at the same time.
Instagram comments
Contests and competitions are extremely popular on Instagram. With its focus on images and marketer-friendly rules, Instagram is the perfect channel for a hair-raising Halloween giveaway.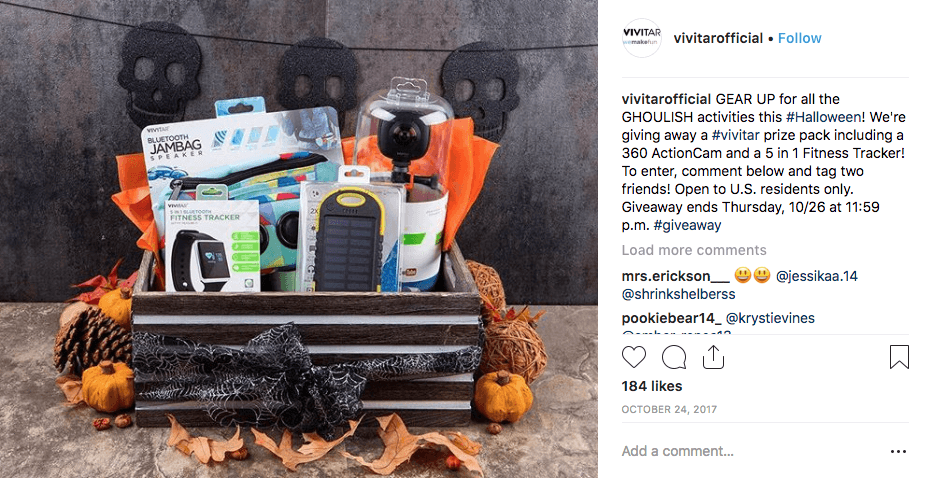 Here's a great example of using Instagram to show off a prize. Once again, the brand in question didn't have a direct connection to Halloween. But they dressed up their pack of prizes with some Halloween décor, to make an attractive post. Then, followers were asked to comment below and tag their friends. This is a good strategy to get more views for the post.
 Top tip: You can ask your Instagram followers to share their own posts and photos, too! Just use a Halloween hashtag and our Instagram giveaway app to collect all the entries. If you want to combine entries from Twitter and Instagram, check out our hashtag contest app.
Twitter retweets
Twitter is the social network which offers most flexibility for your Halloween giveaway. You can ask followers to retweet, reply, follow, or mention your brand. Let's take a look at a few examples.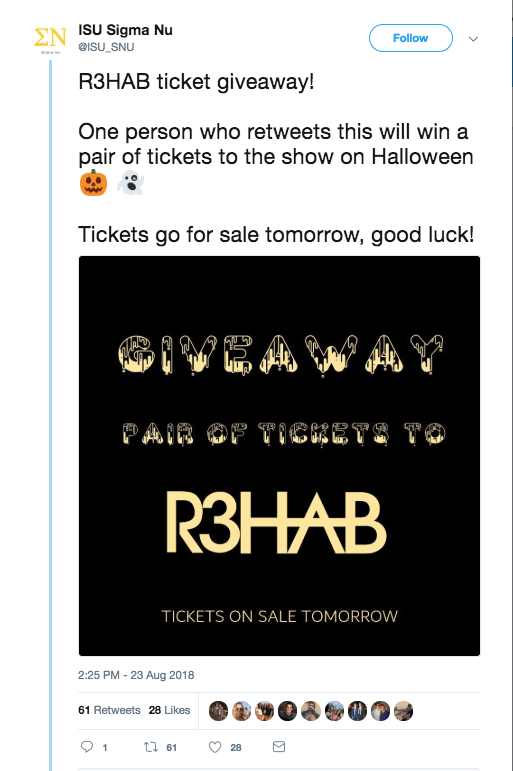 In this first case, a college society ran a simple retweets giveaway. If followers shared the Tweet on their timeline, they could win two free tickets to a Halloween show. This was also a clever strategy to spread the word about the event, and encourage more people to buy tickets.

Twitter mention + hashtag
Just like with Facebook contests, you should only ask your followers for a level of engagement that they're comfortable with. Start out with something simple, like retweets or follows. Then you can move on to replies, mentions and hashtags. Here's an example of a more advanced contest style.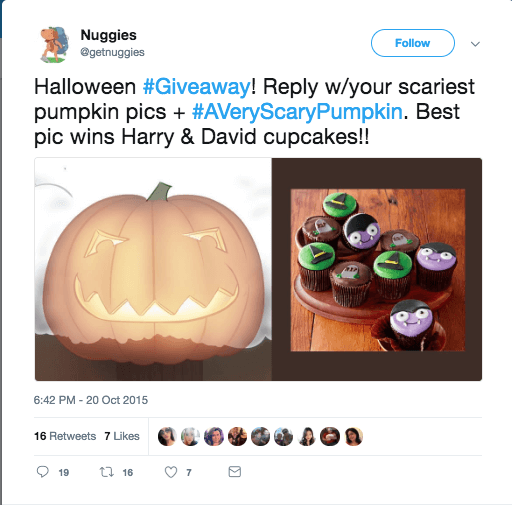 In this case, the brand wanted to offer some cute Halloween cupcakes. In order to win, their followers had to respond to the giveaway with Halloween-themed photos. They shared photos using the brand's hashtag, to make sure that all the competition entries could be collected together. And the replies included a @mention of the brand, giving them free publicity and increased visibility online.
YouTube comments
When it comes to social media strategy, many brands neglect YouTube. But this is a mistake! Between social Stories, vlogs, and influencers, video is set to become the most popular form of online content. Start building your profile now, and make sure it's on-brand. YouTube giveaways are an effective way to attract more followers and comments.

In this example, we're looking at a planning and design channel. Followers tune in for tips, hacks, and inspiration for their bullet journals and organizers. So, for this Halloween giveaway, followers could win adorable Halloween-themed stickers and stationery! All they had to do was comment about their own Halloween traditions.
For even more inspiration, ideas, and free resources, head over to our Halloween microsite.
Don't forget…
For the examples in this post, we picked out Easypromos giveaways which showed off best practices. Here's some advice to put your Halloween giveaway in the top tier:
Explain the contest clearly. Tell your followers exactly what they have to do! Every promotion must include terms and conditions, too. Use the Easypromos tool to share legal content, either in your giveaway post or in a follow-up post.
With that said, make sure you follow social media rules. Facebook, Twitter, and Instagram are all cracking down on bad actors. If you ignore their platform rules, you risk having your account suspended. When you use the Easypromos apps, you can be confident that your giveaway is within the platform guidelines.
Make the most of the Halloween theme. Add photos, videos, and even emoji to make your giveaway post stand out.
Motivate participants with a prize. Choose something that suits your brand and the season. Remember, it should be in proportion to the contest! For example, if you want followers to share original photos or videos, make sure the prize is worth their while.
Create your account now to get started. We're excited to see your Halloween giveaway!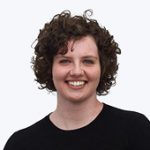 Corinna Keefe
English copywriter at Easypromos marketing team