Posted in: Digital marketing,Ideas for your websiteLast update: 01/08/22
Social media channels give you a great opportunity to stay connected with you online community and increase brand awareness. But how can you use social media promotions to attract paying customers? Read on to find out!

So you have a great social media following – but does that translate into sales? Apps like Instagram, Pinterest, and Facebook are a great way to stay in touch with customers, but they won't necessarily boost your sales. In this article, we look at some lead generation strategies and how to attract and convert customers with social media promotions.
Social media promotions combine the best of digital marketing. They mix the reach and entertainment value of social media, with the data collection and conversion rates of other marketing channels.
Read on to find out why this formula works so well – plus some real examples of promotions from successful brands.
Why social media is – and isn't – good for attracting customers
We all know the good stuff about social media. Social networks reach about 45% of the entire global population – and in some countries, it's closer to 70 or 80 percent.

Once someone joins social media, they can use it to find new brands, get product reviews, share their own opinions, and even ask for customer service. In fact, 67% of consumers now use social networks to contact brands when they need help.

So what's not to love?

Social media is great for starting and maintaining conversations. But it has one key flaw: you don't own your audience. However many followers you have, if a social network decides to close down, you'll lose that audience. (Remember when we lost Vine?)

And even assuming that Facebook sticks around, it's still relatively difficult to convert viewers into customers. Most social networks now offer direct shopping tools, but these features are still in their infancy.
How to make social media work for you
The solution is simple. Don't make social media the be-all and end-all of your digital marketing strategy. Instead, social media should be just one part of your strategy.

Use social content to attract people and get them started on the buyer's journey. Then, once you've built up an audience of followers, you can work on converting them into customers.

And here's the best bit… You can execute both parts of that strategy with social media promotions. Here's how.
Step 1: Attract customers with social media promotions
Social media promotions are a great way to activate your followers, increase your reach, and get your posts seen by more people.

Most promotions follow a very simple formula: you offer a reward in exchange for engagement. For example…

a prize for people who comment on a post
an exclusive discount code for people who follow you
a secret sales event for people in your Facebook group
Then you can add more to that formula to support your business goals.

For example, you could use a prize giveaway to launch a new product; or clear out old stock; or share products from a brand you've partnered with. Each one of those prizes supports a different marketing goal.

Social media promotions are also a good opportunity to demonstrate your brand identity and values. Think of it this way: you're offering added value to your followers, plus reminding them of who you are. If you pitch it right, then the promotion will appeal to your ideal customers.

Take this Mention + Hashtag Contest from the Hawaii Agricultural Foundation. The Food-a-Go-Go campaign was launched to support local take away restaurants. The organizers asked followers to share shots of food from their favorite participating restaurants, for the chance to win $100 gift cards.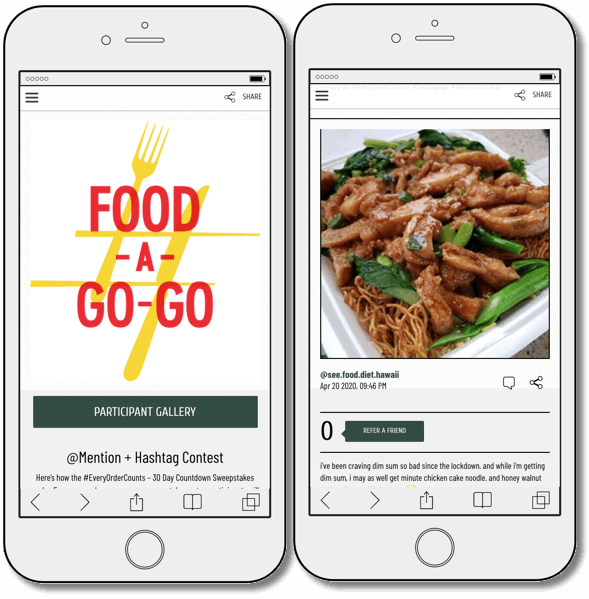 Result: a social media promotion that appealed to the Hawaii Agricultural Foundation's target audience and was relevant to their daily life. And every photo entry posted on Instagram meant more mentions, tags, and views for the brand.

If you're trying to grow your community online, then you might want to enlist the help of another big name. If you don't have a sizeable following, then you could team up with another brand, or even an influencer.

Here's an example from a Greek fashion brand. They invited Mary Synatsaki, a top influencer in Greece, to join them in an Instagram giveaway. When people followed the brand's account, they had the chance to win Mary Synatsaki's outfit.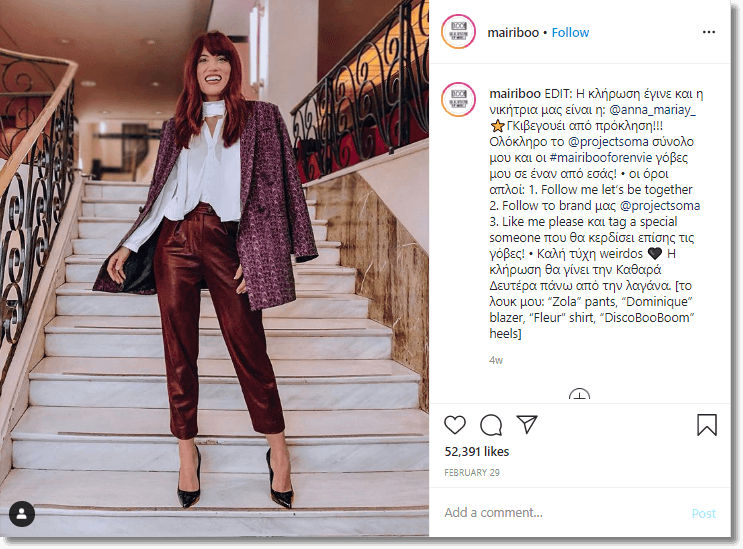 Remember that influencers trade on their authenticity. So if you decide to work with an influencer or sponsor, make sure that they are a good fit for your brand image. Choose a partner because they have a similar target audience – not just because they have hundreds of thousands of followers.
Step 2: Convert customers with social media promotions
So far, we've covered a few ideas for social media promotions which will grow your audience. But we haven't solved the basic problem yet: converting followers into customers.

The ideal solution is to get contact details from your followers. Then you can set up other channels of communication – like email marketing, SMS updates, or even paper mailings.

Brands are getting creative with social media campaigns that get their followers offline. As is often the case on social media, health and beauty brands are leading the way.

For example, The Body Shop has started offering beauty masterclasses for their Facebook followers. To sign up, followers have to fill out a form with their full contact details. Because the promotion is only shared on Facebook, it still has that sense of being an exclusive, insider-only offer.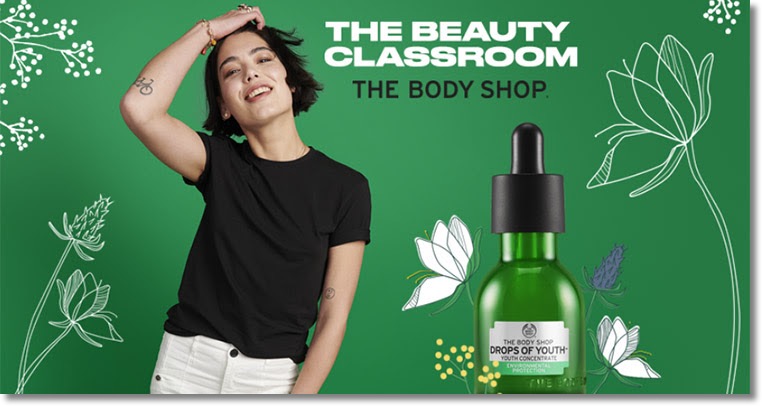 You can run a similar campaign by offering exclusive events, offers, or even information. As I write this in March 2020, it's not the best time for live events – but you can still offer exclusive live streams, chats, and webinars.

Another way to collect contact details on social media is through photo contests. Here's how it works: just like in the Food-a-Go-Go promotion above, you ask people to share a photo on Instagram or Twitter. They have to upload an image with your brand mention and hashtag.

Then, to confirm their entry, they have to fill out a form with their contact details. You can also ask for image rights at this point, in case you want to use those photo entries as marketing materials.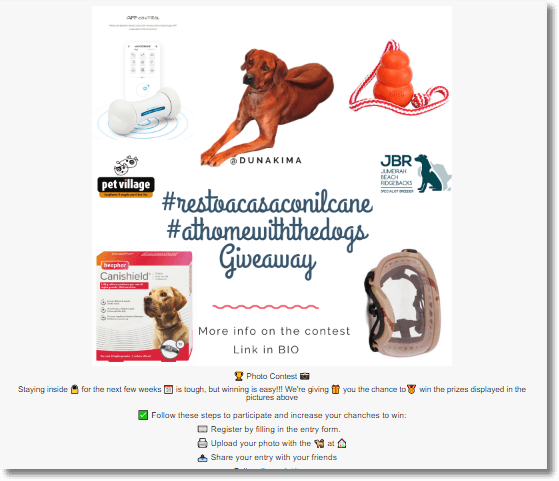 So to recap: with a single social media promotion, you can increase your reach, harvest user-generated content, get contact details, and offer a reward that pushes people towards a sale.

Problem solved.
Do you have any questions? Online Chat to contact us!
Publication date: 2020-04-22