Posted in: Ideas for your websiteLast update: 04/08/22
Easypromos offers a highly versatile set of tools that allow commercial establishments to carry out promotional actions. In this article, we present three ideas to serve as inspiration for your own PPV (point-of-sale promotion) campaigns.

Promotions on the supermarket shelf
We know that how well a product sells often depends on where it is placed on the shelf. Generally speaking, products placed at eye level have more than a 50% chance of being sold. One advantage of a point-of-sale promotion is that it can help products that are less favorably placed to gain visibility.
One highly effective method of grabbing a buyer's attention is by using posters on the shelf itself. The poster could contain a QR code and a message: "scan this QR code and win fantastic prizes." Upon scanning the QR with their smartphone, the customer would be taken to an online promotion created with Easypromos and invited to leave their contact information in the registration form.
At this point, possibilities multiply because any of the dynamics from the Easypromos product catalog can be used. However, you should bear in mind the context: the person has stumbled on the promotion while shopping so they might not have much time. For this reason, we suggest quick, simple actions such as:
Upload a selfie with the product (choose a product you wish to promote).
Respond to a question or simple survey (with questions about the shelf for example)
These are simple, straightforward dynamics that can be carried out in seconds.
Here's a simple but yet effective promotion from a supermarket located in an Australian shopping center. The brand was raffling 40 hams right in time for Christmas for all participants that spent at least $10 or $40 at participating retailers.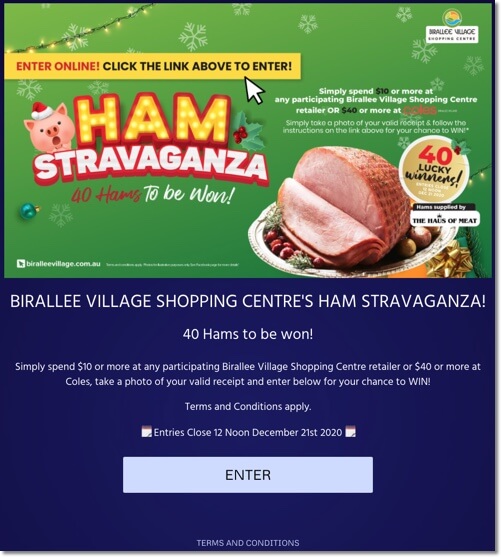 In such promotions, after participating and leaving their contact details, users enter a giveaway or receive direct prizes; you can go for brand merchandising or discount coupons. If you wish to make the action a little more sophisticated, direct prizes can also be given in QR code format. Users can then validate the QR codes at the supermarket checkout so the brand can know exactly how many codes have been redeemed at each point of sale.
Point-of-sale promotions in shopping centers
Imagine a shopping center with a range of stores: fashion, perfumery, sports, books, and so on.
In order to encourage physical visits to the shopping center, you can organize a joint promotion among all the stores, rewarding customers for making a purchase.
How could this type of promotion be set up with Easypromos?
The key is to combine unique code dynamics with a prize allocation mechanism.
The process would be as follows:
The customer buys something at one of the stores in the shopping center. Upon making the purchase, the customer receives a unique participation code; this could be printed on a card along with the logo, colors, and contact details of the store.
The customer takes this code to a special stand where staff use tablets to access the promotion.
Then the customer enters their contact details via the tablet to enter the promotion and can then participate in the giveaway.
We recommend using the "Spin the Wheel" dynamic as it combines excitement and immediacy. Customers instantly find out which prize they've won.
The prize wheel could be displayed on a large screen to draw the attention of other shoppers and encourage more people to take part in the promotion.
You can adapt this scenario to many different types of promotions for your own point of sale. For example, instead of distributing unique codes to customers, you could simply ask them to show or upload the purchase receipt. This would be a simpler process, although the origin of the entries could not then be traced. Alternatively, instead of a prize wheel, you could use a quick game like a Quiz or a Word Search. The type of gift won would depend on the score obtained. Another variation would be to give away entries according to the cost of the purchase. For example, if you give one entry code for each €10 spent, and a customer spends €50, the customer would get five entries.
In the following example, customers upload their purchase receipt to the application inside a specific store in the shopping center and automatically find out if they have won a prize.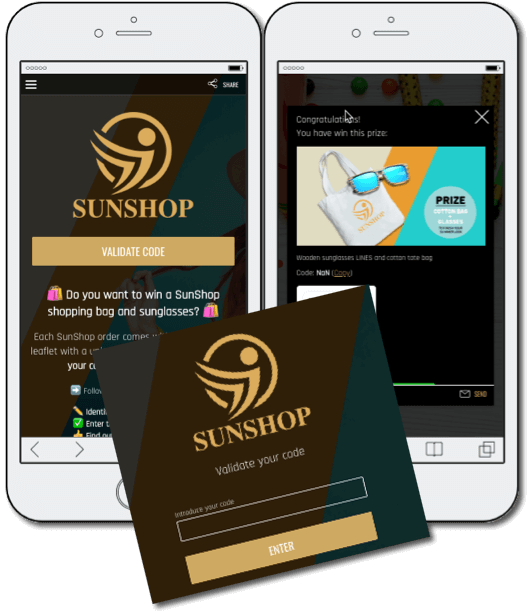 Promotion with on-site check-in
This type of promotion is designed to reward users for physically entering an establishment. It is especially good for places that people regularly go back to, such as cafés.
The basic idea is to give prizes, discounts or rewards according to how often a customer visits your business.
The key to this promotion is to ensure that there is no way to participate if you are not inside the establishment. Here's how to do it:
Create a "Distribute Coupon Codes" type promotion.
Activate the promotion login. In this way the user will only have to fill in the contact form on the first day; on the remaining days the user's login (email address, Google or Facebook username) will be all they need to enter.
Configure the number of entries so that only one entry can be made per day.
After logging in, the user will be taken to a check-in page. In other words, the user will just need to click a button and they will be registered by the system.
Create "On Participating" prizes, but make them conditional on the number of times the user has participated. If the user has taken part five times, for example, they receive a coupon for a free coffee, and if the user has participated ten times, they get a coffee-and-croissant coupon, and so on.
Protect the promotion with a password.
The promotion should only be accessible from a tablet based inside the establishment. Ideally, you can place the device on a stand or table next to the checkout or in the center of the store.
Make sure you protect the promotion with a password so that even if someone were to type the promotion URL into their phone or home computer, they would not be able to participate without the valid password. For greater security, the owner of the premises could change the password each day. This will ensure that users must actually go to the store to enter the promotion.
You can make this promotion even more sophisticated if you wish. For example, you could create a Multi-Stage promotion in which stages gets "unlocked" as the user accumulates participations. You could set up the promotion so that after 30 participations the client can upgrade to a new level. They could be upgraded from the "silver client" stage to the "gold client" stage, for example, with more attractive prizes and conditions of entry at each new level. This is another simple and effective way of converting one-time customers into repeat customers and looking after those who are already loyal.
We hope that these three ideas serve as inspiration for your promotions. We are sure that the flexibility that Easypromos provides, combined with your talent and imagination, will produce amazing results. Don't hesitate to get in touch to share your experiences and success stories with us. We'd love to give them – and you – all the visibility we can.
Publication date: 2021-03-11