Posted in: Digital marketingLast update: 05/08/22
Does your company or brand have a mobile app and one of your tasks is to increase app downloads? The number of apps in the app stores grows by the day and, of course, getting users to download and use the app is one of the main goals for most of them.

App downloads can be one of the more complicated marketing objectives to achieve. You can spend a lot of ad money and see little result. You will, of course, talk about the app, its advantages, and why people should use it, but you can entice them in other ways. Engaging with the users and incentivizing them with giveaways, promotions, and games can be a very efficient way to achieve your goal. Here we will review some ways to increase app downloads with promotions and games.
Send users directly to promotion inside the app
What better way to make people download and use your application than by taking them directly there? You can add a link to any type of hosted promotion in a banner inside your mobile app so the promotion is only accessible there. You can then post a direct link to the promotion on your social media, newsletter, etc. Interested users click to access the promotion, and if they already have the app on their phone, they will go straight to the promotion inside the app. If they don't have the app installed, they will be taken to the app store so they can install the application to be able to access and participate in the promotion.
Hosted promotions are quizzes, games, etc. that are hosted on a microsite. The promotion will open up in the app's WebView. This flow creates a good user experience because the promotion will feel completely like part of the app. And it will help you increase app downloads by the users that are interested in participating in the campaign.
Depending on your target audience, some types of promotions may work better than others, so it's a question of trying different games and other types of promotions to see what your audience prefers.
Here you can see an example of a banner placed in the Bàsquet Girona mobile app. When users click on the banner, they will go straight to a quiz.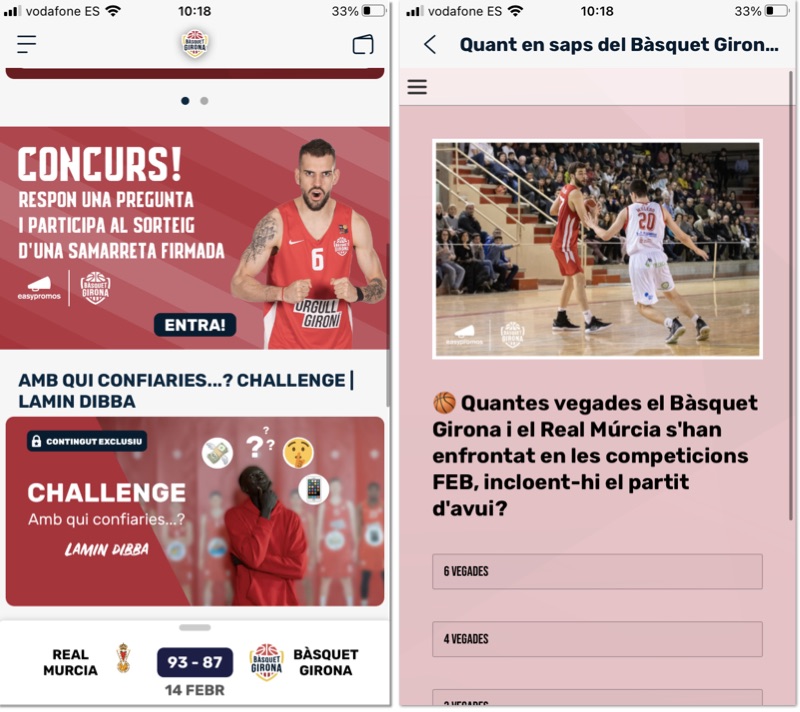 Members-only and loyalty promotions in mobile apps
You can place a link to the promotion inside or outside the member area of the app if these are differentiated. If you place it where only users who are logged in can see it, as a bonus you will also encourage membership sign-ups. If you choose to place it in the membership area of your mobile app, you can use our auto-login feature. With this, users don't have to enter their data again to participate in the promotion.
This strategy can also be used to increase active users in the app. You can use push-notifications from the app to let already registered users know there is a new promotion. Make sure to tell them that there is a prize at stake. If they find it interesting enough, they will open the app to enter the promotion.
Note: The auto-login API is only available with a Corporate plan.
Do you want to learn more about using your mobile app for customer loyalty? Head to our blog post about building brand loyalty with mobile applications.
Quiz users on features to increase app downloads
A clever way of getting users to download your app is quizzing them on features available in the app and use of the app. This way, they need to find the answer in the app or use the app to be able to answer the quiz questions.
Using a Knowledge Quiz, you can create the questions to fit your brand and your app. So be creative and ask questions about the most important features or news in the app, etc. You can, for example, ask where a specific feature is placed, or what users can do with it. This also makes it an educational quiz as users will probably discover new features and possibilities in your application. Another idea is to place riddles inside the app and ask the users to complete them in the quiz.
Post links to the quiz on your social media, in your newsletter and you can also embed it on your website.
This is an example of a quiz from a bank to help increase app downloads.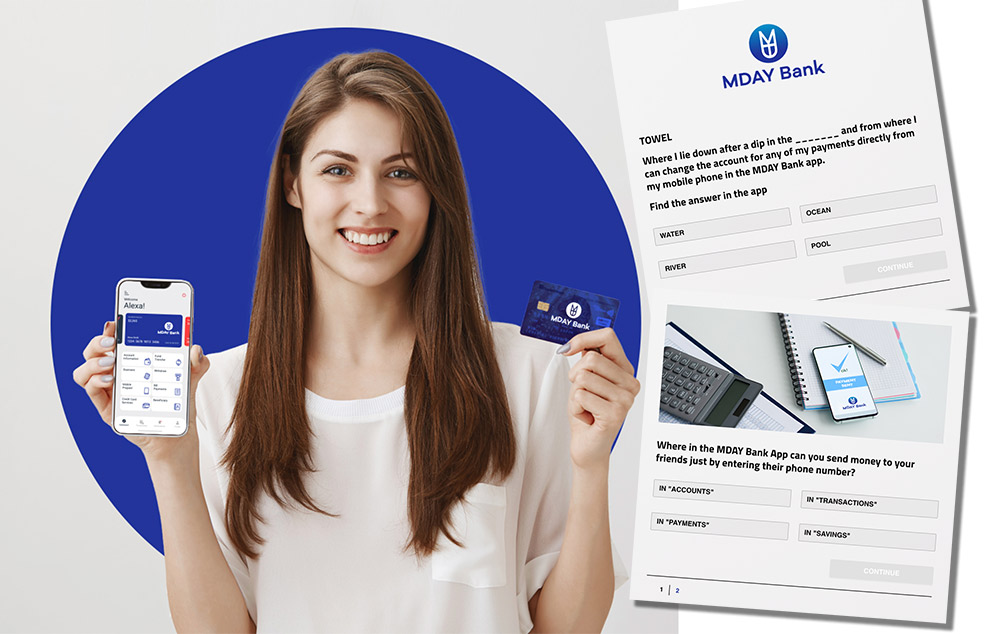 Give codes to redeem in the app
Another way of increasing app downloads is by announcing that every new user will receive a code to enter a prize draw. Give each new user that registers in the application a unique code. You can show the code in the app itself or send it by email. Together with the code, you give the instructions on how to participate. Users should go to the promotion link to validate the code for a chance to win a prize. This would be a Redeem Codes promotion. But you can also make it, for example, a Spin the Wheel promotion, or give Instant Win prizes. You can give prizes to some of the participants, or perhaps a discount code for all new users.
This can also work the other way around. If your app is a shopping app, you can give discount codes through a promotion. You can publish the promotion on your social media to attract users to your app. They will sign up in the promotion to get the discount and then go to the mobile app to redeem the code.
Random draw among all new accounts created in the app
A simpler option is to run a random draw among the segment of users you want. It can, for example, be new users who've registered in your app within the last month. If you make it a regular prize draw, new users will feel included and excited to be in the month's raffle.
Announce that you will draw a winner among all the users that create an account in your app. Otherwise, you won't know who downloaded the app. And if they create an account, you will also be able to contact them in the future via email, etc. You can indicate the dates so users know when to sign up and when they can expect the winner announcement. When the entry period is over, you need to download the list of new users. Then you can use the List Giveaway tool to run a random draw. The giveaway tool offers you different options, and it comes with a certificate of validity. You can announce the winners with the winners' page and/or the winners' video.
The mechanic and how and where to present the promotion greatly depends on the purpose of the app and your brand or company. Try one or more of them and see how users start downloading your app more. And remember you can contact us if you have any questions.
Publication date: 2021-04-26