Online games are an easy, all-in-one solution to:
Entertain your customers
Boost store visits and sales
Collect vital leads and contact information
In other words, everybody wins. You get the leads and sales you need, and your customers get the quick entertainment that they crave.
There are endless ways to use online games and branded Puzzles in your content marketing and social media. But just to get you started, I've come up with 8 ideas for branded Puzzles that might just inspire you.
8 ideas for branded puzzle games online
Before we get started, let's look at a few key characteristics of branded games. All of these ideas share some essential features.
First of all, they're quick and easy. If you want to create a more difficult Puzzle, you can give people more time – but three to five minutes is probably the maximum attention span you can hope for.
Second, every Puzzle includes a way to collect lead information. You can ask people to fill in a registration form to access the Puzzle, or request contact details after the game. Offering a prize or coupon is a great way to make sure that people sign up. It's also a good idea to include links to your social profiles, website, and e-commerce store.
And finally, every game includes a note of competition. Everyone enjoys a challenge – whether they're racing to beat the clock or want to conquer the game's public scoreboard. This is an important aspect of gamification in marketing: when you make your content fun and competitive, people will engage with it more.
Launch a branded Puzzle to promote a product
Here's one easy way to increase brand and product awareness: make your top products the focus of the puzzle.
If you want to give people an extra challenge, you can include a mix of products, like in this example from a fashion accessories brand.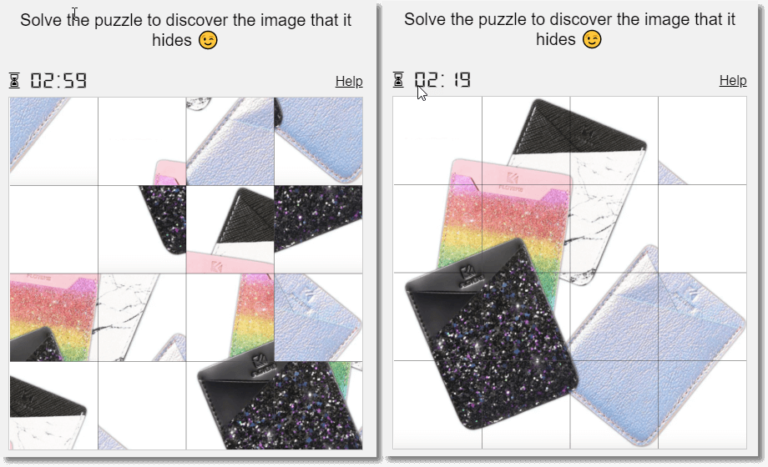 Once you've used the Puzzle to highlight a product, it's time to close the sale. You could offer one product sample in a prize draw, or catch more customers by offering a discount to everyone who completes the challenge.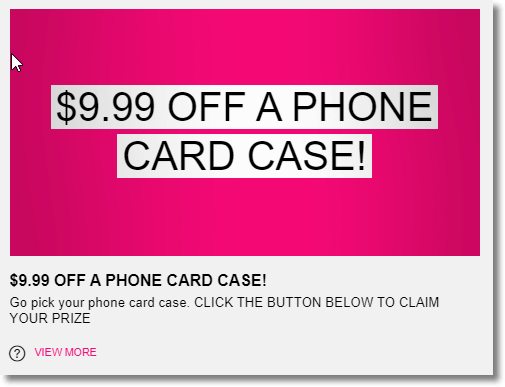 In our fashion accessory example, there were a range of prizes on offer. Successful players could choose from a discount coupon for phone cases shown in the puzzle, or a gift card for mobile phone credit. Giving consumers that element of choice increased conversions and sales.
Find a mystery object 
If you want to give your customers more of a challenge, you could hide products in the puzzle picture. They'll have to put the jigsaw pieces together and then spot the hidden object. This is a good way to increase the time that people spend on your branded game – and the longer they stick around, the more they'll remember your brand.
Here's a variation on the hidden objects idea. Why not hide a secret message, password, or discount code in the puzzle itself?
Here's an example from a beachwear brand. They created an online Puzzle with a tempting summer scene.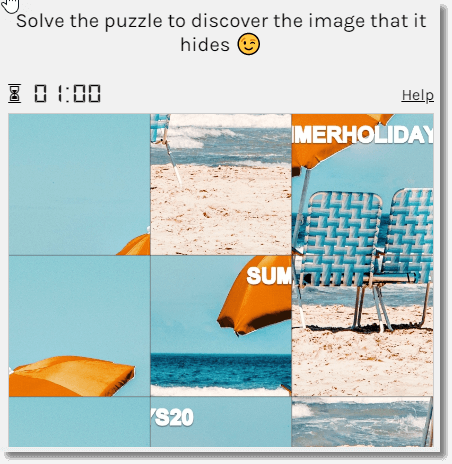 But when you put all the pieces together, a secret code is revealed: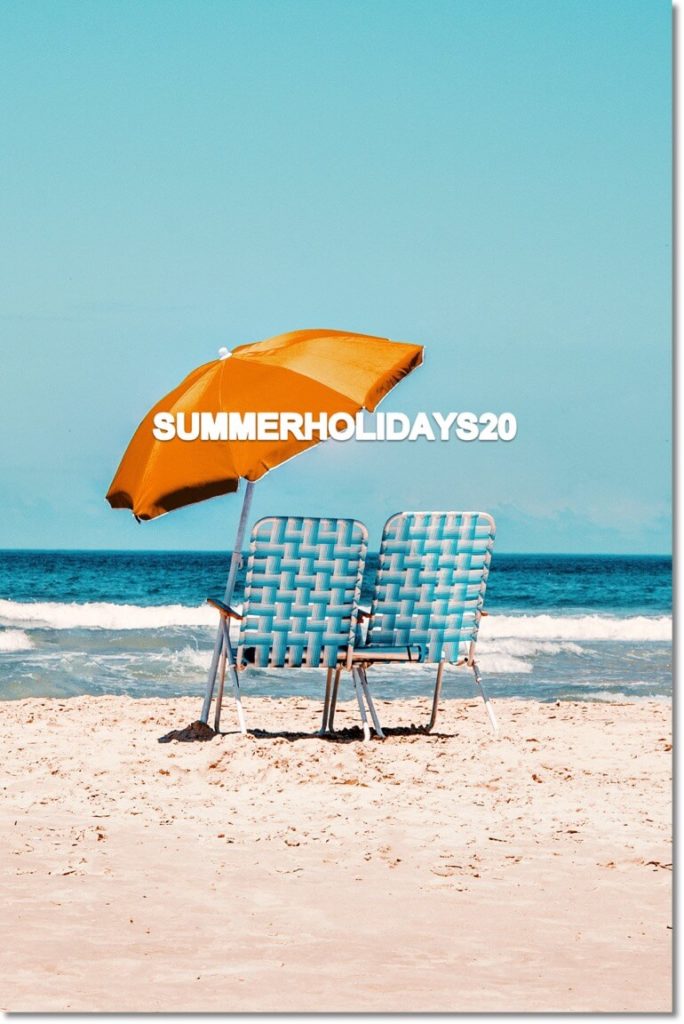 Players could then use that code in the brand's e-commerce store. The game offered an instant reward for players – and increased site visits and sales in the process.
Reveal recipe ingredients with a branded Puzzle
This next idea is fun for restaurants and food brands – but with a little creativity, you could probably adapt it to any business. If you're interested in transparency or giving customers a look behind the scenes at your brand, this is a fun place to start.
Create a Puzzle with a photo of the key ingredients for a recipe or favorite dish: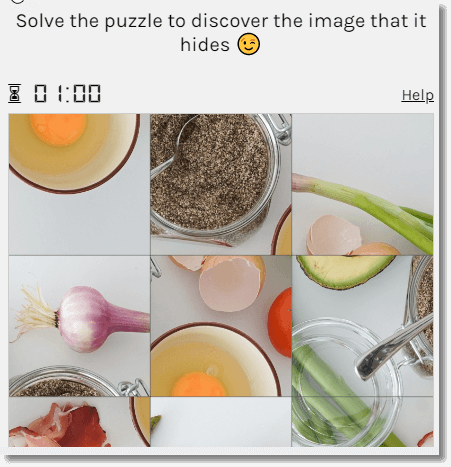 Then you can ask players to identify all the ingredients, or even guess what the recipe is for, depending on the difficulty level. Rewards for completing this game could be access to a recipe book, restaurant gift cards, or grocery shopping coupons.
Identify the picture
Here's a fun idea that will challenge your followers. Create a Puzzle where the original image is very unclear. (I've found that line drawings with simple colors work best because they offer fewer clues.)
Then ask people to correctly identify the picture in order to join the prize draw. Can you guess which animal is in this jigsaw puzzle?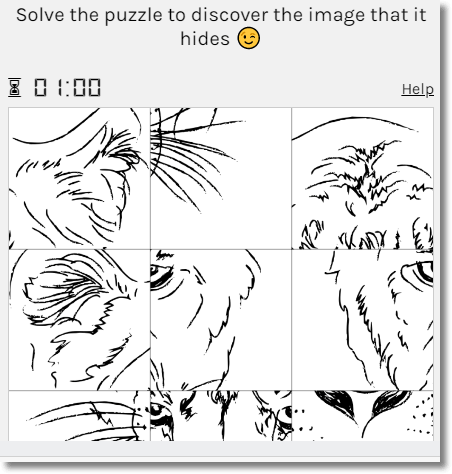 This kind of Puzzle is a good choice if you don't want to focus on your own products. Instead of going for the hard sell, try using images that are connected to your brand values, supply chain, or even location!
Use a branded Puzzle to make connections
Next up, here's another idea which will really challenge your followers to think. Try creating a Puzzle based on a maze or labyrinth image: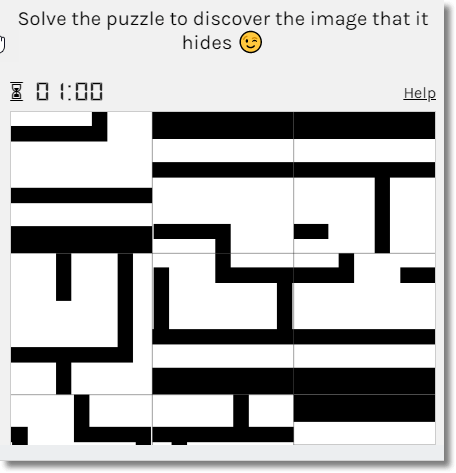 Players will have to solve the Puzzle before they can solve the maze! Simple labyrinth puzzles are popular with kids, but there are lots of other ways to use maze puzzles.
Think creatively: does your business rely on utility connections such as electrical wiring, WiFi, or water pipes? Can you create a simplified maze that reflects your supply chain? What about a flowchart that players have to put back in the correct order?
Reveal information
You can also use jigsaw puzzles to educate your audience about your products, brand story, industry or values.
For example, this skincare brand used an online puzzle as an easy way to educate people about skin health during the summer. As customers played the Puzzle, they took in essential information about wearing sunscreen and being safe – with a light touch: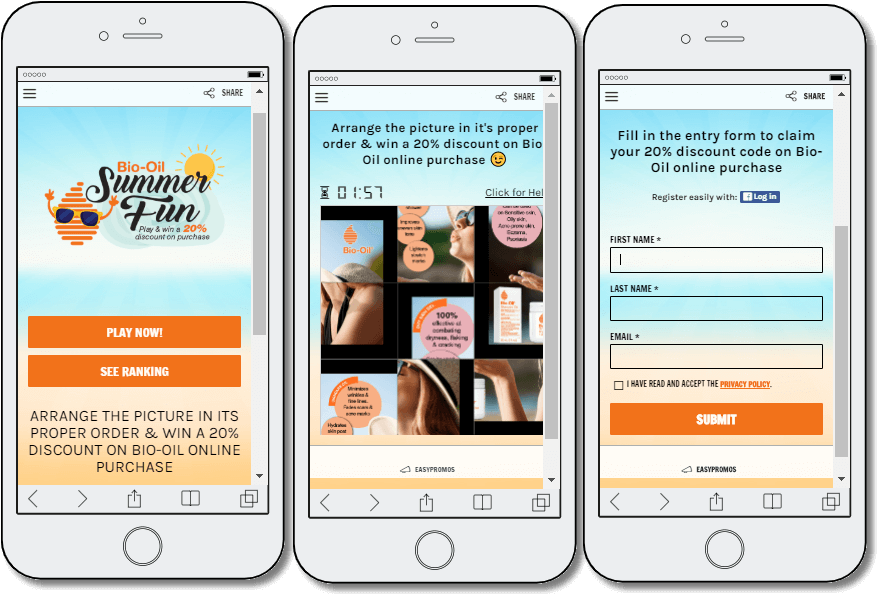 The brand then followed up with a relevant discount on skincare products for people who completed the Puzzle.
Share a seasonal message
Seasonal marketing events are the perfect time to share branded games and Puzzles. Everyone's in a festive mood, looking for fun… and keen to find discounts on their holiday shopping.
This babywear brand created an adorable Christmas Puzzle. The image showed off their products, sent a seasonal message to customers, and collected essential contact information for their holiday sales campaign.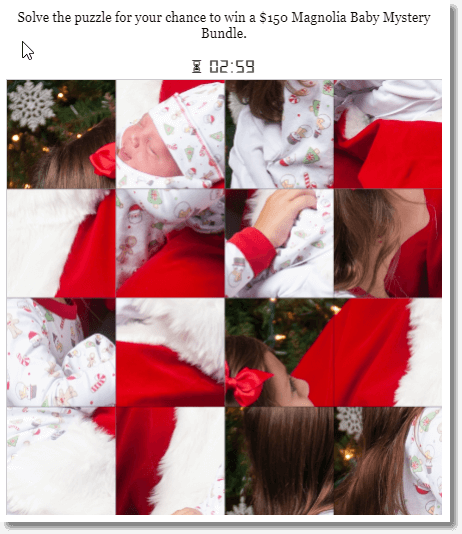 How are you feeling about creating a Puzzle for your audience? We hope the above examples have brought you some inspiration and ideas for your branded Puzzle. In case of any questions, you can contact our Support Team, ready to assist and inspire!