The Back to School campaign is a tradition almost as old as school itself. Students always need new backpacks, uniforms, stationery, supplies, and more!
Back to School purchases are now worth more than 30 billion dollars in the US alone. But the way we shop has changed and customers are more likely to look for what they need on search engines than on your brand website.
So you need to make sure your brand, products, and services achieve viral success with effective Back to School campaign ideas. Try these 7 powerful apps:
Get our full range of Back to School DEMOs and templates. Launch social media giveaways, contests, coupon campaigns, and branded mini-games, we have ready-made templates for all!
Back to School games: entertain and engage your customers
Branded mini-games have recently been the thing! Many brands turn to playable promotions as they have the power to entertain and engage online communities. Launching a gamified campaign as part of your Back to School campaign is definitely a good idea to showcase your products, boost sales, and collect new contact details. Mini-games also reinforce brand awareness and recall as they're fully customizable, so therefore they can be personalized with your corporate image.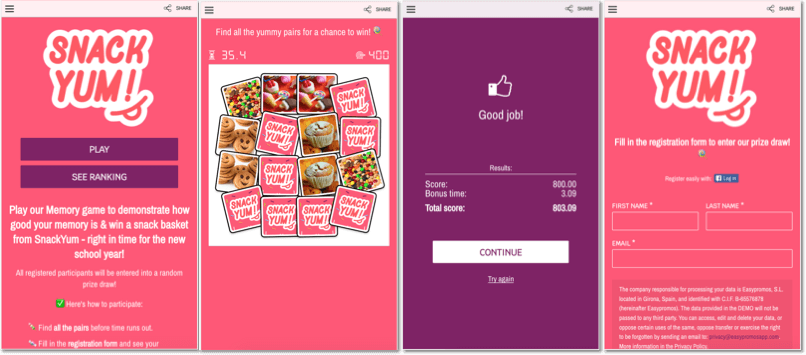 Above you can see an example of a Back to School Memory game that can be launched as part of your Back to School campaign. Simply invite your social media followers to find matching pairs of your products and then fill in a registration form for a chance to win a prize or a discount code. Incentivized promotions attract more participants, and by sharing them on your social media channels you get to convert social media followers into qualified leads.
Not convinced by the Memory game? Here's a branded Back to School Word Search! Ask your followers to find hidden names of school subjects or your products and then raffle Back to School prizes like in the previous example.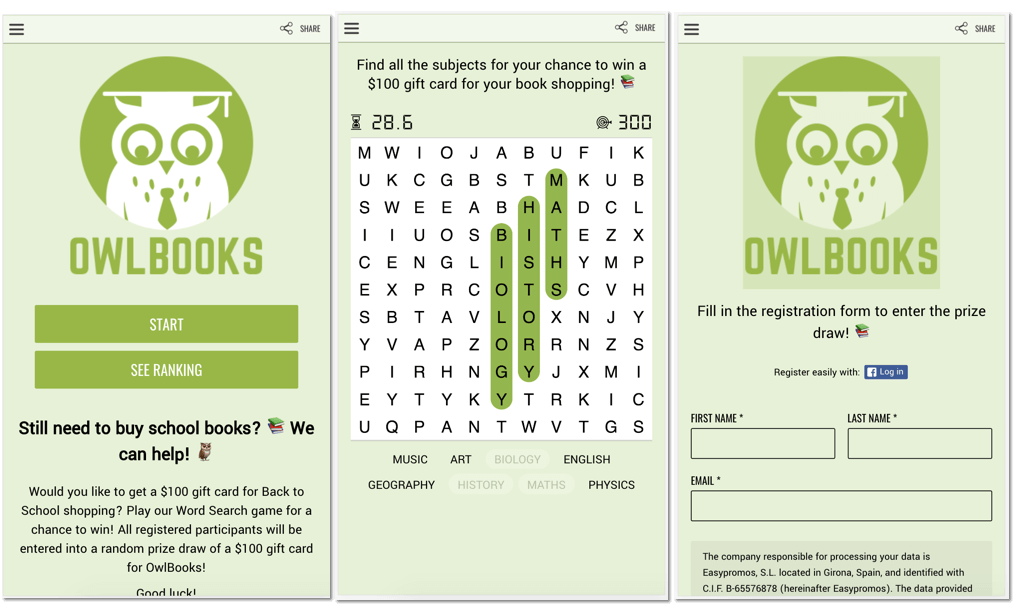 No matter the game application, the final results will be outstanding! Entertainment, increased engagement, boosted sales, expanded mailing list, and reinforced brand awareness and customer loyalty. What else can one ask for?
Here's another great example of how to generate engagement and visibility for your brand with your Back to School campaign. Take a look at this game from a food brand.
This Slide & Match game is a customizable version of a popular mobile app. Brands can upload images and icons of their choice and ask users to match icons of their products or logos. By engaging your audience with such a fun dynamic, you stay top of mind with customers and you also get to generate positive brand perceptions.
Show off skills and collect user-generated content with a Back to School Photo Contest
Most people return from vacation excited to show off all their photos of beautiful places, fun activities, and family time. And according to statistics, more than 75% of mothers create or curate online content every month!
So one of our most popular Back to School campaign ideas is a Photo Contest. Give your users the chance to contribute to your brand, and they'll receive a prize in exchange.
Create an online gallery where participants can upload and share their summer memories. You can choose between a vertical or mosaic layout to achieve the best effect. The photo contest tool also helps you to pre-moderate entries. Activate the Easypromos voting system and use sharing features to increase your viral reach.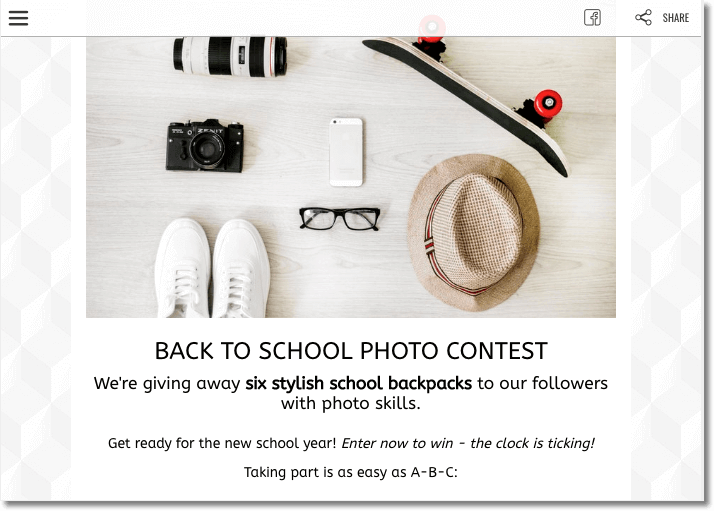 All you have to do is choose a suitable prize and award it to the winners! You could give away Back to School essentials such as backpacks, bookbags, or stationery. Another option is to share discounts for more expensive items such as laptops and clothes. If you want to distribute discounts, then coupons and codes are your best option.
You can also use our Back to School PhotoFun app to organize a branded photo competition for your customers. Invite your audience to share their pictures but this time encourage them to decorate them with branded frames and stickers! Chances are that the participants will share their content on their social media accounts, exposing their friends and followers to your brand!
Another way for followers to share their Back to School news or summer memories is through a Writing Contest. Ask them to describe the best day of the summer, an ideal holiday, or whatever else inspires you! Your brand's fans can participate on Facebook. All the entries will be collected together and published in a dedicated competition gallery. Then users can read, share, comment, and vote for their favorite texts.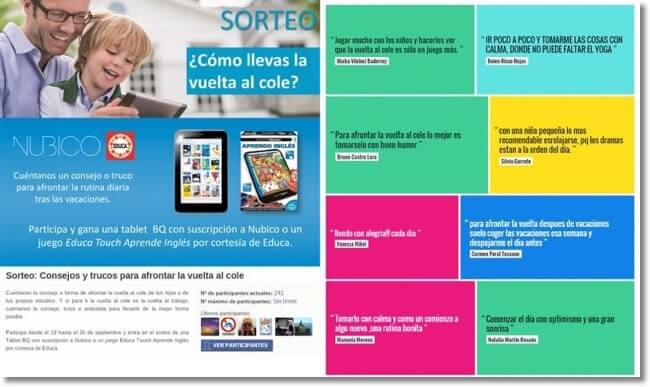 Voting is really popular with followers, and a good way to show the community that you value their opinion. You can choose whether you want to select the winners of the giveaway based on votes, the decision of a jury, or a random prize draw.
Would you like to celebrate the Back to School season with a coupon campaign? Head over to our blog post dedicated to Back to School promotion ideas for coupon campaigns.
Hashtag contests are an easy, flexible option that followers love. Your brand's fans can participate from any social network. All they have to do is share content with the hashtag you've picked out for your Back to School campaign and mention your brand.
Start by choosing a good hashtag. You can read our tips on designing a powerful, viral hashtag here. Then your customers can participate with the content of their choice. Family photos at the beach, their favorite song of the summer, videos of holiday adventures, drawings done by kids on vacation… the possibilities are endless!
Try to keep contest restrictions to a minimum. Give users the chance to win a Back to School haul by sharing anything that speaks to them personally.
You can import all content with your hashtag to a public gallery. But it's up to you if you want to import everything or specific types of content. For example, you can choose whether to import all entries from Twitter, or just Tweets that include a photo or video. On Instagram, you can choose whether to import photos only, videos only, or both.
You can embed the gallery on any website or blog using a widget, and present it as an application on your Facebook page.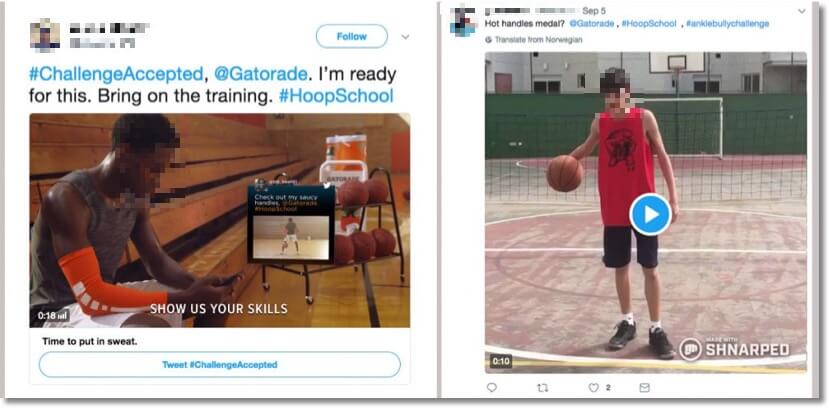 In the example above, the brand organized a contest with the hashtag #HoopSchool. Followers could enter with tweets, photos, and videos to win the prize.
Educate your audience with a Back to School Timed Quiz
Your Back to School campaign isn't just an opportunity to increase followers and sales right now. Seize the moment and carry out market research or inform your audience about new products.
Check how well your audience knows your products, the history of your brand, or even popular sayings! You can do it with an interactive Back to School Timed Quiz that you can easily launch with Easypromos.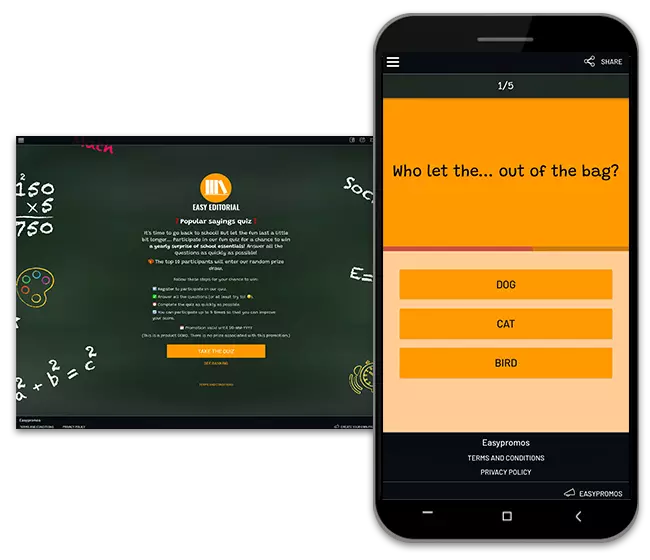 You can offer discounts in-store or online, too. This incentivizes parents to take your quiz and answer your Back to School questions. Make the quiz dynamic, creative, and colorful. And the latest update to Easypromos Premium includes emoji support to give the campaign an extra-fresh touch!
Increase your reach with a Refer a Friend app
The Refer a Friend contest app is designed to help you grow your audience and reach more followers. In this type of giveaway, your followers have a better chance of winning the prize if they invite their friends to take part too.
This is a great way to grow your base of followers through organic, real-life connections. In the example below, a brand is offering a Disney gift card as the prize for a recruiters contest. The brand's followers are motivated to share with their friends, and the prize is targeted towards children and families.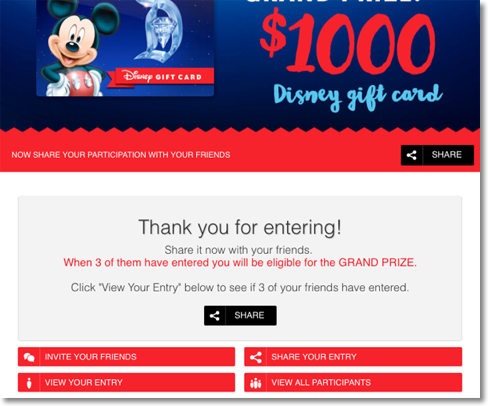 Do you want to boost social media engagement as part of your Back to School campaign? Discover engaging ideas for Back to School social media giveaways.
All ready for the start of the new school year? We hope our Back to School inspiration helps! Remember, it's free to create your account and draft promotions. If you need more inspiration for your Back to School promotions then make sure to visit our Back to School hub.
And in case of questions and doubts, Online Chat with us!