First of all, why celebrate a Father's Day giveaway on Facebook? There's a reason that the big blue social network is so popular with marketers.
75% of parents online use Facebook – that's 66% of all dads in general. And 94% of those Facebook users love to comment, interact, and share posts. Fathers use Facebook to celebrate good news, share their parenting wisdom, and build a support network with other parents.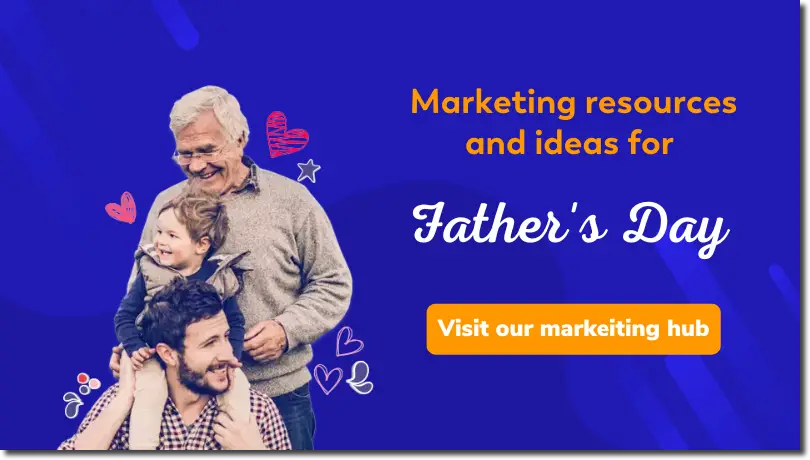 So it's the perfect social medium to celebrate Father's Day with your online community! Dads already want to share parenting stories, tips, and memories on the platform. With Father's Day posts, you can offer extra incentives, foster already-existing relationships, and stay top of mind with customers.
Let's see 5 examples of Father's Day Facebook posts that generate engagement in 2023.
Wish happy Father's Day to all dads in your audience
First of all, let us congratulate you on adding Father's Day to your marketing calendar; compared to other annual festivals, Father's Day is a relatively new holiday. But it holds a lot of meaning for consumers and this is exactly why it's so important to celebrate it with your followers and customers online.
If you don't know where to start or can't see a connection between your brand and Father's Day, start by simply acknowledging the event by wishing a happy Father's Day to all dads in your audience.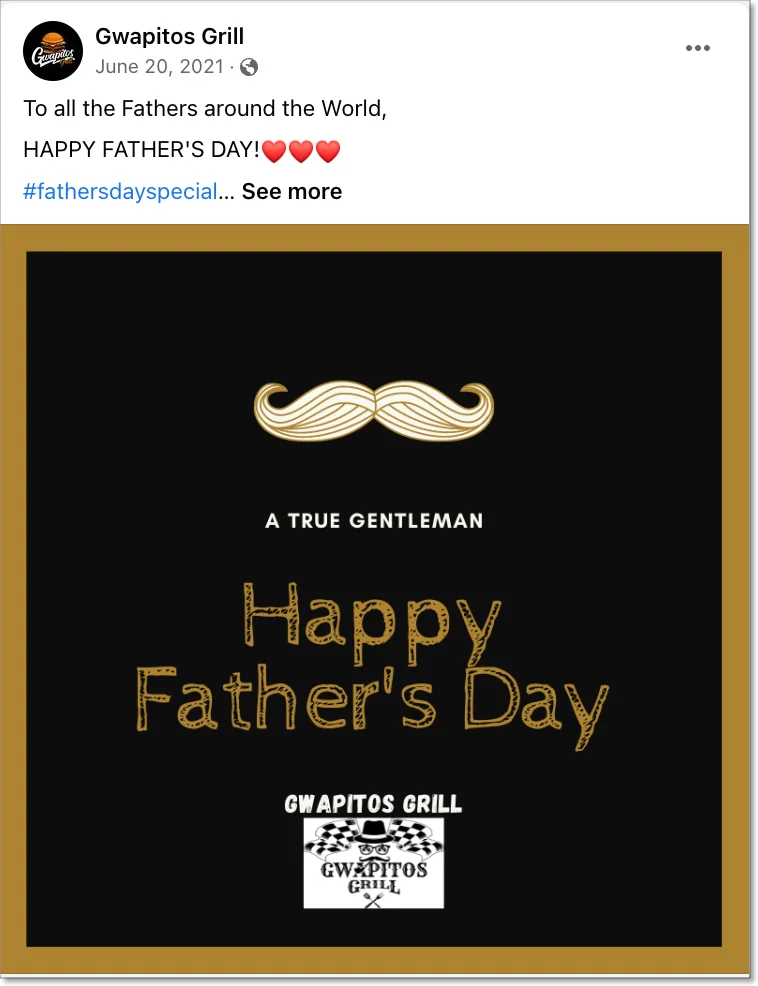 A simple post like the one shared by Gwapitos Grill is a great way to create a positive connection between your brand and your audience.
A father figure is an important aspect of modern societies around the world. When it comes to Father's Day, many brands decide to reflect on all the life lessons that fathers teach their kids. It's a great Father's Day post idea if you want to share a nostalgic message with your audience. Take a look at how Finquest shared a variety of important lessons that fathers often pass on to their children.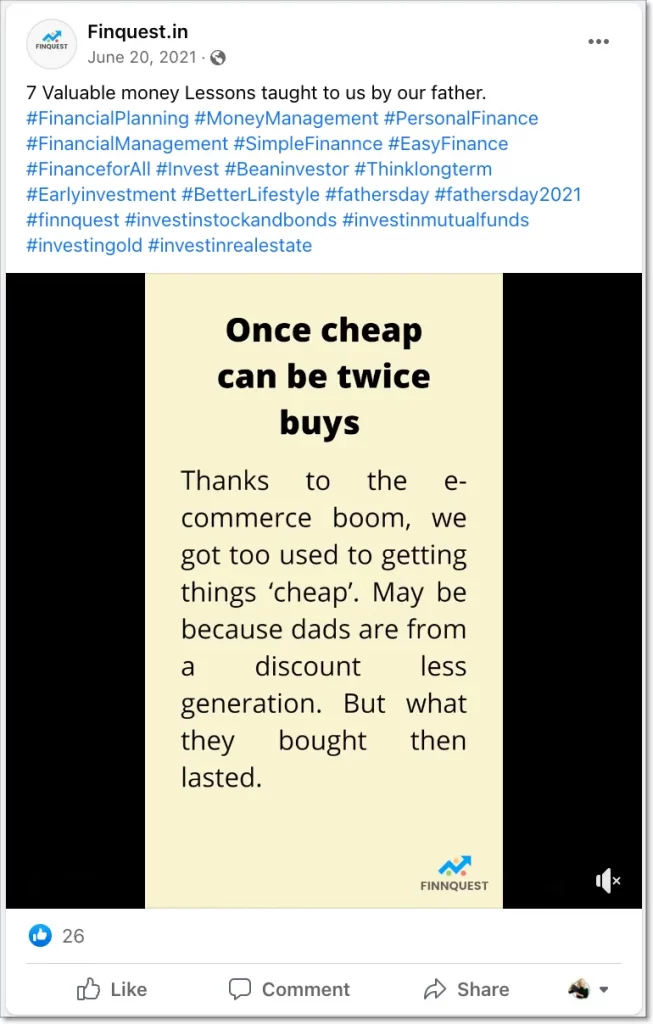 Boost engagement with a Father's Day giveaway on Facebook
Showing off your branding or products on social media is one way to stay top of mind with customers and generate product visibility. But for Father's Day, think about going a step further; create positive experiences by trigging people's emotions and memories with a Father's Day giveaway on Facebook! However, you will need something that will attract the attention of your target audience, and also motivate them to participate in your promotion. Make sure you use a visually striking photo, showcase the prize you're raffling, and create a catchy copy to attract as many users as possible to participate in your Facebook sweepstakes!
Get started with your Father's Day giveaway on Facebook and take brand engagement through the roof! Use our Father's Day Facebook giveaway template to launch your promotion in less time!
Here's a neat example from STAR Fine Foods. Their giveaway, and the images they used, subtly combined their products with a charming family scene.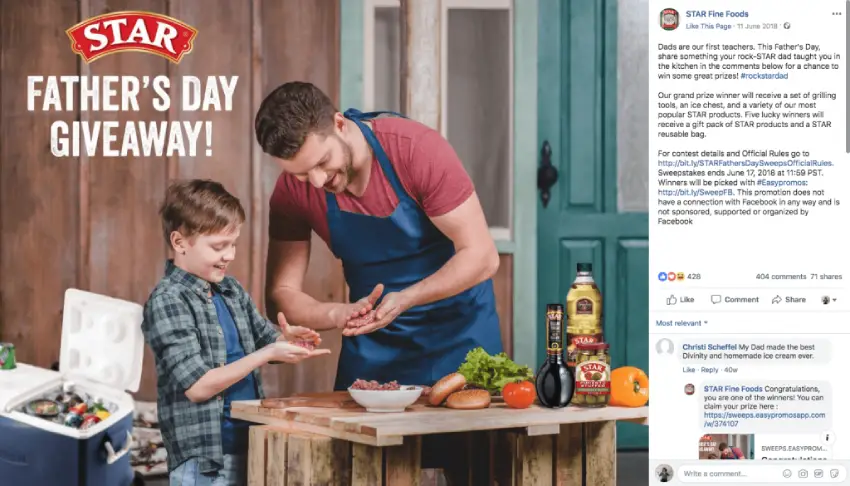 Who taught you to cook? Chances are, you made your first attempts at homemade cookies or mac & cheese in your mum and dad's kitchen. So STAR asked people to share what their dad had taught them.
Comment giveaways are great engagement boosters. Ask an open question to encourage more elaborated answers from participants, or to prompt real conversations between the user and your brand.
Try and ask a question that links back to your brand image, values, or products. Even if you can't make a direct link with your giveaway question, choose prizes that show off the best of your brand!
Father's Day post ideas for Facebook: share discounts and special deals with your audience
Father's Day is yet another occasion to incentivize your audience and work on building customer relationships. Offering discounts codes, special deals, or 2×1 coupons will help you boost sales but also stay top of mind with customers next time they need your product or service. And when it comes to Father's Day, Papa John's Pizza is the brand you should turn your eyes to.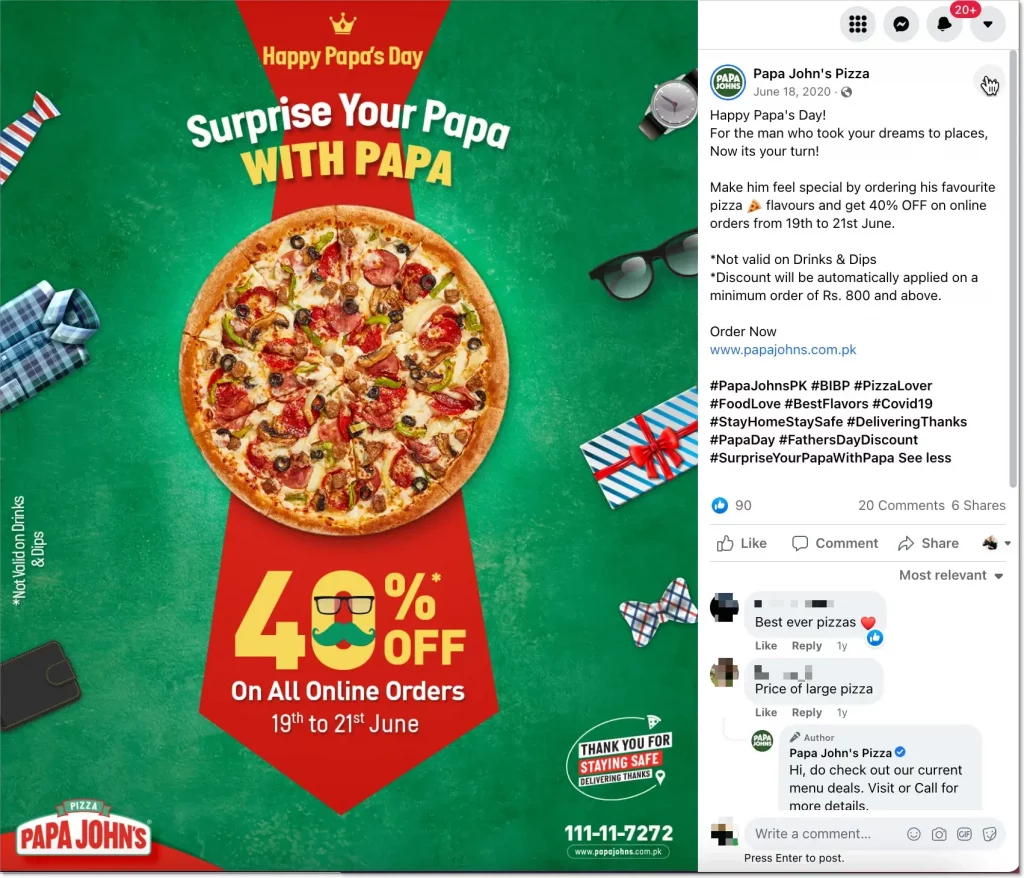 Papa John's Pizza invited their audience to surprise their dads with pizza! In order to attract more customers, they offered a 40% discount on all online orders, which lead to an increased number of orders and social media sharing. A few years ago, Papa John's Pizza Alaska also organized a Facebook giveaway in which they asked followers to share their favorites stories and memories about their dads. The prize? Free pizza, obviously!

In order to collect a list of users for your prize draw, you need people to comment. It's an opportunity to get feedback, build relationships, and make your brand a part of the conversation on Father's Day.
Father's Day is an occasion that brings up strong feelings – so give your followers the chance to open up and share their stories. If you can add a joke or cheeky brand reference like Papa John's, even better!
Father's Day giveaway on Facebook: suggest prizes for dads
Father's Day is all about celebrating dads and showing them our love. However, it's also time to express our gratitude by giving our father figures special prizes like new gadgets or their favorites products. Take this opportunity to promote your products on Facebook! All you have to do is create a catchy post in which you recommend your products as Father's Day gifts. Here's an example from Intra, a supplement brand.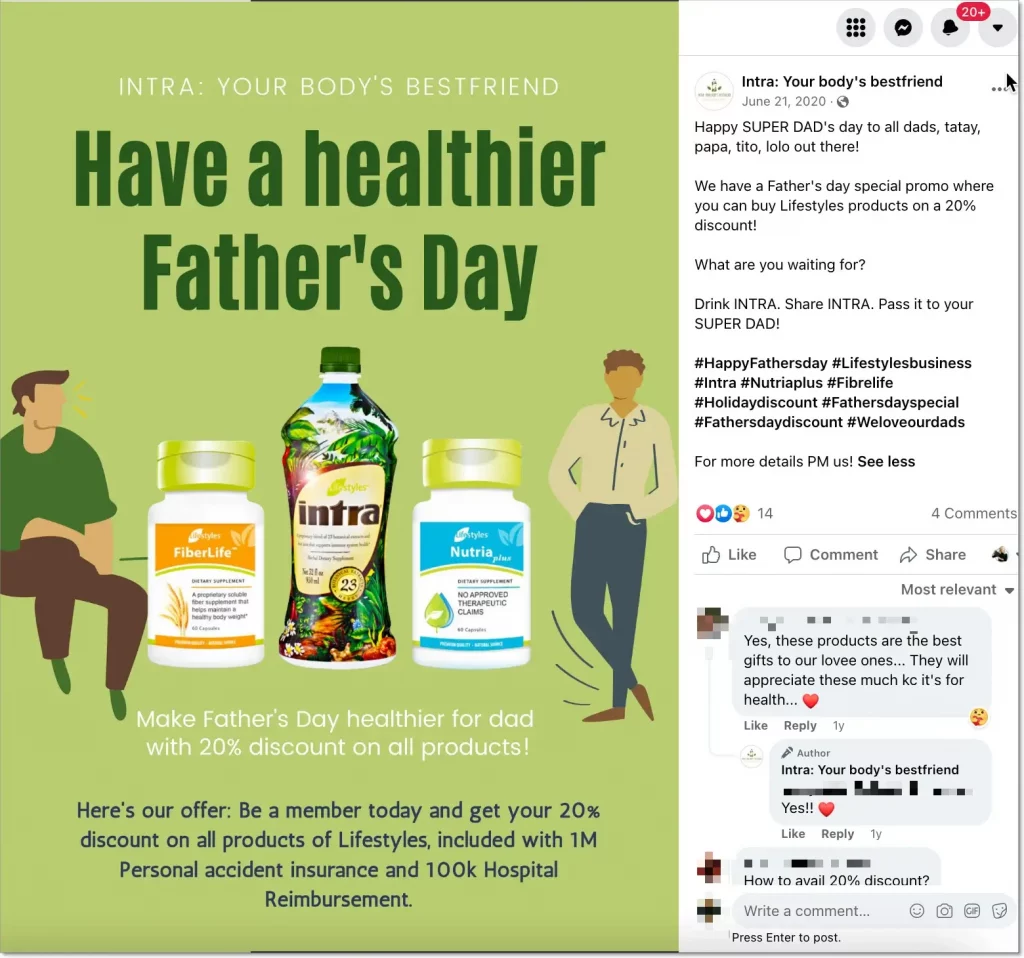 Intra invited their audience to make help their dads become healthier by gifting them Intra's supplements. Additionally, the brand offered a special discount for all purchases made prior to Father's Day.
Wondering how to run a Father's Day giveaway on Instagram? Take a look at our Father's Day Instagram giveaways blog post with ideas, examples, and templates.
We've collected all of our Father's Day content, resources, case studies, and demos in one Father's Day campaign hub. Check it out – or chat live with us to discuss your marketing goals.