Online games continue to gain recognition, and they're more and more present in promotional marketing. Therefore, it's understandable that many brands are looking for effective and easy ways of incorporating gamification into their marketing strategies. We already talked about branded mini-games, and we shared successful examples of Spin the Wheel and Scenes promotions. Today, we take a look at how companies use Hidden Objects games to reinforce branding and heighten brand awareness. Keep on reading to reveal fantastic examples!
The Easypromos Hidden Objects game allows you to:
Personalize the promotion with your corporate image: upload a logo and customize the appearance of the promotion so that it matches your branding colors and corporate image.
Quickly and easily upload an image with hidden objects and mark the areas that users must locate. Showcase your newest products, collections, and branding.
Organize a prize draw for all registered participants or the 10 fastest players.
Collect contact details of potential customers with an integrated registration form. Users register to opt in for a prize.
Share the game on social media, embed it on your website, or share it with newsletter subscribers.
Now that you know a bit more about our Hidden Objects game application, it's time to share with you examples of successful promotions that brands created using the Easypromos app. Let's take a look!
Let's be honest, people go crazy for Christmas! Decorations come up as soon as Halloween finishes, and some people begin Christmas shopping as early as September. That's the reason why every single brand should celebrate Christmas and run a festive campaign!
Let's take a look at two different examples of Christmas Hidden Objects games that engaged online communities.
First up is a Hidden Objects promotion launched by MyPetBuddy, a dog walking business from the United Arab Emirates. MyPetBuddy challenged their audience to locate four different objects hidden in the promotional image: Santa, snowman, carrot, and Santa hat. Each registered user that completed the game had a chance to win a themed goodie bag with toys for their dog.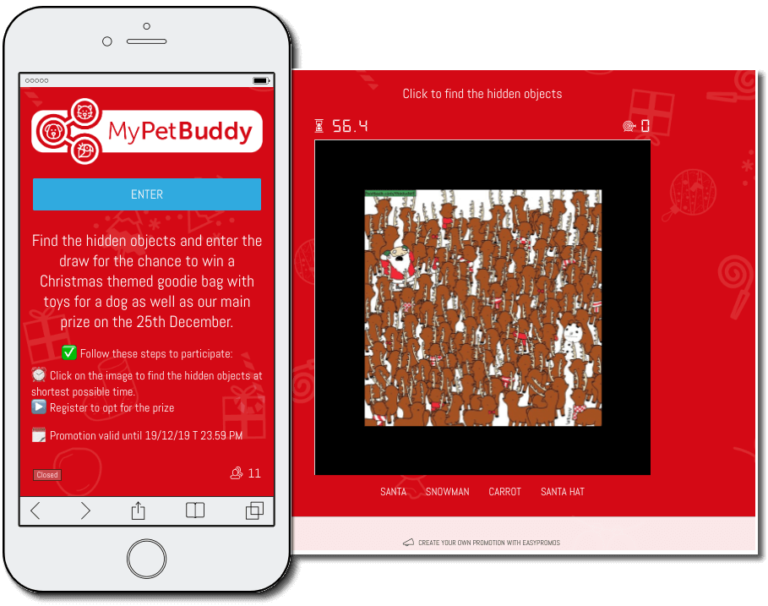 Thanks to the registration form MyPetBuddy expanded their database, as users had to leave their contact information in order to opt in for a prize.
The next example is our Hidden Objects game Christmas template, which appealed to many different brands last year. The secret to the success of this example is that brands could easily download the image and personalize it with their logo. That way users participating in the game were exposed to the organizer's corporate image throughout game playing. Clearly, they didn't mind, as for finding four hidden chocolate chip cookies, they had a chance to win a variety of attractive prizes!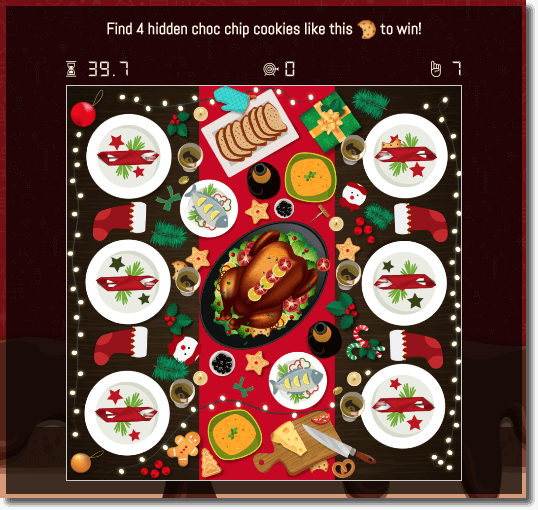 Would you like to try our Hidden Objects DEMO for Christmas campaigns? Give it a go and discover how easy it is to engage users and improve brand awareness. 
After Christmas comes Easter! And we couldn't help ourselves but share with you these fantastic online Easter egg hunts. In the modern era of technology, many traditions have moved online, and Easter egg hunts are one of them. Organize your own online egg hunt to reconnect with your audience and activate dormant followers and newsletter subscribers. Believe us, it works!
Stenberg College wanted to connect with their students during the COVID-19 lockdowns, and they decided to reward their pupils with $100 Amazon gift cards.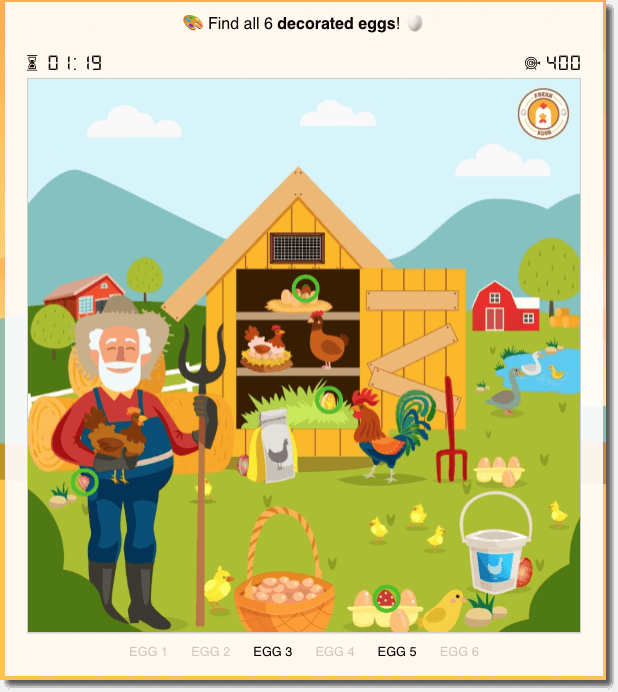 The promotion targeted only the students of Stenberg College, therefore, all players had to provide their student email address to join the promotion. The organizer gave away 10 Amazon cards throughout one day, drawing one random winner per hour. It was a fantastic way to boost excitement and rivalry!
Next up is a creative Easter egg hunt organized by Plum Guide, a British vacation home rental company. Their online egg hunt was a little bit different than the one launched by Stenberg College, as Plum Guide looked to promote their services and boost sales. Interested participants looked for golden eggs hidden in a picture of one of Plum Guide's properties! Isn't that a great idea? Apart from engaging their audience they also showcased one of their luxury properties.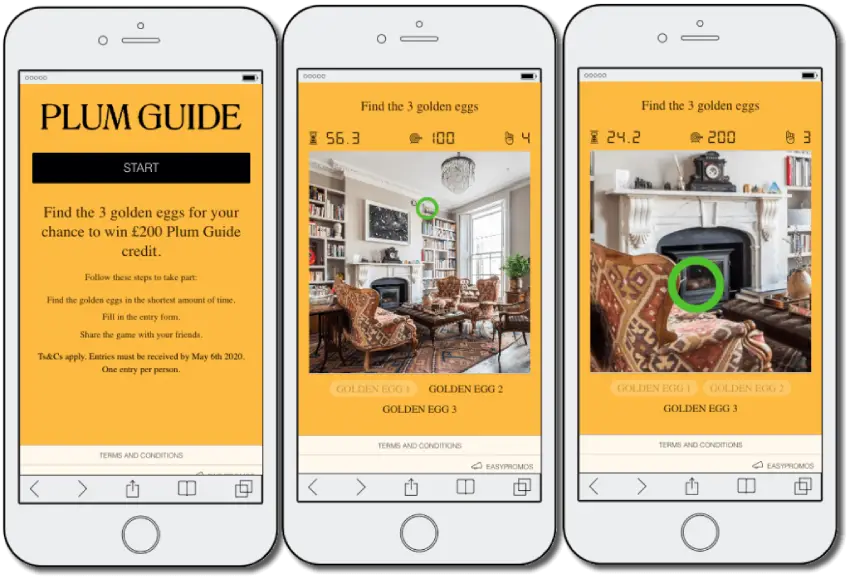 One lucky winner received a £200 credit, while Plum Guide increased brand awareness and ensured they would eventually attract a paying customer.
Any occasion is good enough to launch a branded Hidden Objects game. Do you need to reinforce branding and improve brand awareness and recall? This example is for you.
Take a look at how a local florist promoted their business right in time for Mother's Day. Instead of launching a traditional Mother's Day giveaway, the flower shop wanted to give their target audience something to remember. They launched a Hidden Objects game in which users looked for hidden flowers, which would be used to create a Mother's Day bouquet. The main prize? You guessed it, it was a beautiful bouquet delivered right to the front door of the winner's lovely mum!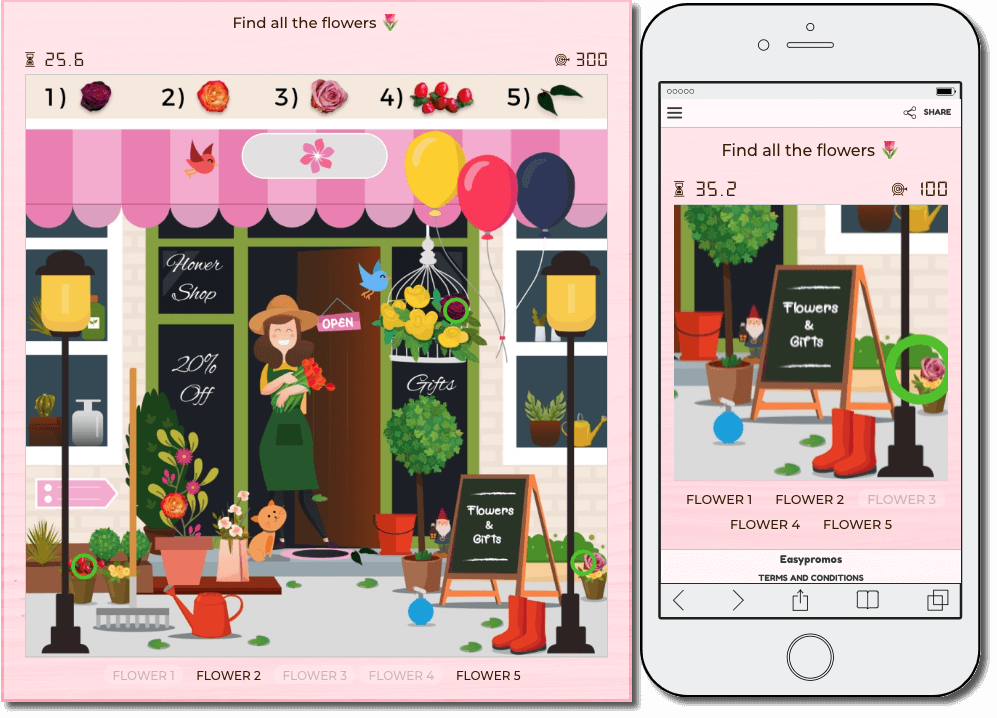 People love Halloween almost as much as they love Christmas! And believe us when we say that any brand can launch a playable promotion for Halloween.
Take a look at how easy it'd be for a home decor brand to organize a spooky game. In this case, we simply hid five logos and asked the audience to locate them! It's a perfect promotion to test your followers' visual skills, expose the user to your corporate image, collect new leads, boost engagement, and simply entertain your social media followers!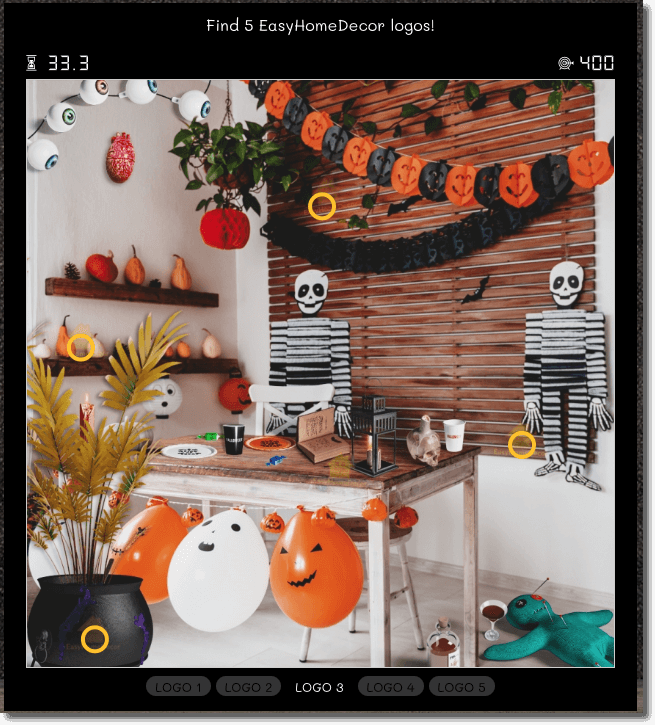 Product promotion is one of the top priorities for many brands. You might know by now that branded mini-games can do a fantastic job when it comes to promoting new products, and even bestsellers. Hidden Objects games happen to be one of the most popular games for anyone who wants to improve product awareness.
Beronia looked for an interactive lead generation and product promotion strategy. They went for a Hidden Objects game in which they rewarded the 10 fastest participants with gift boxes full of their best wines!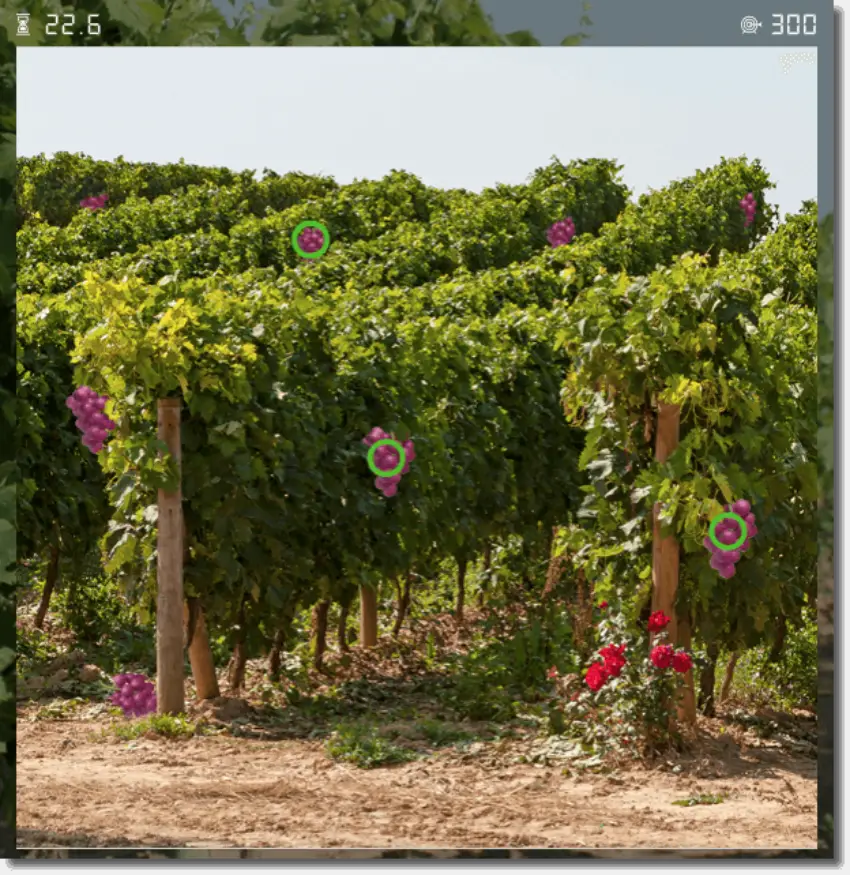 Another alcoholic beverage brand that went for the same idea is Canasta. During the 2020 lockdowns, Canasta looked for a way to connect with their customers and reward their engagement. They launched a branded Hidden Objects game presenting four different situations of people spending time at home. In each image, there was a hidden Canasta bottle.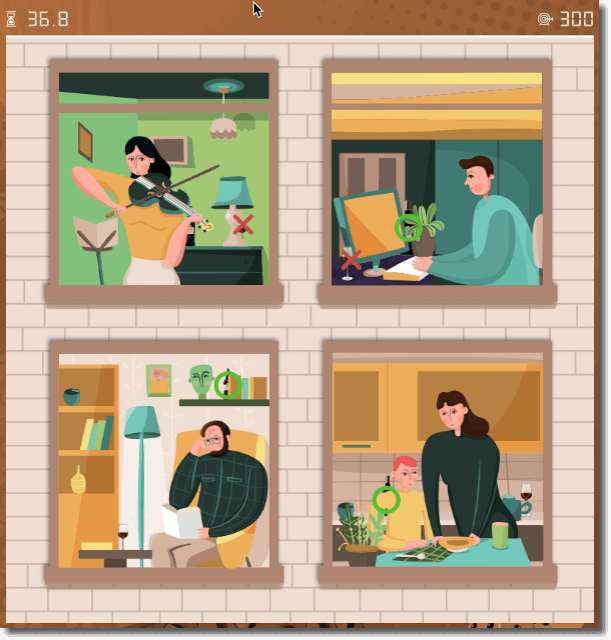 Both brands accomplished the goal of engaging their audience, boosting brand awareness, and collecting new contact details.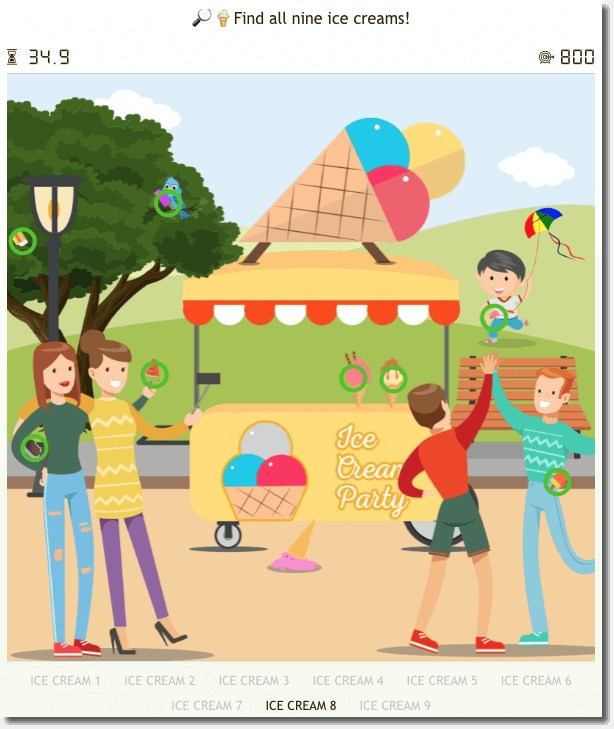 Here's just one more example of a Hidden Objects game created by an ice cream shop!
Would you like to test the visual skills of your audience? No problem, you can do it with the Hidden Objects app! Take a look at the challenge that we created for our audience, in which users had to locate four bitten apples. This one was quite difficult!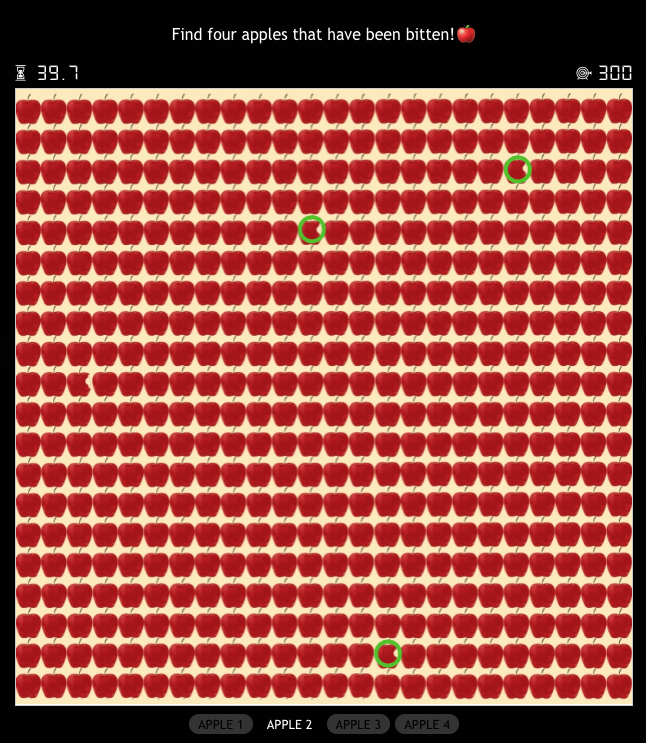 Are you ready to launch your own Hidden Objects game now? Use our ready-to-use Hidden Objects game templates to create your own promotions in no time, and in case of questions or doubts, don't hesitate to online chat with us!