Here's everything you should know before you launch your next campaign with promotional codes.
What are promotional codes?
A promotional code is made up of random letters and numbers (also known as an alphanumeric code). Consumers can use them to redeem special discounts and deals, in-store or online. Because of their format, promo codes are very flexible: consumers can receive and use them on mobile, tablet, and desktop, via email, as PDFs, barcodes, and even QR codes.
But it's not just about the customer! Promotional codes bring a wealth of advantages to your brand's marketing strategy. Here are just a few of the marketing objectives you can achieve:
Increase online followers
Raise brand awareness and brand loyalty
Direct online users to your points of sale, on and offline
Motivate users to engage with campaigns, surveys and subscriptions
Collect customer information and qualify sales leads
Measure ROI to inform your future marketing campaigns
The difficult part is distributing your promo codes and getting viral attention for your campaign. Take a look at our blog post to learn about best practices for distributing coupons and codes online.
What's the difference between discount coupons and promotional codes?
We often talk about coupons and codes like they're the same thing. But there are some subtle differences, and understanding them will help you plan your marketing campaigns with more precision.
A coupon is an image with a message that you give to users when they take part in a promotion. The coupon can then be redeemed for a discount or gift at specified points of sale. Coupons are very visual, in the form of flyers, cut-out-and-keep coupons, PDFs, or images to share on social media. And they don't necessarily include a promotional code.
In contrast, a promo code refers to the specific, verifiable alphanumeric code which users can redeem for a discount, deal, or free gift. The question is, if you can use coupons to advertise a promotion, why use codes at all?
Codes are invaluable if you need to limit the participants in a promotion, or only share it with specific users. Using codes protects you from bad actors who reuse, copy or tamper with coupons. They're also lightweight and adaptable for many different formats. For this reason, promotional codes are very popular in e-commerce. Usually, customers are asked to enter codes just before check-out, and brands get a chance to increase customer loyalty and create life-long customers.
Finally, promotional codes are traceable. Read on below to find out why that's so important for your marketing strategy and ROI.
Promotional codes and ROI
Most people don't think of promo codes and ROI together, but we disagree. If you're not using smart codes to track the Return on Investment of your marketing strategy, you're missing a trick!
The beauty of promotional codes is that you can fit so much information inside them. It's easy to generate QR codes and barcodes which are uniquely linked to each individual customer, for example. And you can use that unique information, together with data from the point of sale, to see exactly how customers are interacting with your promotions.
Set up your campaign so that customers receive different codes, depending on how and where they download the code. Let's say one customer spots your promotion on Facebook and downloads a QR code to their smartphone to use in-store. Another user clicks a link on your website, gets the code by email, and types it in at the online check-out. Those two customers have received two different codes. By tracing which codes they use, you can link customer profiles to the download method and shopping styles they prefer. You can even track the time between receiving the code and applying it to purchase. Another great thing? Users normally must register to obtain a discount code, which means that the organizer maximizes lead generation.
Why share promotional codes online
Coupons and codes have always been popular with customers, but they get a bad rap with retailers. That's because some promotional campaigns have been run without planning or segmentation – which leads to disappointing results and damages the brand's image. Despite the many benefits of sharing promotional codes, a poorly run campaign can be risky.
You can use a promotion app to set clear rules and limits for your promotion. You can target a specific audience, cap the number of participants, and close the promotion after a certain amount of time. This makes the promotion more exclusive – and therefore, more effective. And you can ask participants to share contact details, feedback, and more in exchange for the promotion, adding even more value to your campaign.
Design and target promotions for your users on Facebook, Instagram, Twitter, and other social media channels. You can increase the power and reach of your campaign by tailoring it to each specific channel. Don't forget that you can segment your audience even further, by announcing the promotion with posts from Facebook Ads. Just as a bad promotion can damage your image, a good promotion will attract more followers to your social media and burnish your online reputation.
How to set up a promotional codes campaign
There are a million different ways to carry out a promotional codes campaign. In this section, we've shared the four most common campaign styles. Remember that however you decide to share coupons and codes online, you'll still have access to all the Easypromos design features, anti-fraud tools, email platform and code Validation Portal, when you use our Distribute Coupon Codes application.
Share a one-off discount with all your followers
This is a simple, classic promotional campaign. Choose a discount, design an attractive coupon, and ask users to register their contact details in order to receive their code. Unlimited campaigns like this work well when you want to maximize interactions and sales.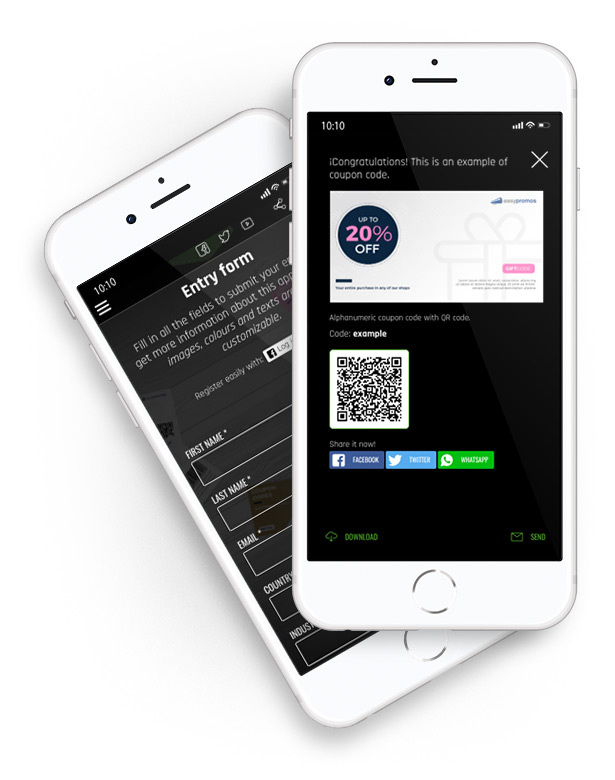 Share a one-off discount with an exclusive group of fans
Refine your promotion by limiting participation. For example, you can set a limit of 100 promotional codes – and once those 100 codes have been issued, the promotion is closed. This strategy is a great way to highlight your brand's exclusivity and add a competitive edge to the campaign. You could also run a prize draw for the lucky followers who succeed in registering for a coupon.
Give a unique code to each one of your followers
Want to make your promotion even more exclusive? Offer a unique code to each user who registers. As we discussed above, you can load this code with personal information about the individual customer, and track how the coupon is used. Simply upload your list of unique codes to the Easypromos platform, and they'll be assigned to participants automatically. You can choose to give codes to users as they register, or add an element of surprise by awarding codes at random with an Instant Win app.
Reward your followers for filling out a survey
You'll obtain lots of valuable information about your online followers when they register for the promotion, and when you track how they use your promotional codes. But with a Survey, you can ask even more specific questions. Motivate your followers with discounts or rewards, and in exchange, ask them about their opinions of your brand, shopping habits, and more.
Test out Distribute Coupon Codes DEMO to see how easy it is to share discounts with your online community. You can even download our pre-configured template to launch your own promotion!
Incentivize participation with discounts
Are you looking to generate new leads for your future marketing campaign? It's time to organize a branded mini-games and distribute discount codes to all registered users!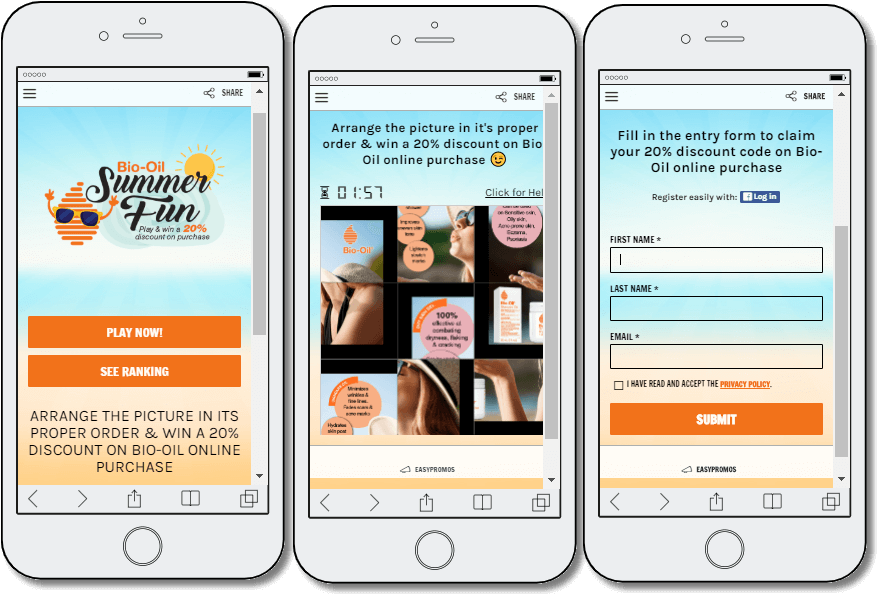 In the above example, you can see how a popular beauty brand maximized lead generation and boosted sales with a game. All users that played the interactive Memory promotion and registered received a 20% discount code.
More ideas for promotional codes
We've shared the most popular code promotions above. But when it comes to planning campaigns, our advice is always to be creative. Choose an original idea that reflects the best of your brand, service or product. Here are three more possibilities for your next promotion, with an extra edge of competition and chance.
Share promotional codes and give away a prize
You can encourage your followers to join a promotion by offering a double incentive. Offer promotional codes to everyone who registers, or a specific number of participants – and then one final, grand prize. Everyone will feel rewarded for their participation, plus the thrill of wondering whether they will win the exclusive prize. Make sure the prize is one of your products, or closely related to your business. Giveaways like this are a great opportunity to spotlight specific products.
Share a variety of promotional codes
Here's a smart option for brands that want to understand their customers better. Ask your followers a few quick questions – and then, based on their answers, offer them a carefully chosen promo code. For example, you could offer bigger discounts to customers who are more familiar with your brand; or deals for specific products, based on what each customer is interested in.
Run a prize draw to win one promotional code
If you want to make sure your promotion is really exclusive, then this is the way to go. You can choose to offer just one discount code in a random prize draw. Make sure the promotion is generous enough to motivate your followers to participate since they will know their odds of winning are low.

Do you have questions about sharing discounts and promotional codes? Make sure to contact us via our live chat!