The regulations that affect giveaways and promotions on LinkedIn
Many promotions on LinkedIn have a business purpose; they involve professionals in the representation of their respective companies. For this reason, as LinkedIn has matured as a social network, sweepstakes and giveaways have become frequently used methods for generating interaction between companies and professionals. It's becoming more common to see promotions on LinkedIn, and we are increasingly being asked how to run giveaways on LinkedIn. So what are this social network's policies regarding digital promotions?
LinkedIn does not have a specific promotions policy. However, the social network does indicate that all users must comply with the general User Agreement. According to these guidelines, when you wish to carry out a promotion on LinkedIn you must follow these two important regulations:
Explicitly state that LinkedIn is in no way responsible for the promotional action.
Promotional actions that you can carry out on LinkedIn
There are several types of promotions that could be suitable for your LinkedIn audience. We can divide these into two groups, differentiated by primary marketing objective:
Promotions based on interactions, ideal for direct brand and product visibility.
Promotions based on data collection through a landing page.
Deciding on the type of your promotion is important because the dynamics change depending on the promotion. In one, the focus is on the post itself and on seeking maximum diffusion for the said post. To achieve more complex objectives, such as attracting leads, the action will be developed from more sophisticated dynamics.
Promotions for brand visibility: looking for interaction with LinkedIn users
If you're looking to generate interaction with your target audience – likes, comments, or mentions – you will probably write a post to announce your contest; for you, it's an easy way to launch a giveaway while the participants easily discover entry requirements.
In the following example, you can see a LinkedIn giveaway that asks users to follow the brand's profile, like the post, and mention two friends in the comments. This is a very popular and effective dynamic on Instagram. It'll generate greater visibility for your post and brand, but you won't obtain participants' contact information.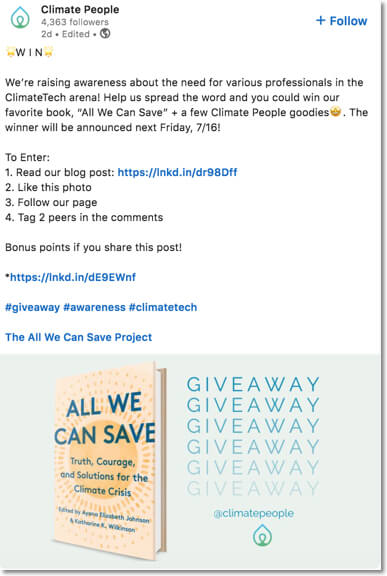 On LinkedIn, participants are usually asked to like and follow the company's profile. When launching the campaign, you must think about how you will make a list of all the participants. You have two options:
If there aren't many participants you can write them down manually and list them in a document to select a random winner. For example, by using our List Giveaway app.
If you get a lot of participants you should use the LinkedIn API. It's available for companies that form part of the LinkedIn Marketing Partner Program.
Easypromos doesn't form part of the LinkedIn Marketing Partner Program. However, we still offer contests, giveaways, and promotions on microsites or landing pages outside LinkedIn. Our apps allow you to generate engagement, visibility and leads.
Brands often combine two actions: interactions and a data collection form. Participants like and share the post, and tag a friend in order to participate. In addition, they fill out a registration form shared via a link.
Advantages: a list of users registered in your Entry Form Giveaway. You can easily select a random winner with our giveaway app.
Disadvantages: you're creating participation barriers by asking participants to complete a variety of different actions.
Promotions for capturing leads from LinkedIn using landing pages
One of the primary goals of giveaways and contests is to collect leads for your brand. It is important to attain this data in accordance with the General Data Protection Regulation (GDPR) and the current regulations of each country – and of the social network itself – in order to use them in marketing actions without running into problems. For this reason, most dynamics for capturing leads through contests and giveaways involve LinkedIn microsites or landing pages that have been specially configured for this purpose.
Let's have a look at some ways of capturing data with this kind of promotions:
LinkedIn giveaway for new newsletter subscribers
One option for capturing data in a consensual way is to offer a prize for those who subscribe to a newsletter, as shown in the following example. This furniture manufacturer raffled a designer table among interior design professionals who signed up for the company's newsletter.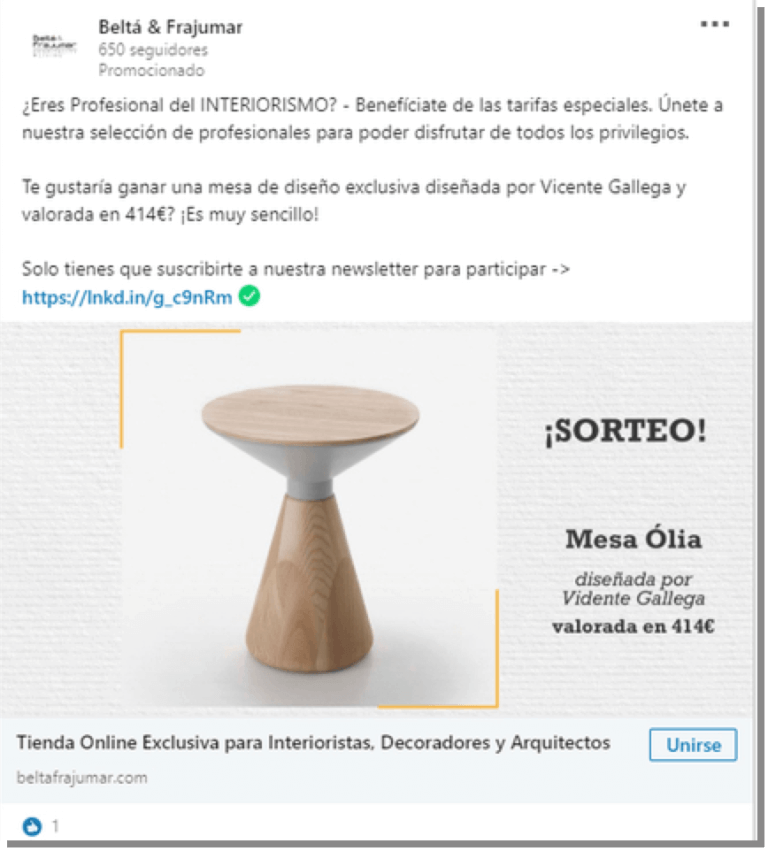 This dynamic is a good option for brands looking to grow their email marketing database. The main requirement – subscribing to the newsletter – should be clearly pointed out in the giveaway post, as well as in the terms and conditions.
It's also important to explain how the winner/s will be selected. The List Giveaway app can help you with this if you follow these steps:
Make sure that the link to participate in the giveaway goes directly to the registration form of your email marketing platform.
After the participation period, segment the database of your email marketing list in order to collect those who have subscribed during your giveaway participation dates.
Download this information in an Excel or CSV document and upload it to the List Giveaway app.
In just a few steps you select random winners and alternates, along with a Certificate of Validity that will allow you to announce the winners in a way that is transparent.
Giveaway Landing with registration in microsite format
Another professional and highly recommended way to run a contest or giveaway on LinkedIn is to display it on a microsite and share the URL on social media via a post or sponsored post. Check out the following example by Optoma.
The brand knew that the best solution was to launch an Entry Form Giveaway and announce it on the social networks that their target audience uses most. In this case, the link in the post leads to the company's website where the contest guidelines and prizes are provided in detail, and the registration form is displayed.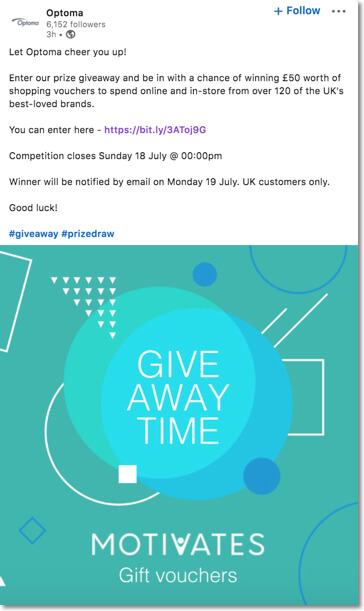 Did you know that you can embed your promotion and entry form on any website or blog? That means you can share it across all your channels and obtain a single database with all the giveaway or contest participants.
Let's go one step further. Because if you're looking to organize a giveaway on LinkedIn it's because you're interested in the quality of its leads, and therefore you might be interested in making it closed and exclusive to profiles on this social network. In this case, you can use the LinkedIn login so that participants must identify themselves using their LinkedIn profiles.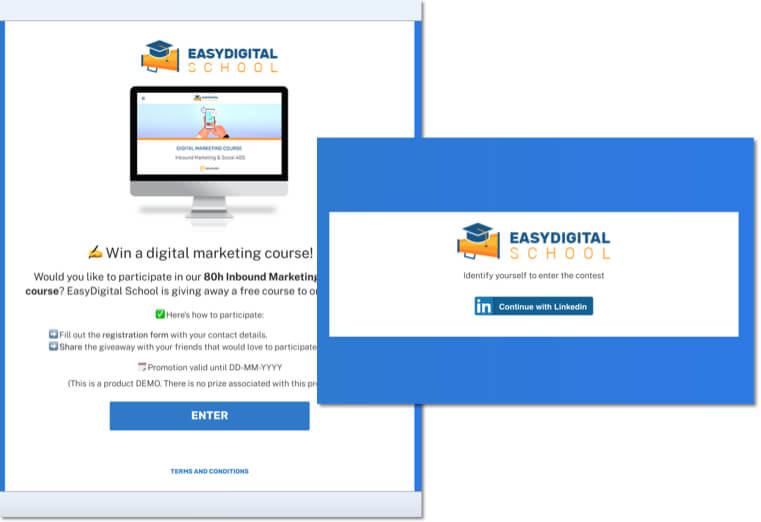 Try our Giveaway with LinkedIn login to test the user experience. You can also download our pre-configured template to launch your own Entry Form Giveaway with LinkedIn login.
The Easypromos entry form applications allow you to customize the contact form to obtain all the information that you require. Additionally, you can activate login with LinkedIn to verify their data and their presence in this professional network. Easypromos has modules to log in to LinkedIn and to share on LinkedIn. This enables you to generate exclusive promotions for LinkedIn users only. These plugins comply 100% with the permitted use of the LinkedIn API that specifically mentions their use for marketing actions, lead generation, and brand awareness.
Gamified giveaways on LinkedIn
Giveaways offer the possibility of winning a prize in exchange for filling out a form with your data; this already generates engagement between the organizing brand and audience. Even so, we can offer more entertaining and innovative dynamics to connect with our target audience.
Gamification techniques, common in education and training, are also gaining importance in the marketing world. It's a far more dynamic and fun way of learning new concepts and skills, something that can be applied to all areas of society.
In an environment as professionally orientated as LinkedIn, gamification dynamics can surprise and attract the attention of lots of people. Try launching a giveaway among all those who play a branded game: a puzzle, a memory game or a quiz. You'll generate engagement with your target audience, convert them into leads, and give them a fresh, positive perspective on your brand.
For example, in this Timed Quiz, participants are tested on their geography knowledge. If you're a company involved in travel or transportation, this can be a useful theme for connecting with your target audience.
Here's another example: an Australian University looked to collect contact details from potential students while generating high-quality engagement. The company organized a quiz that had to be completed within a time limit. This provided participants with an exciting challenge to overcome.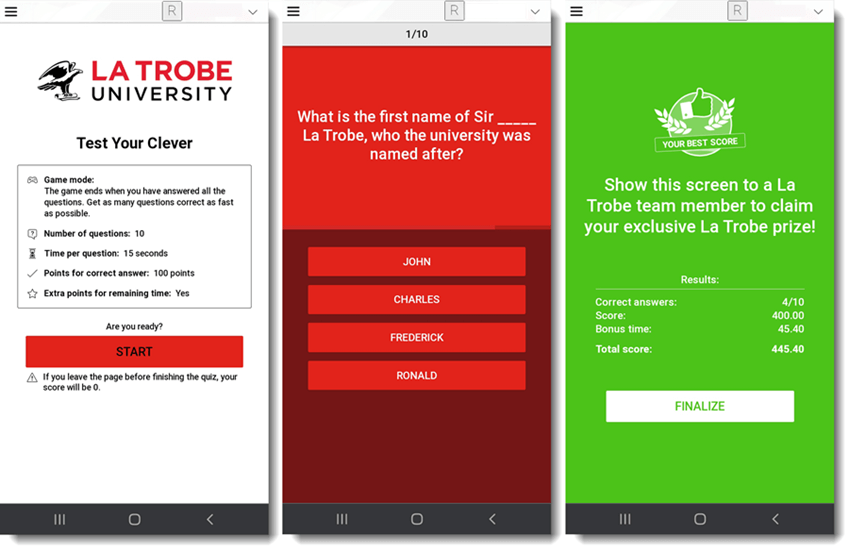 These types of dynamics are easy to set up. There's no need for programming and there are plenty of options for customizing and personalizing the contest with the company's brand image. The important thing about launching a game or giveaway is to plan diffusion on LinkedIn:
Launch the game or giveaway by publishing it as a post on the company's profile.
Announce it to employees and ask them to share it on their profiles to help spread the word.
Use LinkedIn Ads to reach the target audience.
Set up the viral message and share button on LinkedIn so that participants can share it with friends and colleagues.
Share it with newsletter subscribers to energize the audience and convert them into LinkedIn contacts.
What do you think of these options for launching your promotion on LinkedIn? If you're keen to start interacting with your community on this social network but have a few doubts regarding how best to organize your promotional campaign, contact our support team via chat and we'll give you the help you need.